Summer Palate
Korean Food in Summer
Top Picks for Some Korean Food to Cool You Down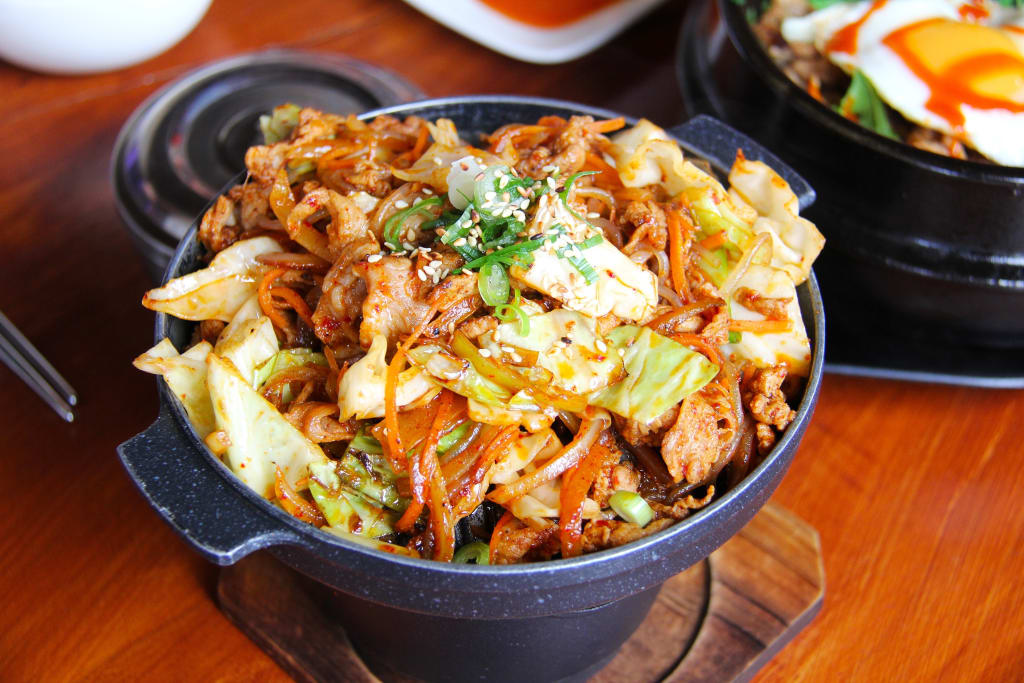 Being half Chinese and half Korean, I have been fortunate enough to be blessed with amazing regional dishes from both countries during my life. Korean food has definitely received a lot of buzz over the past few years and is making its way into cities across the globe, so with summer at our doorstep here are some great Korean dishes to enjoy over the hot season!
1. Naengmyeon - Buckwheat Noodles in Cold Broth
This is a personal favourite of mine and it brings me back to many summers spent in hot, humid Seoul with my family. Nothing satisfies me more than this popular dish!
"Naengmyeon" is a noodle dish which can be prepared two ways: non-spicy and spicy. The noodles are traditionally made from buckwheat and although relatively flavourless in isolation, are essential to making this dish such a classic. The broth is ice cool, has a slightly sweet and tart flavour, and the dish also contains sliced cucumbers, boiled egg and sliced Korean pear. All combined this makes more a very moreish dish, and if you want to amp up the spice factor mustard pairs very nicely with this cool summer noodle bowl.
2. Naeng-kong-guksu - Soy Milk Noodle Soup
This is also a cold noodle dish, but instead of a light broth with stretchy buckwheat noodles, this dish is built up of noodles which are marinated in a creamy soy-based broth- when I was younger I would call these "milk noodles". The vegetable garnishes combined with the silky texture of the broth and noodles make for an excellent dish in the summer. Just like the previous dish, although simplistic seeming, this is actually a pretty filling dish! And like many other Korean dishes, garnishes can be added to make it your own (I personally like: ice cubes, cucumbers and kimchi).
3. Gogi-gui - Korean BBQ
This essentially translates as "meat roast," so what I'm talking about here is Korean BBQ! In restaurants, setting up a Korean BBQ is pretty simple, a grill over some heat then add your meat (sound familiar?). Meat traditionally used is beef and pork (in my experience anyway). Meats can be marinated e.g. Galbi and Bulgogi or they can be grilled without any addition. There is something so simplistic yet perfect about a Korean BBQ, and for that reason it is popular among many. Things to prepare alongside a Korean BBQ are lettuce leaves to wrap the meat in (think of it as a taco shell!), and grilled king oyster mushrooms.
If you haven't tried a Korean BBQ yet, I cannot recommend it enough to try this summer.
4. Dotorimuk - Acorn Jelly Salad
A salad consisting of acorn jelly (don't bash it 'til you try it) with some light soy sauce and added Korean chili and garlic. Although the idea of Jell-O salad might seem antiquated, this is definitely a unique dish. Acorn jelly is naturally very low calorie and contains little to no fat making it a popular choice for those wanting a lighter dish in the summer. The texture of acorn jelly is firm like tofu, but is so easy to bite into and devour. The ingredients in this dish again are simplistic, but come together to create a light dish which doesn't lose any boldness in its flavour.
5. Patbingsu - Shaved Ice
This is probably the most well-known dessert Korea has to offer and this shaved ice delight will have you coming back for more. Traditionally it is shaved ice prepared with condensed milk and is enjoyed in the summer (if you've lived through a Korean winter, you'll understand why this is generally reserved for the hotter months). However, with patbingsu think of it like a DIY fro-yo bar. There are many types of shaved ice flavour which are now available as well as infinite amounts of garnish! Popular garnishes are sweet red bean and chopped fruit salad. However, many cafes offer toppings such as:
Ice cream (popular: green tea or black sesame ice cream)
Soybean powder
Mochi (sticky glutinous rice balls)
Any fruit you desire! (Mango, strawberry, and kiwi are lovely with this dessert)
...and many more!
I hope that this post was informative and give you some inspiration for a "foodie summer." Of course, there are tons of amazing Korean dishes to enjoy year round, but this particular selection I think goes hand-in-hand with a hot sunny day and some friends or family. Let's eat!