Just Grubbin Series: Terakawa Ramen in Philadelphia
99 Ramens and Terakawa's the One
There's a reason their Philly's #2 spot for ramen.
**Mo Hall is part of the JG blogging team and has an infinity for ramen and just food in general. He recently tried Terekawa Ramen in Philadelphia with fellow Grubbers Lauren and CJ, here's his review.**
What's better than one bowl of Ramen... Two. Well in our case three because on this Sunday Funday, CJ, Biddle & myself took our talents to Center City. More specifically North 9th Street in Chinatown is where we found ourselves in a small, cozy noodle bar. Terakawa Ramen doesn't look like much from the outside, but if you were to judge this book by its cover you would be sadly mistaken. As soon as you enter this small maybe 40 seat restaurant you are automatically drawn to the bamboo wooden tables and stool seats. The seating at the countertop gave you a full view of Ramen line cooks executing their delicious Ramen fare, which I would have enjoyed more than a table top, but I definitely was not complaining. It's hard enough to sneak in to this bustling noodle bar without a reservation on a Sunday afternoon, luckily for us we only had a 30 minute wait time. Given a spare 30 minutes to burn in true Grubbin style, we headed to the nearest bar and had a few drinks.
Make sure you call ahead for a table because it's always poppin'.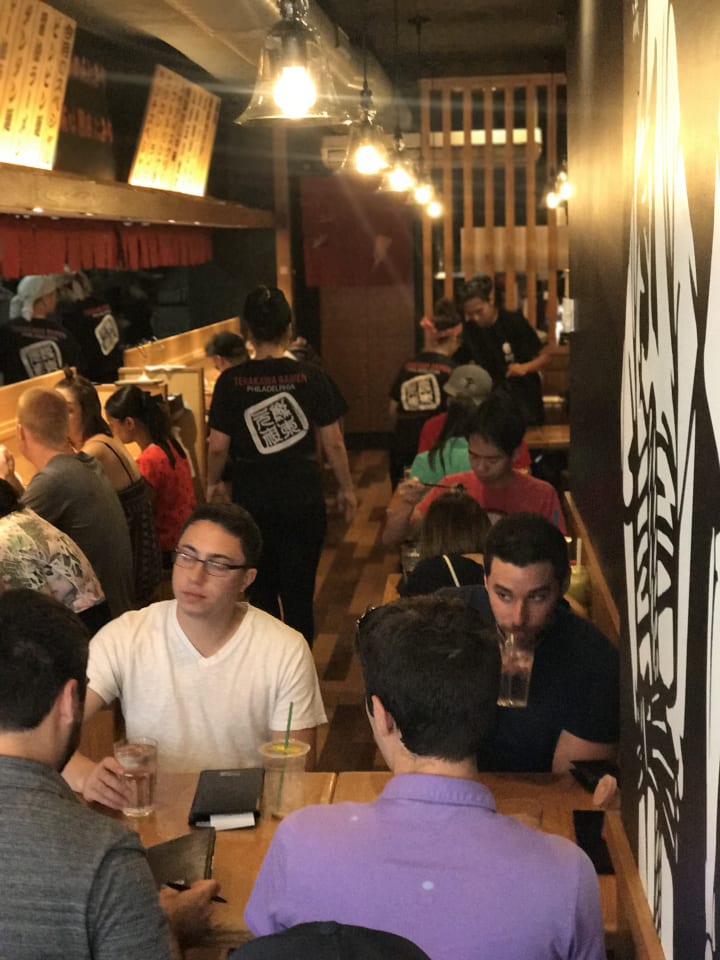 We stumbled into the Vietnam Palace and were actually surprised with the surprisingly lit cocktails we were poured. I ordered an Asian pear martini and Lauren got the Saketini. They pretty much hit the pear right on the nose and the Absolut vodka was barely detectable. Mix in the triple sec and pear nectar and you are left with a dangerously smooth Martini. In the mist of getting lost in the sauce, we almost forgot we were due back at Terakawa to go in on some much anticipated ramen.
Dranks on Dranks on Dranks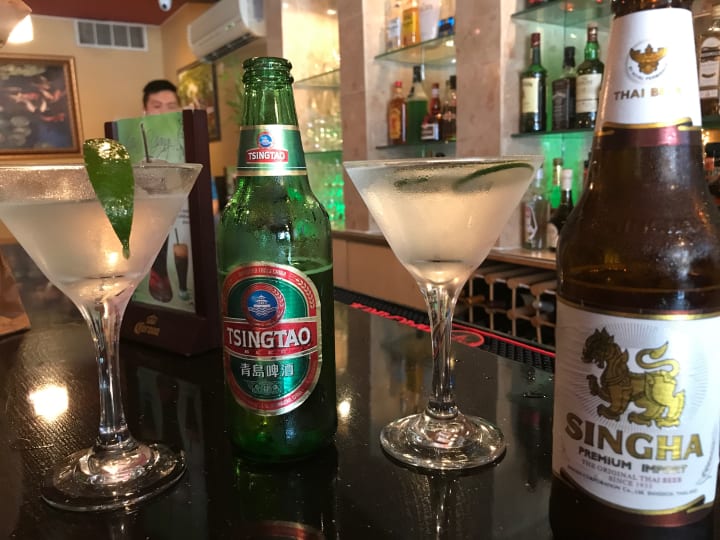 Vietnam Palace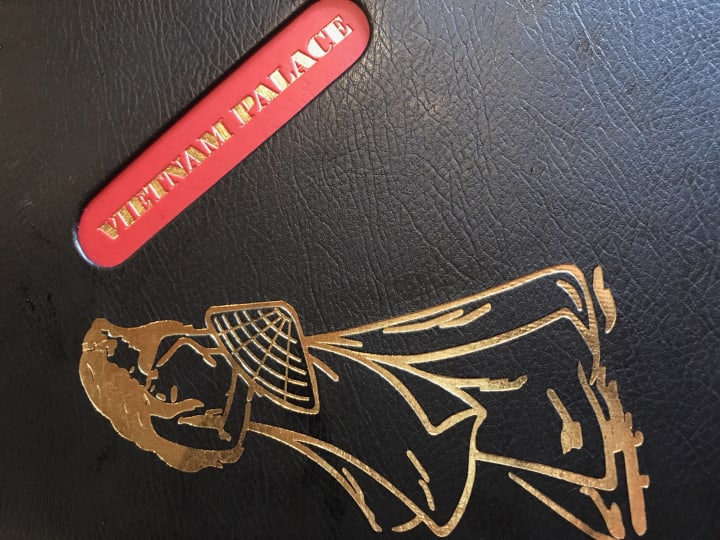 Skrt skrt skrt skrt slippery, excuse me, please me, prob best describes how we made it from the Palace to Terakawa slipping in front of crowd of hungry patrons who were hoping we didn't show up on time. Finally, seated with menus and our BYOB poured up, we were ready to order. We pretty much did the appetizers family-style and ordered our own entrees.
The Calm Before the Storm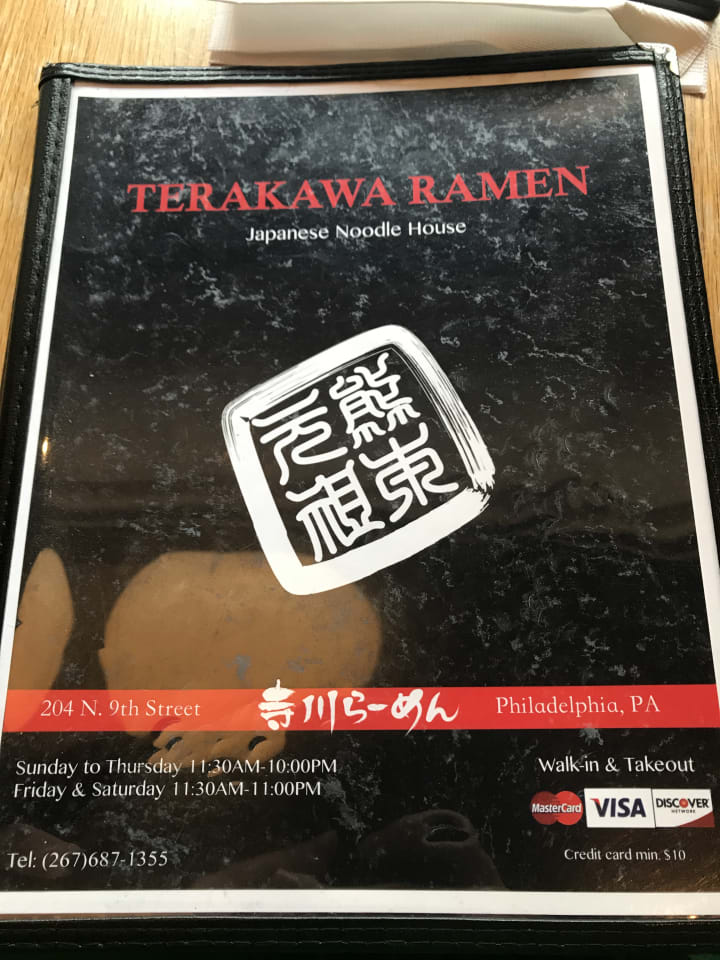 We ended up with pork buns, chicken buns, shrimp tempura shu mai, and three different kinds of noodle soup. Biddle ordered the Terakawa Ramen, which is their signature ramen. CJ got the shrimp tempura udon and I went with the shoyu ramen. The pork buns and chicken buns were similar, they both came with slow roasted pork or pan seared chicken, a choice of soft or crispy rolls (we choose the former), some butter leaf lettuce, tomato and spicy mayo. They were hittin' like Aaron Judge in the bottom of the ninth. Okay now I've never had tempura-style shrimp shu mai, so I'm glad I got to try this, because it was pretty much superior to the steamed version which I'm accustomed to.
Pork Buns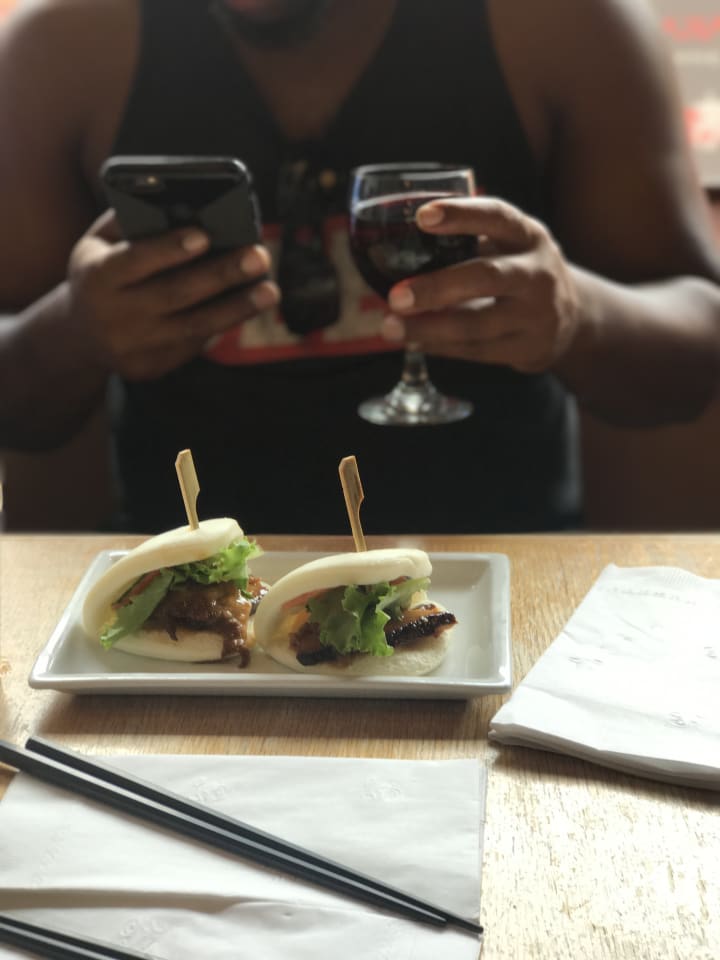 Skewered shrimp deep fried in wet tempura batter drizzled with a spicy bean paste sauce and sprinkled with sesame seeds was another home run. The appetizers got wiped fairly quickly and as soon as our plates were taken away our entree soups arrived.
Shrimp Tempura Shumai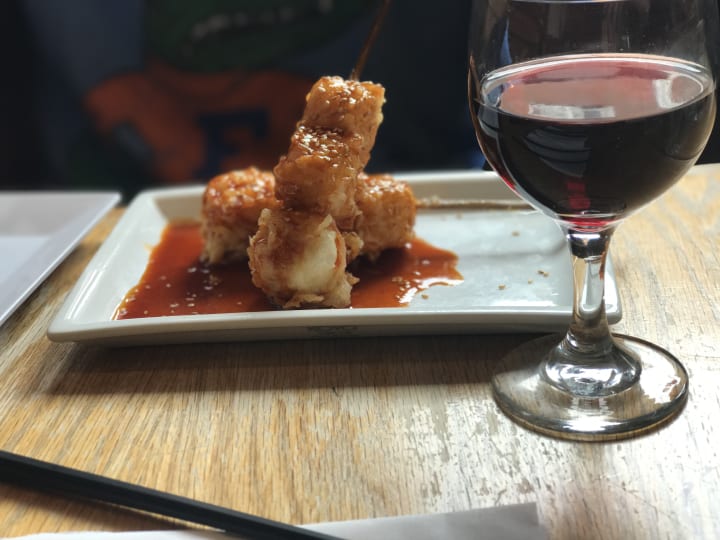 My shoyu was sat in front of me looking like Jada Stevens and Sklyer Grey; yes folks this was food porn. The light soy sauce and fish broth was reminiscent of the Fumet broth we make occasionally at my restaurant. It was light, perfectly fishy and teeming with delicious ingredients. Ramen noodles, fish cake, bamboo shoots, scallions, roast pork and a seasoned boiled egg all swimming in mouth watering broth.
Shoyu Ramen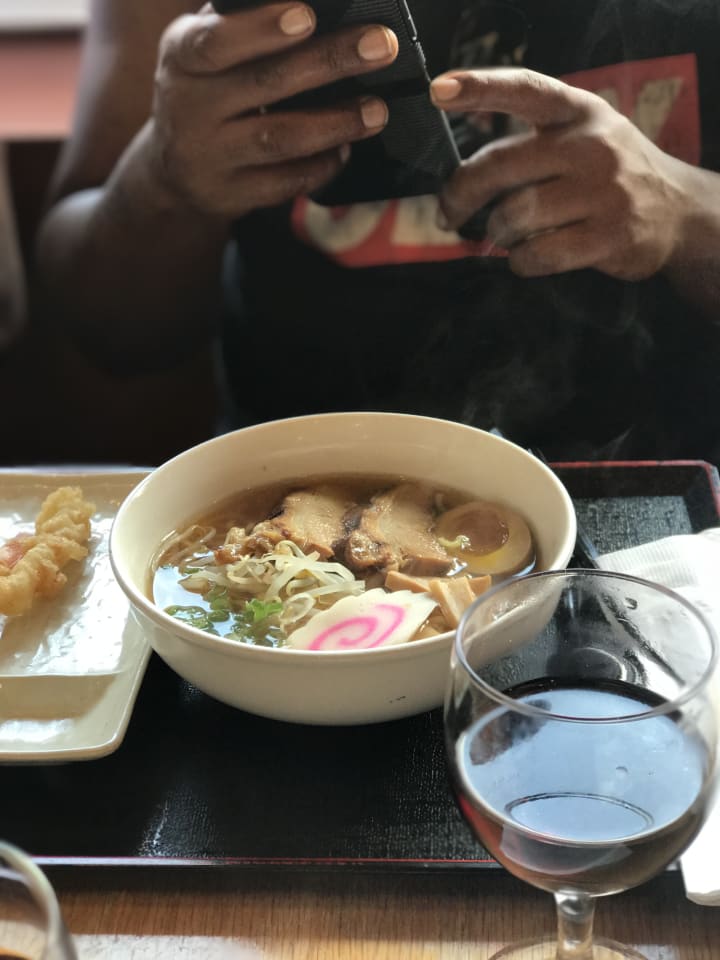 All of these flavors and an additional side of tempura shrimp put me in a hallucinogenic state, as I was trippin' balls off this amazing ramen. I was almost sure John Lennon was staring at us. I came to my senses and realized it was just an unkempt hipster who bore a striking resemblance to the late great Beatle. At that point I knew it was time for the check. It was time to hit another bar and find another escapade and in true Grubber fashion we did not disappoint, but that is another conversation for another forum...
Never tried anything like this shrimp tempura before.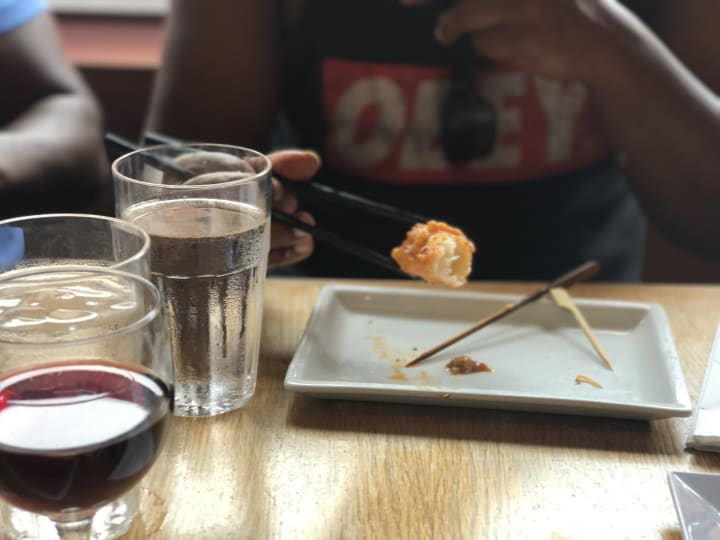 CJ indulging in the shrimp shumai.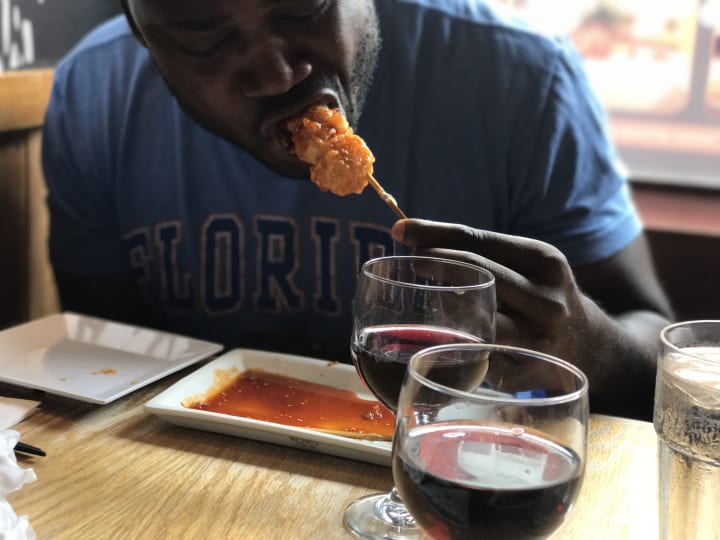 Shrimp Tempura Udon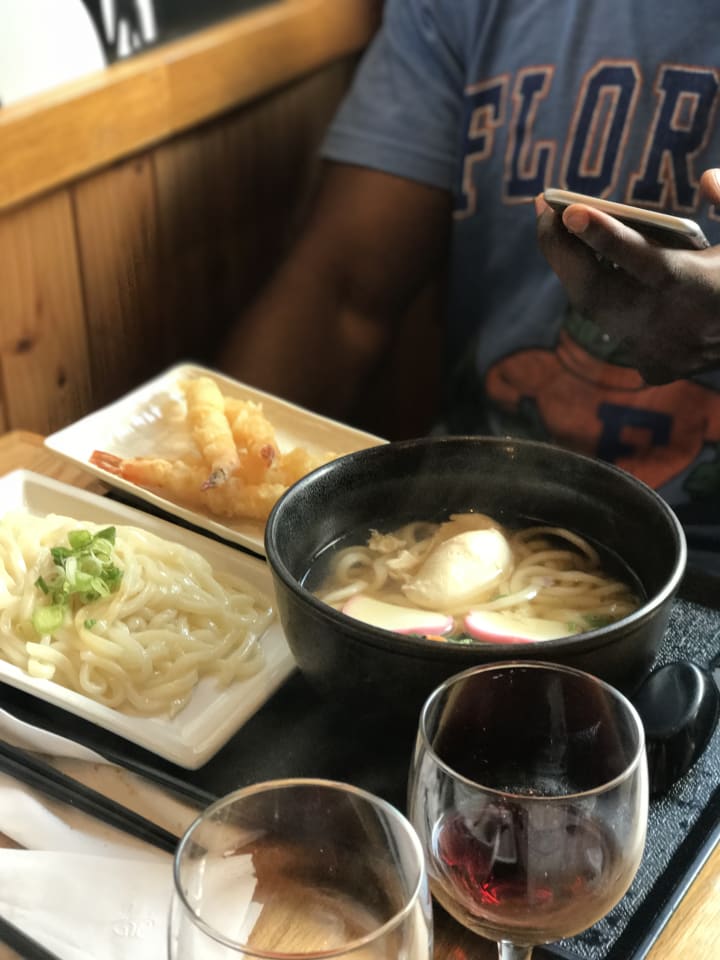 Lauren's Signature Ramen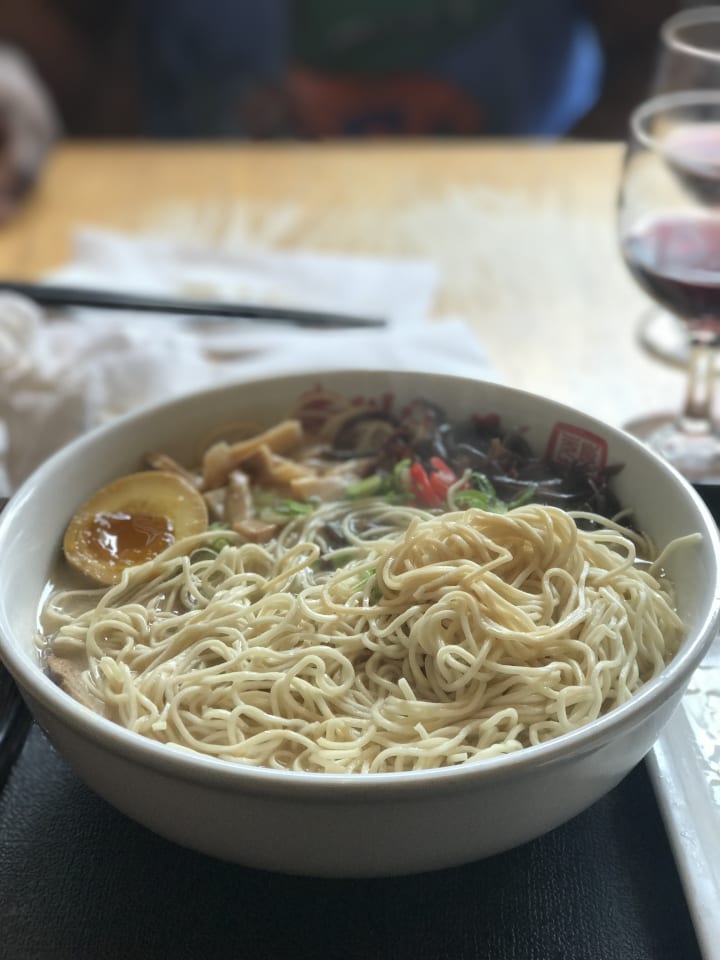 Placing my order, little did I know what I was in store for.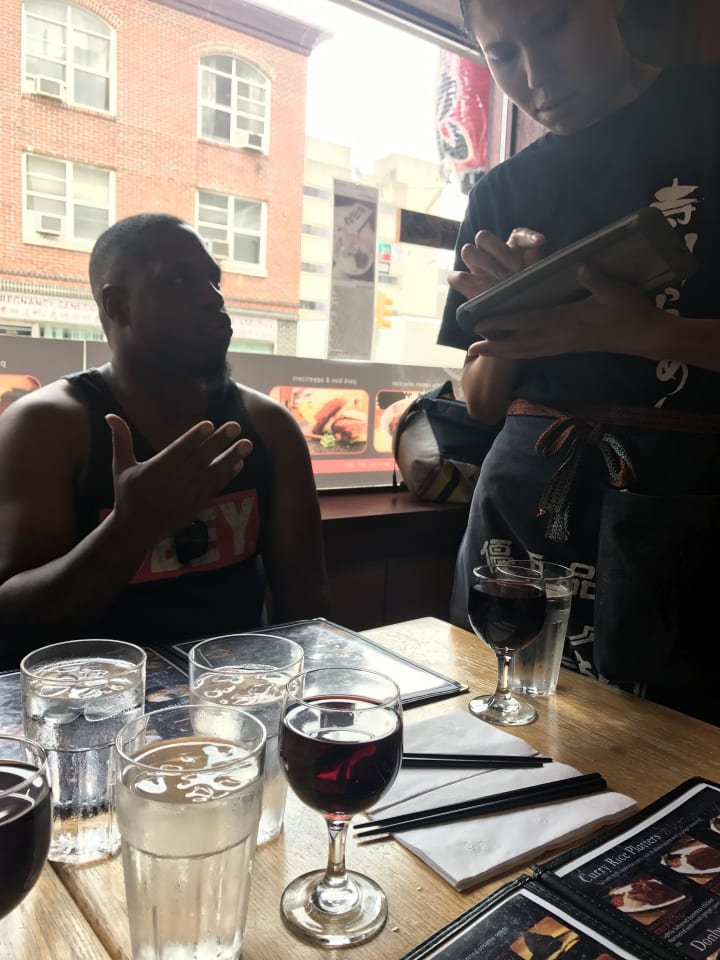 Want more dining options? Check out more Just Grubbin suggestions here!

Just Grubbin
We're not professional chefs or anything like that, just a group of friends that absolutely love food. No, seriously, we have a problem! So, of course, we decided to start a blog and document our food adventures.
JustGrubbin.com
See all posts by Just Grubbin →