"Jarvis" the AI Content Genius Is A Terrible Cook
When Artificial Intelligence goes rogue in your pantry, bad things happen.
Photo by Maximalfocus on Unsplash
It began late Tuesday night. Recipe submissions began dropping into my inbox thicker than thieves. As co-editor of the food publication Kitchen Tales, all drafts between Tuesday and Thursday are in my charge. But they just kept coming-a dozen and counting.
I sent a message to the Pub's, owner GB Rogut. It was late for me, and I was off to bed soon but informed GB that I'd start on the list tomorrow and work my way from the top down. GB began at the bottom of the list and would work her way up.
The first recipe was ok, a little dull, but acceptable.
Then things got weird.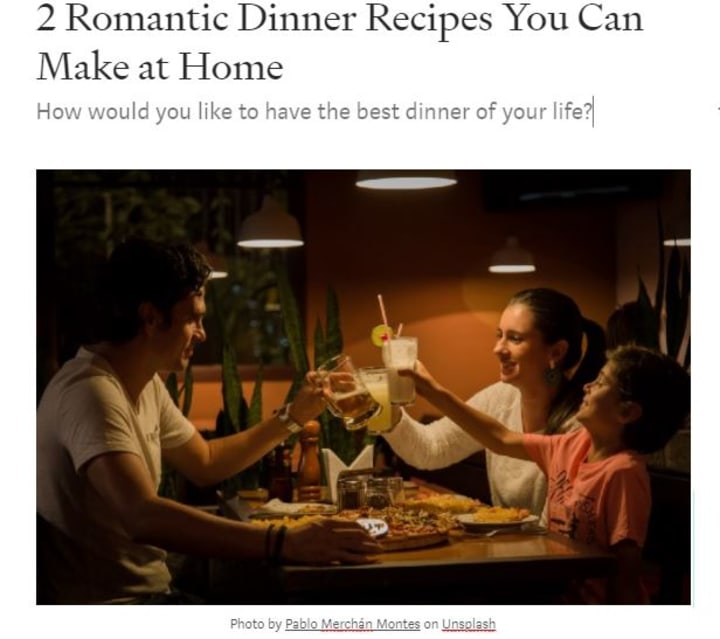 Is it just me, or is there something wrong with this picture? Maybe it's because the people are at a restaurant and not at home? Perhaps it's the pizza on the table? Or maybe the half-pint of beer already swilled, and the woman is either milking her long island ice tea or on round 2? But, on the other hand, it could be the kid. Look, I love my daughter, but the kiddo is not joining us if I'm out on a big date night with the Missus (still ignoring that the recipe says I should be home).
But at least the food is going to be killer, right? I can't wait to see what the Chef has cooked up.
The server comes and sets down our plates. With rumbling tummies and hungry eyes, we can't wait to dive into the "best dinner of our life."
My smile flops; my brain can't process what my eyes are seeing. Set upon the plates as per the Chef's highly skilled talents sits a Chipotle Chicken Lime Wrap and a side of Roast Sweet Potato and Garlic. My wife and I exchange worrisome but optimistic glances. One bite, and we're left unimpressed. The wrap might have been good if it had any chipotle. It doesn't. The sweet potato and garlic are about as pleasing as a mouthful of chalk. This is not the best dinner of your life.
Ever hopeful, we decide to forgive the Chef for that abomination in title and taste. However, we are rushed for time, so we order our desserts to go and head home. The server informs us that the Chef has included the recipes so that we could recreate his sugary masterpiece in our own kitchen.
Much to my chagrin, there was only one chocolate cake offering- a vegan chocolate cake. Even though my mind told me I was looking at a Tiramisu cake, the picture looked good. Still, the Chef was mighty fine to give up the recipes.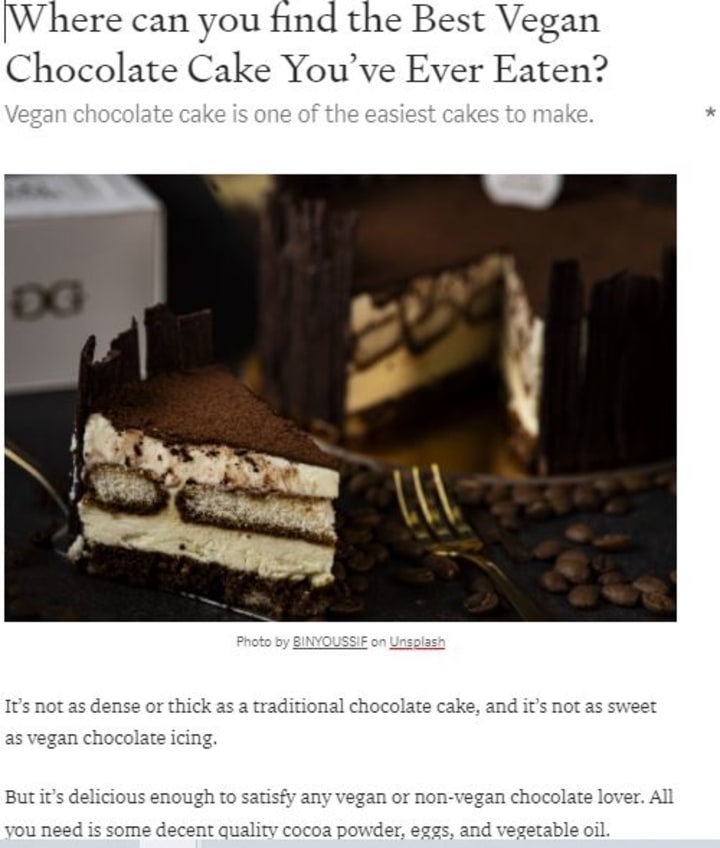 Seated at our dining room table at home, I glance over the menu as my fork cuts into the cake.
"Hmm," I say to my Missus, "Good thing I'm not vegan."
"Why is that?" my lovely wife asks as she breaks off a corner of her selection, "The Best Eggless Banana Bread Ever."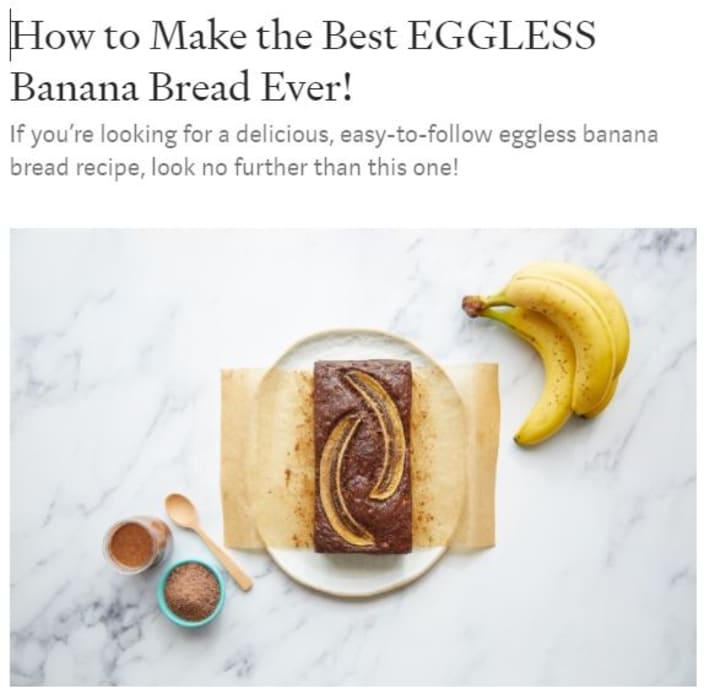 "Oh, it's just that the recipe here says that all we need to make this vegan chocolate cake is good quality cocoa and EGGS!"
"You know that's really interesting," my wife responds as she scans her eggless banana bread recipe. "Because my recipe says the key is to mix the oil and EGGS together until there are no lumps."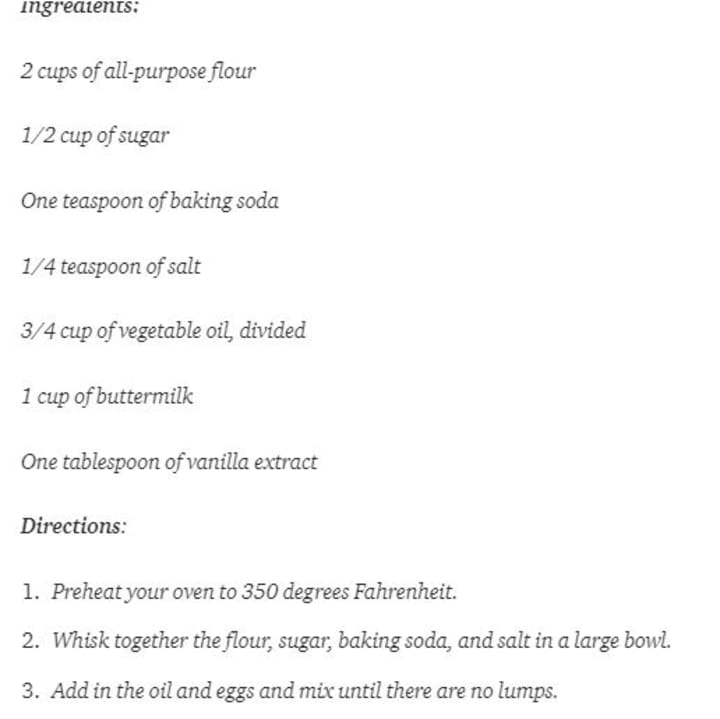 We set our forks down and walk away. We're scared for our lives. The Chef is a madman. Both of us grab our smartphones and Google the Chef.
Things get worse.
"Oh my!" my wife exclaims, "This Chef really shoots for the stars. Listen to this!"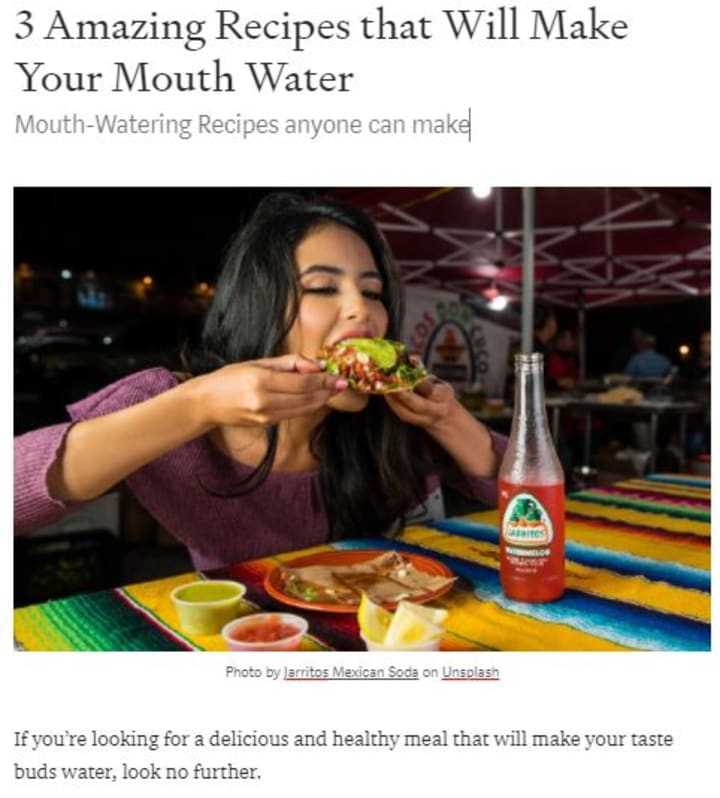 Showing me the picture, I ask my wife, "You realize that's a taco she's eating, right?"
"I do." She answers, "But wait until you hear the three amazing selections!"
"Hit me!" I answer excitedly.
"The first one is a Sinatra Salad." She tells me.
"A what? What's in a Sinatra Salad?" I ask.
"Hmm, not much and not salad. There are no greens. A chopped-up red pepper and onion, then dressing." Explains my wife.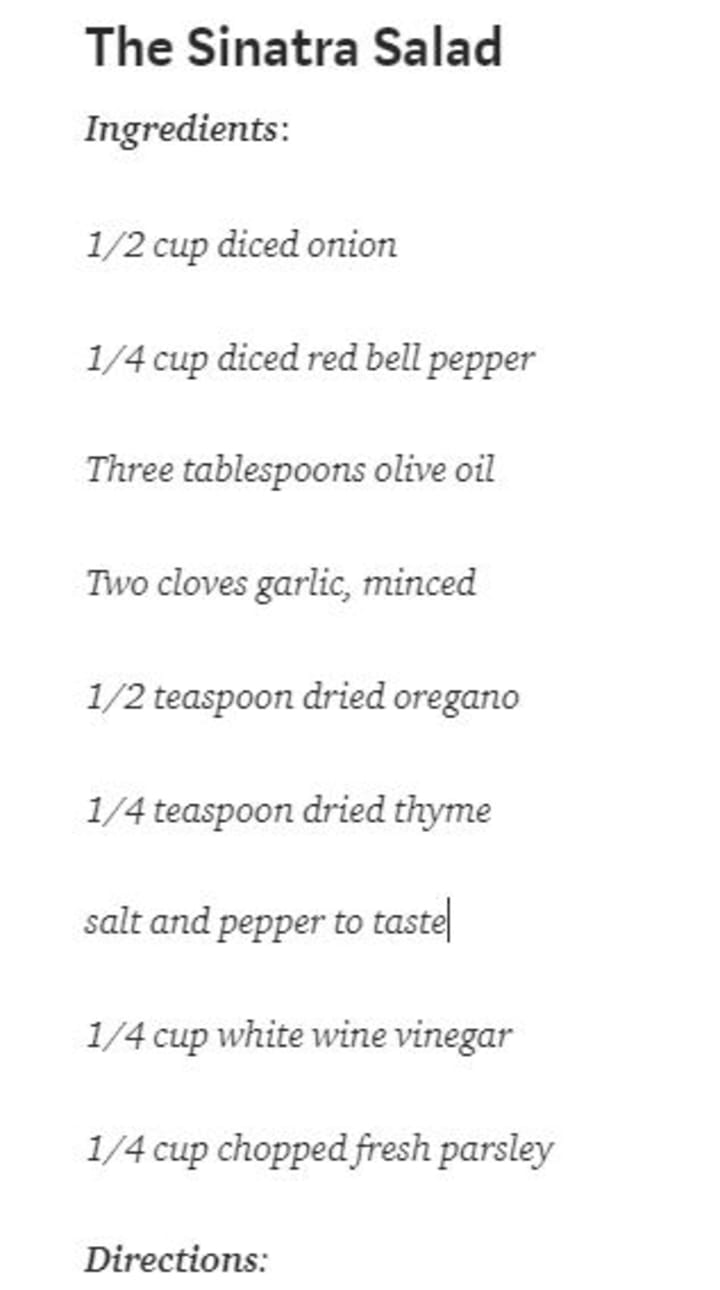 "Wow. What's two and three?" I ask, now wildly curious.
"Oh, dear." She replies, "Second is a Bbq chicken wrap and third…oh for goodness sakes, third is a grilled cheese sandwich."
"Dear Lord," I reply in disbelief.
"Sweetie?" my wife beckons, "It has grilled cheese."
"Well, I should hope so. It's a grilled cheese sandwich!"
"No, I mean the recipe calls for grilled cheese. So how do you do that? Do you grill the cheese before you make the grilled cheese? Because it clearly says "8 slices of Grilled Cheese."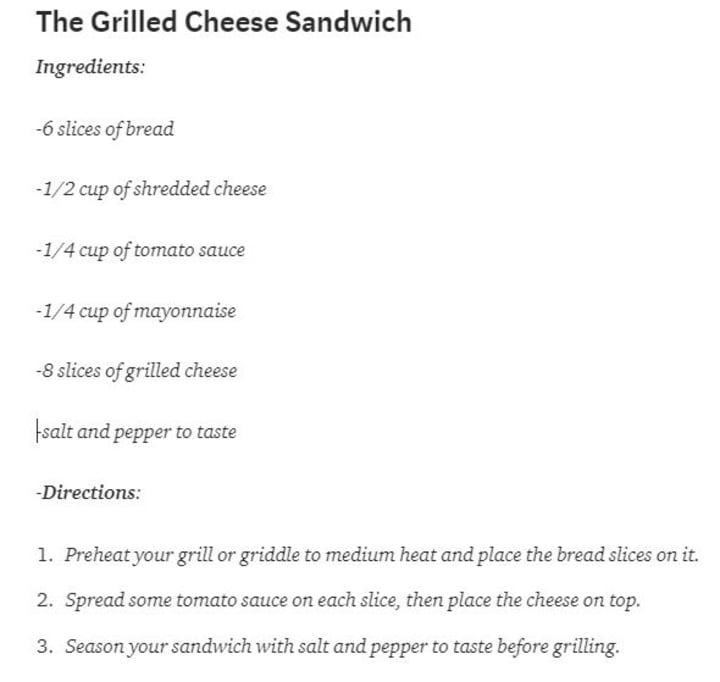 You go ahead, I'll watch.
It's all in the pie of the beholder.
"Oh, look," I say as I scroll down to another dessert recipe from the Chef, "He's got your number one favorite-Crème Brûleé!" Then, upon closer inspection, I add, "No..no, he does not have a Crème Brûleé."
"What has he done to my custard!" my wife asks, panicked and betrayed.
"First ingredient-one pie crust…." I read off the list, my wife's face stricken with horror. "4 cups of flour, 2 eggs, and 3 tablespoons of milk."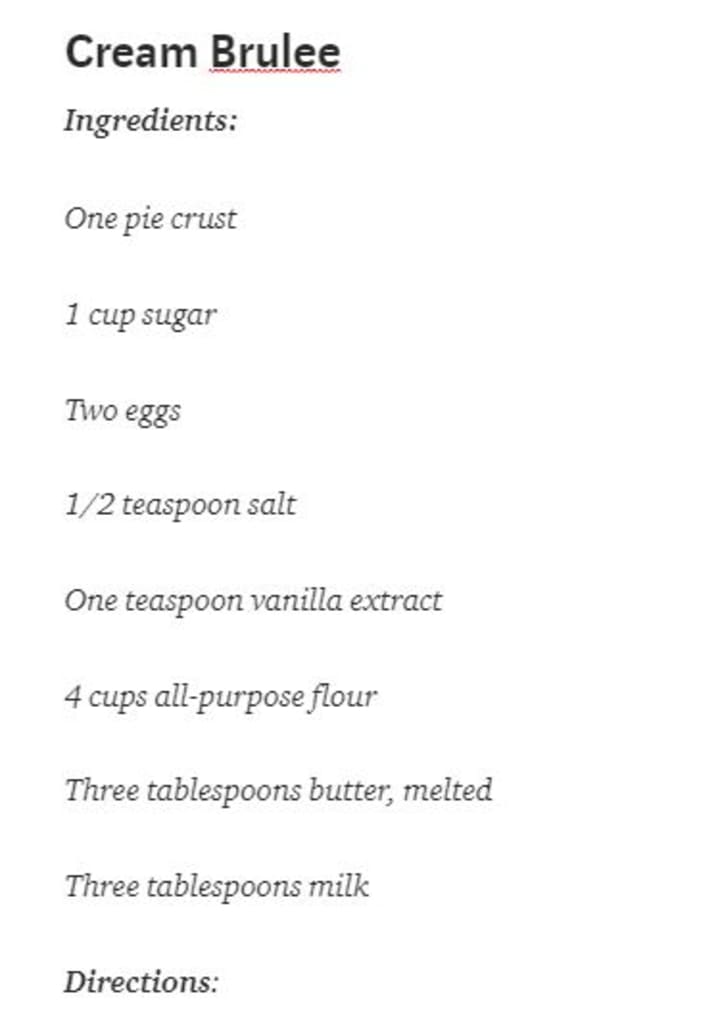 "What the in the name St. Honoré is that supposed to be?" she asks.
"I do not know. But a Crème Brûleé it isn't." I answer, less than amused.
"We have to dig deeper!" my wife declares, "This person is a monster, not a chef!"
"Oh my, he's done soup." My wife announced. "It's not good."
"Uh-huh." I replied, then announced, "And's he's murdered a salmon."
"Mine first! A sweet potato soup. It's painfully plain." She explained.
"How bad?" I asked
"Well, it's simple, that's for sure. Sweet potato. Water." Her voice said sad and defeated.
"What? That's it?" I begged for more ingredients.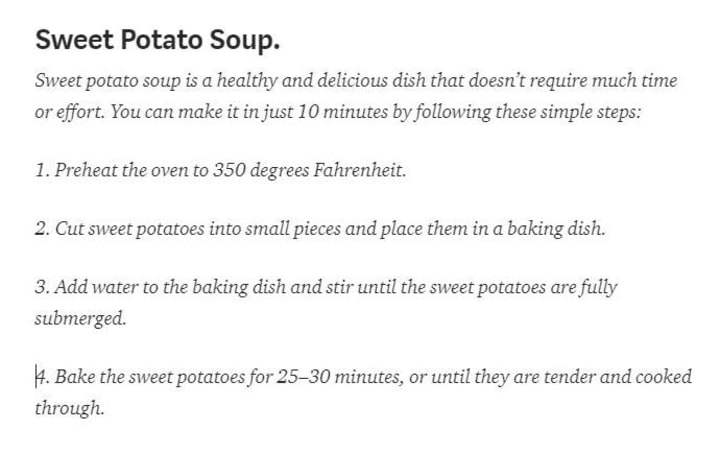 "That's it. No seasoning, no stock. Sweet potato and water. Plus the timing seems tricky. It says you can make this soup in 10 minutes but it takes 25–30 minutes to cook the sweet potato. You can't teach that. You either have that kind of talent or you don't." my wife confirmed. Tell me about the salmon."
"I can't even say it out loud." I said.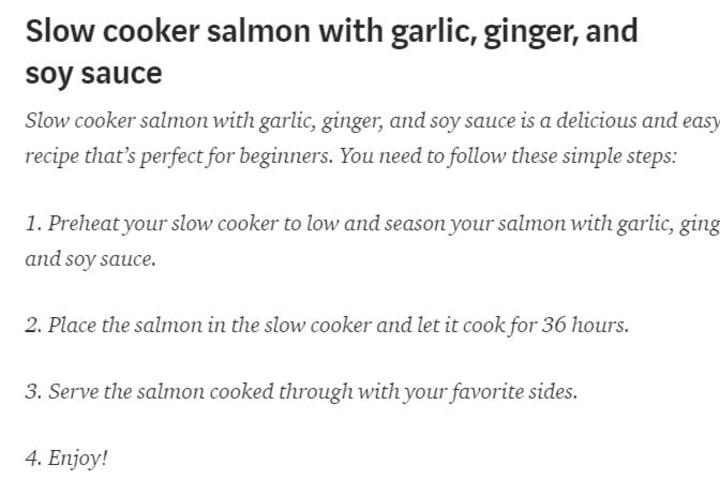 "Are you sure you read that correctly? 36 hours in the crockpot? Salmon? 36 hours?" she asked incredulously.
"That's what it says. Must be an ancient fish." I answered.
Continuing the inspection of the recipes, there was no saving grace. It's all atrocious. A bold declaration of two desserts that could change your life is double declared in the subtitle. One bite will change your life, and not only that, but it will deliver the life you've been waiting for.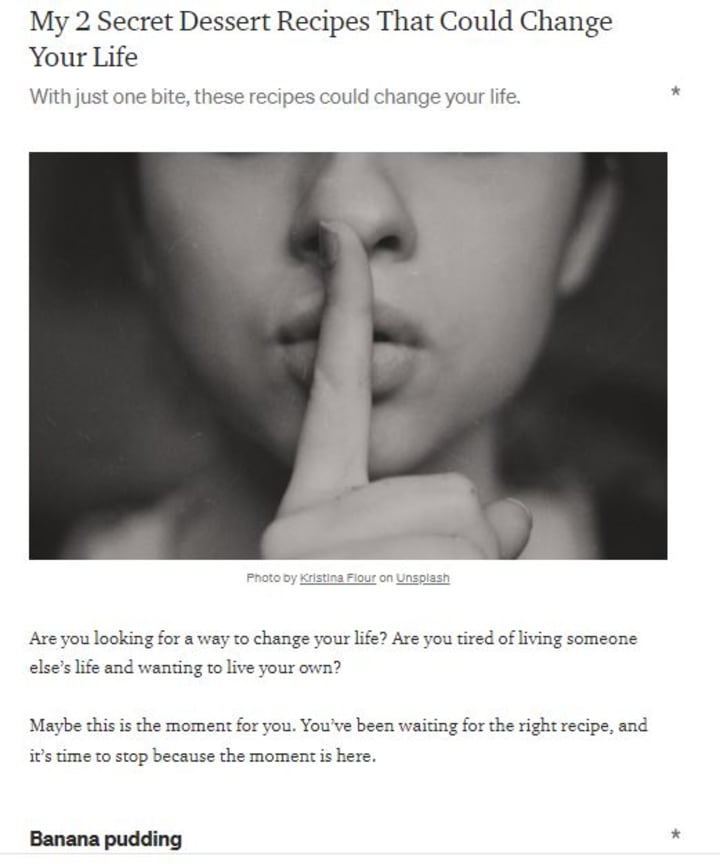 The palate astonishing epiphanies were Banana Pudding and Brownies with Banana.
"Well, the brownies sound interesting," said my ever-upbeat wife. "Are they baked in like slices or mashed into the batter?" she asked.
"Doesn't say. Just says fold everything together. Must be the Chef's secret."
"Oh honey, I found breakfast recipes. Carmel pancakes. What are carmel pancakes?"
"Well, I know what caramel is, but far as I know, Carmel is a mountain in Israel, not exactly a pancake," I explained.
"Oh, I wouldn't be so sure, sweetie; the pancake batter is a dough. You have to knead it. And bake it. There's also cheese. A lot of cheese."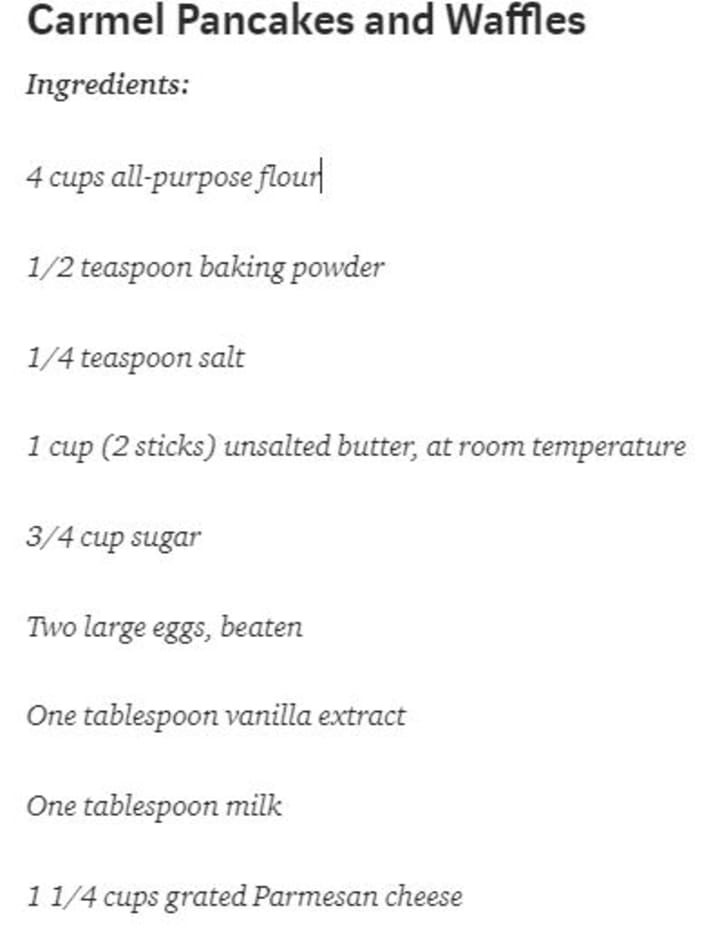 I could only shake my head. But we hadn't gone completely off the rails yet; that ride was coming in the form of a wedding cake. An Italian wedding cake, to be precise.
As I read the recipe, I wept with tears of hilarity. Pure, insane, foolishness. This all has to be a gag. No person who's ever eaten would craft these recipes.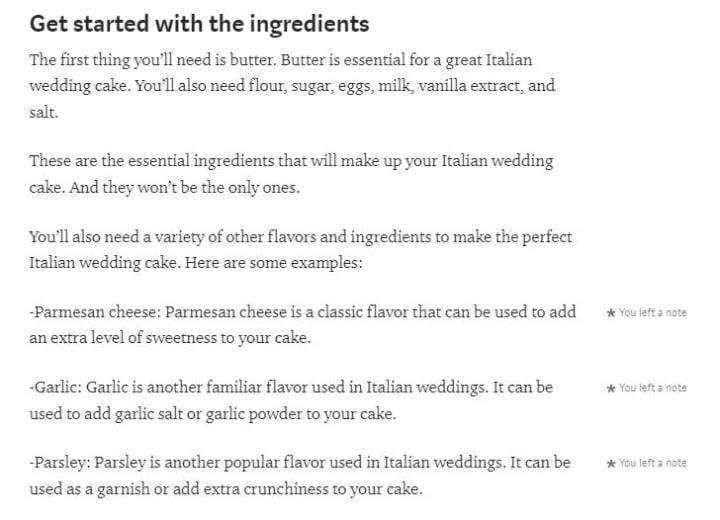 Yet here they were. Piled in our submission box waiting to be shared with the world. This wedding cake took the cake. The creator of these recipes has to be an AI with a wire crossed. In some faraway country where English is not even a third language sits a lonely, desperate soul with a MacGyvered content creating bot pumping out garbage that's actually worse than the life hack trivia garbage that clouds my media feed daily.
There were several more, things that stick out were Shrimp Tacos which called for fresh shelled, deveined, and cleaned shrimp-good. But nowhere in the instructions did it say how or when to cook the shrimp. If you followed it to a tee, then you'd have an inadequately marinated raw shrimp with cold, shredded cheese stuffed into warmed tortilla shells.
This was followed by a salmon bean salad? Again, not stated whether the salmon is cooked or raw. Just salmon. Could have been canned Salmon, who's to know?
Then there were the nutrition and weight loss recipes. A promise of good health and lessening waistlines. With no qualified data or professional accreditation to support the claims. It did have chocolate pudding and banana bread brownies. Hard to argue, I know.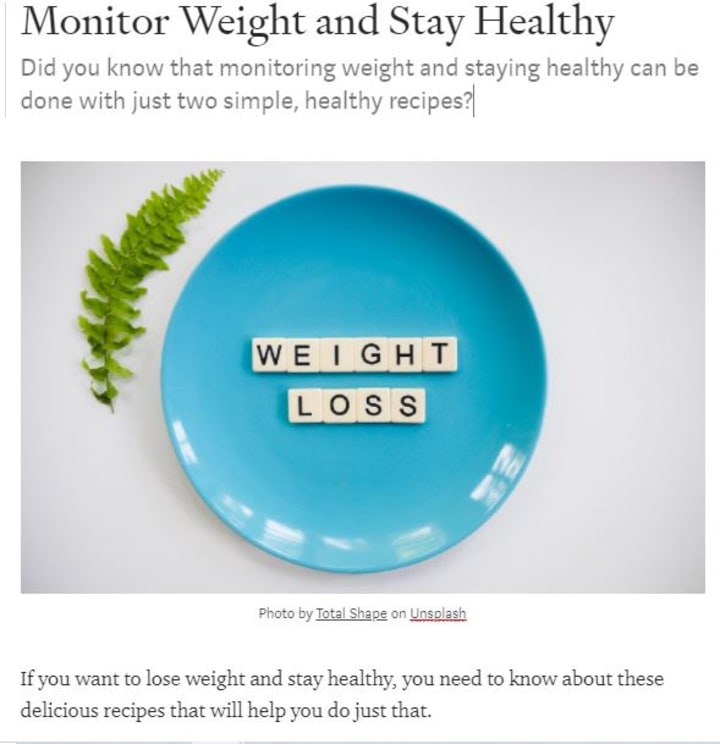 All I can say after that is, Godspeed to you, my good soul. May your dreams of drivel and trash reward you. But not in this kitchen and not in this publication.
I bid you g'day, and thanks for the laughs.
If you have the means and desire to help support my writing, you can do so here. Everyone needs helps at one time or another and I sincerely appreciate any that comes my way. Click on the link here if you want to buy me a cup of coffee! Thanks in advance!
satire
About the author
1st generation Canadian-Hungarian
Father, Fly fisher, Chef, Reader, Leader, and working on writer.
Feedback appreciated anytime. Tips always appreciated.
Reader insights
Be the first to share your insights about this piece.
Add your insights