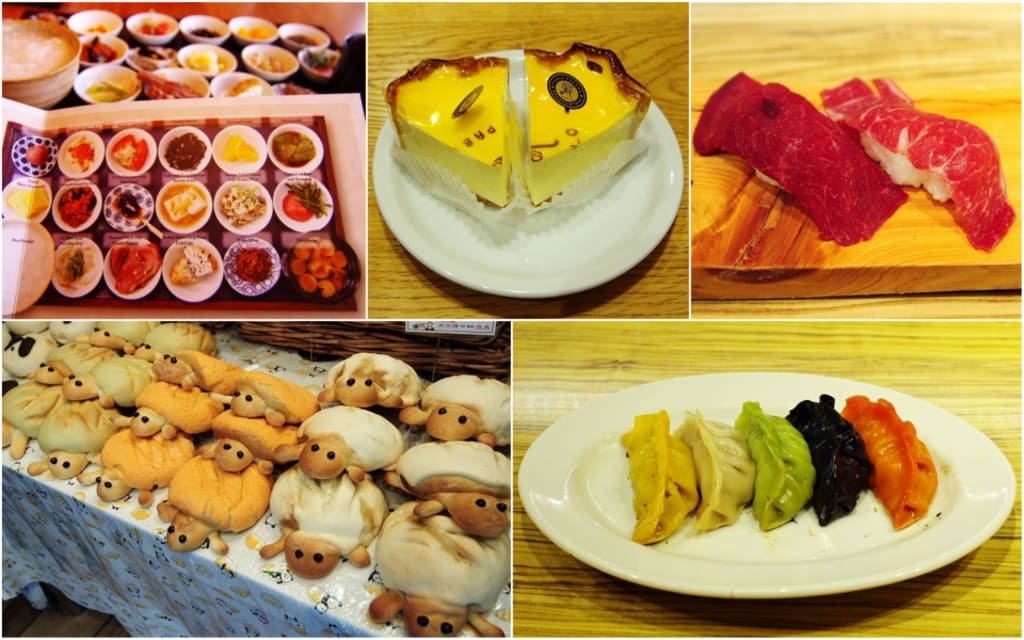 Ask me what to do in the capital of Japan for 4 days, if all the main sights were meticulously examined 2 years ago, and Tokyo's chaotic skyscraper buildings are already dazzling to the eyes. I could only find one answer to this question. In Tokyo - to eat! Some will say what a gastro-concerned approach, I should have gone through their Buddhist-Shinto remakes again, absorbing the concrete heritage of centuries. Nonsense, I will answer you, in Tokyo, you need to absorb completely different things!
Such high-profile statements need to be backed up with something, let's start doing this with the Grill-Bon diner. This is a tiny establishment in the central shopping district of Ginza with 6 narrow seats and a reputation that has stepped far beyond Tokyo. The Grill-Bon menu includes only one dish, namely, a beef sandwich. The dish is offered in two versions: full size and half. A half serving (4 slices of bread) cost 1,050 yen, i.e. about 10 dollars.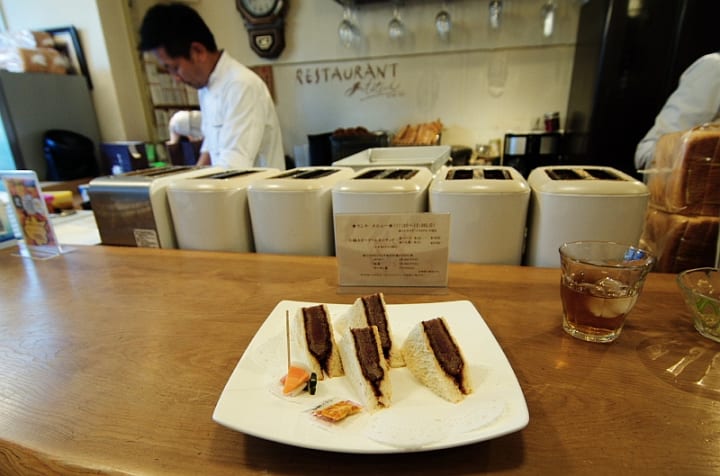 Not cheap, but you get an exclusive product of unprecedented quality! The most tender beef, sweet and sour sauce made according to a secret recipe, the freshest bread and the tea that comes with the beef sandwich won in the category: "The best tea of ​​the trip" - it's impossible to think of any complaints.
And if on my last visit I walked in strange places, like: "Gucci Cafe", "Cute Monsters Restaurant", "Video Games Cafe", or a specialized "Horse Restaurant", but this time I walked exclusively through traditional establishments.
This time my childhood friend, a gourmet with experience and a clear idea of ​​what is possible and what is not, became my companion. As a result, all my suggestions, like "let's go catch our lunch at the fish restaurant "Zauo", and see the food performance at the "Ninja Restaurant", were nipped in the bud. "We've come here too far to eat cheap tourist food," said the childhood friend, and with a determined step walked past all the tempting offerings of the Tokyo fish market.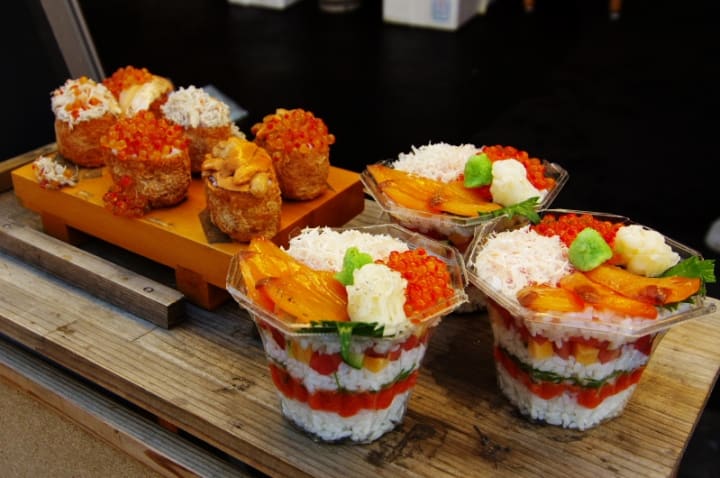 Instead, we went straight to the upmarket Butagumi meat restaurant. Don't let the unsightly appearance fool you: the general barrack architecture, collapsing sliding doors, translucent papyrus partitions, and creaking wooden stairs. Behind all this ostentatious junk lies one of the best tonkatsu restaurants in town.
What is tonkatsu and what is it eaten with? Literally, tonkatsu means "pork cutlet" and in this case, the translation speaks for itself. Breaded pork chop is a pork chop, but the Japanese would not be Japanese if they could not rethink this seemingly simple dish and create something special out of it. And for those who still doubt, they bring a long instruction for consumption - learn the order of eating pork!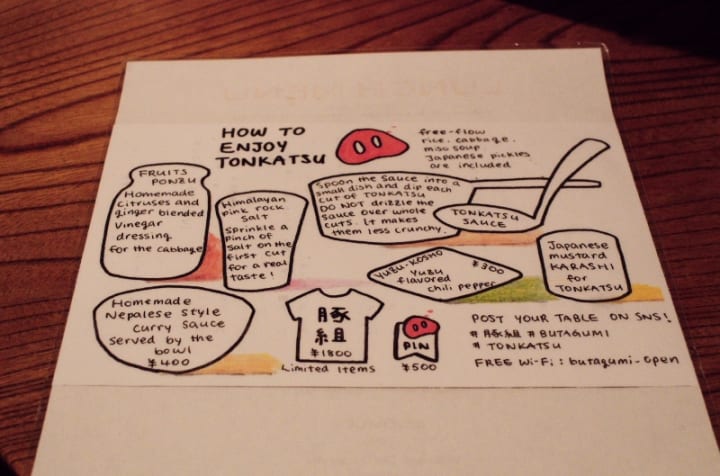 The "Butagumi" menu is a huge list of over 50 "named" varieties from all over Japan! To understand how (for example) "Ryuka-Ton" from Okinawa differs from "Gen-Ton" from Nigata can only be real pork experts. For beginners, they wrote only a lengthy remark: "The lower the greasy." Prices, even by Tokyo restaurant standards, are decent. Servings of 150 grams start at $30 and end somewhere around $60. The set of meat will bring you a mountain of chopped cabbage, rice, miso soup, and a decent selection of sauces.
We begin with a wonderful pork meatball and an unremarkable sausage. Then we smoothly moved on to the best-fried vegetables in my life and a very good main course. We ended the dinner with a completely tasteless sake, however, I am not an expert on alcohol. Later, I read from knowledgeable people that it was necessary to take either Iberian pork or Imobutu, the so-called "Potato pig". But be calm: you will not find bad pork in Butagumi!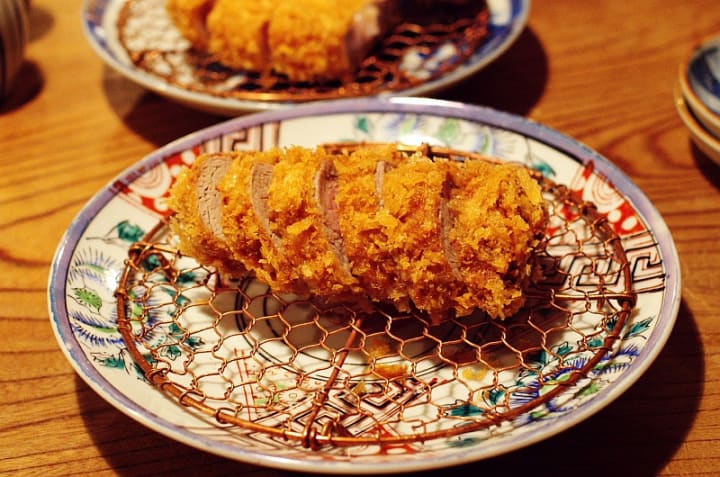 I have read a lot of good reviews about this restaurant and I can only confirm that Butagumi really does offer quality meat without any compromises, but is it worth that money? Will the schnitzels at any other of Tokyo's thousands of cheaper tonkatsu restaurants be worse? Not sure.
Then it was the turn of the quarter called Peeing Alley. I wanted to go to an authentic Japanese diner (izakaya). The history of the appearance of Alley is curious. In the 40s of the 20th century, illegal diners began to be built near the busiest Tokyo station (Shinyuku), these were the so-called "Kebab cabarets", where kebabs (yakitori) were served by half-naked waitresses. At that time, no one really cared about conveniences, so people relieved themselves right around the corner by the railway tracks.
Hence the unofficial name of the alley. In 1999, the wooden restaurant labyrinth burned down completely to be reborn in a more decent form, which we can observe today. A pile of 80 tiny diners, narrow aisles, tightness, and noise, but in my humble opinion, this is the most atmospheric place in all of Tokyo, and if they also returned barbecue cabarets ...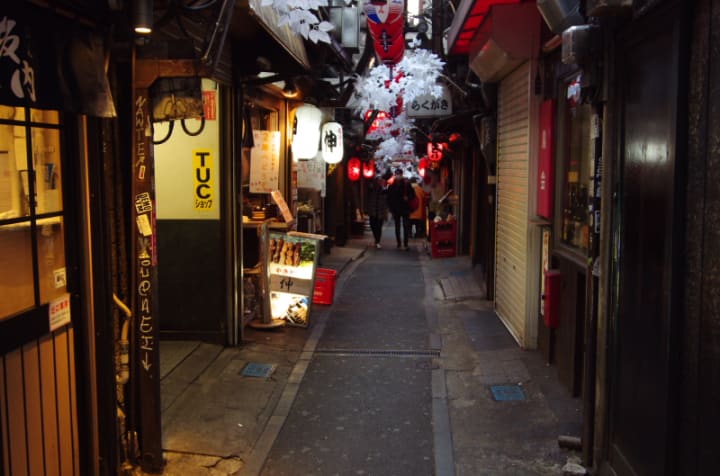 By the way, let's take a look at the menu: cartilage, intestines, stomach, uterus... it's not that I was so eager to try pork uterus barbecue. I wasn't at all. If the goal was to taste exotic food, then it was necessary to go the next door, where the diner Asadachi was located, the name translates as "Morning Erection". Here there would be a complete set of (allegedly medicinal) fried pork cocks, raw frogs, fried salamanders, etc. In general, I did not dare to experiment and took a "set of a cautious tourist." Some pork, a chicken, and 3 fried mushrooms. Do not expect an explosion of taste for such money, simple edible food, nothing more.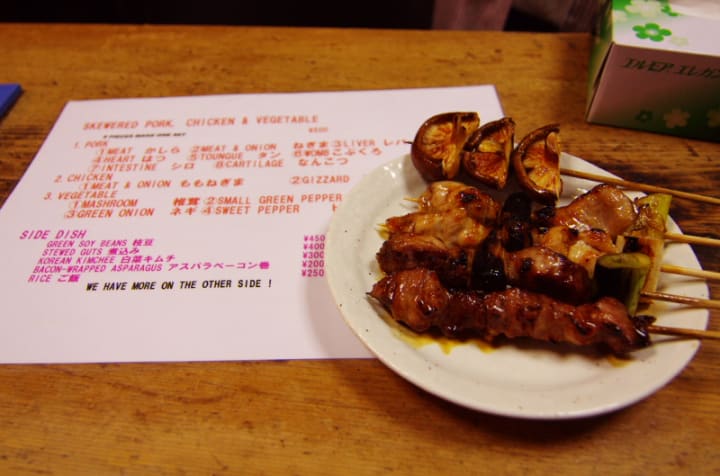 The next morning we decided to go to the 400-year-old temple "Tsukiji Hongan", where I got an increased dose of culinary experience! It's about the 18-plate set "Hinmoku No Asagohan", which translates as "Morning Breakfast". They have a nice set. The number 18 was chosen for a reason, it should symbolize the 18th vow of Buddha Amitabha. I will not give the full text of the vow, I will only say that I absolutely did not understand how it is connected with breakfast. Moreover, the choice of the proposed dishes did not at all correspond to my idea of ​​real temple food.
Okay, rice porridge with traditional miso soup, but what's next? Cod and salmon caviar, octopus salad, dried fry (shirasu) fish cake (i.e. surimi sticks) fried duck. A good half of the dishes had clearly non-vegetarian roots! Naturally, in terms of food, I had nothing against it, but a small worm of doubt gnawed, did I definitely go to a Buddhist cafe?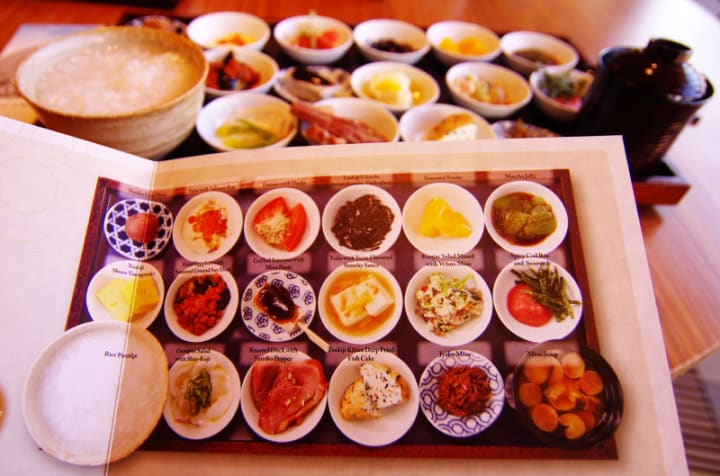 Then there were no surprises any more, I already looked in the Internet menu what I would take. It was the "Ultimate Chawanmushi Sushi Set" for 2,000 yen, i.e. about 18 dollars. Chavanmushi, in simple terms, is an egg cream made with soy sauce, fish broth, and who knows what else. It turned out to be quite a tasty mix.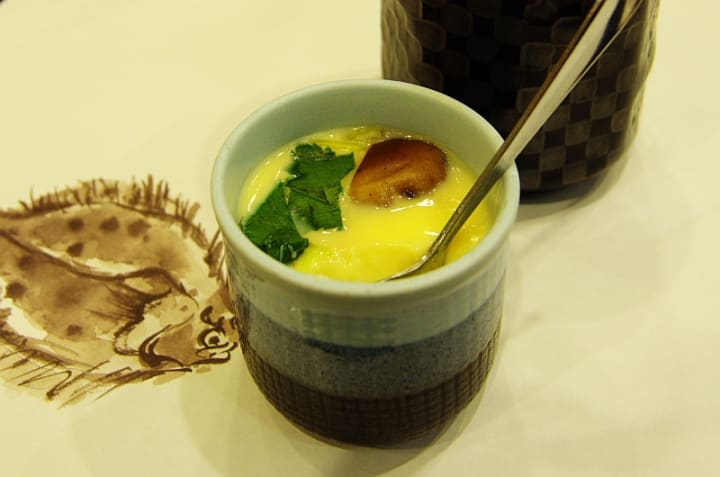 Well, and sushi. of course. It was beyond praise! A distinctive feature, they didn't bring the whole portion at once, but the cook kept reporting finished products to the plate.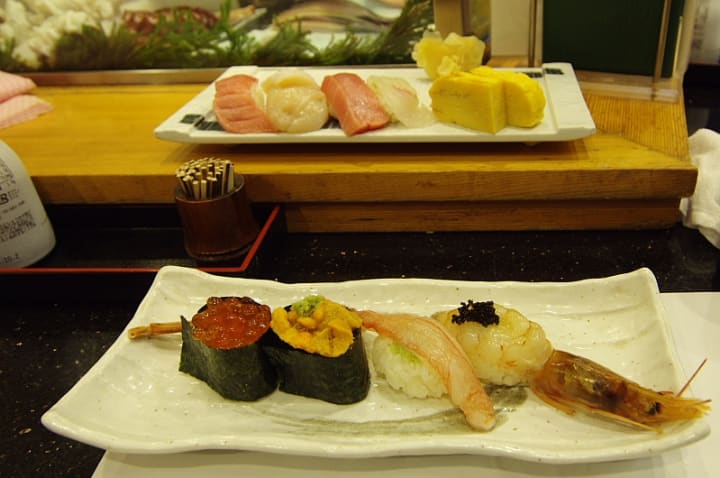 A few words about Japanese sweets. Yes, this time there will be no separate theme: "Sweet Tokyo", but only a few words. What can I say, in Tokyo, everything is still in order with sweets! Innovative tomato products here coexist with artistic hot dogs.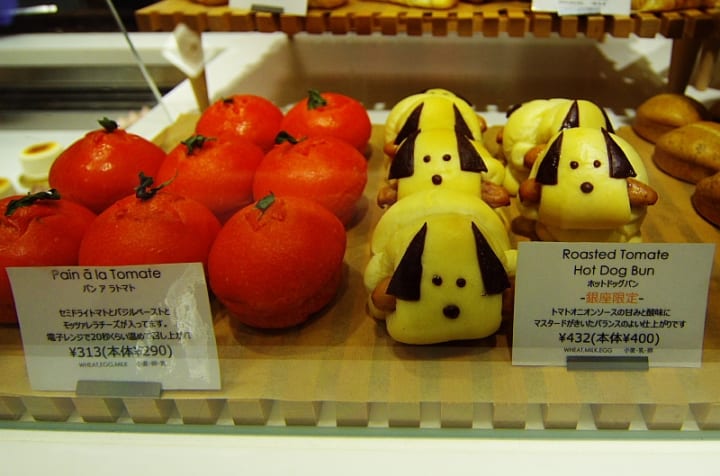 I was enticed by the "unique" cross between croissant and donuts.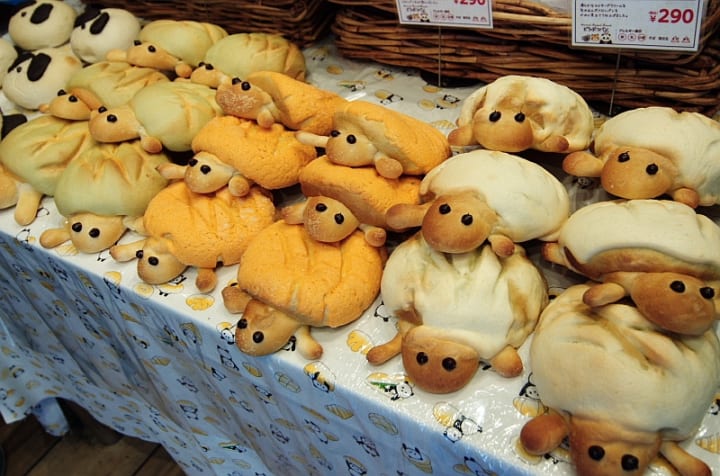 And "Pablo", an incredibly delicious cheesecake, I tested last time. I'll be brief, "Pablo" is good. Damn good! I have no idea if it deserves the title of "Best Cheesecake in the World", but that this is a mandatory goal for any sweet tooth remains beyond any doubt for me.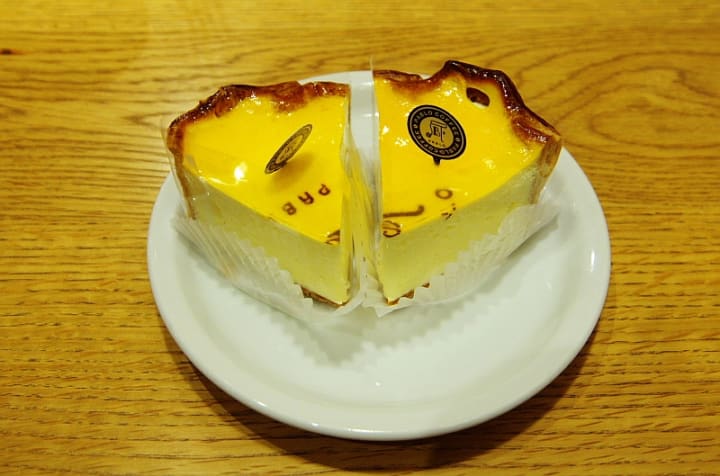 Reader insights
Outstanding
Excellent work. Looking forward to reading more!
Top insight
Eye opening

Niche topic & fresh perspectives
Add your insights