I'm Trying to Save the World (Not be Bored by It)
Sustainability doesn't have to mean a healthier lifestyle, I'm living proof.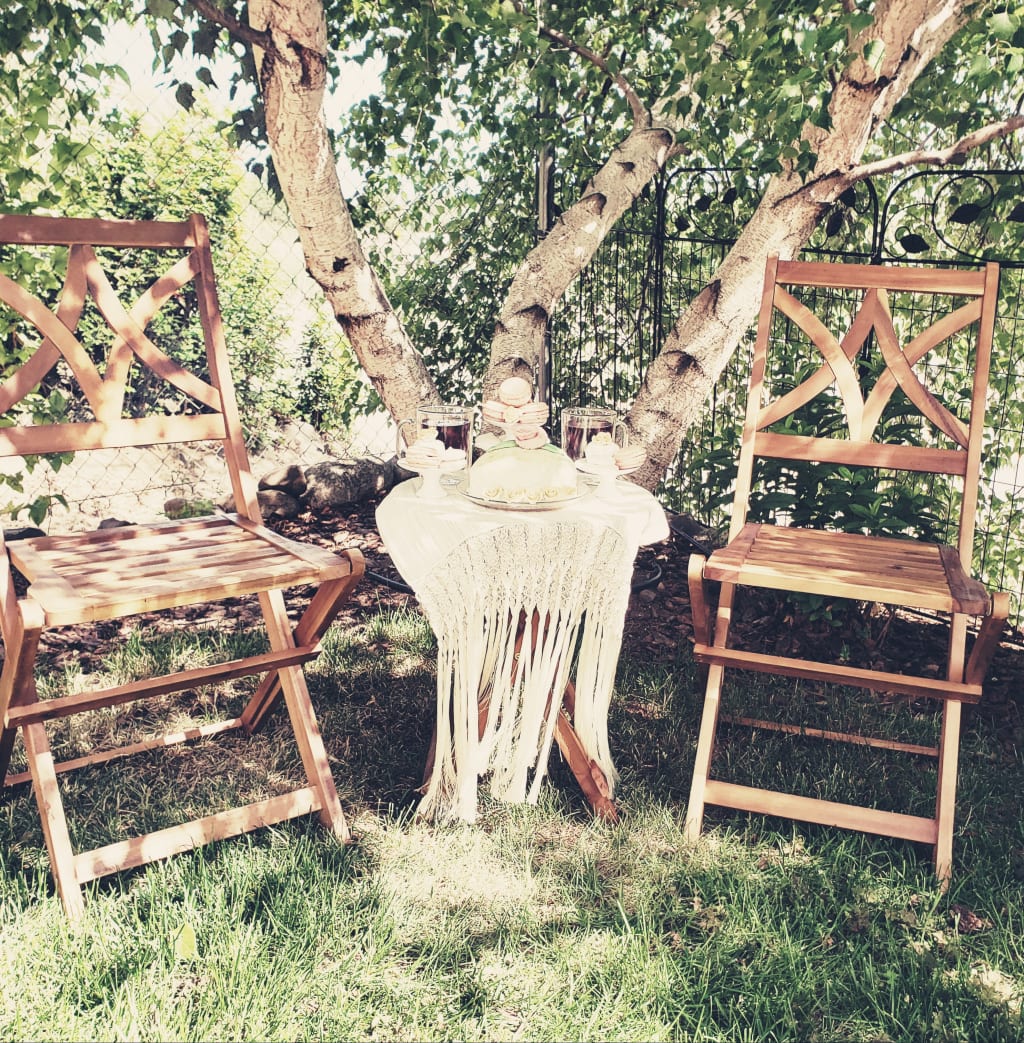 I love trees! No really, I love trees. Big trees, little trees, straight trees, gay trees. You name them I love them!
But at the moment trees are facing a bit of a crisis, mainly that other people apparently don't love trees as much as I do. Astounding, I know. And because people don't seem to love trees as much as I do (or you know, the ocean, the sky, birds, bees, fish, coral reefs, rivers, lakes, non-tree plants, large cats, small cats, all the cats) they aren't doing everything they could be doing to protect said trees. And that doesn't make me very happy.
However, trees are not the only things I love. I also love food, fashion, and writing. And unfortunately, sometimes these other loves of mine decided that they don't want to co-exist peacefully with my love of trees. Which is hard. It's hard when your bairn children fight, and I don't want to be forced to pick favorites.
So it has become my undying mission is to not pick favorites. I fully intend to have my cake and eat it too!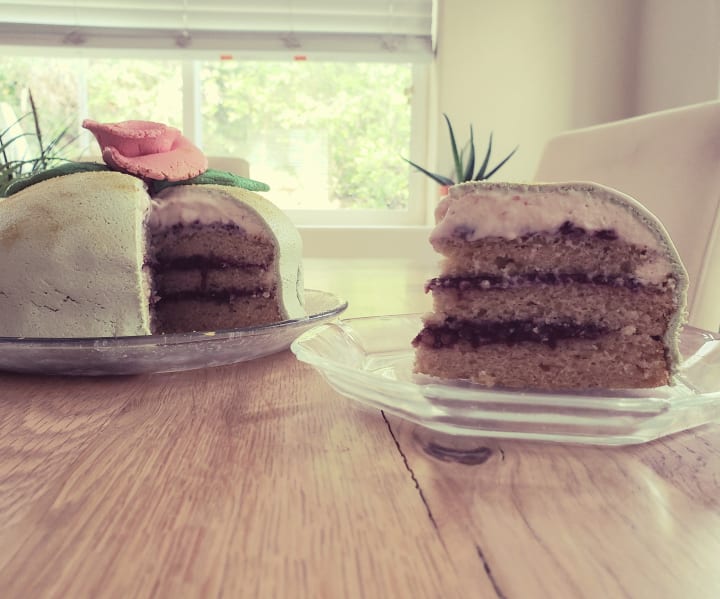 And part of rectifying my inner turmoil was going vegan. Now just because one is vegan doesn't mean they're saving any trees. But all in all vegan diets do tend to have a significantly smaller carbon footprint and require less land to sustain. Remember, animals don't just take up the land they stand on, but also the crops that are grown to feed them. Think of all the trees we could plant.
Now I want to let you in on a little secret… Vegan food doesn't have to be healthy!
In fact, my diet is probably something no one should aspire to. My three main food groups are raspberries, red curries, rice, boba tea, and french macarons. And I know what you're thinking, those aren't food groups, that is just a list of your favorite foods.
Really? Are you sure?
Because last I checked the food groups are important categories of foods that you should eat from every day. And what I gave you is a list of important staples that I eat every day.
But I'll digress. The point is I didn't become vegan so that I could eat healthily, I became vegan to try and eat more green, And I don't mean color.
What I mean is lessening the carbon footprint and overall environmental impact of my diet. And while nothing is perfect, I have found that a vegan diet tends to be marginally better than a diet that includes animal products. And if more people start choosing that margin over meat it has the potential to make a big impact. Of course, this requires people to make the change.
I can't do that for you, but I can give you a few more reasons to consider it. Like these beauties.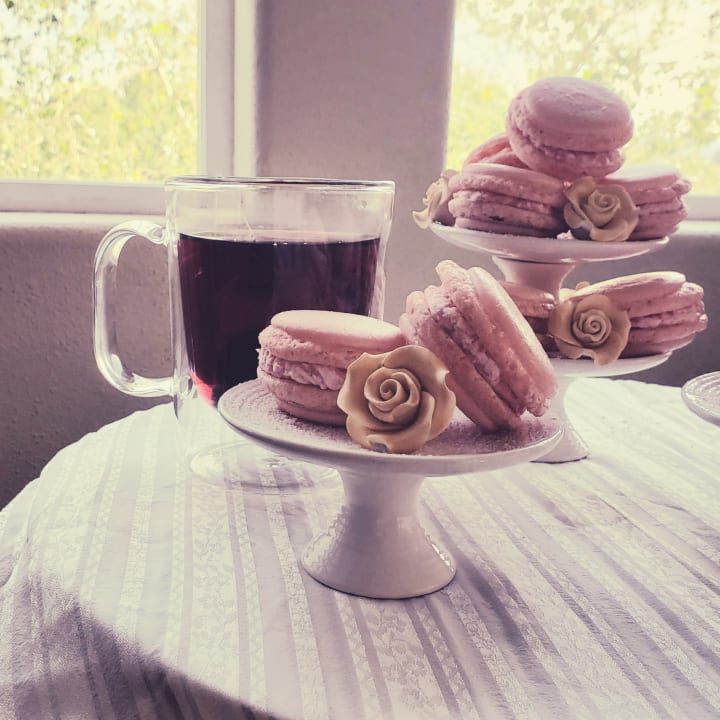 One confectionery delight particularly dear to my heart is macarons. They are absolutely delicious and the ultimate death of my waistline. They're also not vegan.
I'll be the first to admit that I didn't start pursuing veganism until I knew I wouldn't have to give up my favorite foods. Perhaps that isn't the best attitude to have, it is something I'm working on. But for now, at least, I am still human.
Fortunately for me, I stumbled across a vegan alternative for egg whites in baking; aquafaba, which is the liquid that comes from a can of garbanzo beans. You use two tablespoons for one egg white or three tablespoons for one whole egg.
And it actually works!
Not that I ever doubted the internet completely... just mostly.
If you have never dared to poke the sleeping dragon that is the macaron recipe then you may not realize that they are very hard to make. Sure, the recipe itself seems simple enough.
But don't let it fool you.
There are a hundred-and-one things that can go wrong, and will if you dare to face this challenge. But rest assured, that if you like these cookies as much as I do, there is a vegan version… assuming you can survive it.
So here it is.
My vegan recipe for French Macarons, along with my favorite filling.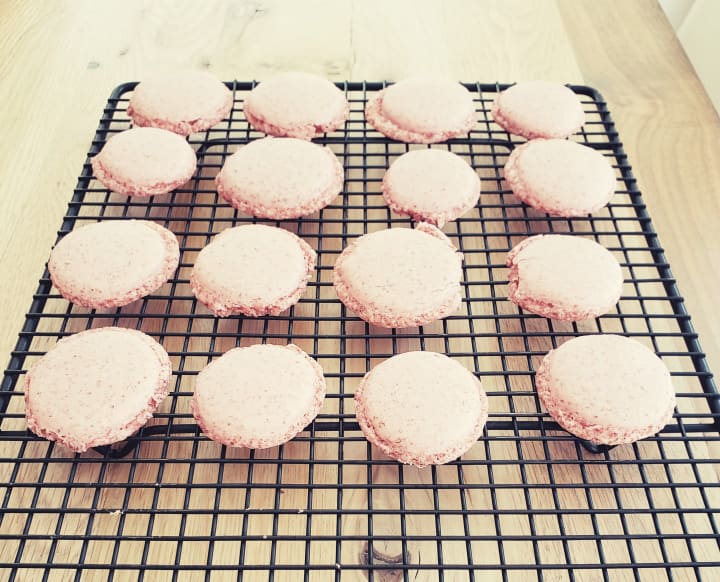 Ingredients
1 ½ cups Almond Flour
6 tbsp Aquafaba
1 cup Confectioner's Sugar
1 tsp Vanilla Extract
½ tsp Cream of TarTar
1 cup Granulated Sugar
Directions
Add the almond flour and confectioner's sugar to a bowl and mix together. Then pass this mixture through a fine-mesh sieve gently pushing through with a spoon or spatula. there will be little balls leftover in the sieve, just throw those out. Also, enjoy this step. Take a deep breath of calm during this step. Because this is by far the easiest part to not mess up, and it only goes downhill from here.
Next, make sure the bowl of your electric stand mixer is clean; even if you think it is clean I still recommend whipping down the bowl with a little bit of vinegar or lemon juice on a damp paper towel. Then add the aquafaba and cream of TarTar to the bowl and whisk on high until it forms soft peaks. Be patient, this may take a while.
Once your meringue is starting to form soft peaks you are going to slowly start adding the granulated sugar one tablespoon at a time while mixing on medium-high speed. After you have added all the sugar, you can add the vanilla extract, and any other extract or food coloring as desired.
Then continue to whisk the meringue on hush until it starts to fill the inside of the whisk. This may also take some time, but it is important to keep an eye on it, as soon as it starts to clump around the whisk stop. If you over-mix it will start to deflate.
After your meringue has formed stiff peaks, remove the bowl from the mixer and add about one-third of the dry ingredients to the meringue and very gently fold in until fully combined.
Then add the remaining dry ingredients and gently fold them in as well. I recommend using a rubber spatula to "cut" the batter in half down the middle and then fold one half over the other. Turn the bowl 90° and repeat. Continue to do this until the batter is about the consistency of lava. You should be able to lift the spatula out of the batter and it pour down in a ribbon shape. To know if it's done, lift up the spatula and use the ribbon of batter to make a figure-eight on top of the batter in the bowl. If the figure-eight breaks (meaning there isn't a continual stream off of the spatula) part of the way through it isn't ready yet. And soon as you can make a figure-eight without it breaking stop mixing. You don't want to over mix the batter.
Pour the batter into a piping bag with ¼ inch round tip. Pipe the batter onto a parchment-lined cookie sheet, making about 1 to 1 1/4 inch circles an inch apart (I recommend using little dots of batter in the four corns of the cookie sheet to "glue" the parchment paper down).
Tap the cookie sheet fairly hard against the counter to release any air bubbles that might be in the batter. Then let them sit for about 40 minutes to an hour, until you can run your finger over the top of the cookies and it isn't sticky. Now is also a good time to pre-heat the oven to 300F or 149C.
Place the cookie sheet on the middle rack and bake for 15 to 17 minutes (I have found that for some reason the vegan version takes a little longer to cook). Or until the edges are lightly goldened.
Let cookies cool completely before adding the filling. Once cool add your filling of choice to a piping bag and pipe onto one cookie, leaving a little bit of room along the edge. Then place a second cookie on top and press slightly. These are best if you leave them in the fridge overnight and then eat them the next day. They usually last a week or two in the fridge.
The Filling -Raspberry Porto
Ingredients: 2 cup fresh raspberries, ½ cup granulated sugar, ½ cup Porto (tawny or ruby), 2 cups coconut whipped cream
Directions: add the raspberries, and sugar to a pan and place on medium-high heat until raspberries break apart then reduce to medium heat for about 5 minutes, stir occasionally. Turn heat to low and add the Porto, let cook for about 10 minutes stirring occasionally until thickened to a syrup (Note: this will burn off most of the alcohol). Pour mixture through a sieve into another bowl, pressing through until only the seeds and a little bit of pulp are remaining in the sieve, throw this out. Then place the syrup in the refrigerator to cool. One cold, gently fold half of the raspberry sauce into the coconut whipped cream until fully combined. Keep refrigerated unit ready to use. When filling macarons do a ring of the raspberry whip with a dot of syrup in the middle.
Note: I recommend just buying coconut whipped cream at the store if you can find it. I've made it at home myself but it is very inconsistent.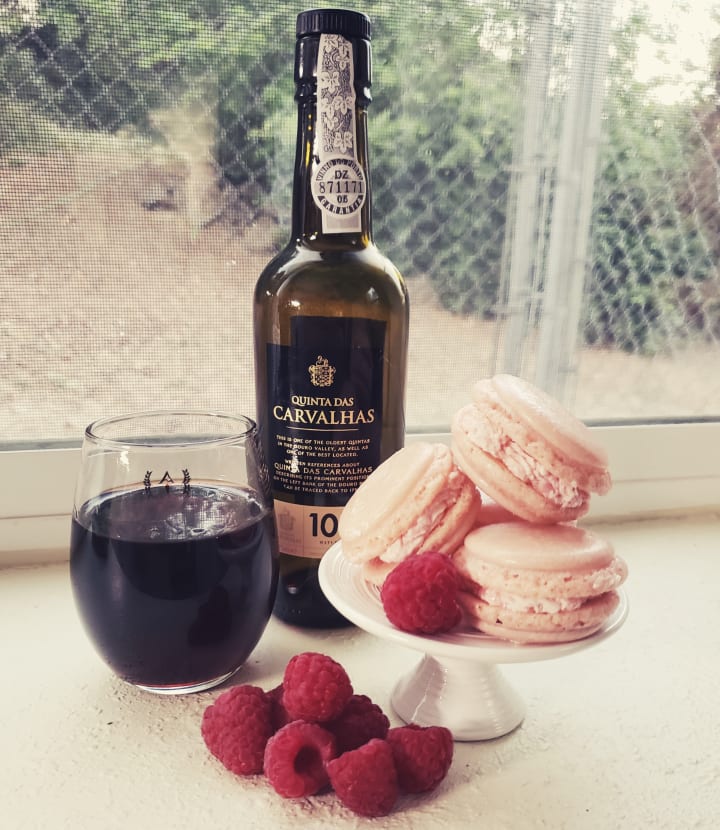 This may all sound a bit daunting. And no, you don't have to love trees as much as I do. But if there is something that you love and want to protect, then this might be a journey worth embarking on.
I'd also like to add that I acknowledge and respect the fact that not everyone has the ability to make the same choices I have. Which is a large part of the reason why I feel compelled to do so. I have that liberty and I want to do my best with it.
Am I trying to guilt-trip you into changing your habits if you can?
Well, yeah. It's true that the only constant thing is change, but you are the one who decides if your change is for better or worst. I can't make that decision for you. But I can give you a slice of cake for the road.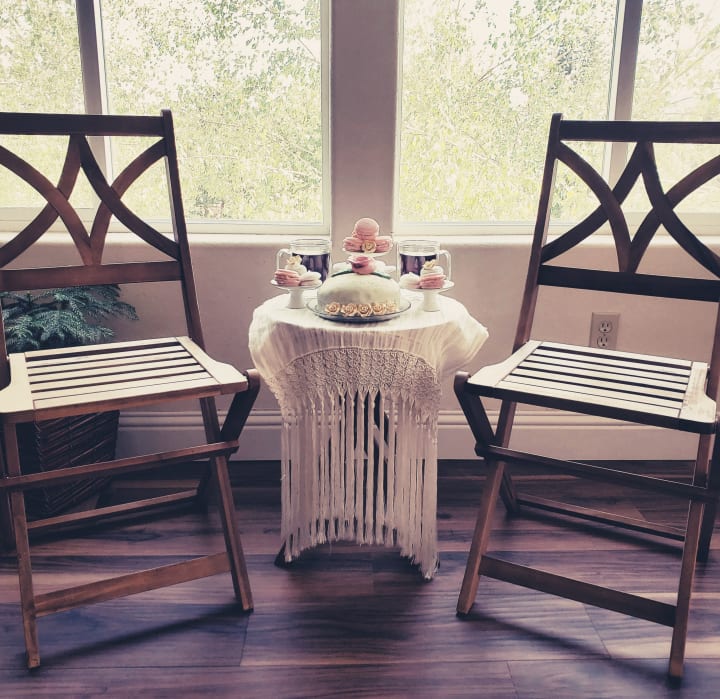 how to
If I am lost in life right now then please never find me.
Poet, artist, writer, daughter, friend, dreamer, cat-mom, and with any luck, soon-to-be bird-mom!
Follow me on Instagram @e_n_hand