Hungarian Krémes — Hungarian Vanilla Napoleon
Beautiful flavours create wonderful memories and sweet experiences.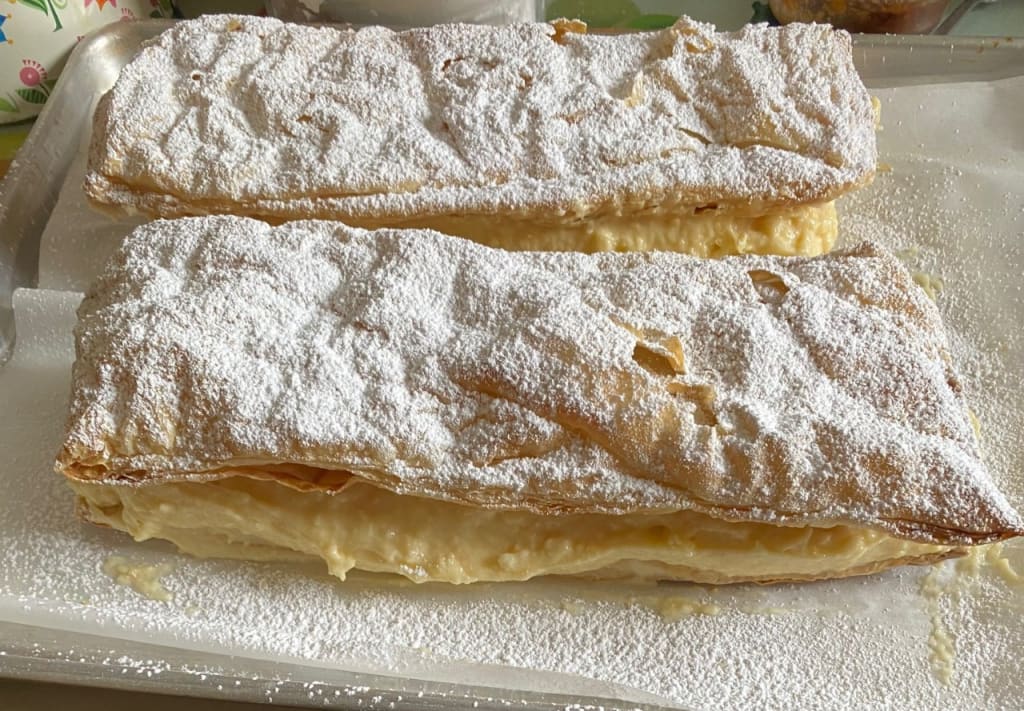 Photo by Author. The second pastry is pre-sliced dough. Hungarians would never forgive me.
Another recipe of mine, well, actually it's my mother's recipe, but nonetheless, it's now joining the other numerous wonderful recipes linked in our Vocal Cooks Collaborative.
I had spent a week at my mother's home, my hometown in British Columbia, Canada. In late August, she had suffered a stroke. We were very fortunate that the stroke was atypical. She did not lose motor skills, suffer impeded speech, or memory loss. It was, however, very taxing on her heart which was very hard for her to deal with.
Though she is seventy-seven, she has maintained an active lifestyle as a member of a women's hiking group that scaled peaks of the Rocky Mountains that would challenge me.
She is also a fantastic gardener, famous throughout our town for her green thumb. She can grow anything from cacti to cabbage. It was her garden that needed attention, and her store of firewood replenished for the coming winter season. Aside from those chores, I was also looking forward to sharing her kitchen with her. My mother is a fabulous Hungarian cook, and I was happy to cook with and for her during my stay. I had asked her to tell me what she would like me to make for her that she wouldn't likely make for herself. Her eyes lit up, and she smiled large as she cozied up to me and said;
"Oh, if you could make me some Krémes, I would be so happy! I would love to take some to my Hungarian friends and maybe have some for a family dinner."
I smiled and told her, of course, I could make that for her. This wasn't going to be a small dessert for two. I was going to need a lot of Krémes.
Krémes(Cray-mesh) means "Creamy" in Hungarian. It's one of the most luxurious and famous Hungarian desserts. It is commonly called "Bavarians" or "Napoleans," depending on where you find it.
This recipe is a little complicated but not so much that it can't be done in anyone's home kitchen. It is a recipe that will demand both your time and attention, and it's worth every minute.
Chef's Note: There is a cheat for this! The brand Dr. Oetker makes a decent substitute. A product called, you guessed it, Kremes. It's ready to mix vanilla pudding that can work in a pinch and still get you pretty close to the real deal.
But, if you have the will and desire to make and taste the real flour and egg-based vanilla custard? You will probably never try the shortcut.
Our Krémes turned out rich, creamy and deeply delicious. We made a mess, we had a lot of fun, and my mother was so delighted as it reminded her of the special occasions back in Hungary when this extravagant dessert was afforded.
The best part for her was that a planned dinner party had been cancelled at the last minute. This left her with an entire Krémes to enjoy at leisure for herself and share as much or as little as she wished with my sister and her children.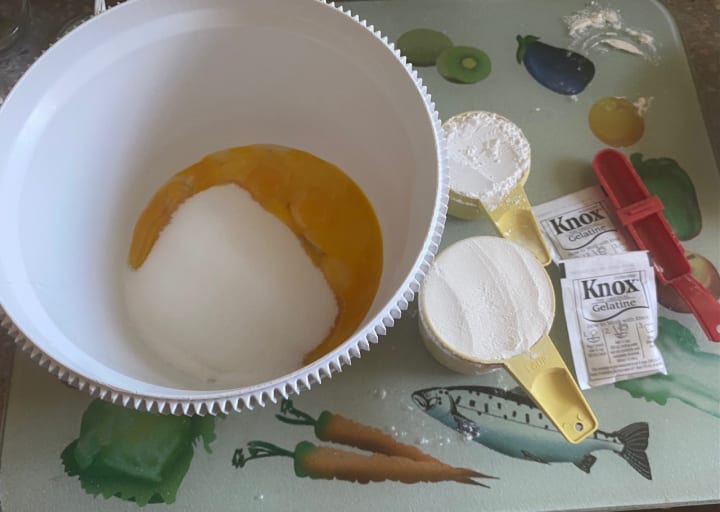 Ingredients.
1 block of store-bought Puff Pastry – room temperature
4 Cups Milk
10 Eggs. Separated
1 Cup Sugar
1 Cup Flour
½ Cup Cornstarch
3 Tablespoons Gelatin
2 Tablespoons Vanilla Sugar – if you don't have Vanilla sugar, which should be available in most grocery stores, and you haven't set a jar aside with a few vanilla bean pods jammed inside, then just add a teaspoon of vanilla with this sugar when called for in the recipe.
2 Teaspoons Vanilla Extract
1 Cup Heavy Cream
Powdered Sugar for dusting.
Method.
Preheat your oven to 350°f/190°c
Split the pastry into two pieces on a floured counter or board, and roll out the puff pastry dough into a rectangle about 2mm thick.
Slice pastry sheet in half, lengthwise. Leave one sheet for the bottom of the pastry and cut the second sheet into 8-10 pieces for the topping, which I completely forgot to do on the first ones!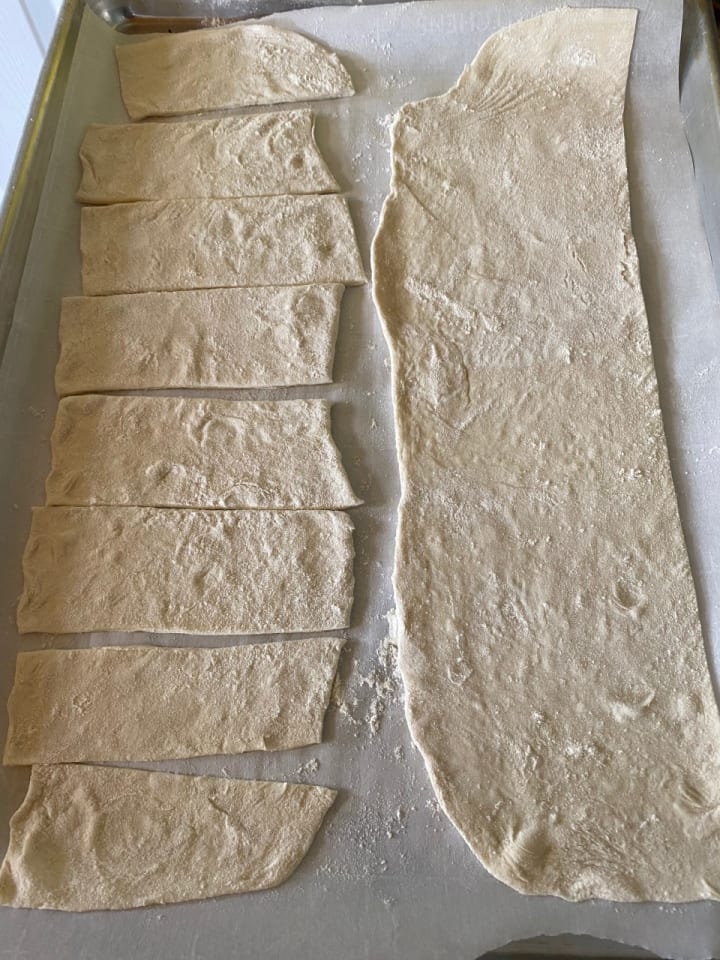 Repeat for the second block of pastry.
Chef's Tip. Cut these pastry segments wider as they will shrink as they bake.
Place in oven and bake for 15 minutes. Then, turn and rotate the sheet pans and bake for an additional 10 minutes.
Chef's Tip. The pastry can go from golden and flaky to compact and dark brown in just a few minutes. Unless you know your oven very well, I suggest checking the pastry at 5 minutes remaining. Bake until the pastry is a light golden brown.
Remove from oven and set aside.
Set 3 cups of milk on the stove and bring to a simmer.
In your stand mixer or a large bowl with a hand mixer, beat the eggs yolks with the sugar until light and fluffy.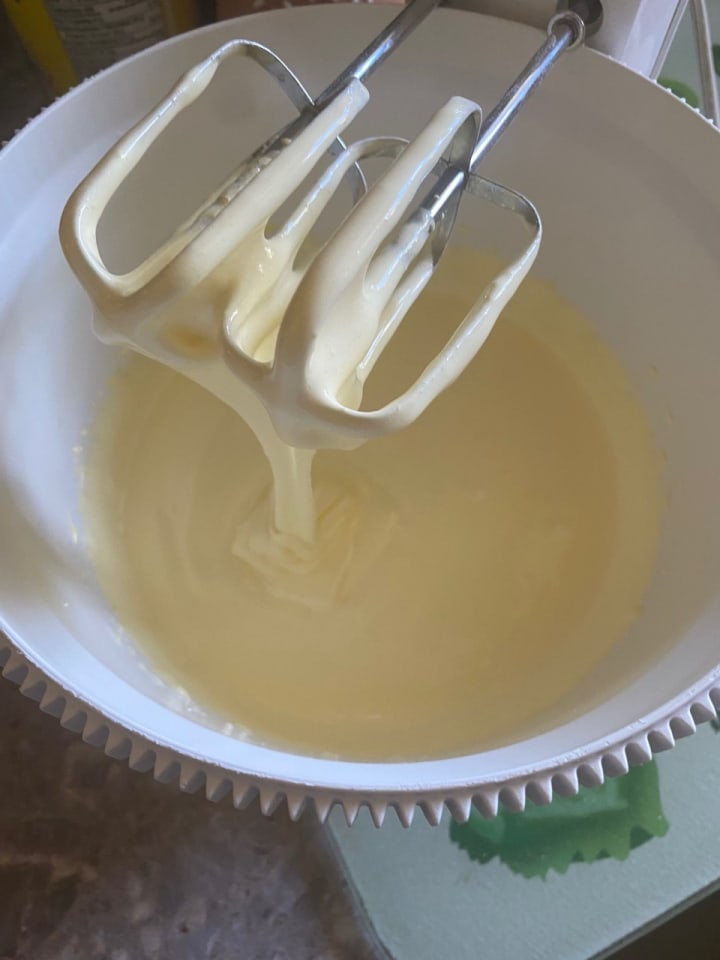 Then add the cornstarch, flour, and the gelatine (in powder form, you don't need to dissolve the gelatin), stirring until well incorporated.
Gradually add 1 cup of milk while stirring constantly.
Pour egg yolk mixture over the hot milk, constantly whisking until it thickens.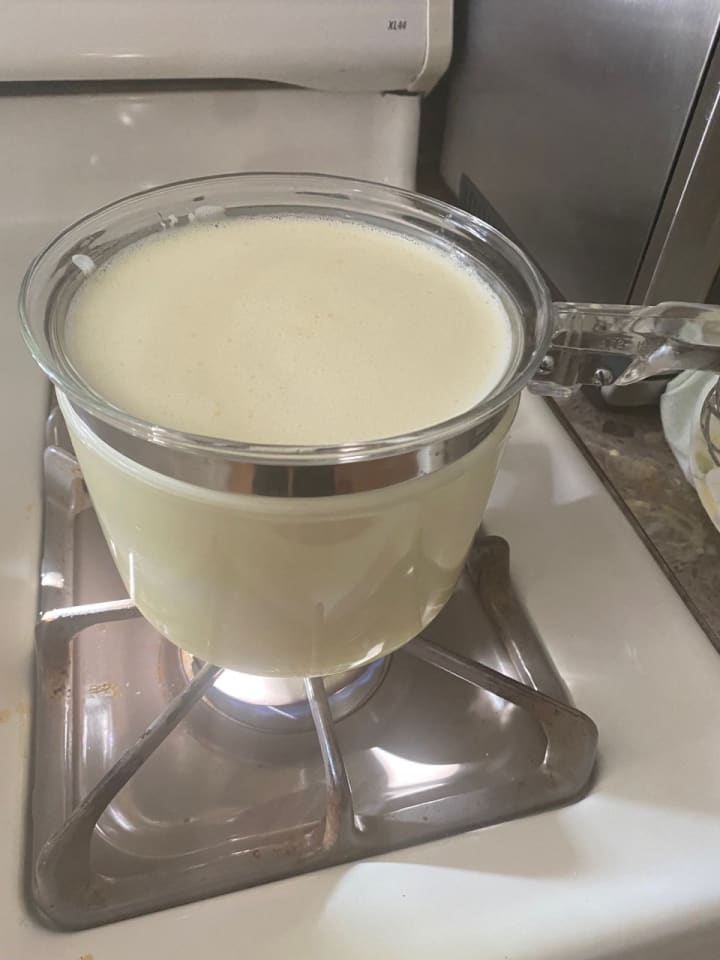 Remove from heat, add the vanilla extract, stir well and set aside.
In your cleaned and dried stand mixer or another large bowl, beat the egg whites with a pinch of salt until it becomes foamy and shiny.
Add 1 cup of sugar gradually while whisking at medium-high speed until stiff peaks form.
Fold the egg whites into the egg yolk custard.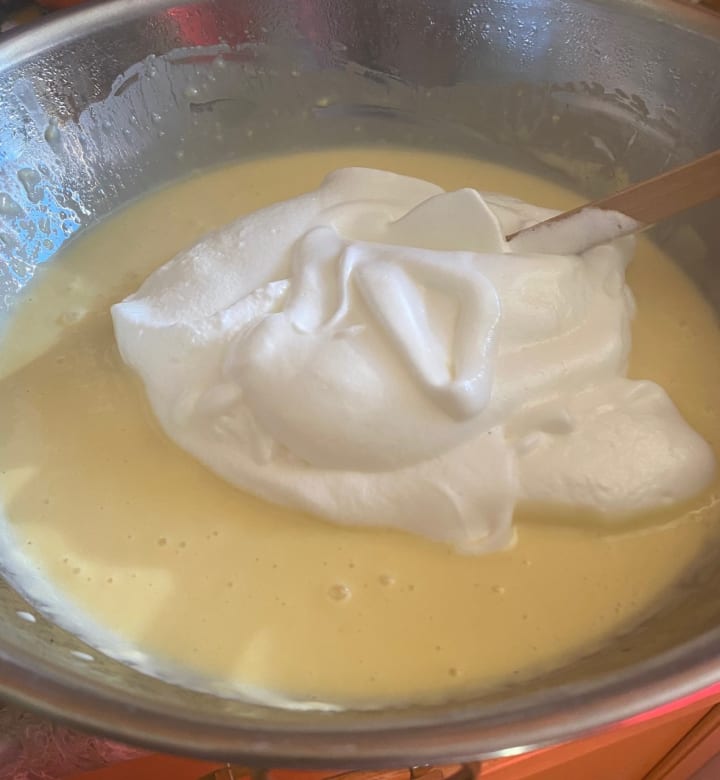 In a separate bowl, whip the heavy cream until fluffy and soft peaks form.
Fold the whipped cream into the custard.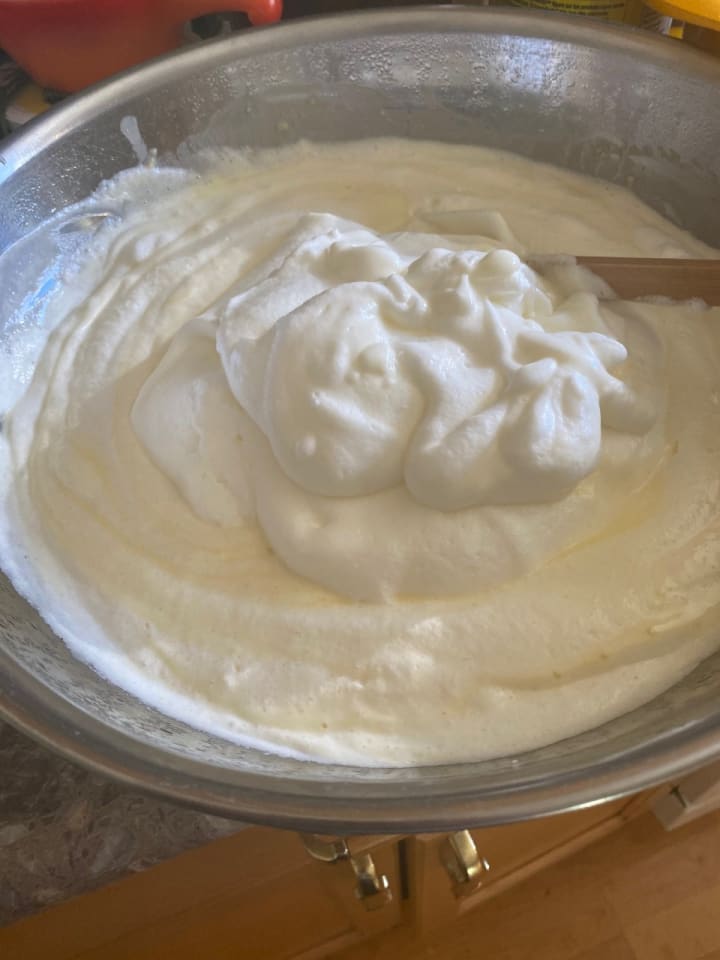 Set custard into the fridge to cool and allow the gelatin to set.
Once cooled sufficiently and of pudding consistency, you can fill your pastry.
Using a spatula, heap and spread the custard along the solid piece of prepared pastry. The custard should stand together as you build it up. When you start making a mess, then you know it's high enough.
Arrange sliced pastry pieces along the top of your custard. Then, using a sharp knife warmed under hot water, slice between the gaps of your top pastry and press through the bottom pastry.
Using a fine sieve, dust the pastry with icing sugar.
Refrigerate until serving.
Chef's Tip. The pastry is better the following day. The custard softens the pastry just enough that it becomes less flaky and moister. The dampened pastry adds to the texture of each bite. The creamy, velvety, vanilla custard meets the soft, buttery pastry then the satisfying crunch of the flaky pastry above. That's the magic of this dessert.
Chef's Note: Like most recipes, there are slight variations of this as well. Some will give you a more firm custard, others opt for margarine instead of butter, but other than that, most legit recipes will deliver an authentic Hungarian Krémes.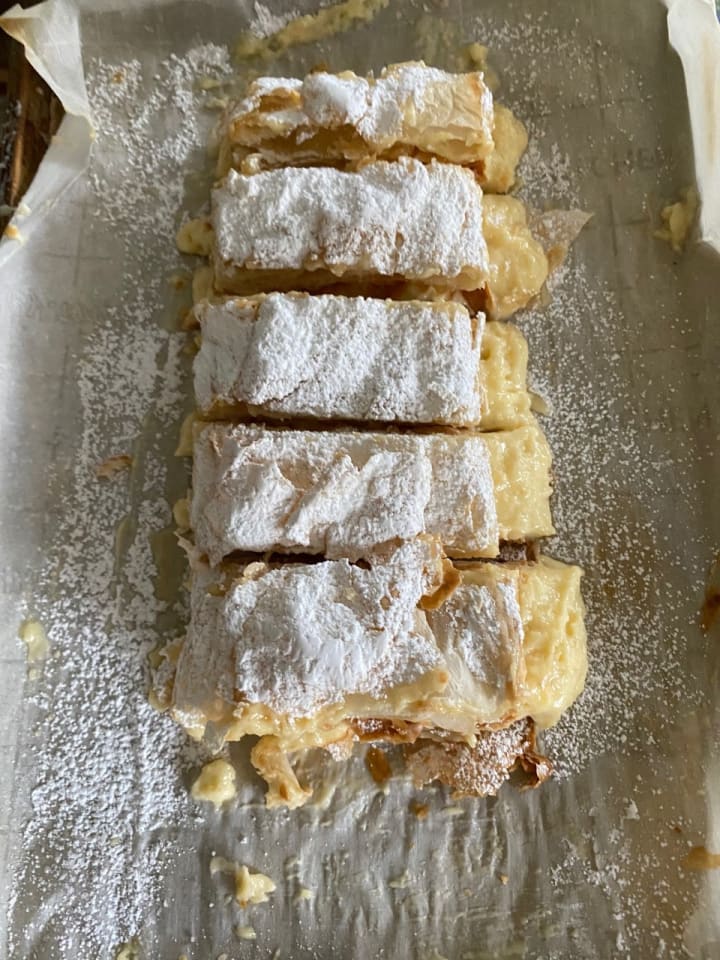 recipe
1st generation Canadian-Hungarian
Father, Fly fisher, Chef, Reader, Leader, and working on writer.
Feedback appreciated anytime. Tips always appreciated.