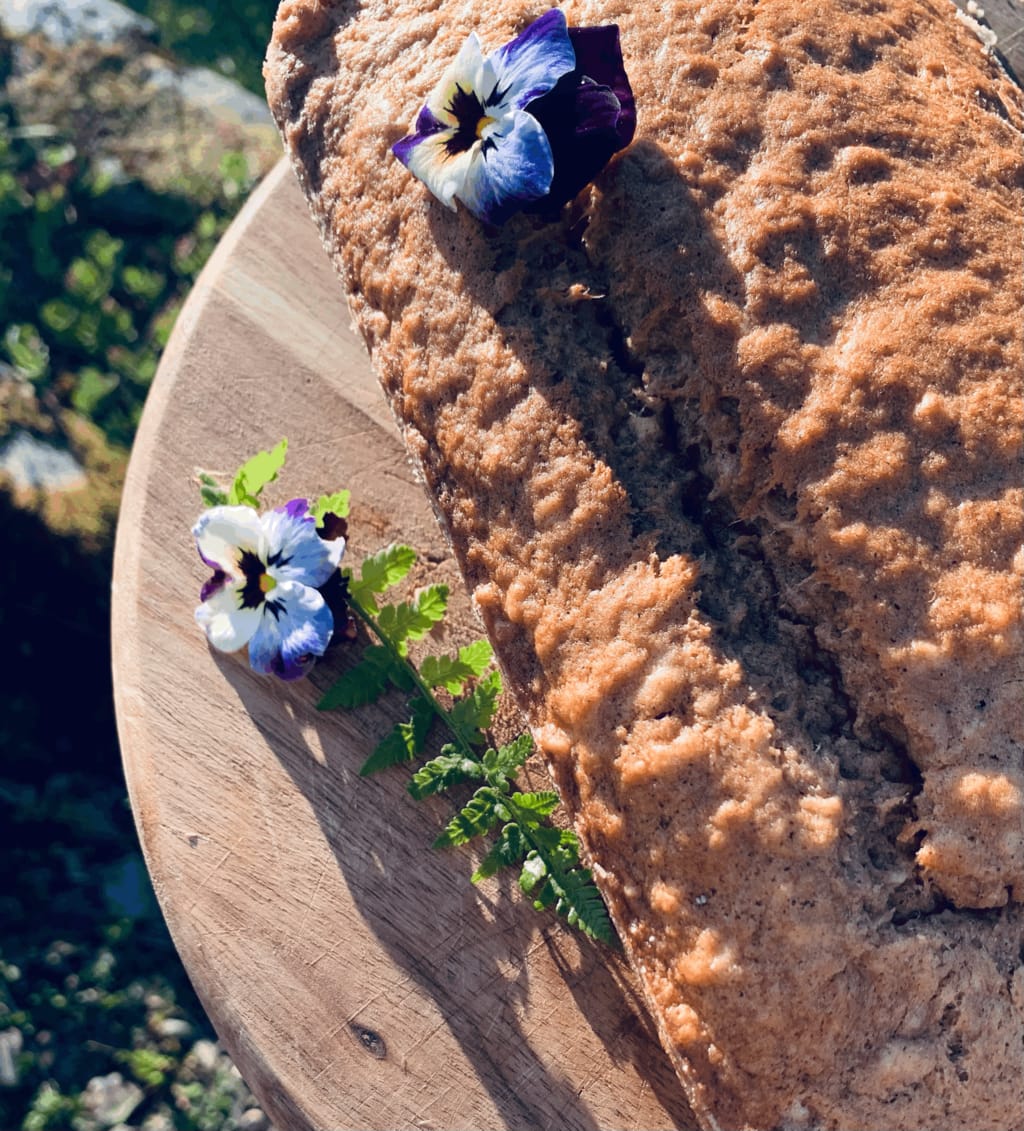 I grew up in Australia, spending the majority of my free time climbing trees, tearing around fields, and getting absolutely pummelled by waves in the surf. (Also riding kangaroos to school, naturally.) And to fuel all that activity, I practically ran on fruit - a whole range, from mangoes and mulberries to figs and lychees. But the banana was my trusty companion in day-to-day life. Breakfast before a test? Banana. Energy booster before a school cross country race? Banana. Snack on the go? (To be eaten halfway up a tree, of course.) Banana! But in the sweltering Aussie heat, they ripened fast, so even in a household full of voracious appetites, we'd end up with bunches of them freckled liberally with more brown than yellow. Happily, my Mum's a wizard with a wooden spoon, and brown bananas are the best for baking with, so we enjoyed a plethora of baked goods - banana muffins and bread in particular were household staples.
In recent years I've been going through old recipe books and reminiscing about the dishes I used to love and undertaking the challenge of making them more sustainable. But vegan baking can be intimidating. What's a chia egg? What on earth is aquafaba? Wait, you're making mousse out of chickpea water?! Yep, it's a crazy world of culinary innovation, and once the broad horizon of vegan possibilities reveals itself, there's no limit to the mouth-watering morsels ready to be created. But until then, the quest to cook and bake without animal by-products can be downright exasperating. Sometimes you don't have chia seeds, or flax, or non-dairy butter. And that's where this humble classic comes in to save the day, using relatively "normal" ingredients. No bull. No stress, mess, or vegan wizardry. And the twist is this: it's loaded banana bread, baby.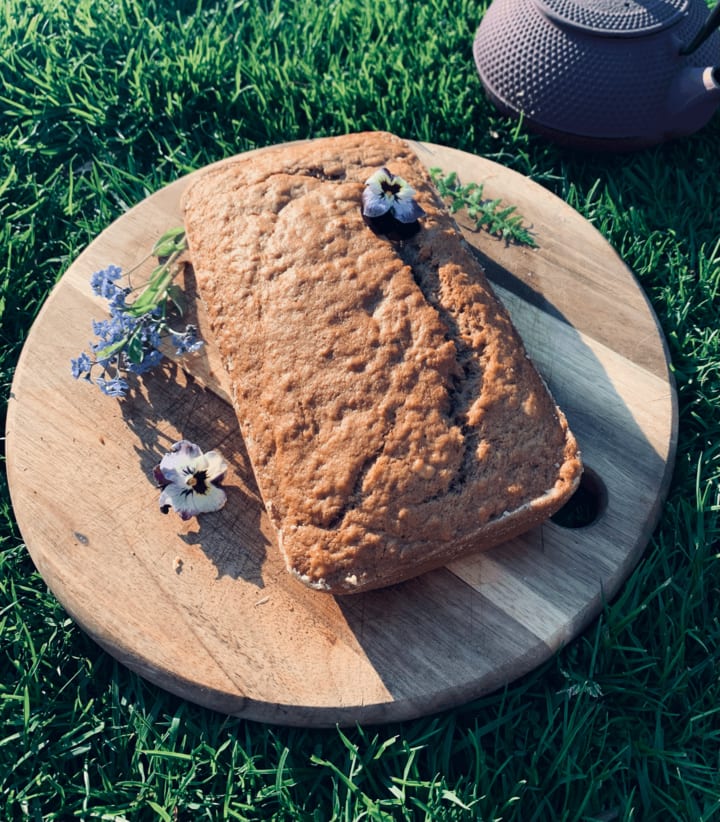 I use a dairy free dark chocolate, walnuts and pecans (though any will work) to take my loaf to a whole new level, and the marriage of textures is to die for. If you don't like nuts, feel free to leave them out. If you don't like chocolate, what's wrong with you?! Kidding, you can leave the chocolate out too - but really. The pockets of gooey melted chocolate and the crunch of the nuts, interspersed against gently spiced banana goodness? Divine.
If you're feeling fancy, spread the nuts in a layer on top of the batter before baking - they take on a lovely toasted taste and add a great crunch. I should have done this, as it makes for a much more camera worthy end result compared to the delectable but drab looking slab of undecorated bread pictured above. But hey, it's the flavour that counts.
It's the pièce de résistance in my arsenal of winning-over-sceptical-nonvegan-friends baking. For me, nothing beats a slice of this stuff accompanied by a hot mug of tea. And while it is adapted from a non-vegan recipe, I (and friends have agreed) think it's actually better than its former, egg-inclusive iteration. All in all, it's a win-win - good for the tastebuds and the environment. Nature will thank you. In fact, nature did thank me. Apparently even bees enjoy vegan goodies!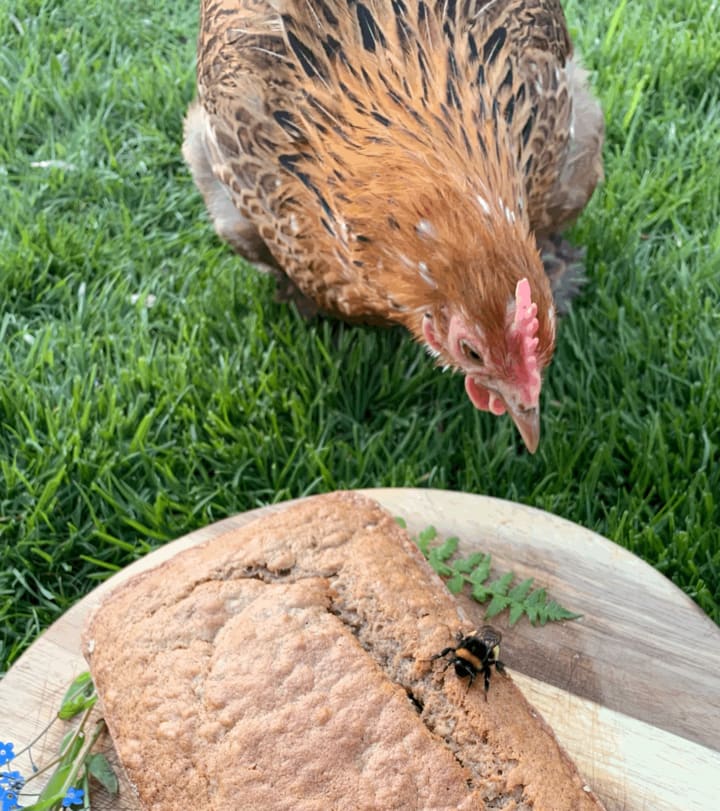 Even Pants the chicken was entranced by my egg-free creation (or the bee, who can tell.) Don't worry, she didn't get him. She did, however, take a chunk out of my poor loaf.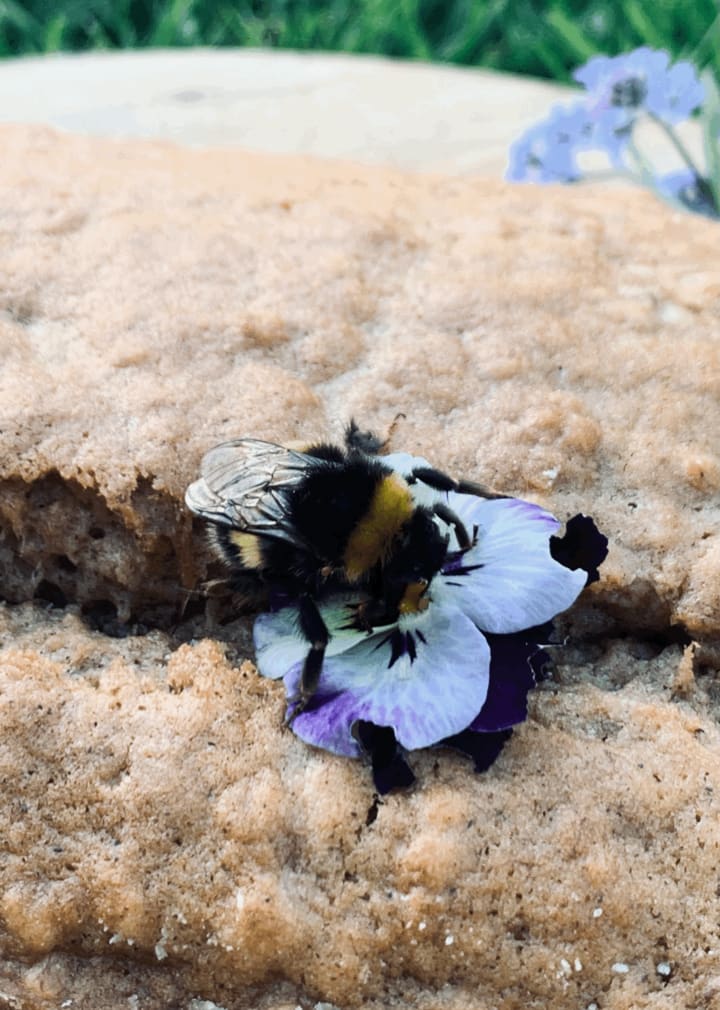 Okay, so it was just the flowers he was after. But the sentiment still stands: there has never been a better time to make more conscientious choices, and in a world where producing a glass of cow's milk results in nearly three times more greenhouse gas emissions than plant-based alternatives, making an effort to cut dairy consumption just makes sense.
Plus, the results are just as tasty! So, for a humble but flavour-packing, vegan, chicken and bee approved, loaded banana bread:
Ingredients
THE WET
3 very ripe bananas
1/2 cup neutral oil
1 1/2 tsp apple cider vinegar
1 tsp plant milk
1 tsp vanilla extract
THE DRY
1 cup all-purpose flour
1/4 brown sugar
1/4 cup cane sugar
1 tsp cinnamon
1 tsp allspice
1 tsp baking powder
1/2 tsp baking soda
1/2 cup nuts (optional)
1/2 cup roughly chopped dairy-free chocolate (optional)
Instructions
Preheat oven to 180°C/350°F
Peel bananas into a mixing bowl and mash until smooth
Add sugars, oil, plant milk, vanilla extract, and apple cider vinegar. Mix until well incorporated
In a separate bowl, combine flour, allspice, cinnamon, baking powder, and baking soda
Add the wet ingredients to the dry. Fold until just combined, then stir in chocolate and nuts
Pour batter into a 24 x 14cm greased and floured loaf pan
Bake for 45 minutes, or until a toothpick inserted into the centre comes out clean
Cool completely before slicing, then apply to face!
Whether you're a veteran vegan, a vegetarian trying to cut out dairy, a meat-eater looking into a more sustainable diet, or something in between, I hope this recipe serves as a reminder that the use of animal products isn't necessary for great food (or in this case, a butt-kicking banana bread.)
Either way, it has the Pants seal of approval, and that's good enough for me!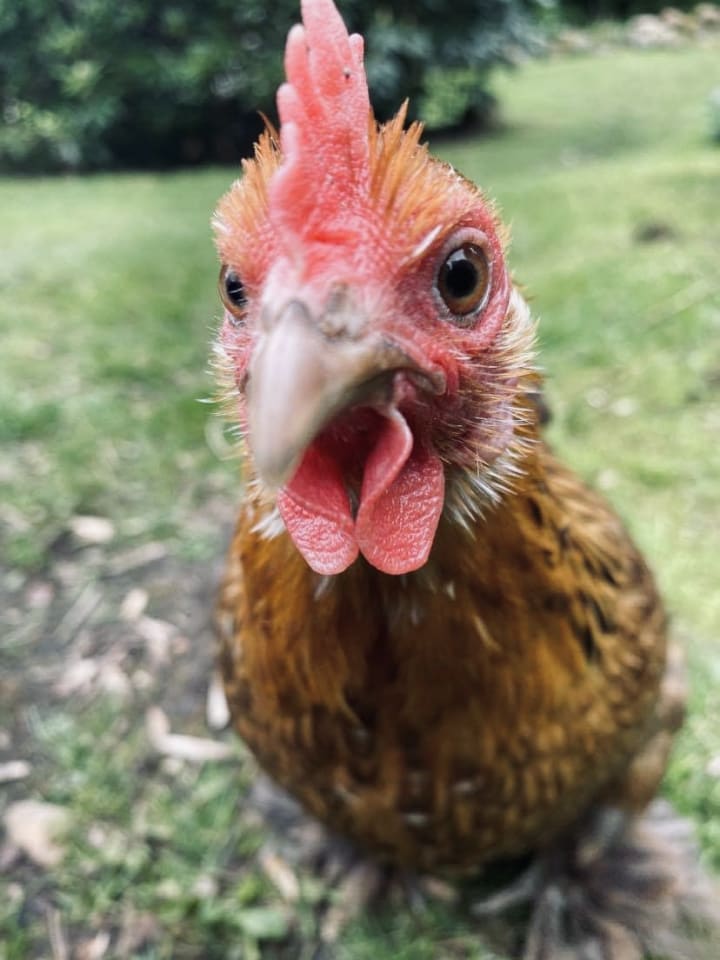 Taz
Another aspirant writer, roving the Scottish Highlands. Animal-lover, Tolkienite, Oneironaut. Probably actually about fifteen magpies in a trenchcoat pretending to be human. Shh!
See all posts by Taz →