How to Survive Your Diet
Includes Best Goat Cheese Salad Recipe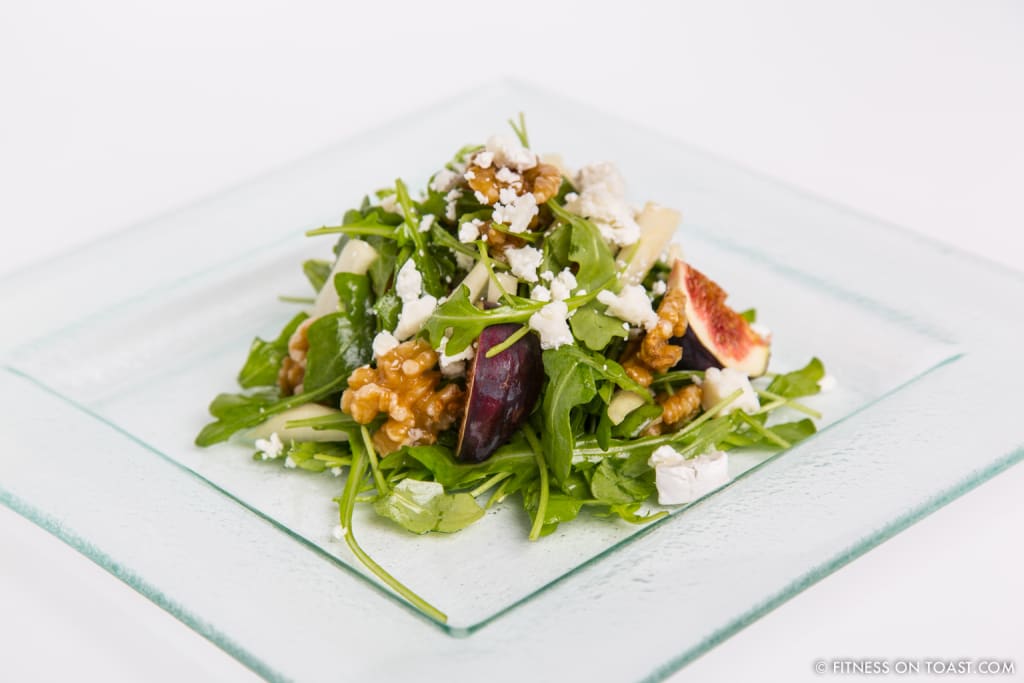 Skinny Bitch Diets. Supermodel Diets. Cabbage Soup Diets. Soup And Salad Diets. What do they all have in common? Less food, right?
You're not wrong. But, you're not right.
It's less, but it's more. (And now you're like, wtf?) Let me explain, fam...
The reason it looks like supermodels eat less is because they do. They eat less shit. They eliminate all the unnatural, man-made, fake-cake foods, and are only left with high quality foods and ingredients. (Insert cha-ching sound.)
My conclusion? When you eat more nutrients you NATURALLY start to eat less. (hash tag, write that down)
This the key, ladies. This is THAT key. (The key I wish someone just summed up for me 50 pounds ago) But it really is the REAL key to healthy weight loss. My advice? Don't eliminate it, enhance it. Enhance your salads, wraps, soups, pasta, pizza, desserts, etc. with high quality ingredients for higher levels of nutrients, and you won't be hungry. Period. That's healthier people eat less. They're not hungry.
So, why are you always hungry? You're eating empty calories (lower nutritional valued foods) and low calorie foods (virtually no nutritional value at all)... trying to race your way to weight loss, only to binge on the weekend, and as long as you do that, you'll always be hungry.
When you are truly nutrient satisfied, there's no need to dig around for more empty cals—and there's no need to overthink food.
Pro tip: Make your favorite items the way it's served in your favorite restaurant. Got a bomb salad the other night? Remake it at home. Take the time, take the care, pick out amazing ingredients that you're excited to try, and have fun preparing it. This will take your food game up a notch. The reason dieting feels unnatural is because it is. Food is life; it's the supplier of our nutrients and it's meant to be enjoyed.
This fall? Go for healthy, hearty foods that excite you. Try the meals you love with a healthy spin. Always aim for quality; it'll be high in antioxidants, high in nutrients, and high in energy to help you stay fit, healthy, and happy.
Dropping my greatest salad creation that is always a crowd pleaser, super versatile, (you can make it into a wrap or panini or even an app).... and it's also refreshing AF.
Honey Lemon Goat Cheese Salad—Ingredients List—Serving Size (4)
1 Red Pear
1 Avocado
1 Beet
Handful Sweet Baby Lettuce
1 Radish
Handful Arugula
1 Lemon
Drizzle Honey
1/2 cup Walnuts
Drizzle Honey Mustard
1 Packet Stevia
Drizzle Olive Oil
Himalayan Sea Salt
Black Peppercorn
Crumbled Orange Cranberry Goat Cheese
Layered Salad: This is the tip for all salads. It's all about presentation, so use a flat serving plate. This keeps all the fresh ingredients layered nicely on the top instead of falling to the bottom of a big bowl. Why? Because, no one wants to hold up the line as they fish to the bottom for that extra crouton so, lay it out. It not only looks better but it MAKES your salad experience better. (hash tag, this is what you came for...crouton starts dancing)
Instructions:
Add sweet baby lettuce and arugula into a bowl for mixing. Squeeze in some lemon juice + splash olive oil + sea salt + cracked pepper = Mix this blend and lay it out on a flat serving tray
Dice avocado and beets into chunks. Slice pear into strips. Shave radishes with a peeler. Lay all items out on a chopping board. Squeeze lemon juice on top all the items. Add peppercorn + pinch of sea salt to avocado and beets only.
In a separate mixing bowl, mix (1/2 cup) of walnuts with (1 tsp) of honey mustard + drizzle of organic honey + 1 packet of stevia. For healthier "candied walnuts".
Lay out in this order: avocado, beets, radishes, pear strips, on top of your bed of greens. Add crumbled goat cheese near the pear strips. Drizzle (a little bit) of honey on top salad and add your walnuts and a few pieces of plain arugula.
Honestly, between the way you prep it, the fresh pear, the lemon juice, "candied walnuts" and honey, you don't need dressing for this salad. This is my favorite salad because, it's so good for you. Honey gets a bad rep because it's higher in "sugar" but it's also a natural anti-oxidant and promotes anti-inflammation in the body so, it's perfect for fall.
Also, the avocado, beets, walnuts, and red pears are all super foods.
I always have these ingredients (or close to it) in my fridge, so during the work week, I'll make it as a side salad or I'll put it into a whole wheat wrap for lunch without the goat cheese.
I know. I know. But, I promote moderation and when it comes to cheese, high-quality and moderation is very important for health. When I do eat cheese, I personally stick to: Local (organic) feta, mozzarella or goat cheese.
The orange cranberry goat cheese (found it at Whole Foods) is amazing, it's also seasonal, and yes, you will have to hide it from yourself. But again, it's all good in moderation.
Always put fresh ingredients first and I promise, you'll actually look forward to making a salad on a Sunday.
For more motivation, weight loss tips, home girl advice, inspiration, soul chats... visit me on my podcast! Just search: Chelsea Swift | on | Apple + Spotify + Anchor podcasting apps to listen to *The Weekly Podcast*
Check back for more recipes coming this week!
Blog + Recipes + Email Sign Up + Personal Plans + E-Books: www.ChelseaSwiftBlog.com