How to maintain food safety when storing, preparing and cooking food
Research shows that there are 180 deaths per year in the UK from foodborne diseases.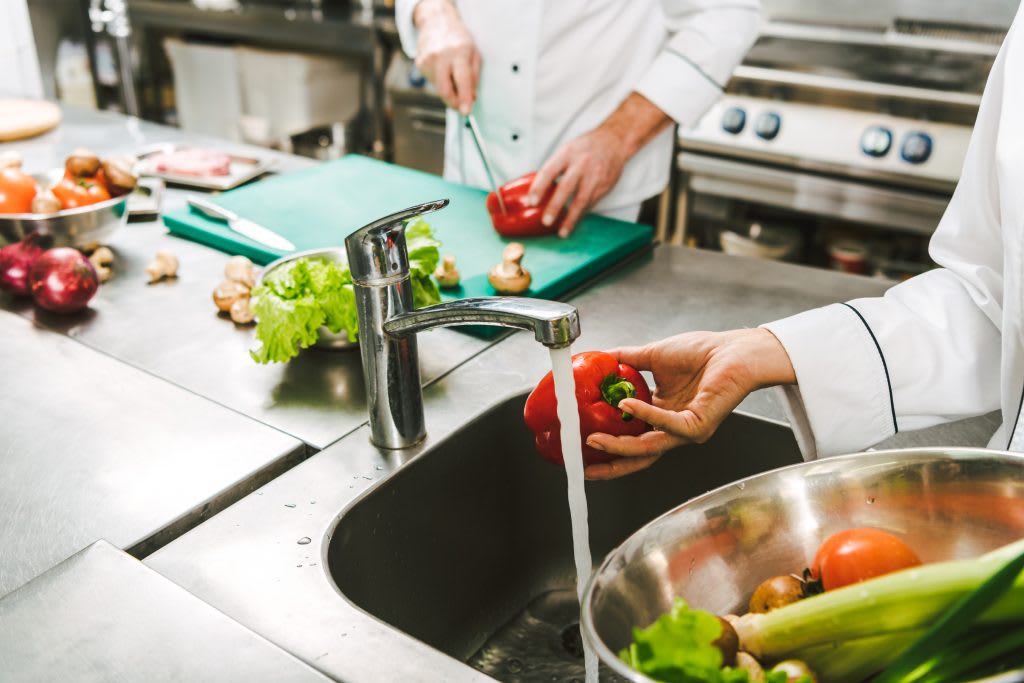 Research shows that there are 180 deaths per year in the UK from foodborne diseases. That fact alone is shocking, knowing that modern society is aware of food poisoning, yet we are still making the same mistakes that lead people to illness and potentially death. Not only can food poisoning be fatal, but it can also cause long term health problems.
You can take some simple steps to make sure you, your family and your customers stay safe from food poisoning by following some simple steps. Clean, separate, cook and chill.
If you want to make sure that food stays cold and clean in your business or home, why not think about getting a walk-in cold room? Scandia offers to design and install these for you.
Clean
You can make sure that germs are kept to a minimum by cleaning everything in your kitchen on a regular basis. This includes making sure that hands, utensils, cutting boards and countertops.
After covid, it's no secret that we should keep our hands clean by washing them on a regular basis. As a recap, you should use plain soap and water and scrub the backs of your hands, between your fingers and under your nails for at least 20 seconds. After that, dry your hands with a towel. You could also make sure that the towel is kept clean.
You should remember to wash your hands before:
Preparing food
Eating
Caring for someone who's sick
Treating a cut or a wound
You should remember to wash your hands after:
Preparing food
Handling raw meat, poultry, seafood, uncooked eggs or their juices
Using the toilet
Changing diapers or cleaning a child who has used the toilet
Touching an animal, animal feed or animal waste
Touching garbage
Caring for someone who is sick
Treating a cut or wound
Blowing your nose, coughing or sneezing
Handling pet food or pet treats
Make sure that you clean all surfaces and utensils after use with hot, soapy water. Wash dishcloths in the hot cycle of your washing machine. Make sure that you wash fruits and vegetables unless it came from a packet stating it was already pre-washed, under running water without soap or bleach, before use.
Separate
Use separate utensils and cutting boards for meat, poultry and seafood and make sure that you wash them thoroughly, with soap, before use.
In regards to food, make sure that when you receive the food or you put it inside your shopping trolley that the meat, poultry and seafood are completely separate from the rest of your food. Make sure that when you store the foods that raw meat, poultry and seafood are in separate containers, or sealed in leak proof plastic bags
You may benefit from having a cold room as it makes it easier to separate certain foods and organise your foods well. Having a cold room also ensures that your food is as clean as possible as the ventilation system inside them traps dust, debris and dirt from the cold room and cleans the air.
Cook
When cooking, make sure that the food you cook comes to the right temperature. Cooking to a high temperature makes sure that germs are killed so that you won't become ill. You can buy certain thermometers that will tell you if your food is at a high enough temperature. Using these thermometers, place them within the thickest part of the food to check.
Make sure that your food is kept hot after cooking if you're not serving the food straight away. You can do this by using a heat source like a chafing dish, warming tray or slow cooker.
When microwaving foods, make sure that you follow the instructions on the packet carefully. The instructions usually entail making sure that you stir the product halfway through, making sure it is piping hot and letting the product stand for a specified period of time.
Chill
Make sure that your food is refrigerated or frozen properly. Make sure that your perishable foods are placed in the fridge within 2 hours. Bacteria multiply at their fastest between 4.5 degrees C to 60 degrees C- room temperature. You should make sure that your fridge is set below 4 degrees C and your freezer below 0 degrees C. You can use an appliance or thermometer to make sure that these are set at the right temperature. You should never leave perishable foods out of refrigeration for any more than two hours. Any leftovers should be placed into a shallow container and refrigerated straight away to make sure the product cools quickly. A common mistake people make when marinating foods is to leave them out on the counter, you must always marinate food in the fridge.
A walk-in fridge can make it easy for you to organise your food and clean up easily. Walk-in fridges also allow you to store a lot of different food, making it the perfect solution for restaurants, cafe's and factories. You can take a look at walk in fridges by clicking here.
Thank you for reading our blog 'How to maintain food safety when storing and preparing and cooking food'. If you're interested in getting a cold fridge, take a look at Scandias website today.
healthy
I am an SEO specialist and committed professional who has the ability to run remarkably successful digital marketing campaigns in the most competitive sectors, using a unique blend of technical and creative expertise.