Holly Leaf Cookies
A 12 Days of Christmas Cookies Recipe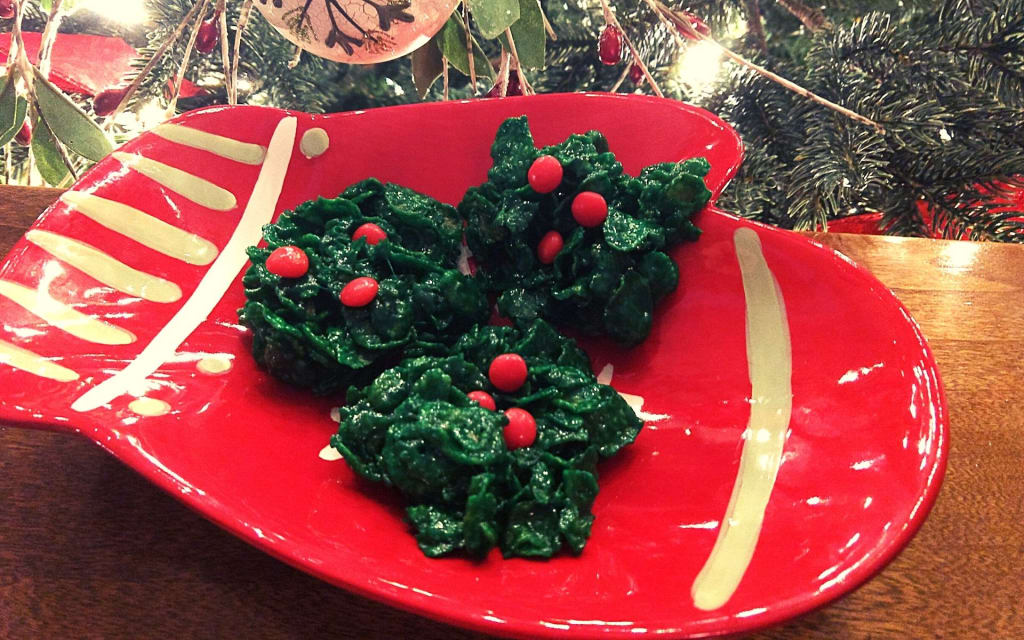 Holly Leaf Cookies
Who doesn't love a whole lot of green food coloring? This family classic is a fun take on the old rice crispy bar recipe. It may have come off of a corn flakes box back in the seventies. Heaven only knows what was in the food coloring back then...
Holly Leaf Cookies have always been a constant at our holiday table. My grandma used to hide them away so none of them would get eaten before they made it onto the cookie plates. They do add a nice splash of color, but they don't stick around long. They're just that irresistible.
If food coloring isn't your thing (and I don't blame you since these are GREEN with a capital G) you can easily make these into Bird's Nest Cookies instead. Just leave the coloring out and use mini-M&M's for eggs instead of cinnamon imperials. This is also an option if you want to turn this into a spring holiday cookie.
This recipe is both really easy and kind of tricky. It all depends on if you have a double-boiler. If you do, you will have less to worry about. I do not have a double-boiler, so I know you can make them in a regular pot, you just have to be extremely vigilant to avoid burning and then work like a fiend to get them onto the waxed paper before they've gone solid again. I won't lie, there's occasionally some swearing involved. I think I now understand why my grandma kept them under lock and key.
Ingredients:
¼ pound butter (usually 1 stick)
3 ¼ cup mini marshmallows
2 teaspoons green food coloring
4 ½ cups corn flakes
Cinnamon imperials (red hots)
If you have a double-boiler: Heat the butter and marshmallows until completely melted. Add the food coloring and stir thoroughly. Dump in the cornflakes and stir to coat them completely in green. Turn off heat, but keep pot over double-boiler. Drop onto waxed paper in balls. I've found that two buttered spoons are perfect for this. Add three cinnamon imperials (red hots) to each ball for decoration. The double-boiler will keep the mixture pliable, so you have more time to get them perfect.
If you don't have a double-boiler: Use a thick bottomed pot and remove all distractions, since you will have to watch these like a hawk. Melt the butter, stirring constantly. Once butter is melted, add the marshmallows and stir until smooth. REMOVE FROM HEAT before adding food coloring. I learned this one the hard way. Nothing says festive like having a volcano of green exploding out of the middle of your marshmallow mixture. Stir in the cornflakes as quickly as you can. From here on out the mix will get progressively harder to work with as the marshmallow cools. If you have a second set of hands available, outsource the decoration and have someone else sticking the cinnamon imperials on. Two buttered spoons work best to drop balls (or clumps) onto waxed paper.
I love Holly Leaf Cookies. They're delicious. If I didn't make them the whole family would be hunting for them. But every time I make them, I'm reminded why I only make them once a year. The mixture is extremely sticky. However, you will often find that the cinnamon imperials won't stay stuck on. I recommend wedging them into crevices as much as you can, rather than just leaving them perched on top. There's always one point during the holidays where we find a shell-shocked dog in a corner making faces as he tries to spit out the awful burny thing he found on the floor.
The green food coloring in this recipe gets on everything. Don't wear anything you like while making these. It's also best to get the pot washed right away. Generally, I don't find that the color sticks to metal surfaces, except the one time I added food coloring while they were still on the heat. The subsequent green volcano scorched a green spot on the pot that took ages to get out.
Once they're cool they usually don't get your hands green while eating. If you're really taking your time about it, or giving them to a child, things might be different, so use caution around cute holiday outfits. No one in this house takes more than two bites to eat them, since they're such a coveted snack.
As problematic as they can be, we'll keep making them, if only so we can reminisce about grandma squawking when she found out we'd been into them before they made the cookie plate. We all miss the sound of WHO'S BEEN IN HERE?!? echoing out of the kitchen.
I'll be back soon to share some more holiday favorites. In the meantime, check out another tricky grandma recipe: Refrigerator Cookies. They're also worth the effort.
recipe
About the author
Former archaeologist, currently on an adventure. I write a little bit of everything.
tweet: @emwescott
Reader insights
Be the first to share your insights about this piece.
Add your insights