Hell's Kitchen at Caesar's Palace
Hell in the Kitchen = Heaven in the Dining Room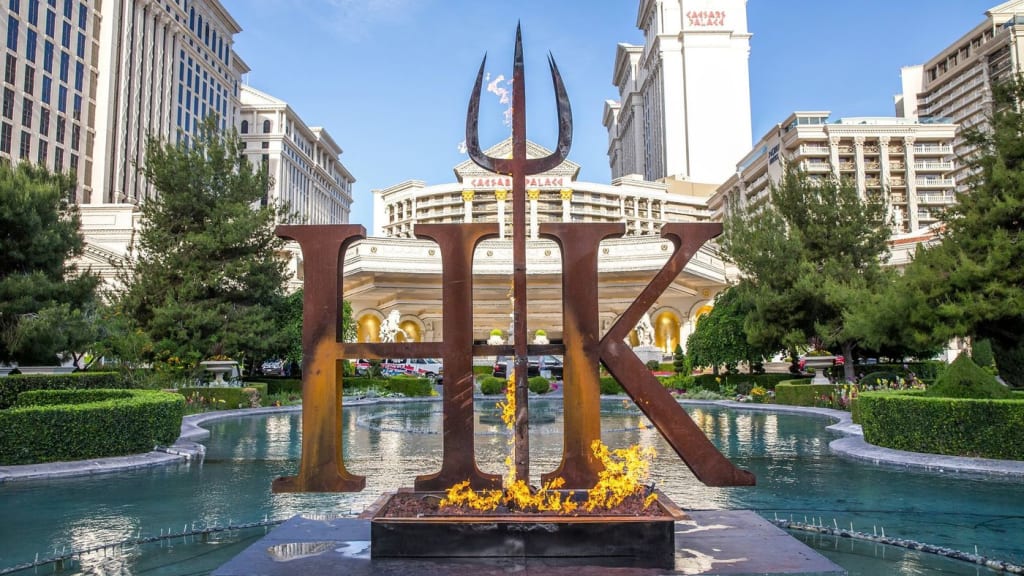 Los Angeles Times 
The saying goes: "If you can't take the heat, stay out of the kitchen." The soft opening of Hell's Kitchen at Caesar's Palace in Las Vegas, NV showed those of us lucky enough to dine with them that the chefs competing for top placement at this establishment could really handle a lot of Hell's heat! The entire the staff hired as well made it seem like an effortless feat to serve up an exemplary fine dining experience as well as amazing food.
Everyone who is anyone knows of Gordon Ramsay: world renowned British master chef and restaurateur with an "indoor voice" deficiency. He produces and stars the shows Kitchen Nightmares, Hotel Hell, and, of course, Hell's Kitchen. A great namesake for an even better restaurant! The decor makes it apparent that you are in for the dining experience of your life. Open, spacious, and ambiently lit with pitchforks hanging from the ceiling. It looks as if you are in the palace of the dark prince himself to sate your gluttonous desires with his dishes that are so delicious they could be a sin.
This restaurant offers both lunch and dinner menus with a prix fixe 3 course meal along with a la carte items as well! The reason we decided to go to this restaurant, besides it being a Gordon Ramsay restaurant, was the prix fixe option, but as soon as we saw the menu, we decided that we would much rather try a little of everything. Everything that we tasted was divine. I will be dreaming of the lobster risotto for years. I definitely forgot the rule that sharing is caring while I was eating that risotto. It was buttery and creamy and prepared to bring out both the flavors of the pasta and the lobster that was arranged artfully on top. The macaroni and cheese, which is always a crowd favorite, was rich with flavor. The combination of gouda with the prosciutto really brought a unique taste to a traditional macaroni and cheese dish. And let's not forget the gigantic seafood tower they have as an appetizer. It includes a mix of crab, shrimp and lobster. They cater it to how many guests are at each table to make sure that there is more than enough for everyone.
Since this was a soft opening, all of the kinks had not gotten out of the system quite yet, but the servers and the rest of the staff handled any issue that arose extremely well. Our table had been waiting for awhile for our orders to come out, and instead of making excuses or something of that nature, the waiter not only brought us over a baked hummus-filled cracker for us to try while we waited, but also gave us drinks on the house for our entire table as well as dessert. When we went to order said dessert, our waiter told us he was bringing one of everything so we wouldn't have to choose. He went above and beyond our expectations.
Like everything else during that meal, the dessert was to die for. Gordon Ramsay's Sticky Toffee Pudding is something I doubt I will ever forget. It was warm and gooey and sticky sweet. If I could eat it every day without gaining 1000 pounds, I would. The Pineapple Carpaccio was served in a flourish befitting Las Vegas of magic and illusion with the use of dry ice. The chocolate mousse cake had the impeccably delicate combination of bitter and sweet with the chocolate passionfruit mousse on top and the raspberries incorporated into it. Every dessert was rich, flavorful, and exquisitely plated.
If you are ever in Las Vegas, this is one restaurant you will not want to miss out on. I guarantee you will have not just amazing food, but an amazing experience as well.

Lindsay Clay
Just a girl who loves to write. I have so many thoughts and ideas that I definitely need a creative outlet. You will see a lot of different genres from me as there is not only one thing I will write about! Hope you enjoy my posts!
See all posts by Lindsay Clay →