Heavy for the Holidays
First reader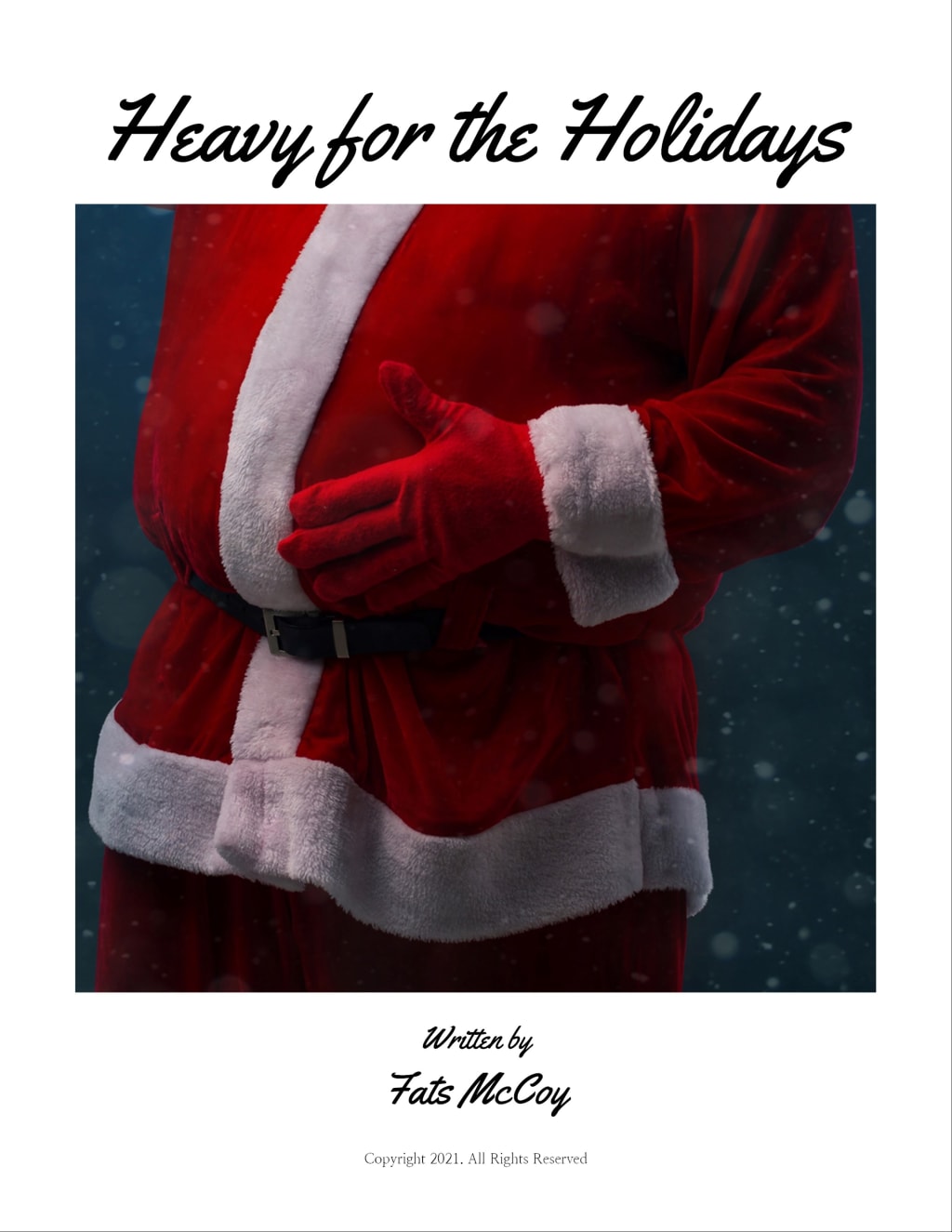 Heavy for the Holidays is 10K words of pure indulgence.
2020 was a year like no other, and the holidays are no different. Join this diverse quarantine crew of mutual gainers as they celebrate 6 winter feasts. You'll see wardrobe malfunctions, stuffed, swollen bellies, a burping contest, mild intox fet, group feedings, and more!
Chapter One
Harvey's studio apartment smelled phenomenal. He had the full spread laid out: candied orange and ginger garlic turkey a burnished golden-brown, mac n cheese glistening with melted cheese, creamy green bean casserole, homemade sourdough rolls, a perfectly set cranberry salad, three types of holiday dressing, mashed potatoes and gravy, curried sweet potato casserole, and a creamy root vegetable gratin, not to mention the desserts. Spiced fruitcake, pumpkin praline cheesecake, pecan hand pies, a pear and apple tart, ginger whoopie pies, and pumpkin spice fudge lined the countertops. His mouth was watering, and his pot belly was grumbling, but it didn't stop him from being anxious. His quarantine group was coming over for Thanksgiving, and he wanted everything to be perfect. After the stress everyone had been under, including giving up all the usual holiday plans, Harvey figured everyone at least deserved a good meal with friends. He just hoped it was enough.
The first to arrive was Manie, a tall Haitian American with narrow hips and a soft pot belly. Despite her height, she wore five-inch heels and a form-fitting maxi dress. A fashion belt was buttoned at her waist to emphasize an hourglass figure her apple-shaped body didn't actually have. She smelled the air and hummed.
"Is that my macaroni casserole you made?" she teased as she made her way to the food table and set down a bright pink potato salad on the table. Haitian potato salad contained beet, hence the color.
"Yes and no," Harvey admitted with a shy grin. "I might have added extra cheese."
"Naughty boy. It was rich enough to begin with," Manie teased him just as the door opened again.
Harvey's friends Davis and Micah swept in, their arms full of covered platters they somehow managed to squeeze onto the overloaded serving table.
"I brought latkes! I'm still practicing making them like mom," Micah said. Micah was tall, and the heaviest of everyone in the quarantine group. His wide double belly hung plumply over his waistband.
"And I brought cranberry muffin club sandwiches. I saw them in a magazine," Davis added. He was on the short side, and the thinnest of the group. Before 2020, he'd been fit and trim. Now, he had a curved pot belly from stress eating. It was safe to say everyone had been putting on the pounds since March, what with gyms being closed, stress and boredom eating, and, if anyone was being honest, a bit of feeding off of each other. Food was always plentiful when the group got together, and they tended to egg each other on a little.
"Yum! I don't think I've ever had latkes," Harvey grinned, "And those sandwiches sound great. Let's wait for the girls to get here, and then we can dig in."
"They're always late. I'm hungry now," Manie complained, popping open the container of club sandwiches and biting into one.
"We're not late!" Lily's clear voice called out as she and Kendra swept into the apartment, their arms full of bakery boxes. Lily had on a flannel button down tucked into high waisted pants, the better to hide her wide gut. She had arguably gained the most weight in 2020, but her smart fashion sense hid just how fat she was getting.
"We just had a mix-up at the bakery. But it's all worked out--they threw in a dozen of their crack cookies and a half dozen of those triple chocolate cupcakes," Kendra added. Her braids were twisted into a thick bun that crowned the top of her head. Harvey's stomach growled just thinking of the decadent chocolatey morsels.
"I thought I said I had dessert covered," he protested, leading them into the kitchen and trying to find a space for them to put things down.
"You did, but there's always a place for more dessert," Lily laughed, putting down a snow-white cake with sugar pumpkins artfully arranged in the middle. It said, "bless this home," in pretty stenciling.
"Not wrong there," Harvey had to agree, He clasped his hands together and turned to face his friends. "Well… who's hungry? Let's dig in. Plates are at the table."
With that, it turned into something of a free for all. The extra-large plates Harvey had ordered from a pottery store just for this gathering were grabbed up and piled high with delectable goodies. Mead from Lily's brewery was poured into generous glasses.
"How's business going with the new shutdowns?" Micah asked her.
"Steady as she goes. People have to drink one way or the other. No bars? More bottles. Yes bars? More taps," she shrugged, settling into her place and sipping the clear honey wine. "Mmh, this was a good one."
"You say that about all your mead, Lily," Manie laughed, plopping down across the table and rubbing her hands together. "Now, let's see if Harvey can do justice to my macaroni…"
To continue reading click below...