Harlan Publick in South Norwalk Ups the Conversation and the Energy
A Fun Space That Wears a Lot of Hats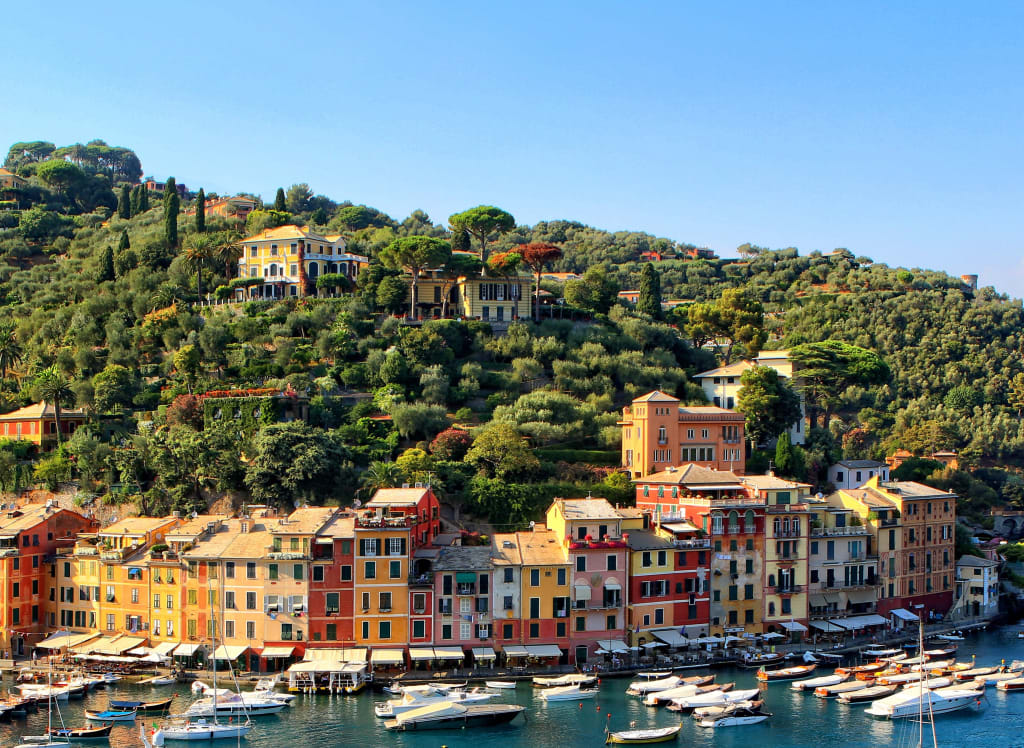 Portofino life in SoNo Photo by Ricardo Gomez Angel
In Italy, Portofino life makes eating out a part of daily living by putting restaurants at the center of surrounding townhouses. "People go outside and sit around the fountain to feed pigeons. Then they head to dinner like they are in their backyard," says Harlan Publick owner/cook Stephen Lewandowski. And that's exactly what he was looking for in being situated in the thick of SoNo's current surge in development and housing. The pigeons not withstanding.
"We liked coming into an area and being part of the new foundation of what's being built," says Lewandowski.
Sets South Norwalk in His Sights
But he first planted his Constitution State flag in Stamford and opened Harlan Social in 2012 after 20 years in New York City. More upscale, Lewandowski then eyed South Norwalk to create something complimentary and landed in the Ironworks development at 127 Washington Street.
Collaborating with his partners at Forstone Capital, this locale juts into a courtyard that not only has a fountain, but a semicircular rise of modern apartments. On the inside, a changeover occurs from the slower pace of Italian culture.
Conversely, the discourse has a more noticeable level of noise that might be more readily found across the English Channel or old downtown New York. "We wanted to create a social environment like the old public houses where people came to grab a pint, discuss the world and socialize with family and friends," says Lewandowski.
This is not lost on the fact that the Spinnaker building is brand new. Leaving the ceilings bare to the underbelly of ducts and beams, an industrial feel emerges on the bar side of building. "Harlan Publick captures a downtown Brooklyn vibe, says Publick's Marketing Director Rob Du Bree.
The site, though, can be all things to everyone. A private dining room is available for those seeking quiet, tables can be paired off into a room full of deuces or grouped into a party for a 100. "It can be as intimate as you want or as communal as you want," says Du Bree.
Toned Down and Sophisticated Dining
That said, Lewandowski isn't afraid to relegate his vision to toning down the dining experience. But that's not to say his menu of basic offerings like burgers, chicken wings and short ribs suffers from a lack of flair. "We take something simple and throw in a twist," says Lewandowski.
In Publick terms, a cheeseburger could mean a grounding blend of brisket and short rib and prime chuck. At the same time, a fondue of cheddar will help hold back the tears with bacon onion jam on the side. Not to be outdone, fried chicken and short ribs go east with a Korean-born sizzle (that's served like a taco) and a spicy Vietnamese sauce respectively. "I've been to over 30 countries, and I'm always drawing from those experiences," says Lewandowski.
Of course, customers can get sophisticated choices like Seared Hudson Valley Foie Gras. But Lewandowski's sure a little French or Italian on the menu won't have customers lost in translation once they are ready to order. "It's interesting but not intimidating," he says.
Either way, keeping the sauté and the stir fry an open cook for everyone to see acts as a two way street that is music to his ears. "I like to be able to see our guests enjoying their meal, and they get a sense that putting out 400 dinners is like conducting a symphony," says Lewandowski.
Even so, Harlan Publick doesn't want to leave anyone out of the culinary orchestration and levels the playing field on the patio for the younger crowd on Tuesday nights. "They can get snacks like the slider version of the Harlan Burger at $2 and the Vietnamese short ribs for $3 each," says Lewandowski.
Networking and the Natural Elements
If customers choose to be tone deaf on a big meal, Mondays should suffice on top of the building. Playing like a networking meet and greet affair, according to Lewandowski, the evening will fall under a lounge type cover that is lit naturally by the nighttime sky. The cash bar and free hor d' oeuvres, among the couches, chairs and coffee tables, will do the rest for what he anticipates to be a business crowd.
The natural elements of hot summer nights won't go to waste either once the patio is opened on Tuesday. Not closing until last call on Saturday night, he says. "The bar spills out into the patio. The energy is unbelievable."
Add some amperage and the kinetics say party all night long. "We plan to have live music every Friday night," says Du Bree, and a refillable beer boat will keep everyone awash until the suds run dry.
Almost enough to make SoNo's head spin, he's certain they can handle it. "It's just a fun space that wears a lot of hats," concludes Lewandowski.