Give Us This Day Our Daily Bread
Musings of a Self-Taught, Semi-Pro Baker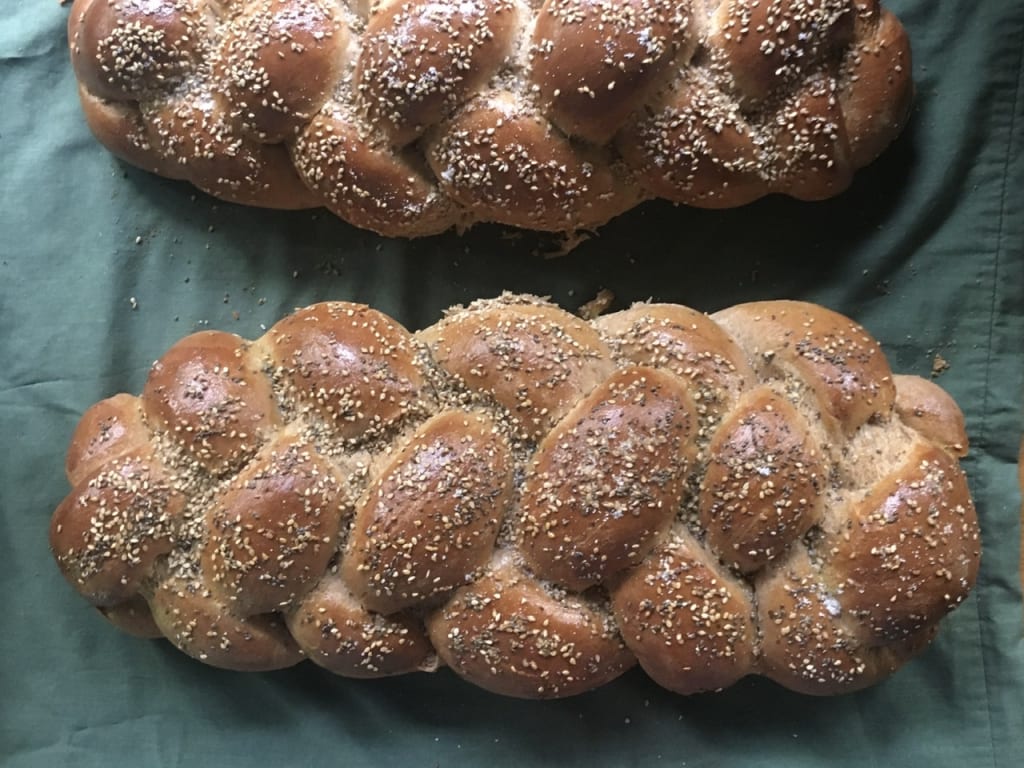 Nothing beats fresh Challah
The first time I ever used a computer was when I was four years old, in kindergarten. Our assignment was straightforward: tell the class what you want to be when you grow up.
I sat in front of that bulky gray Macintosh and thought. I loved animals and I loved singing; I loved art, and I was positively obsessed with ballet. But there was something else, something I undeniably loved more than any bunny or ballad, any painting or principle dancer. And that, friends, was bread. And so I typed:
"When I grow up, I want to be a baker so I can make loads of things with carbohydrates in them." I was inarguably precocious, but this was also the early 90s and Weight Watchers was everywhere. I guess I picked up some of the lingo. Beneath the declaration, an illustration: I drew a picture of future me with long brown hair in a braid, thick-soled clogs on my feet, and a tray of steaming buns balanced on my outstretched arms. I waited my turn to present my dreams to my class. I remember everyone nodding in eager agreement: we want you to be a baker, too.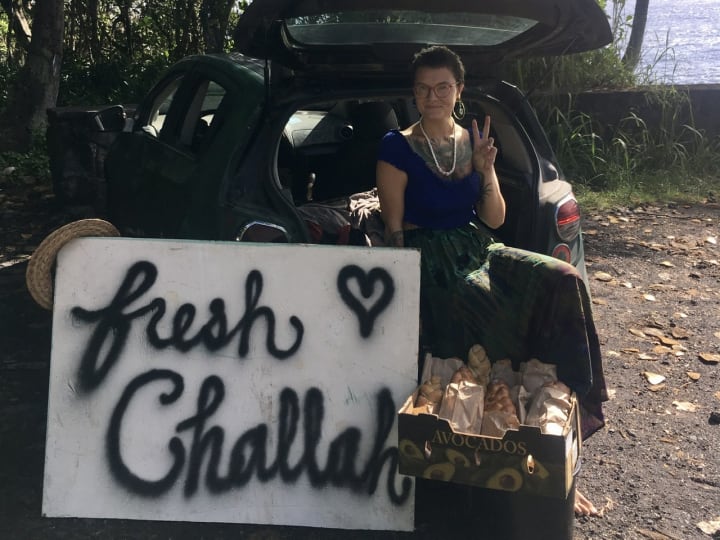 I never grew out my hair and my passions shifted over the next 30 years. Travel was my main priority, so I studied language and music performance, became a yoga instructor, and certified in several modalities of massage therapy. I just wanted to be useful. I completed an NLP certification course and I assisted a homebirth or two. As I bounced from country to country, I babysat, served in coffee shops, and worked as a janitor at a gym before Broad City simultaneously made it cool and lame. I lifeguarded, busked, posed as a living statue, painted signs for small businesses, trimmed ganja, cleaned houses, taught at musical theatre camps, and manned the desk at hostels in bustling tourist hotspots.
And all the while, I baked. To challenge myself, to feed myself, to win friends and influence people. Over the years, I sampled and then taught myself dozens of bread recipes from around the world. (If I really screwed something up, I'd just soak it in some egg and make French Toast. Pay attention. That's a freebie. It's never too late to French Toast something.)
I could soon make proper New York bagels: boiled and then baked, perfectly dense and chewy under a fearless slab of schmear. Challah, braided and glossy, showered with toasted sesame seeds. Hot cross buns, crumpets, and scones for the richest afternoon tea you could imagine. Mountainous cinnamon rolls for the laziest of brunches. Rugbrød and Hönökaka made from rye flour for prim picnics by the river. Savoury foccacia, deeply dimpled and drenched in olive oil, festooned with full sprigs of rosemary. Fluffy agege and Nigerian crunchy buns. Malawach the size of your whole table, injera so tangy that you drool. Birthday cakes, pies, cobblers, and cupcakes; sausage rolls, knish, and spanakotiropita. "Loads of things with carbohydrates in them." My inner child commands it!
When I lived in the tropical dry forests of Nicaragua, I harvested green plantains, cut them into strips, dried those strips on the roof in the afternoon sun, and then pulverized them in a homemade mortar and pestle. Voilà: flour. I used it to make spiced banana bread and chayote crumb rolls. In South America I grew my own yuca, split the waxy, brown skin from the white, starchy root; grated, pressed, and dried the pulp; and used my fresh farinha (garri) to make empanadas and bammies. I suspended a Dutch Oven over a Montana campfire and sipped moonshine while waiting for a crisp boulle of seeded sourdough to burst beneath the lid. I took stacks of fresh naan with butter and coriander to birthday parties, sold baleadas with refried beans and avocado and crumbly queso at Tempelhofer Feld, and sat back beaming while French tourists tore into my crisp, warm baguettes in Costa Rica. Chef's kiss! Success!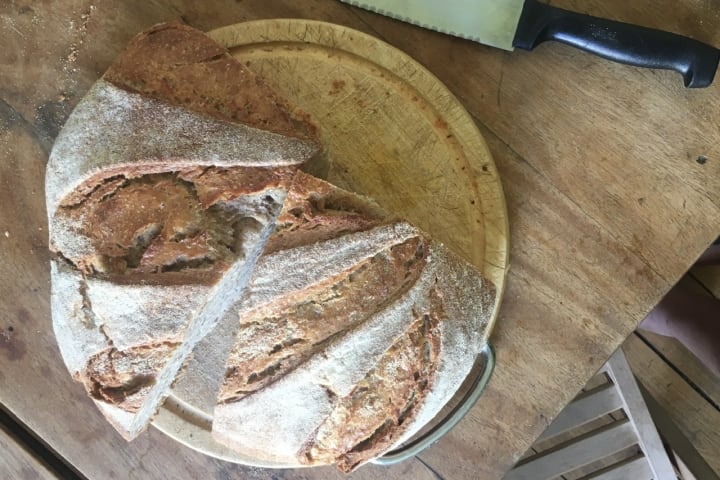 I feel like I don't really need to defend why I like my job. I make bread and bread-y things, and everybody loves bread. Even people who aren't supposed to eat bread love bread (or at least some version of it). Gandhi said that "there are people in the world so hungry, that God cannot appear to them except in the form of bread." No pressure. I love bread, apparently it's divine, and I also just really love baking. I love making a mess, and that's a given. I love the smell of activating yeast and watch, spellbound, as it feasts on sugar and wildly blossoms in my bowl. I love when the tips of my fingers get tough from flipping flatbreads on a pan. I love the meditation inherent of kneading. I love to be intentional with the language of my hands, as I press affirmations into my dough: May this bread feel like home.
I guess that's my favourite part of my 'job'. Curating a feeling of home, belonging, and safety. I've been travelling and moving around my whole life and cannot pinpoint 'home' on any given map. It's more of a state of mind, and bread can take us into that state in an instant. The smell, the taste, the very touch of bread serves as a portal to peace. It's practical, consistent, warm, supportive. We eat it to celebrate, consecrate, and mourn. It's easily the ultimate comfort food, and we've been making it for tens of thousands of years. Seriously! Peep the "History of Bread" tab on Wikipedia. Bread is as old and as human as it gets. According to several online lists that I skimmed and don't feel like referencing, it's among the top five favourite foods on Earth. Makes hella sense.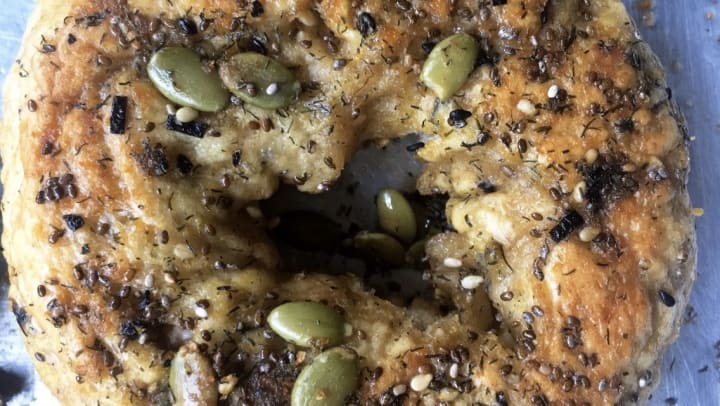 Sometimes it's all we have. Sometimes it's all we want. Sometimes there's only enough for everyone to get one piece and so you eat all the vegetables first and slowly savour every crumb, every crust. Sometimes dinner is a pile of toast. Sometimes we painstakingly cut bread into little cubes and use skinny forks to dip those cubes in molten cheese. We use it to scoop up curries and chutneys and shovel salads into our mouths. Sometimes it's baked, sometimes it's fried, sometimes it's deep fried. I've learned that bread is many people's favourite thing about soup. Did you know that, if you get a bread bowl of soup at Panera, your side can actually be more bread? The people have spoken! The same eager faces from the kindergarten class nod back at me: make us bread, please. This shit (gestures to the past few years) is hard. We need a little comfort.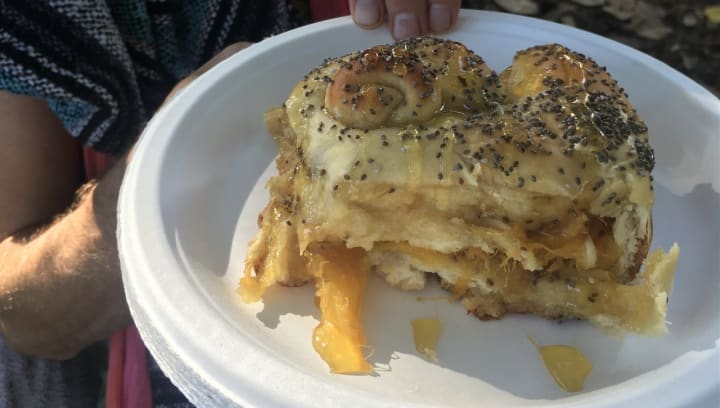 I'm fully self-taught and there is nothing legitimate about my business at all. No menu, no license, no advertising. I rarely remember to take photos of my stuff and I haven't figured out Instagram Reels yet. I've never worked in a proper bakery, and I think it's going to stay that way. I don't actually have any problem with those infamously early mornings. It's just that, at this point, baking has become a ceremony for my body and soul. I don't really want to share that process, that energetic exchange, that pursuit of presence, with anyone else. Maybe I'll eventually go to some school and learn all the jargon that I obviously don't know, use a proper thermometer, work on stainless steel.
For now, I live in a jungalow with screens for walls and ants for days. No running water, one light bulb, and sacks of high-gluten flour in big plastic totes. I cater on occasion, but mostly I show up wherever with whatever bread I felt like making, with whatever ingredients I had on-hand, with whatever tools I find and in whichever oven is closest. All I know is that, after an hour of vending, it's all gone. Even as people walk past and bemoan my lack of gluten-free items or scold me for non-vegan recipes, there's always money in my hand and usually some poppy seeds in my smile. Rent gets paid, my community gets a blast of feels-like-home, and my technique improves. One of these days, it would be nice to live in a proper house with a fridge and doors that close and enough electricity to support a KitchenAid mixer. Oh, and an oven. Imagine that.
Until then, I continue to make it work! I really don't mind what the conditions are and clearly I'm not in anything for the money. I simply love my job, because I simply love bread. It's my loaf language. And, statistically speaking, you probably love bread too. And in these trying times, you might even need it. And that's why I'm here, I think: to love and be loved, to knead what you need, and to defy the Grain Brain movement at every turn. And to occasionally get paid for it.