Farfalle Pasta with Pork and Portabella Mushroom in Madagascar Pepper Cream Sauce
Farfalle con Maiale e Portabella in Crema al Pepe del Madagascar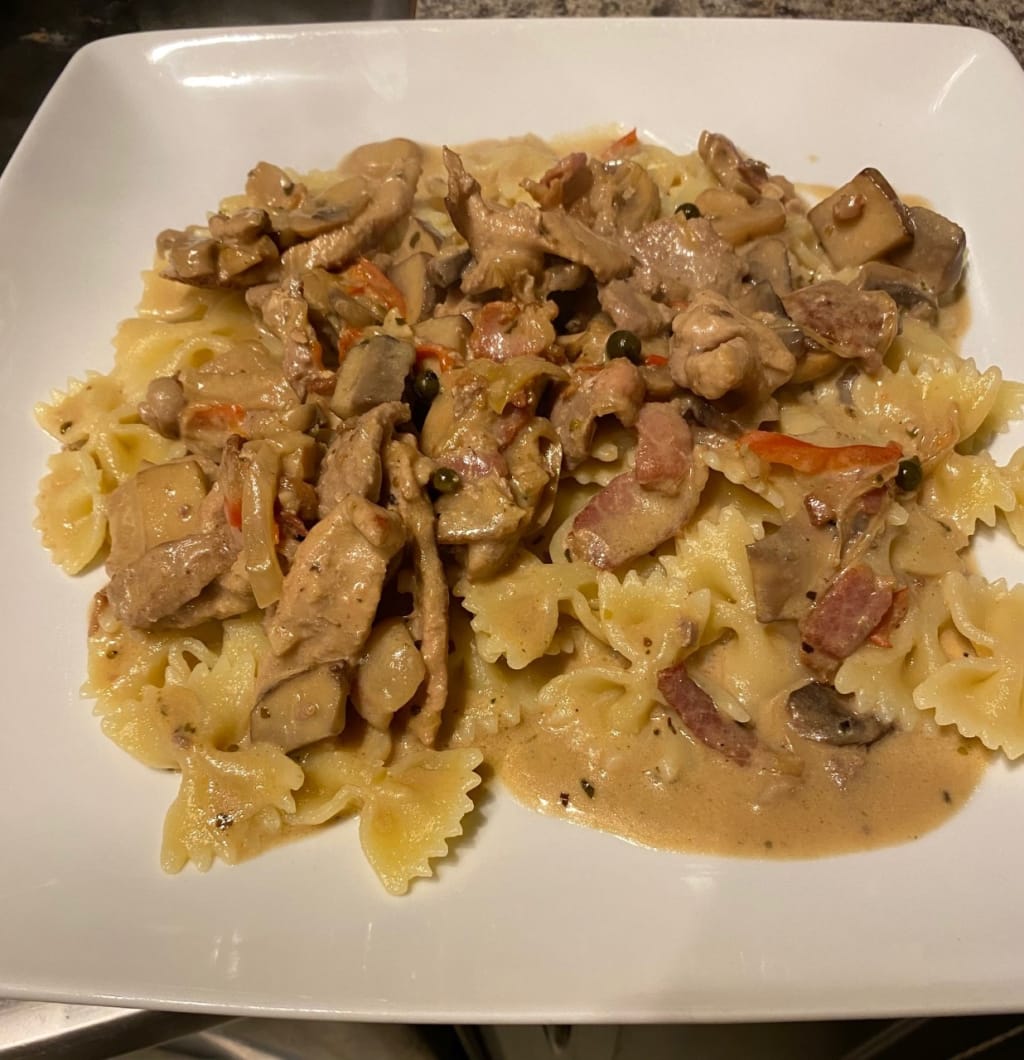 Photo by Author
Author's note. For my recipes of all kinds, just check out our writer's cookbook collaboration here!
My culinary exposure has been double dipped in richness. I was raised with the beautiful food of Hungary from my mother's kitchen. The staple of many dishes is based in or accompanied with homemade full-fat sour cream, whip cream, beef stocks, bone soups, and the mellow earthy decadence of chestnut purees, walnuts, and poppy seed pastries.
Then, later in life, when I embarked on the career path of a professional cook and chef, I was trained in classical French cuisine. This meant more richness — butter as the beginning for everything. Egg yolk pasta dough, cream sauces, and stocks that simmered for days, eventually becoming the reduced mother sauces for every dish.
Remarkably, although I have regularly consumed five meals a day, my weight and cholesterol have stayed virtually unchanged, heading into my fifties as it was in my twenties. Blessed with a high metabolism and good genes, I continue to enjoy a diet immersed in both traditional cuisines, Hungarian and French.
If I had to choose a third favorite fare, it would be Italian. As a professional Chef, I worked under three Italian Chefs and one Italian Pastry chef. All three were legitimate Italian-born Chefs who came to Canada later in life. Although I love the cuisines of many cultures, I could happily live with only indulging in those mentioned above, my big three cuisines.
My wife's comfort food is everything creamy, buttery, and warm, melted, gooey good cheese. While hesitant to dive into new and complex dishes, my daughter plunges in after she's had a fork full, and she often asks me to bring out old menus from kitchens I've cooked in and make the fancy dishes for supper. This pasta is one such dish. Complex but not complicated, it's a warm, soul-satisfying plate of pasta that delivers on depth and richness.
Ingredients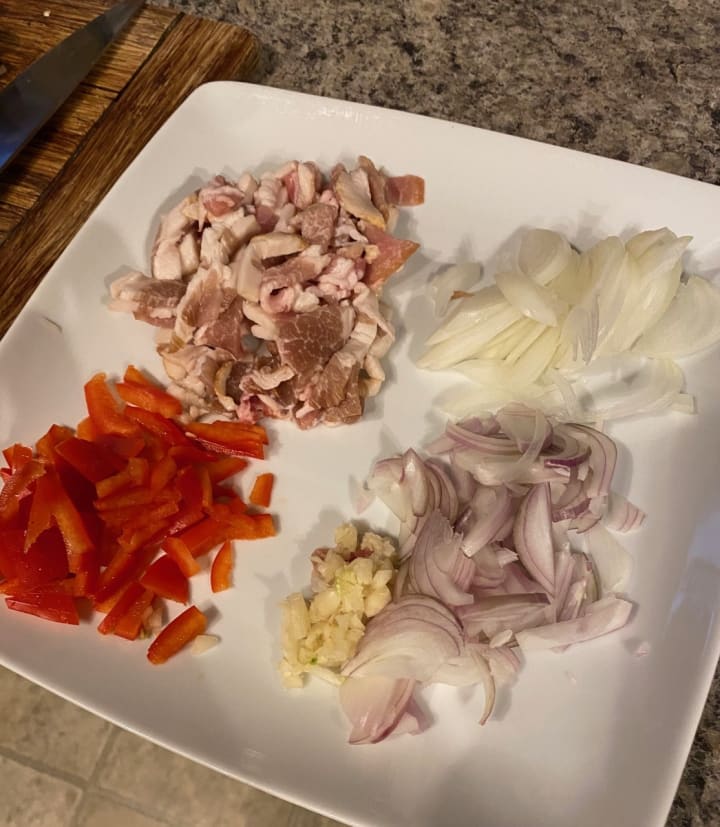 1–2 Shallots, sliced thin.
1–2 Garlic Cloves. Chopped, but not too fine.
3–4 slices of bacon. Chopped.
2–3 Portabella Mushrooms. Stems removed and cleaned
Chef's tip. Clean the dark brown gills from beneath the mushroom cap. It doesn't change the flavor but it will make your cream sauce look sort of purple-grey and can seem a bit unappealing.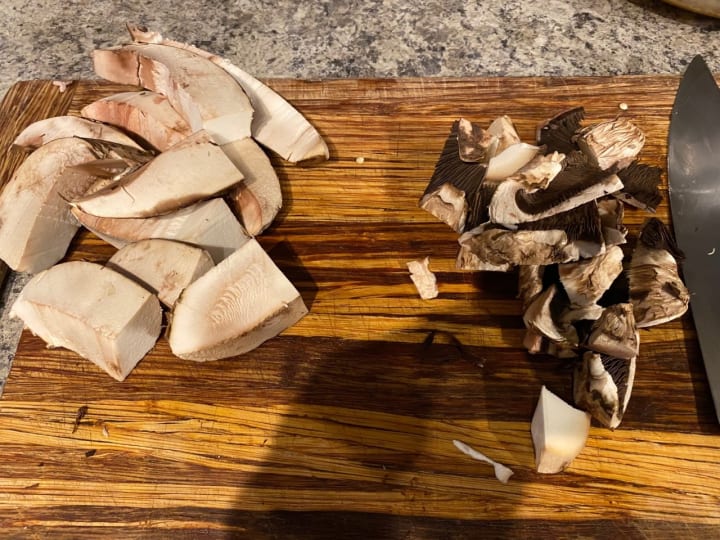 1 can of sliced mushrooms.
1 Red Bell pepper, sliced.
Pork loin-cleaned and sliced in strips — many pork cuts can be used, tenderloin, shoulder, chops etc.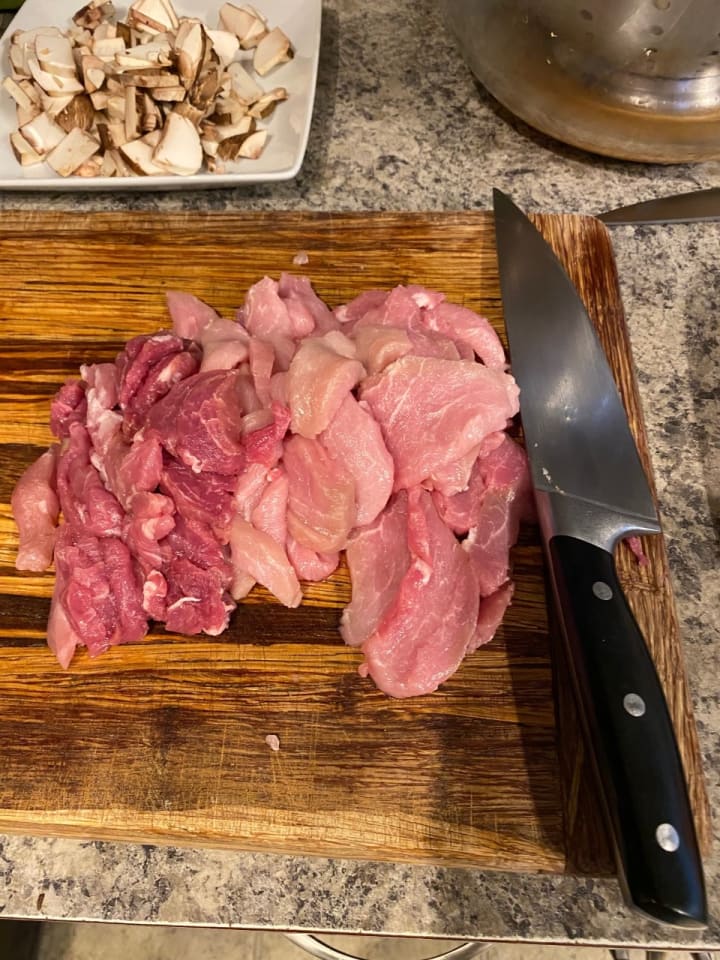 ¼ cup of brown gravy
1 cup of heavy cream
Butter
Olive oil.
1 -1/2 cups beef, pork, or chicken stock.
Pasta. Farfalle (bow ties), but Penne or a broad noodle pasta will work just fine as well.
Seasonings.
Dried Herbs; Oregano, Basil, and Rosemary.
Salt and Pepper.
Soft Madagascar green peppercorns.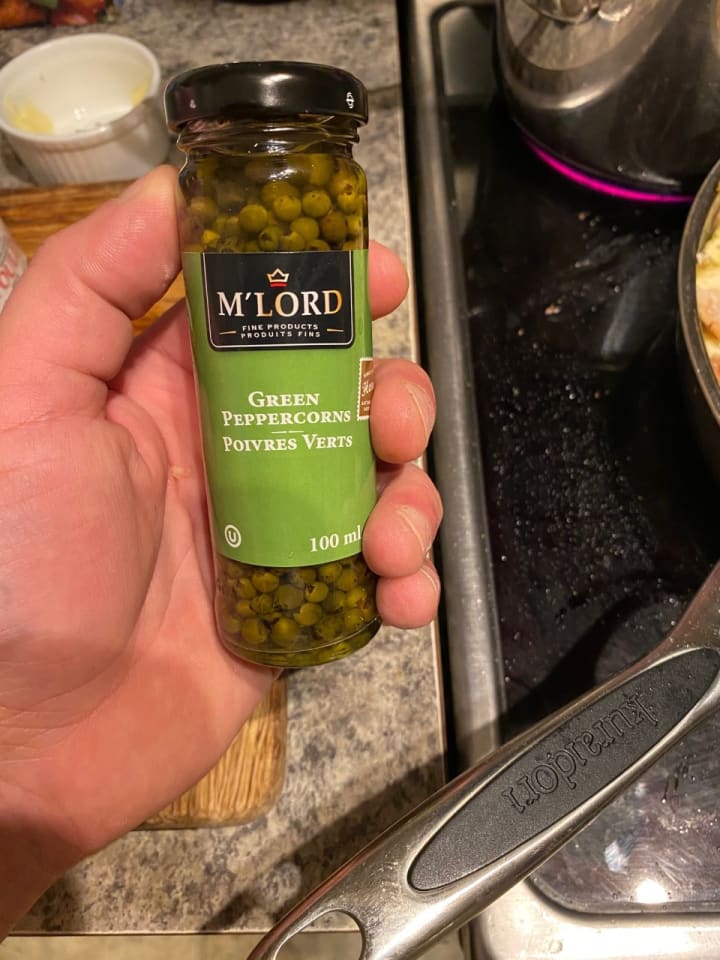 Method:
1. In a large pan, add 1–2 tablespoons of olive oil and a tablespoon of butter.
2. Over medium heat, render the bacon until almost crispy, then drain most of the grease.
3. Add the shallots and cook over medium-low heat for about 5–7 minutes, and the shallots begin to caramelize.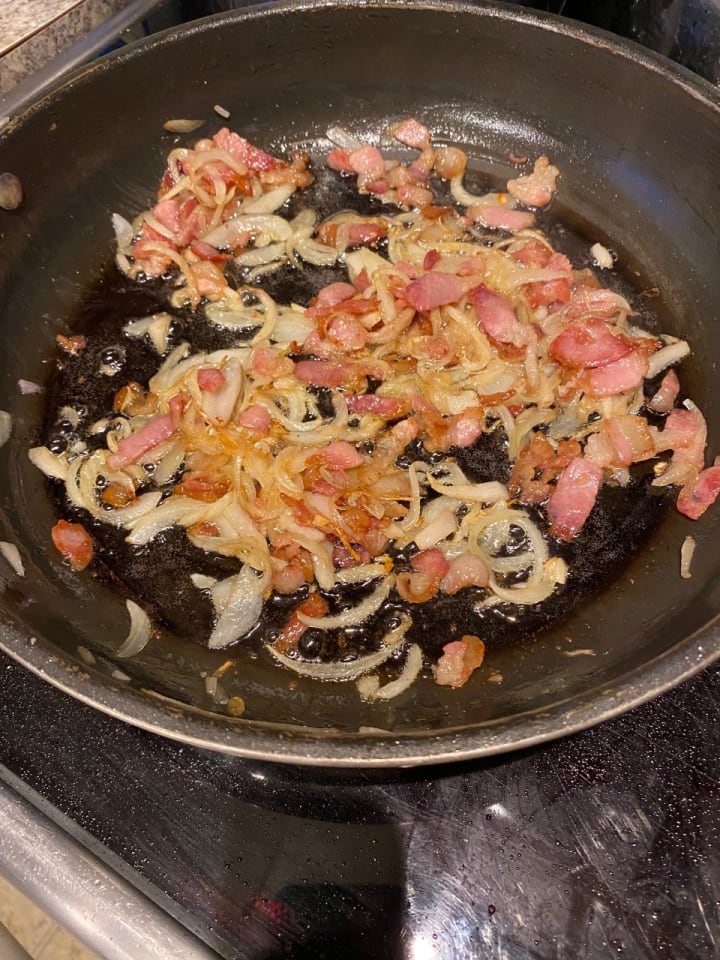 4. Add the garlic and the portabella mushrooms and season with the dried herbs; about a teaspoon of each will do.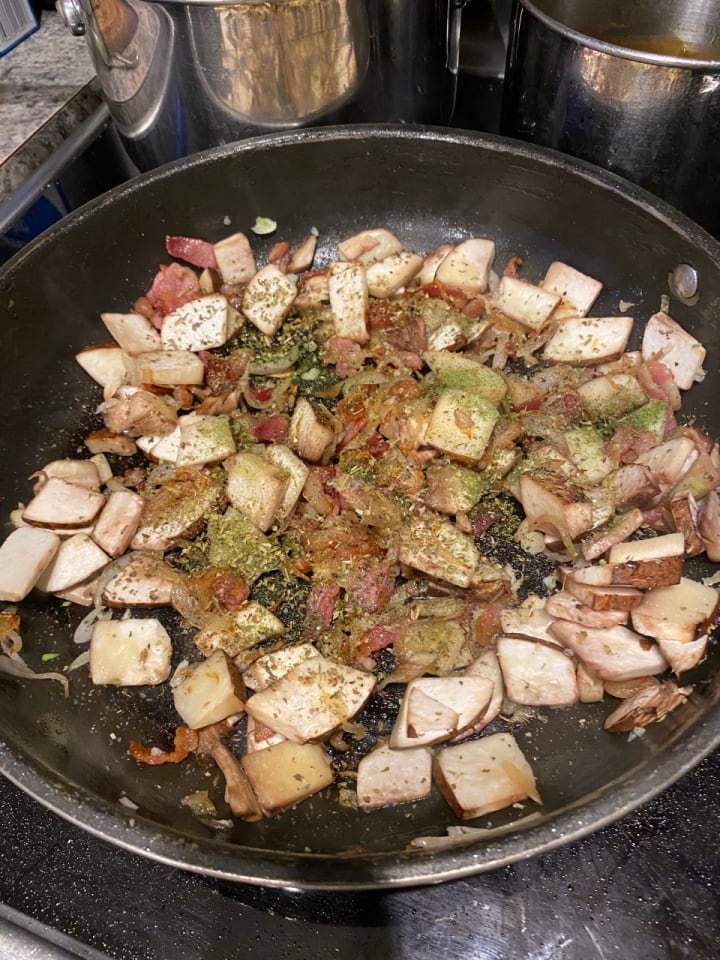 5. Sauté for a few minutes.
6. Add the red pepper and canned mushrooms.
Continue cooking until well blended and the portabella mushrooms begin to soften.
Remove the ingredients from the pan, place them into a bowl or platter. Set aside.
Set a pot of salted and oiled water to boil for pasta. Cook pasta to el dente, then drain and toss with olive oil.
Chef's Tip; Do not rinse your cooked pasta with water. You will wash away the starch off the pasta, and you want that when you toss the pasta with the sauce as it thickens the sauces and binds it to the pasta. Instead, toss the warm pasta with olive oil, then spread across a sheet pan for cooling.
Return pan to stove and add another tablespoon or so of olive oil and bring to medium-high heat. Now you want to add the sliced pork to the hot pan. Season with salt and pepper and cook until the pork is well browned.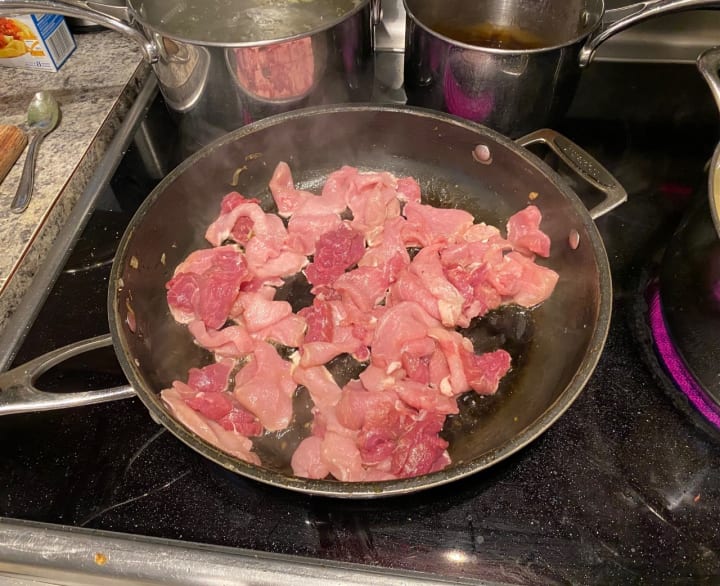 Return the cooked ingredients to the pan with the pork.
Add two teaspoons of soft green peppercorns without the pickling juice.
Now add the stock and increase heat to medium, bringing the liquid to a simmer. Cook until the broth reduces by a third.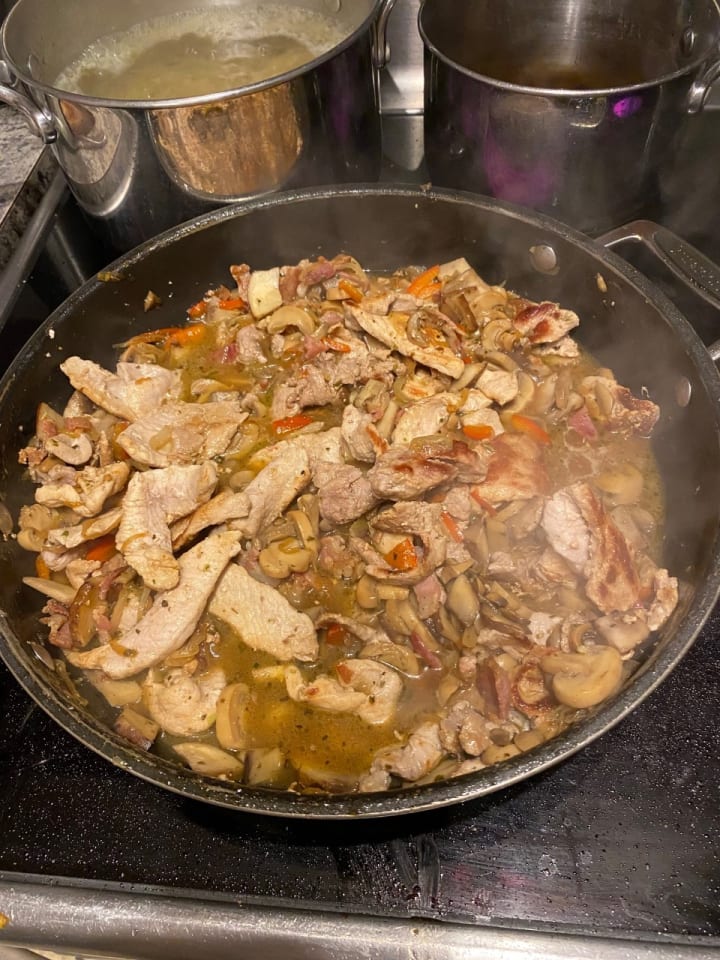 Add the heavy cream and the gravy. Bringing the creamy stock liquid back to a simmer and stirring occasionally, reduce the cream sauce to desired consistency.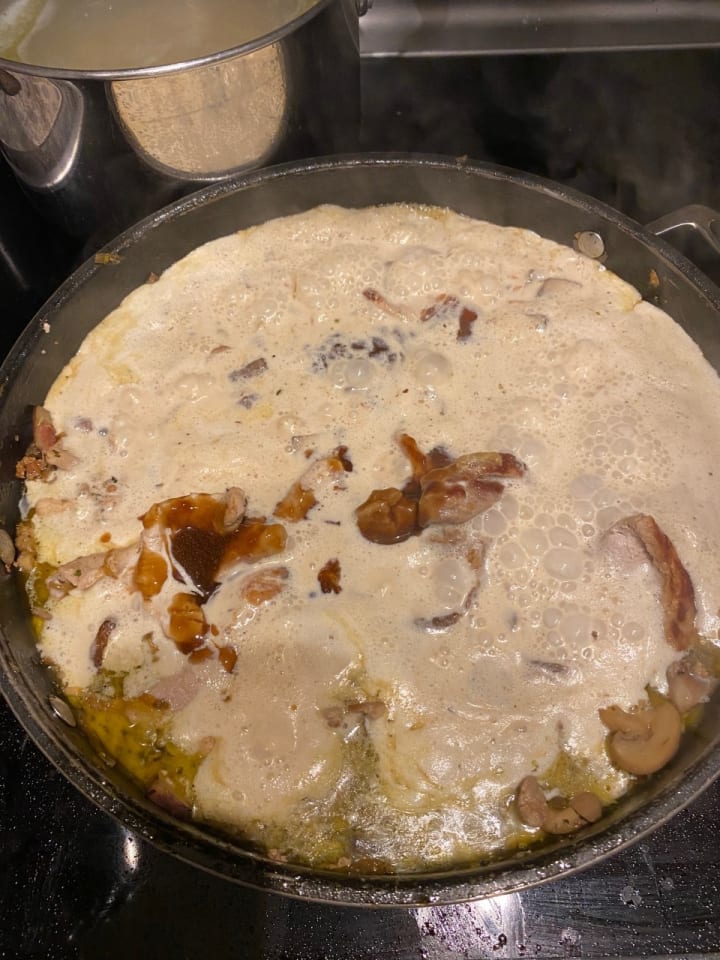 Taste for seasoning. Adjust as desired.
Add pasta to the pan and toss to warm the pasta, or you can add the pasta to a bowl and add the sauce, tossing and serving to plates from there.
This is a rich, warm winter pasta dish with a depth of flavors and seasonings that you will enjoy with the soft kick of peppercorns bursting onto your taste buds.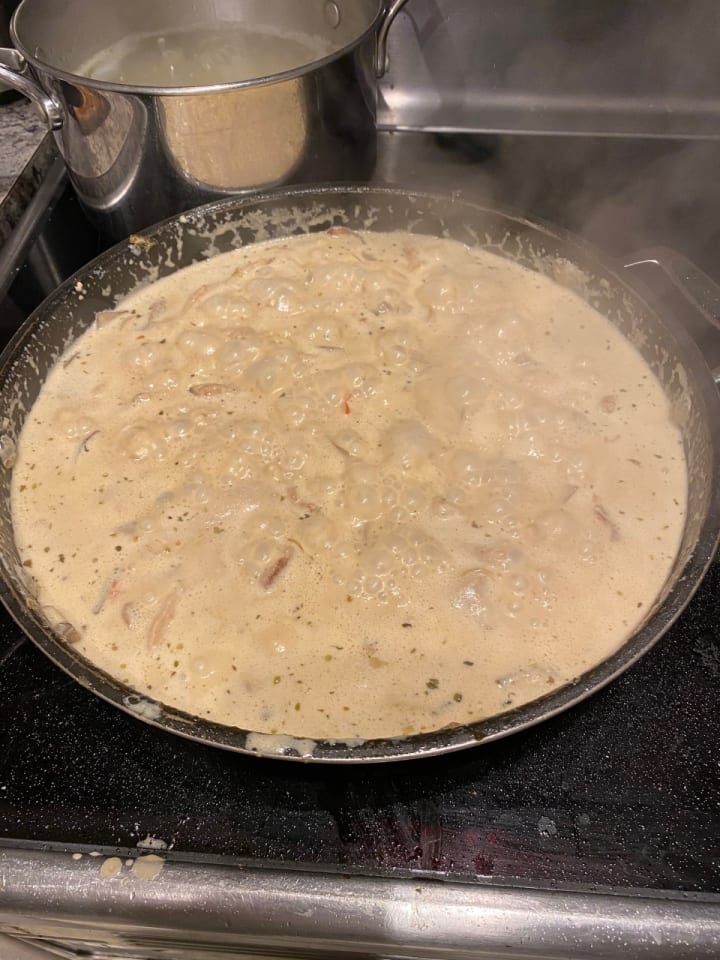 For leftovers, reheat in a pan and add a splash of stock and cream, then warm over medium heat until the ingredients are once again swimming with sauce.
Enjoy!
recipe
About the author
1st generation Canadian-Hungarian
Father, Fly fisher, Chef, Reader, Leader, and working on writer.
Feedback appreciated anytime. Tips always appreciated.
Reader insights
Be the first to share your insights about this piece.
Add your insights