Fall Family Favorites
A Collection of Eight Easy Autumn Inspired Recipes
My family and I love fall; the colorful leaves, the crisp air, bonfires, flannel jackets, ciders, and harvest time. I personally love fall for another reason; cooking, baking, and creating delicious treats in our bright orange kitchen. If our kitchen were to identify with a season, it would undoubtedly be autumn. While our kitchen layout may not be the easiest to navigate, I don't regret our paint color choice or the woodland paintings donned by our walls. When we take our dogs for a walk to the end of our driveway each night, a comforting, warm, glow illuminates our home from the solitary light we leave on in the kitchen just like a candle of old. This appreciation inspires several culinary creations that feel like family and home.
Today, I'd like to share with you eight of my family's favorite fall recipes. I hope you'll enjoy them as much as we do.
Autumn Pancakes
One of those dishes is my autumn pancakes with maple-pumpkin, maple-yam, or maple-sweet potato butter. While I don't often use as much pumpkin as others during this time of year, this is one of those recipes that I have tried with pumpkin, yams, and sweet potatoes. It has not lost its autumn magic with either of those ingredient substitutions. When extended family visited a few years back, this was one of the recipes I felt confident in preparing for everyone. I substituted whole wheat flour for my more health-conscious sister-in-law, who gave surprising compliments throughout that morning's breakfast and asked for the recipe.
1 1/2 cups all purpose flour
4 tsp baking powder
1/2 tsp cinnamon
1/2 tsp nutmeg
1 1/4 cups milk
1/4 cup brown sugar
1 egg, lightly beaten
1 Tbsp. canola oil
1 cup pumpkin, yam, or sweet potato puree
In a large bowl, combine flour, brown sugar, cinnamon, nutmeg, and baking powder. Stir with whisk until well mixed.
Make a well in the center of the dry ingredients bowl, and add beaten egg and oil. Add 1 cup of milk and whisk wet ingredients together, slowly incorporating the dry ingredients from the sides of the bowl.
Add pumpkin puree and more milk (if needed).
Heat griddle and oil well. Use 1/4 cup measuring cup to drop batter onto hot griddle.
Cook 2-3 minutes before flipping, then 2-3 minutes more.
Serve with maple-pumpkin, maple-sweet potato, or maple-yam butter (Recipe will follow).
Maple-Pumpkin, Maple-Sweet Potato, or Maple-Yam Butter
This recipe does not have to be limited to pumpkin, sweet potato, or yam pancakes. It also makes a lovely spread on toast, other pancakes, and inside of oatmeal or snack bars. Please feel free to utilize as desired.
1 stick softened butter
2 Tbsp. pumpkin, yam, or sweet potato puree
1 Tbsp. maple syrup
Beat together ingredients and set aside for use.
Pumpkin Pie (or Yam) Smoothie:
For a quicker, yet still healthy family breakfast choice, I love a good smoothie. I also love that my toddler enjoys assisting me with the smoothie making process, and this smoothie is about as easy as it gets.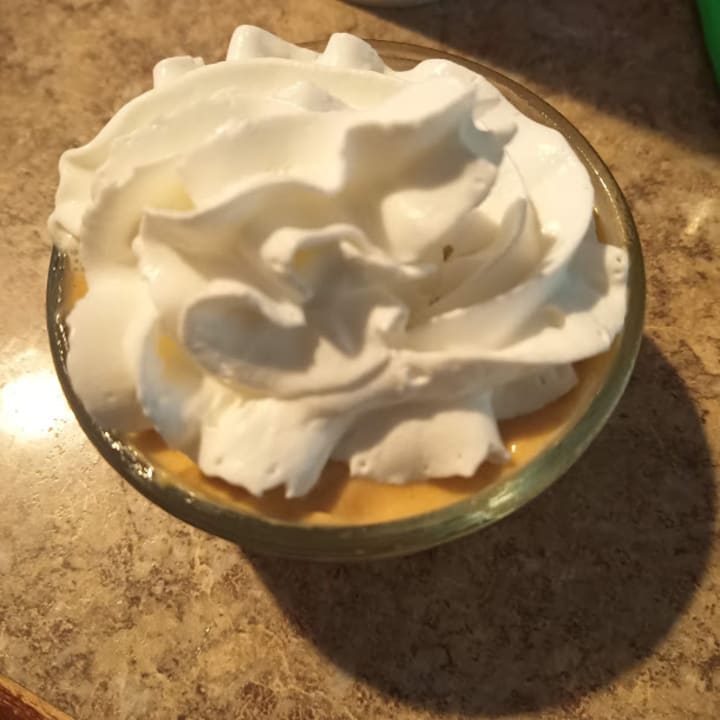 1 cup pumpkin or yam puree
2 cups whole milk or Greek yogurt
1 1/2 tsp cinnamon
1 1/2 tsp vanilla
1 1/2 tsp pumpkin pie spice
Maple syrup to taste (optional)
Whipped cream (optional)
Blend until ingredients are well combined.
* I have found that I do not personally need the addition of maple syrup, but others with a greater sweet tooth may wish to add it if they so choose.
*My son loves it when we add whipped cream to the smoothie for an extra special treat.
Earl Grey Latte
Aside from smoothies, other special beverages are fairly common in the Martin household. We're usually having some sort of tea or hot beverage at any given time during cooler weather. I'll share with you two of our favorites. The first was discovered via accident when I found the taste of earl grey tea a bit too astringent for my liking. Needless to say, this Earl Grey Latte is a major upgrade from where it started and bears little resemblance to that bitter flavor the tea once had. Instead, it has a much more well-rounded, sweeter, and balanced flavor profile. I now understand why the British prefer milk in their tea.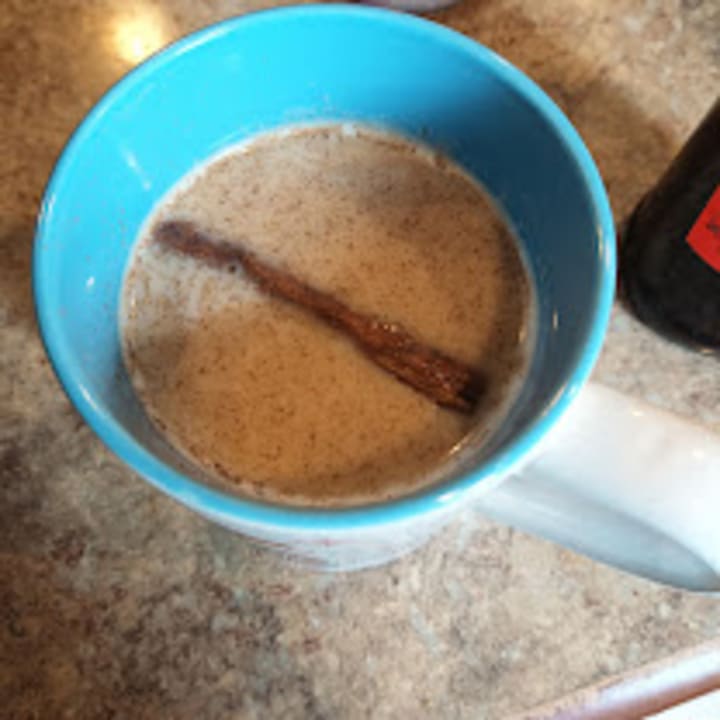 1 Earl Grey tea bag
2-3 oz. warm milk
1 tsp maple syrup
1/4 tsp vanilla
Sprinkle of cinnamon
Cinnamon stick for garnish (optional)
Steep Earl Grey tea for 3-5 minutes; adjust to personal taste for strength. I usually prefer 5 minutes.
Add maple syrup and milk.
Add vanilla once slightly cool.
Sprinkle cinnamon on top, and add cinnamon stick for garnish (optional).
Ginger Snap Latte
I love the warmth of the gingersnap latte. If I see it on a menu, I'm likely going to order it. Pumpkin is great and all, but ginger, maple, and molasses are all flavors that make my heart sing about fall. For those times I desperately want to stay at home, this latte is everything that I desire.
2 cups milk
1 Tbsp. molasses
1 tsp cinnamon
1/4 tsp ground cloves
1/4 tsp ground ginger
2 Tbsp. brown sugar
Whipped cream (optional)
Warm milk on stovetop, stirring occasionally.
Whisk in molasses and brown sugar.
Continue heating for 2 minutes and add spices.
Serve in mugs and add whipped cream if desired.
Soft Ginger Snap Cookies
Lattes aside, you've probably guessed by now that I have a favorite ginger snap cookie recipe. Unlike Paul Hollywood from my favorite show, The Great British Bake Off, my family prefers their ginger snap cookies without the "snap", so it is a bit of a misnomer on my end. Regardless, the one recipe I can count on for seasonal and holiday get togethers is this one. I even make up a batch for my grandmother's birthday gift in September. My great uncle gets especially jealous of them, but no worries, I make him a batch later on. Like I said, these are definitely a family favorite.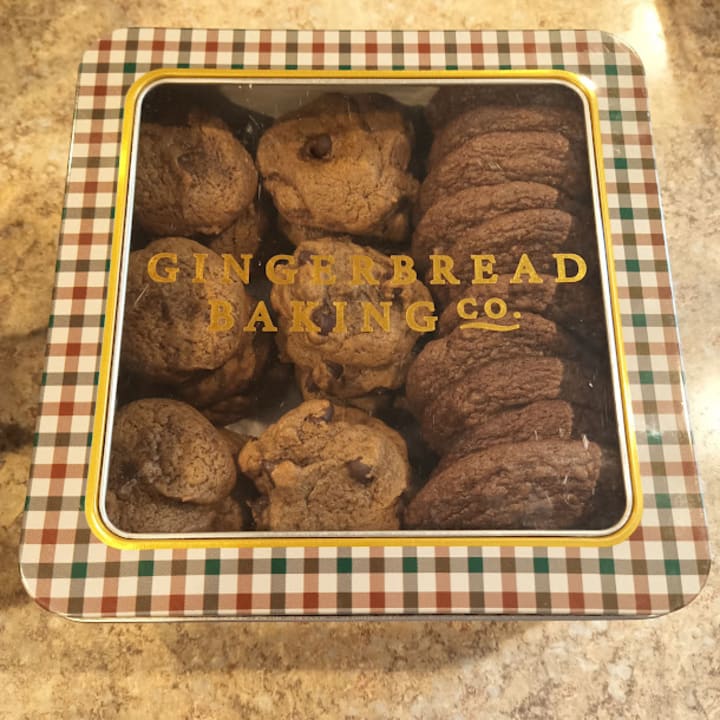 2 1/4 cups all purpose flour
1 tsp baking powder
1/4 tsp salt
1 tsp ground ginger
1/8 tsp nutmeg
1 tsp ground cinnamon
1/2 tsp ground cloves
1 cup brown sugar
3/4 cup unsalted butter (room temperature)
1 tsp vanilla
1/4 cup molasses
1 large egg
Preheat oven to 375°. Line a large baking sheet with parchment paper.
In a medium bowl, whisk flour, baking powder, salt, and spices. Set aside.
In a stand mixer bowl, beat butter and brown sugar until smooth and creamy (approximately 3 minutes).
Add egg and vanilla to creamed butter and sugar mixture. Mix until well combined. Add in molasses and mix further.
With mixer on low, slowly add flour mixture a small amount at a time. Be careful not to over mix.
Form dough into Tbsp.-sized balls. Place dough on baking sheet 2 in. apart.
Bake 8 minutes.
* This recipe makes about 3 dozen cookies.
* Some people prefer to roll their ginger snap cookie dough in granulated sugar before baking. I do not, but if you would want to do so this recipe would use about 1 cup.
* The variations I made in the photo for my grandmother's trio ginger snap gift above are the same ginger snap cookie batter with 1/2 cup chocolate chips mixed in for the center cookie, and 1/3 box of brownie mix for the latter. I did double the amount of ginger and spices in the brownie variation, and added oil to reach desired consistency. They all turned out well, but the chocolate chip cookie version was my family's favorite. I add this information so that you know the versatility of this recipe, and ways to create your own twist on it if desired.
Sweet Potato Pie Cupcakes
Okay, I have a confession. Yes, these are a family favorite; however, this is not my own original recipe. My cousin gifted me a "delish INSANE SWEETS" recipe book for Christmas one year and I've used it probably more than any other present yet. While I personally leave out the crust portion of this recipe and leave off the cinnamon-sugar, the rest needs no adjustment. There is no need to reinvent the wheel when something drives this smooth, and is so unbelievably easy!
*I will be using my variation of Delish's recipe by leaving off the parts I do not use, and adjusting the word choice of the recipe so as not to infringe on their publication. If you would like their true version, please see their website or purchase the recipe book I mentioned previously. Thank you.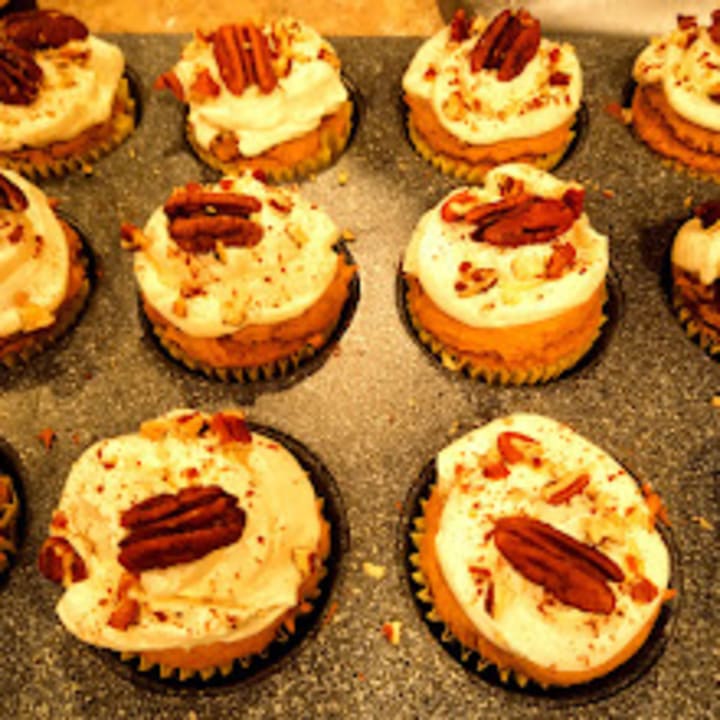 1 (15oz) box yellow cake mix
1 (15oz) can sweet potato puree
1/2 tsp ground cinnamon
1/4 tsp ground nutmeg
1 cup softened butter
1 (7.5oz) container marshmallow crème
1 1/2 cups powdered sugar
1 tsp vanilla
Pinch of kosher salt
Toasted pecans, for garnish
Cinnamon for dusting as garnish
Preheat the oven to 350°F and prepare a muffin tin with cupcake liners.
In a large bowl, beat cake mix, sweet potato puree, cinnamon, and nutmeg until well combined. Pour batter into lined tin 3/4 full.
Bake cupcakes until golden or ready according to the toothpick method (approximately 22 min.).
Prepare the marshmallow frosting.
Beat 1 cup of softened butter with marshmallow crème until fluffy. Mix in powdered sugar, vanilla, and kosher salt until smooth.
Allow the cupcakes to cool, and then pipe with prepared frosting. Garnish with pecans and dust with cinnamon before serving.
I took these to my grandparents' home on Thanksgiving when nearly everyone wanted one of these. My extended family is full of fussy eaters, so this took me by surprise. They were an even bigger hit than my ginger snap cookies! Instead of bringing some back home, I had to mix up an entire new batch for our immediate family's celebration. I didn't tell my family how easy they were to make, and unless they read this article or pick up a cookbook of their own, they'll never know.
Butternut Squash Chili
Fall is also a time for soups, stews, and chilies. I find myself wanting something heartier when the weather gets colder, and so I've made some comfort-based healthier dishes that showcase another favorite fall vegetable of mine: the butternut squash. This recipe is now one of my husband and I's favorites. Once upon a time, I needed a food solution to accommodate one of our mutual vegan friends, and this butternut squash chili was the end result. We've been enjoying it ever since.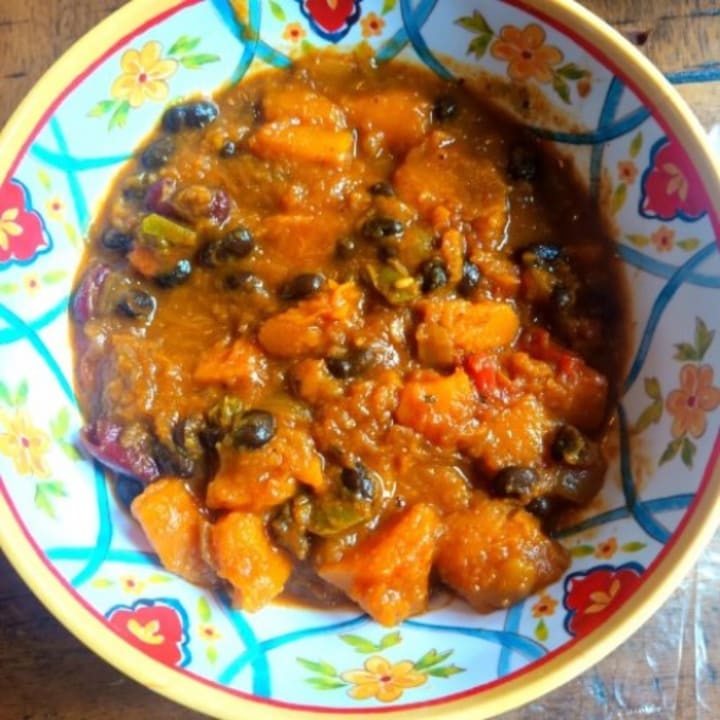 1 Tablespoon Olive Oil
1 cup butternut squash, peeled and cubed
1/2 cup chopped onion
1 jalapeño, seeded and diced
2 cloves minced garlic
2 cups vegetable broth
1 (15oz) can kidney beans, drained and rinsed
1 (150z) can black beans, drained and rinsed
1 (15oz) can tomatoes
1 Tablespoon chili powder
1/2 Tablespoon cumin
1 teaspoon turmeric
1/4 teaspoon cinnamon
1 teaspoon sea salt
Peel and cut your butternut squash in half. (You can peel or cut in whichever order is easiest for you.)
Scoop out the butternut squash's seeds and strings with a large metal spoon (a Tablespoon works just fine).
Heat a large soup pot over medium heat.
Add olive oil, onion, garlic, jalapeno, and butternut squash.
Sauté ingredients for 5 minutes or until the onion is translucent and the squash is soft.
Add spices and stir.
Add tomatoes, beans, and broth.
Bring to a boil.
Simmer for 30 minutes.
Allow chili to cool and serve.
* While not necessary, you may also choose to incorporate some garnishes and add-ins to this chili. Feel free to add sliced avocado, roasted pumpkin or butternut squash seeds, tortilla strips, or whatever other options your heart desires.
* Alternative Suggestions for Non-Vegans: Non-vegan friendly mix-in options could include; cheeses, yogurt, or sour cream. You can also use chicken broth in place of vegetable broth if you are simply wanting to try a butternut squash recipe and don't want to make it vegan or vegetarian friendly.
Now that "sweater-weather" is finally here, I hope you all enjoy any or all of these eight easy family favorite recipes! We here at the Martin household wish you a happy and healthy beginning of fall season! Welcome, autumn and happy fall, all!
recipe
About the author
Powered by Nature, Humanity, Humor, Food, Lifestyle, Fiction, and Culture; Oh, and a questionable amount of coffee.
Reader insights
Outstanding
Excellent work. Looking forward to reading more!
Top insights
Compelling and original writing

Creative use of language & vocab

Easy to read and follow

Well-structured & engaging content

Excellent storytelling

Original narrative & well developed characters
Expert insights and opinions

Arguments were carefully researched and presented

Eye opening

Niche topic & fresh perspectives

Heartfelt and relatable

The story invoked strong personal emotions

Masterful proofreading

Zero grammar & spelling mistakes

On-point and relevant

Writing reflected the title & theme
Add your insights