Enjoying Food in Scotland
Learning How the Scots Eat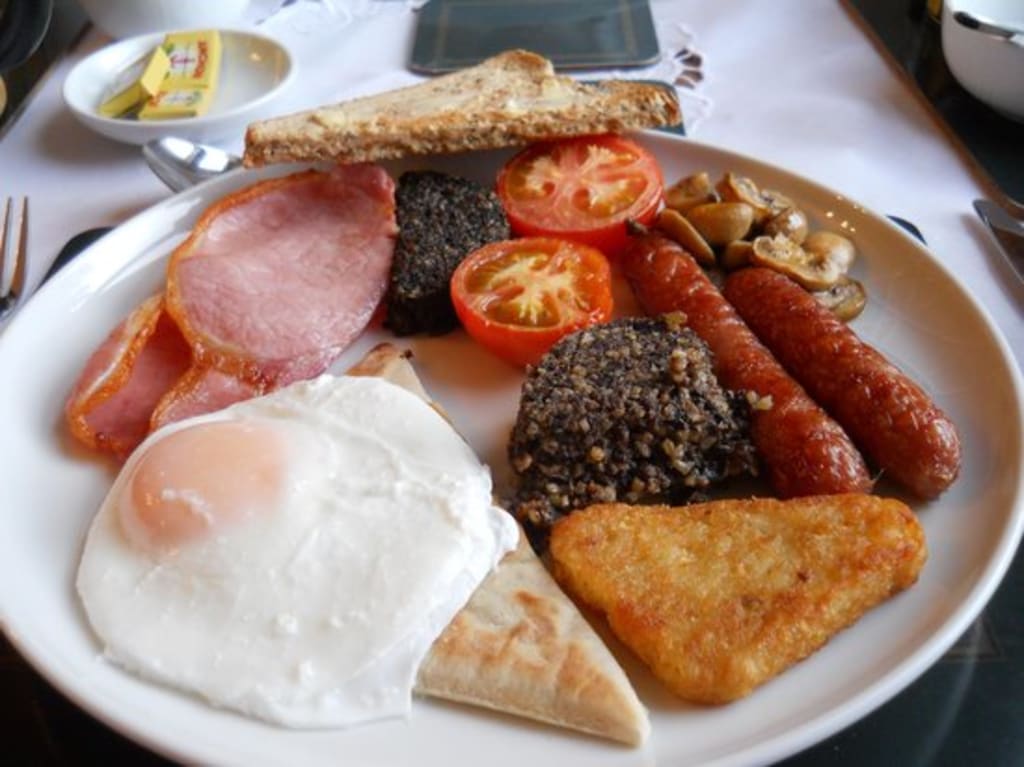 I have always felt that the best way to get to know people from different countries is by learning about what they like to eat. We all know our own eating habits and pretty much can say what other people in our country prefer or don't prefer but we cannot know what people in foreign countries like to eat. Let's take a look at Scotland. The Scots prefer to have a very full breakfast which, of course, counts as the most important meal of the day but which a lot of busy people tend to pass by.
Breakfast in Scotland
Their full breakfast usually consists of a full course that includes link sausage, eggs, bacon, tattie or potato scone, fried mushrooms, grilled tomatoes, baked beans, black pudding, and buttered toast. Even though this is a breakfast it is featured on restaurant menus also as an "all day" dish.
The Scots do like their porridge and it is typically made of oatmeal and water cooked with a bit of salt. It gets cooked by constantly being stirred with a wooden spoon and then put hot into a bowl. People like to add milk to it and even toss in some dried fruit and sweeten it with light brown sugar.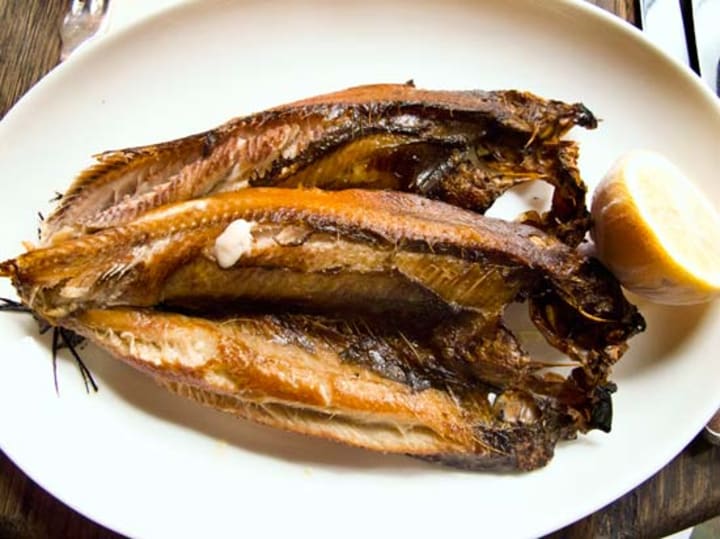 There are people who prefer having kippers which as cold smoked herring for breakfast. The kippers are produced by being split butterfly fashion from tail to head and then salted in brined and smoked over smoldering woodchips. They are a healthy way to begin the day as one fillet is only 125 calories and packed with protein.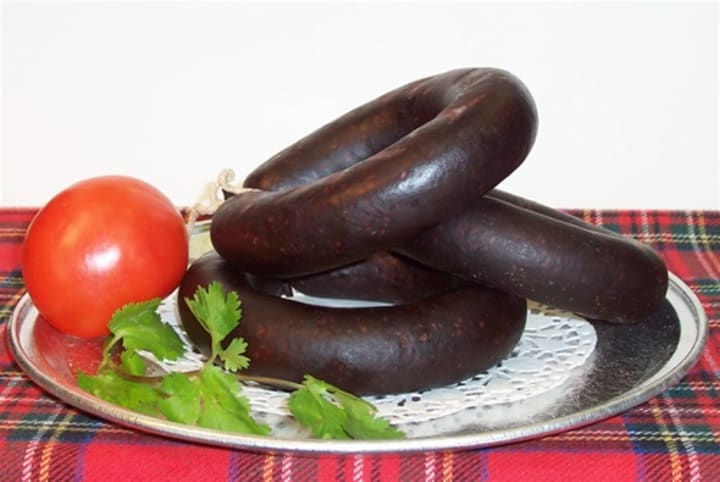 Next up we have black pudding and I have to say you have to keep an open mind. Black pudding is a type of sausage that is made of suet, oats, blood, barley and a special blend of spices. Before you get all excited I must tell you that if you just don't think of the ingredients but fry up a sausage and taste it, it is quite good. They often come served at B&Bs in Scotland and have become a popular item on top-class restaurant menus. They accompany chicken, game, pork, and seafood very well and fruit like apples, pears, and rhubarb.
The National Dish of Scotland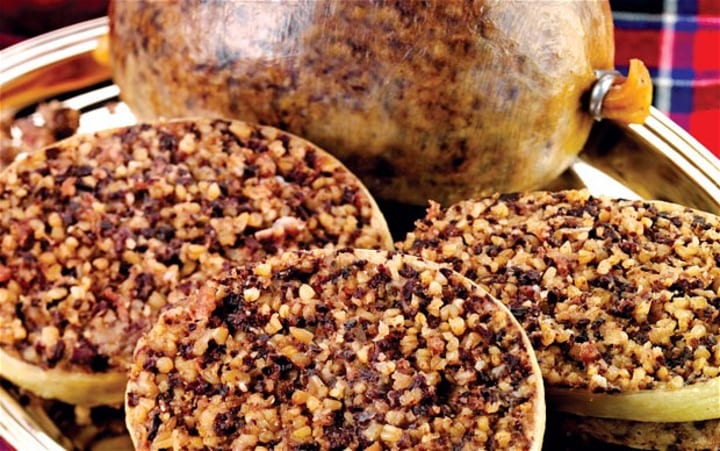 The national dish of Scotland is called haggis and it has been immortalized in Robert Burns' famous poem "Address to a Haggis." The main ingredients consist of the minced offal of a sheep, pig or cow mixed with suet, onions, oatmeal, spices, and seasonings. In true Scottish tradition, the mixture was placed into a sheep's stomach and boiled however nowadays synthetic casings are used. Once boiled it has an oatmeal-like texture and is traditionally eaten with swede and potato. In Scottish restaurants and pubs, it can also come in the form of burgers or even bonbons. In Scotland, people can pick up a haggis supper from a chip shop.
Stovies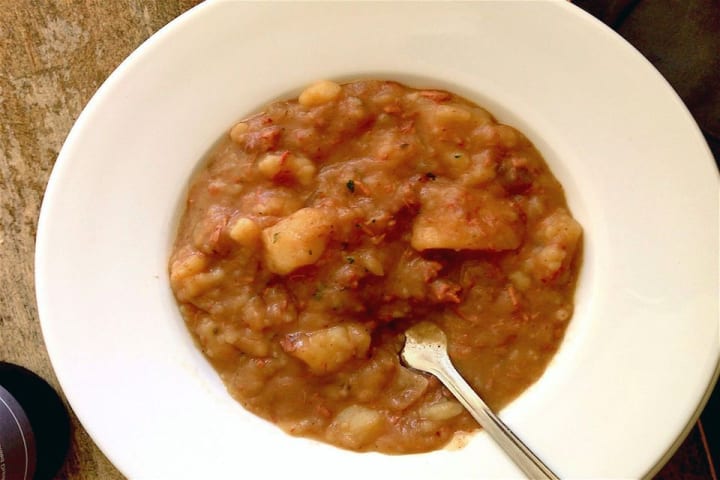 This is mostly a winter type meal that consists of meat, onions, and potatoes. Basically, you could say it is a stew that was traditionally made from the leftovers of a Sunday roast dinner. It can, however, be made from scratch as well. You can use chicken, beef, lamb or even corned beef and add diced carrot or swede. It is often served with oatcakes and pickled beetroot on the side.
Lorne Sausage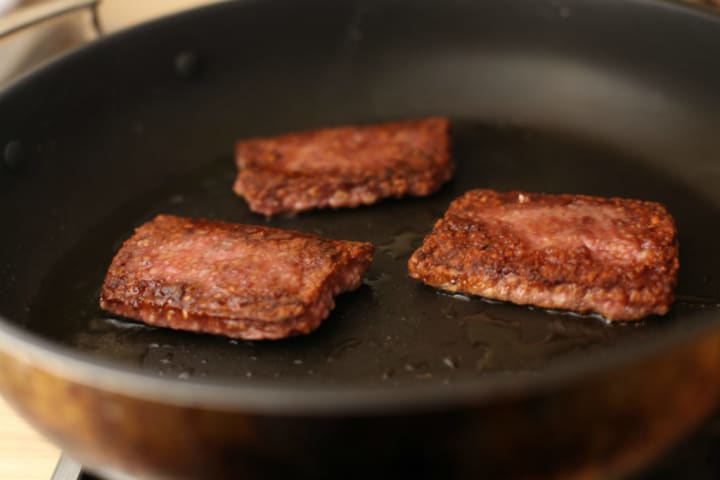 This sausage is produced by taking pork or beef, forming it into a square shape and thinly slicing it. It can be grilled or fried and eaten as part of a full Scottish breakfast or on a soft roll.
Cranachan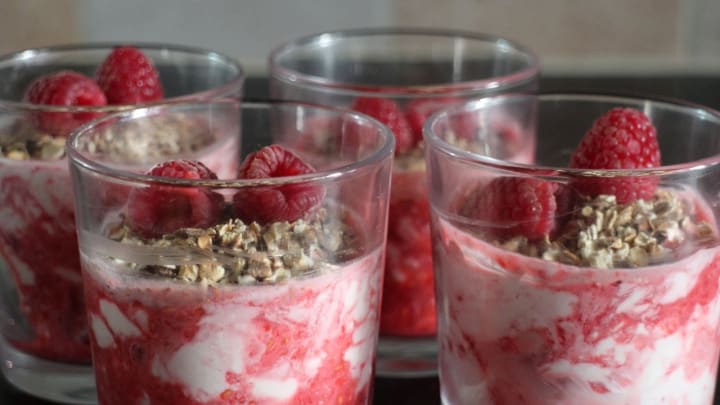 This is a Scottish dessert that consists of fresh raspberries, whipped cream, honey, and toasted oats. To give it that something extra dram of whiskey can be added.
Atholl Brose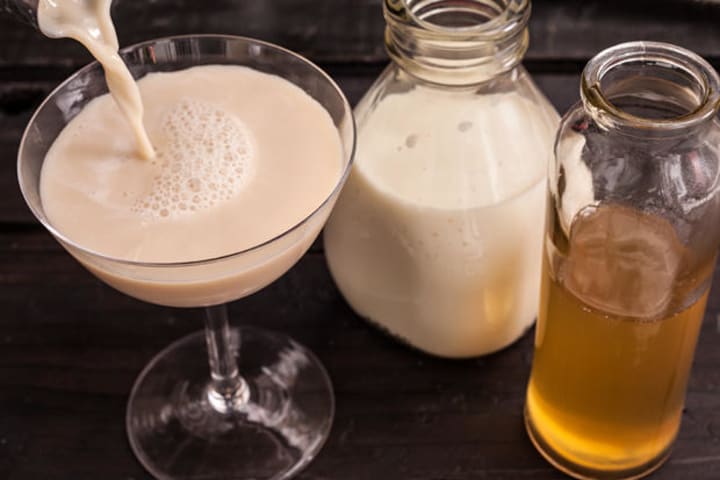 When it comes to drinks this is a traditional Scottish cocktail named after the first Earl of Atholl. It has many of the same ingredients as the dessert Cranachan and therefore sometimes Atholl Brose has also been referred to the dessert. The drink is a mixture of honey, cream, whiskey and oatmeal water.
Tablet
A traditional Scottish sweet is known as Tablet and it is made from sugar, condensed milk, and butter. It is made into a confection that is similar to fudge but has a harder, grainy texture It can be flavored with vanilla and at times nut pieces are added.
Shortbread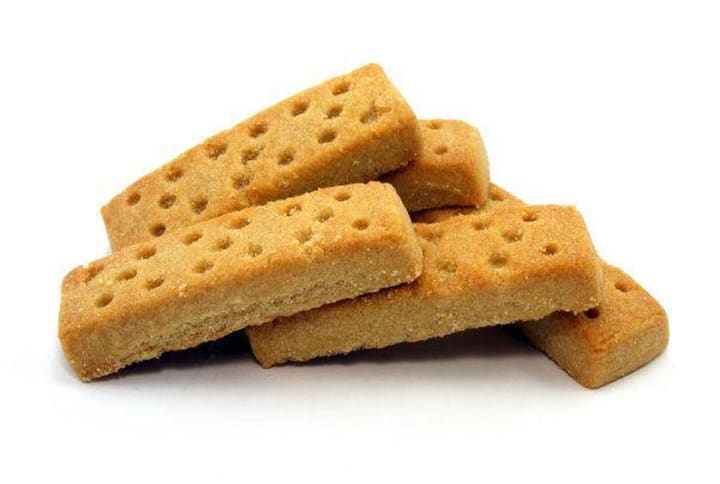 Made extra buttery and very delicious is Scottish shortbread. It is traditionally baked in a round, flat shape, pricked with a fork and sprinkled with caster sugar.
Clootie Dumpling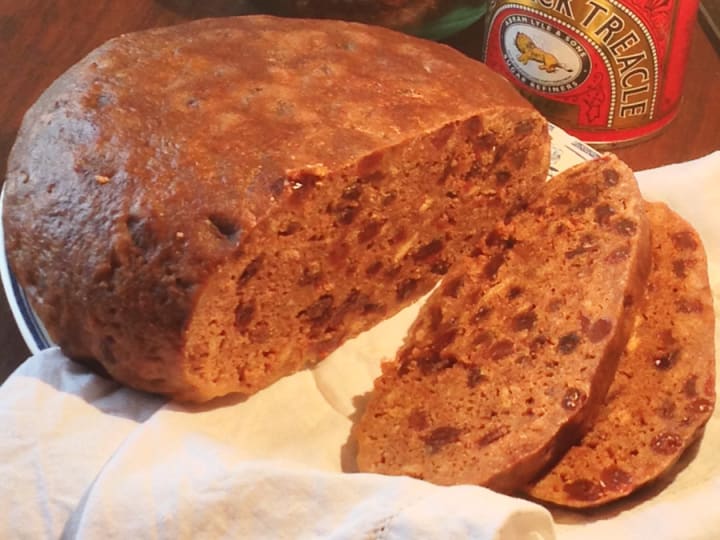 This is a rich fruit pudding that has been made with flour, breadcrumbs, dried fruit such as sultanas and currants, suet, sugar, and spice. Some milk and at times golden syrup can be added to bind it. It is a classic Scottish dessert to which when served is added a drizzle of cream and a dram of whiskey.
Scotch Pie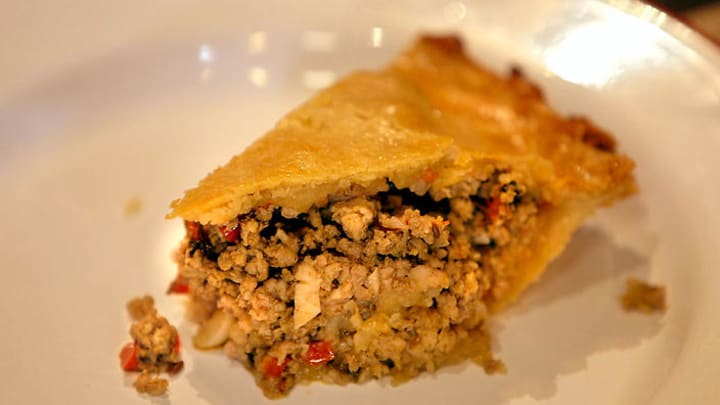 This is not a sweet but a savory snack that is actually a small, double-crust meat pie filled with minced meat. This is a traditional Scottish pie with a hard crust outer pastry shell which lets one hold the piece of pie while eating it and therefore has become a favorite with takeaway restaurants, bakeries and at outdoor events like football matches.
Bridie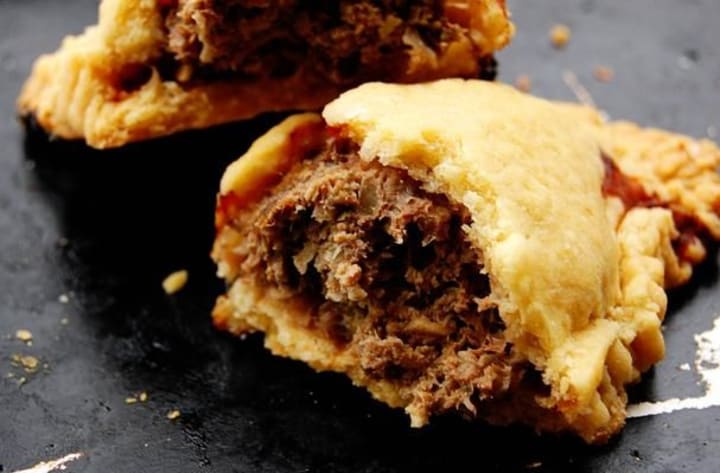 This is also a kind of meat pastry or pie that originated from the town of Forfar. The filling here consists of minced beef, onions, and seasonings. Traditionally a shortcrust pastry is used but it can also be made with flaky pastry or puff pastry.
Fish and Chips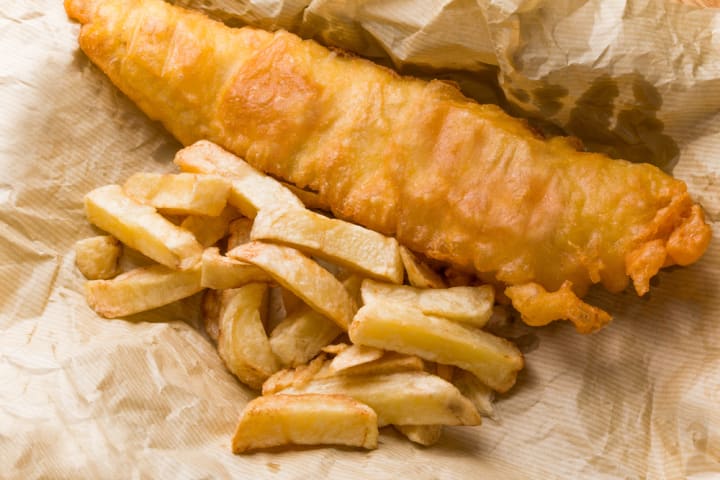 Not only in Scotland but in other countries like England, a popular takeaway dish is fish and chips. This dish comes with battered cod or haddock deep-fried and served with chips (potatoes). There are chip shops all over the country.