Eating My Writer's Blues Away at Nam Wah
RESTAURANT REVIEW/ESSAY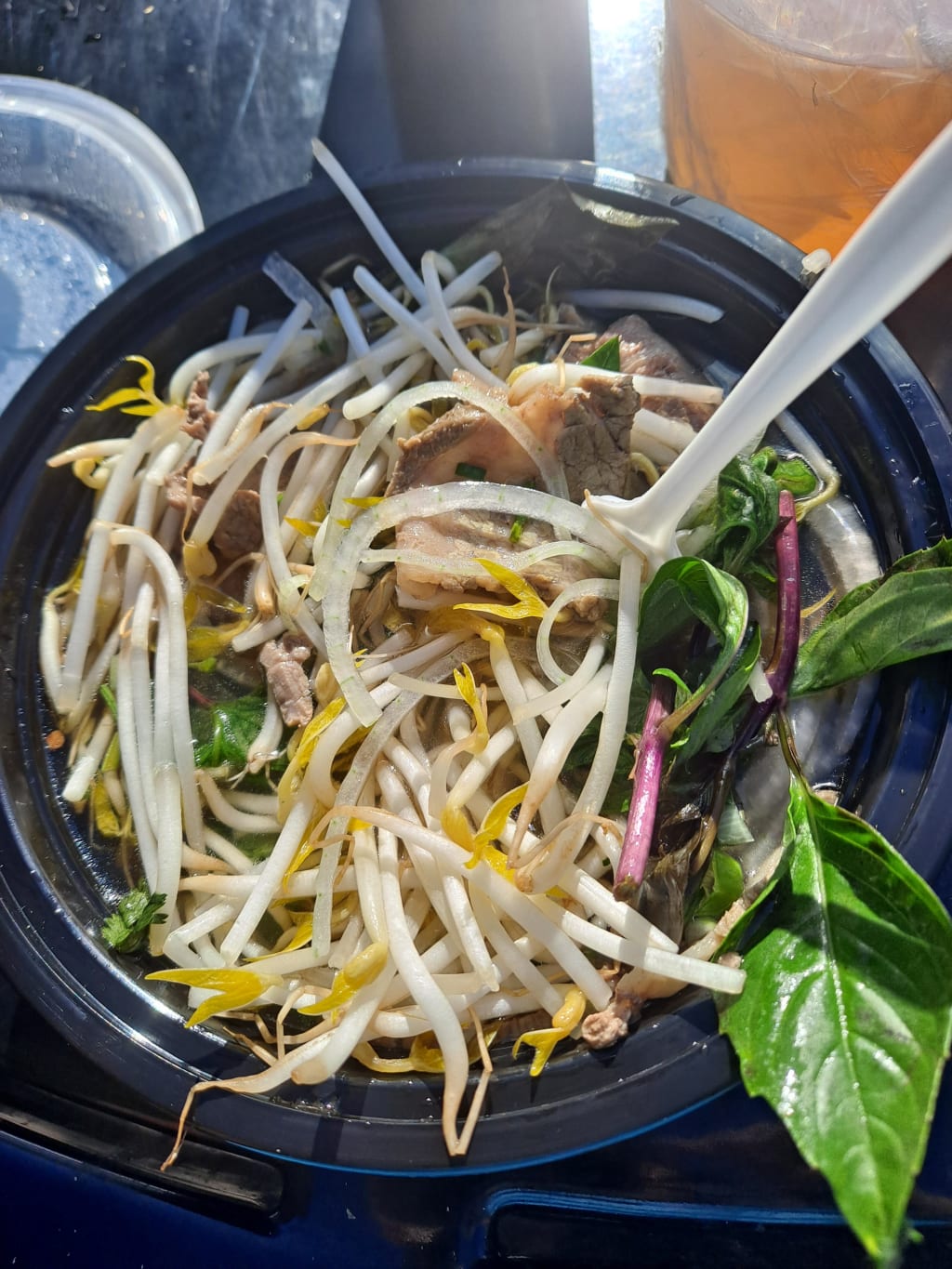 Photo taken by the author
Since the beginning of May, I've been suffering some major self-doubt about my writing. My stats on this dang website have collapsed like a bad soufflé, and my eBook sales have slowed as well.
Maybe it's because vaccinated people, after being stuck in their homes for so long, now want to have sex with real people instead of merely reading about it. Maybe it's because my writing has suffered a massive dip in quality. Or maybe it's because people have finally realized that I am nothing but a fraud and see me for the no-talent hack I am, so I should just quit doing this crazy writer thing and go back to a soul-sucking office job because I will never ever be able to make a career out of this, AHHHHHHHHHH.
I really, really, really hope it's the first scenario.
What I should have done last Friday — ignore the sad stats and continue working on my novella.
What I did instead — drown my sorrows in a big-ass bowl of pho.
I got a big-ass bowl of pho from Nam Wah, a restaurant in Berea, Ohio that serves Chinese and Vietnamese fare. It's a humble little place, which pleased me because I don't trust any pho that comes from fancy-looking places. My number one pho rule — the fancier the restaurant, the shittier the pho.
In addition to the pho, I also ordered the deli sandwich, which is the traditional banh mi dac biet and the only banh mi that matters in my opinion. I got irrationally pissed off when Buzzfeed employees rated the sandwich so low in a video. The glorious sandwich was part of my childhood, and it makes Subway sandwiches look like the piles of mediocrity they are. #ShotsFired (I will retract this statement if Subway offers me a sponsorship. I'm a struggling writer living in a capitalist society. I will sell my integrity for a high enough price #JustKidding #KindOf #OkayNotReally #GimmeThatMoneySubway)
To start, I dug into the banh mi dac biet.
Inside the baguette were thin slices of cha lua (a type of Vietnamese pork sausage), slices of Vietnamese ham, strips of carrot, cilantro, cucumbers, daikon (when I was a child with no taste, I used to take the radish out of my banh mi because I thought it was gross; now I recognize how the banh mi is incomplete without daikon), homemade pate, and jalapeños.
Because I was so hungry, I let out a little moan when I took a bite. The plentiful cold cuts were perfectly complemented by the fresh and flavorful vegetables. No sad iceberg lettuce here, unlike a certain chain (*cough* Subway). And the homemade pate was delectable (when I was a child with no taste, I would scrape the pate off the bread because I thought it was icky. Also, when I was a kid, I liked Subway #ShotsFiredAgain).
I tried to savor the sandwich, but I devoured it within a few minutes.
Lucky for me, I still had my bowl of pho left.
I got the pho with flank steak and beef brisket. It was served with basil leaves, cilantro, jalapeños, a lime wedge, and a fuck-ton of bean sprouts.
The beef broth was piping hot, light yet flavorful, and comforting as hell. I poured it over the thin and soft rice noodles, beef, and vegetables. At some pho joints, they're really stingy with the meat, and I have to hunt for a few very thin, very small beef pieces. Fortunately, there was plenty of beef in my pho. Everything in my bowl was fresh, and all together, it was the perfect meal to drown my self-pity in.
After I finished my meal, I reminded myself that I'm only 26. I still have plenty of time to try to make a career out of my writing. If financial worries compel me to go back to a soul-sucking day job, it'll undoubtedly suck, but it won't be the end of the world, and I'll still be able to write even if I won't be able to focus on it full-time.
I know I should drag myself out of this sea of self-pity. I have to if I want a snowball's chance in hell of making this writer thing work. And I really should finish that goddamn novella.
But it's also okay to drown my sorrows in a bowl of good pho from time to time.