Dumplings with spicy sauce,
a super awesome snack for the "Superbowl".
Whether it is a Superbowl Sunday or just a simple Sunday, dumplings can never go wrong. But of course, game day is more fun with amazing food. If I have to choose just one food to eat for the rest of my life, it would definitely be dumplings. The majority of us are watching Superbowl from home, but watching football from home doesn't have to be boring. I mean common, we can eat as many snacks as we want without getting a little side-eye from others. Here I am sharing with you how to make my favorite game-day snack.
Ingredients:
2-3 cups all-purpose flour (the quantity depends on how many dumplings you want to make)
2 tbsp oil
1/2 cups room temperature water (water should be enough to make a smooth dough)
Fillings ingredients:
1 lb ground chicken (or protein of choice); completely optional
1/2 large carrot (minced)
1/2 cabbage (minced)
2 green onion stalks (finely chopped)
1 cup freshly chopped cilantro
2 stalks of celery (finely chopped)
1 cup chopped onions
Seasoning ingredients:
2 tbsp soy sauce
2-3 minced garlic
4 tbsp minced peeled ginger
salt & pepper (to taste)
1-2 tbsp sesame oil or ghee (you can also add butter)
1.5 tbsp ground cumin (optional)
Dipping sauce ingredients:
3-4 tomatoes (chopped)
2 tbsp white sesame seeds
1 tbsp cumin seeds
2 tbsp oil
2 tbsp red chili paste (or you can use fresh green chilies)
1 tbsp garlic paste (you can use minced as well)
1tbsp ginger paste
1 tbsp coriander powder
1/2 tbsp turmeric powder
salt (can be varied according to your test)
1 tbsp lemon juice
1/2 cup water
Directions:
Preparing the dough
Mix together the flour, two tbsp oil and 1/2 cups room temperature water in a bowl. Knead the dough until it is medium-firm and smooth. Cover and let rest for 15-20 mins.
To make the wrappers: break off 1/2 ounce of dough and forming it into a ball. Place the ball on a flat surface and roll it into a 4-inch round with a rolling pin. Repeat with a rolling pin (But if you don't want to make your own wrappers, you can use store made dumpling wrappers instead)
Preparing the fillings
Mix together the protein, carrot, cabbage, green onions, cilantro, celery, onions in a big bowl.
Add your seasonings and mix (If possible add salt just a few mins before you start wrapping the dumplings otherwise your fillings will be too juicy and it might be hard to wrap)
Finally the best part......
Wrapping the dumplings 🥟🥟
Grab a tablespoon of filling and add it to the center of the wrapper. (if you are using the store-bought wrappers, wet the edge of the wrapper). Fold over and pleat with your thumb.
Fill the steamer pot halfway with water and bring it to a boil. Set the steamer pan with dumplings and cover with a lid. Steam the dumplings for about 10-15 mins.
Or you can simply pan fry, add some water, cover, steam. Serve hot.
Folding dumplings can get tricky if you are trying it for the first time, I have attached a youtube video showing 10 different ways of folding dumplings. It doesn't matter what they look like, they all taste amazing
Preparing the sauce or achar:
Roast the sesame seeds and add 1 tbsp cumin seeds in a frying pan until it turns light brown.
Add 2 tbsp cooking oil to the frying pan and heat it.
Add chopped tomatoes along with red chili paste, ginger- garlic paste, coriander powder, salt, and turmeric powder.
Cook the mixture until the tomatoes are slightly cooked
Add 1/2 cup of water to the mixture (the amount of water can be varied according to your preference)
Put the roasted sesame seeds and cumin into a blender and mix them. Add the cooked tomatoes into the blender and blend until it gets smooth.
Add 1tbsp lemon juice or you can use fresh lime/lemon (amount varies according to your taste)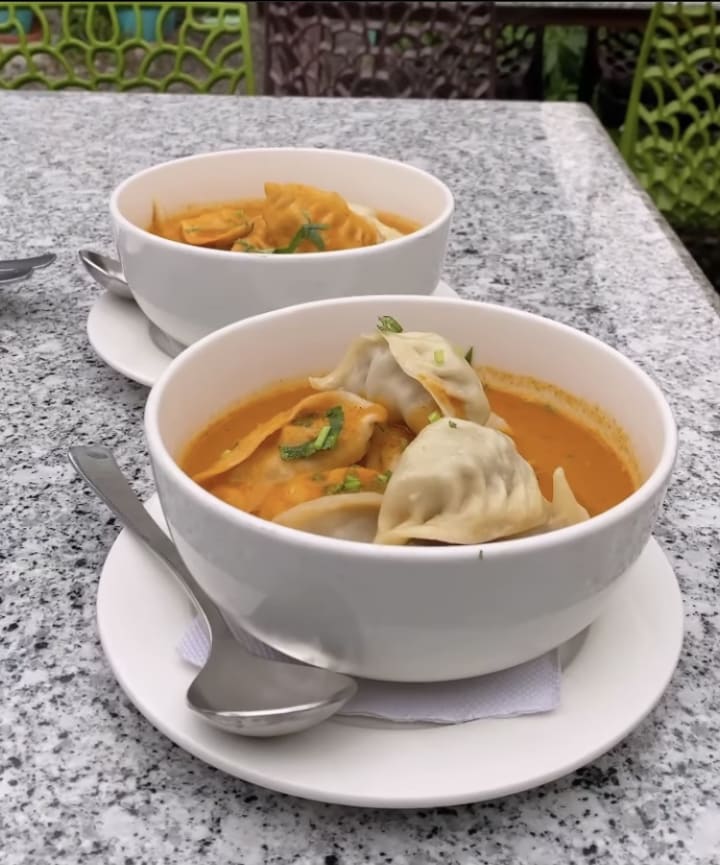 Serve it hot along with your favorite cold drink. Add slices of pickled cucumbers or garlic roasted radish sidedish. Give it a try, you won't regret it!!!!