Decadent Peanut Butter Pie
Vegan and Gluten Free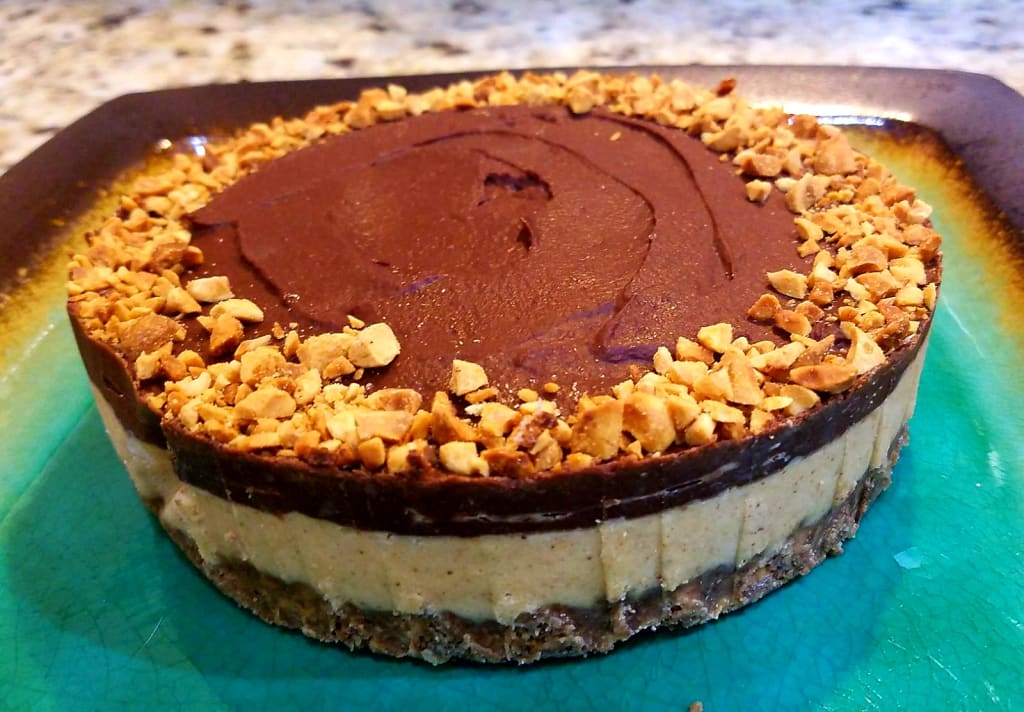 When Vocal announced their Vegan Bake-Off Writing Challenge, this was my reaction:
I get to bake and write about it?
But… before I dig into this decadent dessert sans dairy, I wanted to bring up Celiac Disease.
One, because May is Celiac Disease Awareness Month. And two, because many folks with Celiac Disease can become lactose intolerant and have to adjust their diets to exclude dairy. So here goes...
About 10 years ago, I discovered that I had Celiac Disease.
Being that my favorite food was pizza and I had the kind of sweet tooth that led me to eating apple pie ice cream in the middle of the night, learning about Celiac Disease was almost tragic.
No more gluten… whatever that meant. No more grabbing fresh, warm, French bread in the check-out line of the grocery store and gnawing on it on the drive home (What? I never did that). No more muffins, cookies, Twix bars, Kit Kats, or office birthday celebrations with sheet cakes. No more pita bread, flour tortillas… croissants! No more -
Gluten had to be eliminated, entirely. And with that, for a while, so did dairy.
What's a girl to do?
Well, I had to buck up and learn my kitchen inside out. I went from boiling spaghetti and opening a jar of sauce as my main culinary contribution, to actually cooking. Cooking, preparing, and baking foods that were not only edible, but tasted good, and were good for me.
Almond flour became my best friend. As did nut butters, flax seeds, chia seeds, coconut oil, avocados, vegetables, whole foods in general, and products that had ingredients I could actually pronounce. I learned way more about food and product labels than I ever thought I would, and honestly, I'm glad I did!
Celiac Disease isn't just a gluten sensitivity. It's an autoimmune disease where the ingestion of gluten leads to a damaged small intestine, creating malnutrition and a host of other health issues. It's considered "the silent killer" because it often goes undiagnosed until the damage is done. The only viable treatment for Celiac Disease is to eliminate all gluten… even traces of it.
When someone who is living with Celiac Disease unintentionally ingests gluten, they have reactive symptoms, which can range from mild to severe. These include terrible headaches, flu-like symptoms, brain fog, fatigue, diarrhea, bloating, gut discomfort, etc.
I've gone through a range of these symptoms at varying times, but the most severe reaction was hives, due to accidentally eating two bites of a wheat sandwich, which a forgetful waitress served me. To be honest, it could have been much worse and I'm grateful it wasn't!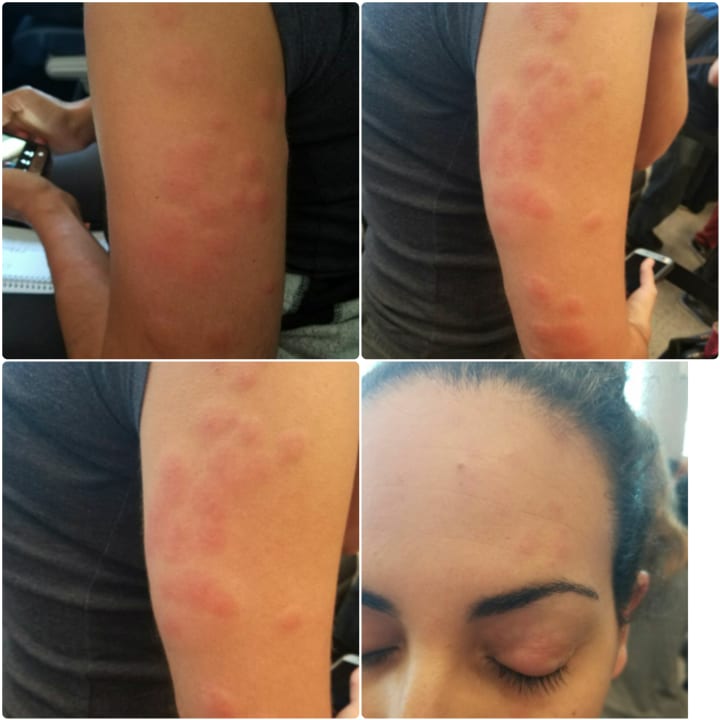 Not all Celiacs are alike. Everyone has their own journey with Celiac Disease and their own reactions and sensitivities to certain foods, beyond just gluten or wheat. There are many ingredients that don't seem to have anything to do with gluten, yet, they still cause reactive symptoms in some folks.
One such ingredient is "caramel color." Do you know how many things say "gluten free" that contain caramel color? A lot! And for the most part, caramel color should be gluten free. But some is derived from wheat, instead of corn, and that's where the issue gets complicated.
Additionally, many products that market themselves as "gluten free," are actually processed in a facility that also processes wheat (just read the label!). Anything that is processed in the presence of wheat means there is a risk of cross contamination and those with Celiac Disease should not consume, or at the very least be aware.
While it can be difficult to find products that are produced in dedicated gluten-free facilities, they do exist, thank gaaawd.
I will say one thing for all those who have someone in their life who has Celiac:
Please remember that it's not a dietary choice for that person to not eat gluten - it's a necessity. Celiac Disease is not fun and it's a disorder that, while manageable, is largely inconvenient because you have to plan ahead for each day. You can't just stop at a restaurant on a whim or pick up a snack out and about. Even eateries that have created "gluten free" menus generally cannot guarantee that there won't be cross contamination.
So, if it ever seems like your friend with Celiac Disease is being picky or overly dramatic – know that they really aren't. They are just taking care of their health.
To my amazing and supportive friends and family who have catered to my needs of always meeting at the same, limited restaurants, and who have recognized I often make and bring my own food when we get together out of necessity, I appreciate you.
OK, I promise, it's almost pie time! Celiac-safe, gluten-free, vegan pie time.
When the Vocal Vegan Bake-Off Writing Challenge began, I set out to make vegan scones… which you can find here. But then I thought, summertime is right around the corner and a cold dessert would really hit the spot.
I've always been a fan of peanut butter and chocolate. The boy in this commercial is my inner child:
I was inspired, once again by Sweet Laurel Bakery and used their vegan chocolate chip cookie recipe as well as their vegan dark chocolate frosting recipe to assist in this newly-created Decadent Peanut Butter Pie.
Let's get to it!
We'll start with vegan chocolate chip cookies so that we can make our crust.
Vegan Chocolate Chip Cookie Recipe (page 92 of Sweet Laurel cookbook)
Ingredients:
2 cups almond flour
½ tsp. Himalayan pink salt
¼ tsp. baking soda
¼ cup coconut oil, melted
¼ cup maple syrup
1 cup vegan chocolate chips (I tend to cut back on sugar wherever I can, so I used only half a cup. Since I didn't have vegan chocolate chips at home, I took a 2 oz. bar of dark, gluten-free, vegan chocolate and chopped it)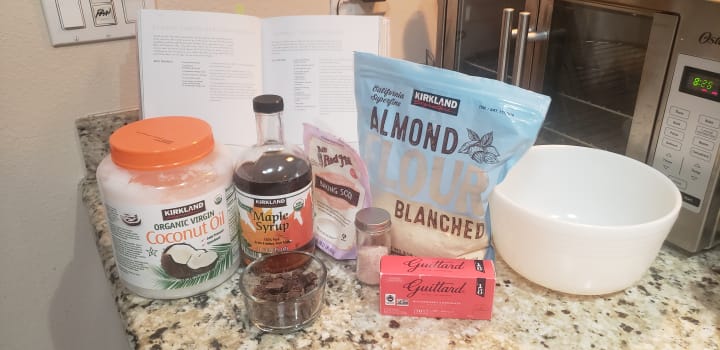 Directions:
Preheat oven to 350 degrees F and line a baking sheet with parchment paper.
Combine your flour, salt, baking soda, coconut oil and maple syrup and mix well. Fold in your chocolate chips.
Place tablespoon size scoops of dough on your baking sheet, and gently press down on your cookies. The amount of cookies you'll get will vary on the amount of chocolate chips you use, but make sure you have at least 12 small cookies, which won't be a problem. In my case, once I had enough cookies for my crust, I used the remainder of my cookie dough to make two large cookies, and you'll see why later on. You can also eat this cookie dough raw. It is vegan, after all.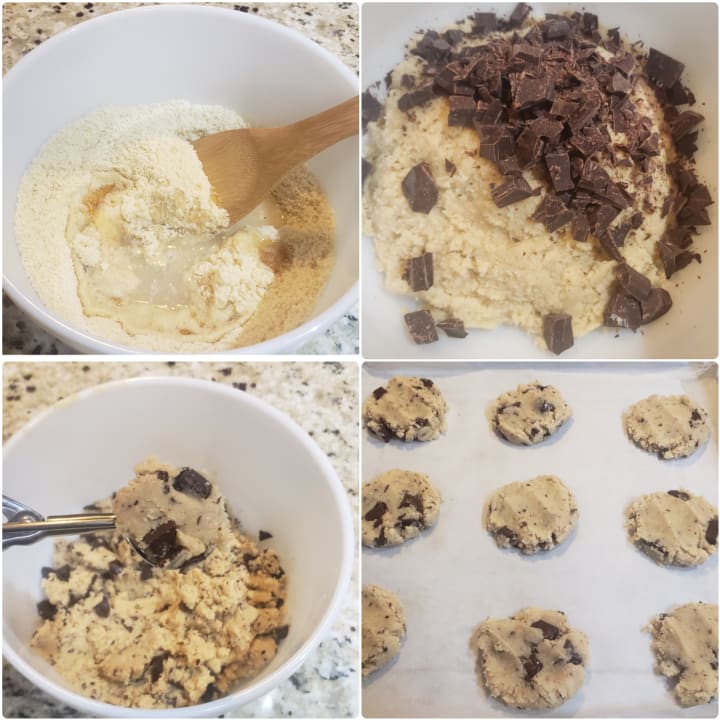 3. Bake your cookies for 10-15 minutes until barely golden brown on the edges. Remove from oven and transfer cookies onto a rack to cool completely.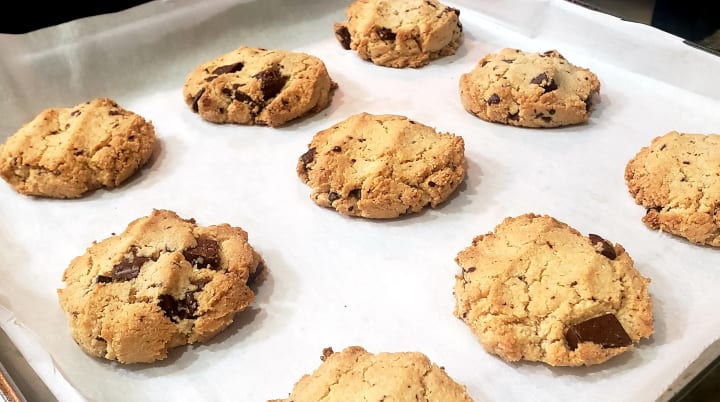 OK, are you still with me?
Now to the good stuff.
Decadent Peanut Butter Pie Recipe (Vegan and Gluten Free):
This will make one 8-inch pie or two 4-inch pies. Ideally, use a springform pan, but if you don't have one, line your pan with parchment paper. I used little 4-inch cake pans with fitted parchment paper lining that you can just tug on to remove your cakes. Do you know about this?! My amazing friend sent these to me and they've been a game changer. Genius.
Ingredients:
For crust -
12 vegan chocolate chips cookies (from above recipe)
4 tbsp. of coconut oil (melted)
For filling -
1 cup all natural peanut butter (I use Kirkland organic peanut butter, with no added oils or sugars)
½ cup maple syrup
1 cup canned coconut cream (I like Trader Joe's brand as it has no gums or fillers)
4 tbsp. coconut oil (melted)
For top chocolate layer -
(Taken from page 213 of Sweet Laurel Cookbook, or you can also find it in this article written by the bakery's co-founder Laurel Gallucci)
4 ounces 100% cacao unsweetened baking chocolate, roughly chopped
¼ cup coconut oil, solid
¼ cup maple syrup
½ cup almond butter
¼ cup full-fat coconut milk (or almond milk), plus extra, as needed
For garnish (optional) -
¼ cup chopped roasted peanuts
Directions:
1. Combine your cookies and coconut oil in a bowl and mix together (with a fork or by hand) until you get a crumb like texture.
2. Take your dough and pour it into your pan/s and press down so you have a nice, even crust. Set aside.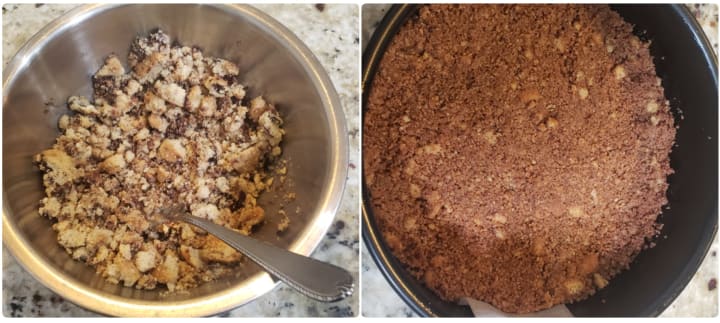 3. In a high-speed blender, add all of your filling ingredients, and blend until smooth. Pour onto your crust. Place in the freezer to set for appx 2 hours.
While your pie is setting, you can begin making your dark chocolate frosting.
4. Melt your chocolate and coconut oil in a small saucepan over medium heat, stirring constantly. This is important! It's easy for chocolate to burn, so make sure you watch and stir – this won't take long.
5. Once melted, remove pan from heat and slowly add the maple syrup and stir to incorporate. Let cool completely.
6. Transfer the chocolate mixture to a medium bowl, add your almond butter, and use an electric mixer to beat together until a thick frosting forms. Add the coconut milk (or almond milk) and stir with a spatula until smooth. You'll want your frosting to be easily spreadable, so you may need to add more milk.
7. Remove your pie from the freezer (assuming it's had at least a couple of hours to set) and pour your frosting over your pie and spread it evenly to cover the entire pie.
8. As an optional garnish, take your roasted chopped peanuts and sprinkle them over the edge of the cake.
9. Place your pie in the freezer once more to fully set (about 3-4 hours).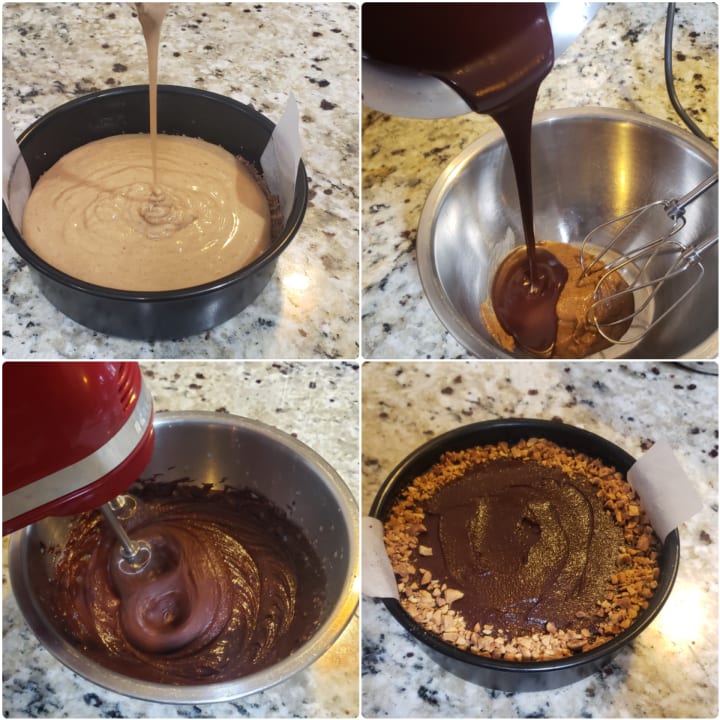 When it's getting close to dessert time – take your pie out of the freezer and let it sit for 1-2 hours before slicing. The pie will stay firm and the flavors will meld together.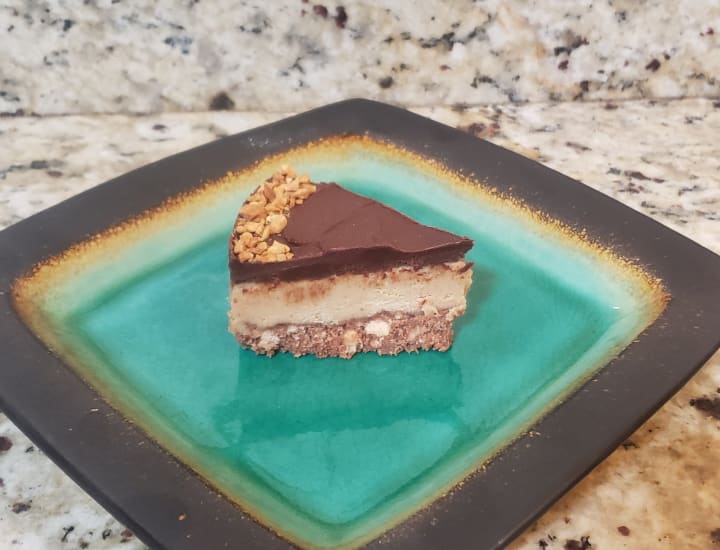 This is the ultimate peanut butter and chocolate pairing if I do say so myself.
And hey, remember when I said earlier that I baked two large chocolate chip cookies and set them aside? Well... it's time to take out my vegan ice cream (Coconut Bliss brand, which is gluten free, of course) and make myself an ice cream sandwich for a future splurge.
I told you I had a sweet tooth. I mean...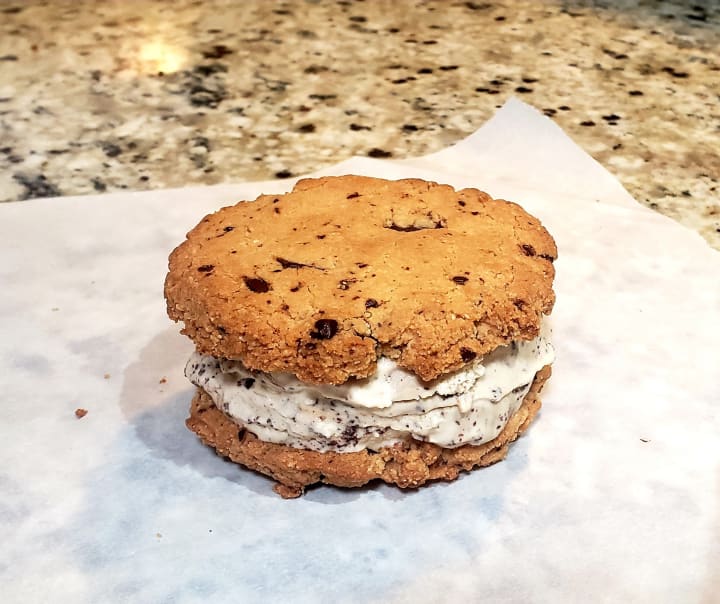 So cheers (with my coffee cup) to my fellow Celiacs, the lactose intolerant, the animal lovers, the willing-to-try-something-new folks, and the vegans of the world. Yes, it is possible to eat vegan and still enjoy ridiculously delicious, decadent treats.
-------------------------------------------------------------------------------
If you liked this recipe and story, please give it a heart below. Until then, enjoy your baking adventures!

Dana Maxwell
She/Her. Coffee and cat lover. Film and television enthusiast. Random thought thinker. If only every decade could be as cool as the 90s.
T: @danamaxwell30
IG: @danamaxwellsmart
See all posts by Dana Maxwell →