Cucumber Ice Cream
First Place in Recipe Swap Challenge
A glimpse into Victorian lives and stomachs.
Scintillating chandeliers, crimson draperies, hundreds of table settings arranged for local and global elite: the Egyptian Hall of the Mansion House was a grandeur entertaining space in Victorian London. Despite its name, the hall was not Egyptian-inspired, but rather it "was built upon Lord Burlington's plans, who gathered his ideas of such Hall from a description by Vitruvius." The pillars of the Roman architecture stood amongst myriad banquets throughout the century, displaying food from kitchens with a fireplace so extensive it could roast a huge ox or "fifty or sixty fowls or ducks" simultaneously. At the centrepiece of this grandiose, glittery space of consumption was, of course, food.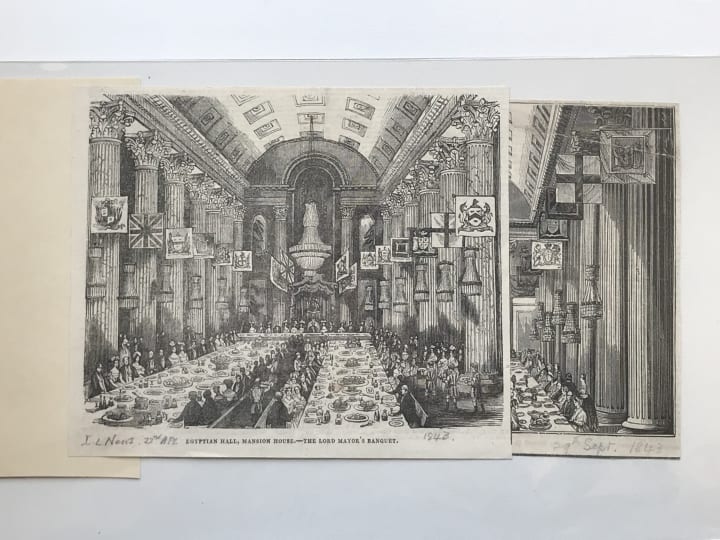 While the dining description and image seems almost alien today, this was how the national and international elite dined in London in the mid-1800s. My first assessment while studying at the Victoria & Albert Museum revolved around selecting a single object from the museum's vast collections and writing its history. Having never really ventured into food history, I chose to write my object history on a menu from 1846 found in a dusty box in the Museum's Prints and Drawings Archives. I selected this paper lace menu because of its daintiness, the evidence of human touch in its careful creases and faded food stains, and the cornflower blue ink stating that "Turtle, and Iced Punch" was the main course. Upon seeing that I knew I wouldn't mind spending the next few months researching it and the many other details on the menu that offered clues not only into upper class Victorian lifestyles, but also their plates and stomachs.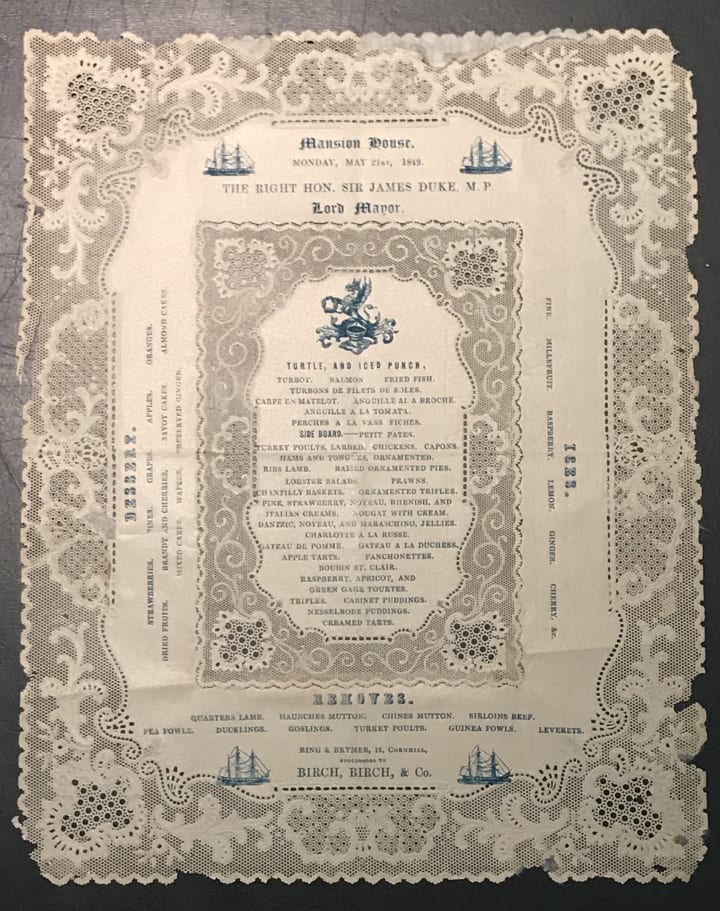 By holding the menu over a light box I found a discrete watermark, identifying the menu as J. Whatman paper—a prestigious papermaker and supplier from Kent at the time. Similarly, through weeks of delicately flipping through crinkled, leather bound party planning books (which smelled like they'd been sitting in a 19th century for the past two hundred years rather than in the London Metropolitan Archives; I got a whiff of cigar smoke with every page turned) and catering records/sales books, I discovered the history of the caterers Ring & Brymer as seen on the bottom of the menu. This provided further information about the specific menu items chosen for this Lord Mayor's Banquet based on not only elite food preferences and expectations, but also the socioeconomic situation of London at the time and records of imported food influences as the city became more globalised. These details helped me to situate this specific menu in its wider context of a sprawling metropolis and growing colonial empire at the start of Victoria's reign.
All of this research was interesting although slow-paced (and dusty, from the archival work), but the most eye-catching part of the menu proved to be the right hand side which simply stated: "Ices." Through reading secondary literature at the National Art Library, I found out that ices referred to a number of various Victorian delicacies, including: ice cream, sorbet, and water ice. While ice cream was most similar to what we have today, sorbets weren't as much. Surprisingly, they were slightly more like slushee vodka-infused drinks used as refreshing pick-me-ups between elaborate courses in ballrooms such as the Egyptian Hall. Water ices, by contrast, were glasses of chilled, sweet water combined with other fruit essences. When looking through various recipes in French celebrity chef of the time, Charles Elmé Francatelli's The Modern Cook (1846), I found step by step processes for towering Lobster Salad and Capon a la Godard, accompanied with explanatory illustrations as seen below. Due to a general Victorian aversion to the 'natural' and in an attempt to impose beloved order and control onto their food, these centrepiece dishes look more like decorations than something edible. However, as evinced in another cookbook from the time—Agnes Marshall's The Book of Ices—I found that the ice cream is still the sweet treat we enjoy today.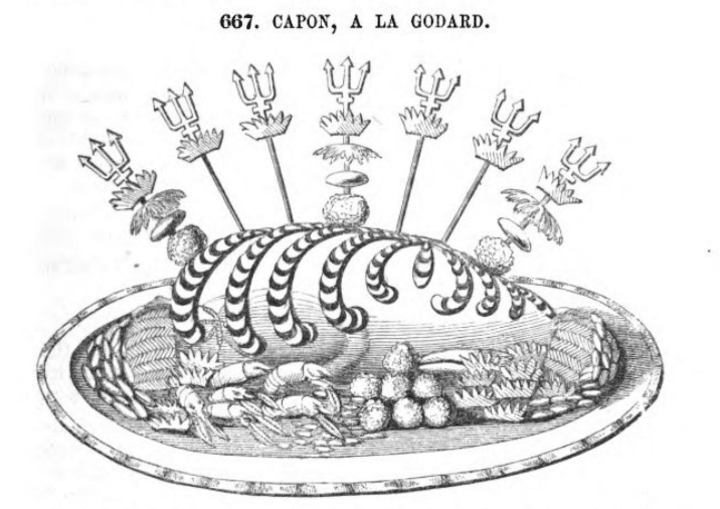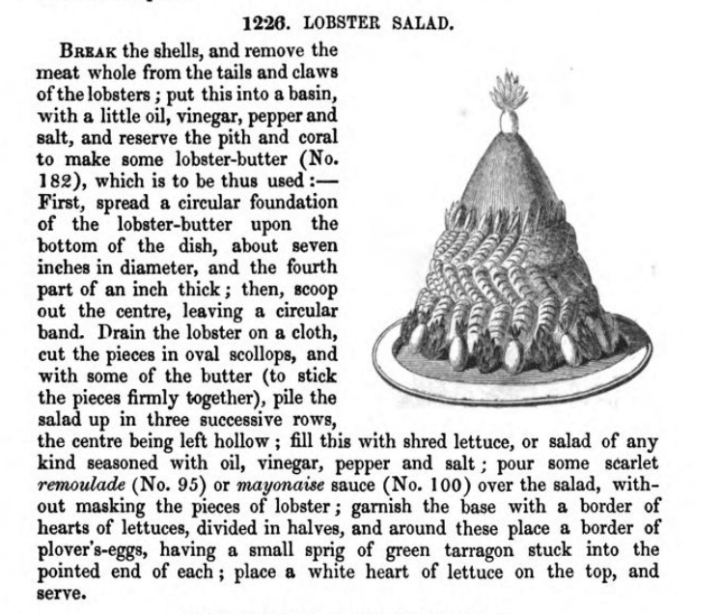 While in the flurrying midst of coursework I didn't have time to recreate any of the recipes I researched, now because of quarantine and the sunnier weather I've been able to experiment with this 200+ year old dessert recipe: Cucumber Ice Cream. According to the English Heritage website, the recipe is as follows:
Ingredients
1 large cucumber
4 oz of sugar
Half a pint of water
Generous amount of ginger brandy
A dab of green food colouring
Juice of 2 lemons
Pint of sweetened cream
Steps
Take the cucumber and peel it. Then deseed it.
Chop the cucumber and cook it in boiling water under tender with the 4oz of sugar and water.
While the cucumber is still warm, place it into a bowl and pound it to soften it a little. Then add a bit of green food colouring.
Add the brandy and lemon juice to the bowl.
Pour the cucumber mixture through a sift to make it smooth.
Then add the sweetened cream.
Then you can allow the mixture to freeze in your freezer, or use an ice cream maker to harden it. If you don't have an ice cream maker, if you place the mixture into a metal cylinder-shaped container and place it in a large bowl with ice and salt, you should be able to turn the cylinder by hand and create the ice cream that way.
When the ice cream is the consistency of batter, you can place it into a mould—decorative or plain. If using a smaller mould that clasps shut, be sure to butter the edges so that it doesn't freeze closed. If you don't want to mould the ice cream into a shape, you can simply serve it in a bowl with a thin cucumber garnish.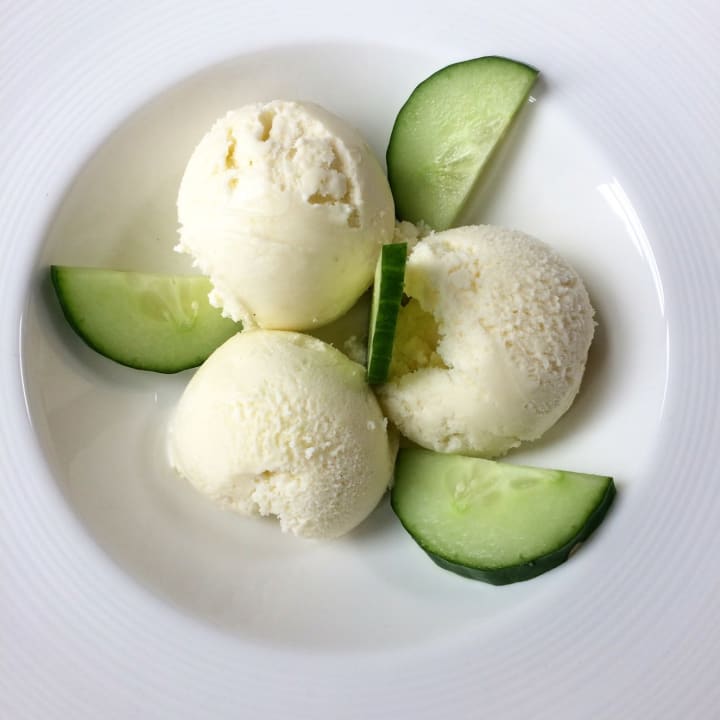 A bit unusual like the Turtle and Iced Punch Soup at the start of the menu, this recipe is unfamiliar to our contemporary palettes. Although the green food dye seems a modern update, it was actually introduced to the recipe in the late Victorian period. As I mentioned with the unnatural shape of the Lobster Salad and Capons a la Godard above, they began including more artificial elements to their meals. While I wouldn't choose cucumber ice cream it if going out for an ice cream cone, this unique recipe is interesting to experiment with and have a better understanding of the smaller details of the lives of those who lived 200 years previous to us. At a time when the future is a bit more opaque than usual, the past can be a comforting source of inspiration.