Crispy Crumbly Makes Me Mumbly
Bacon Nirvana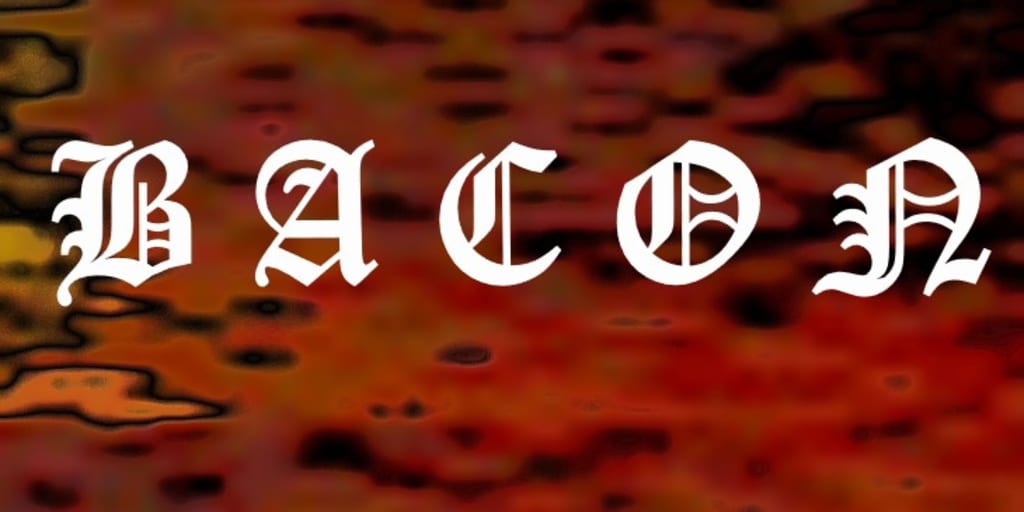 Crispy Crumbly Makes Me Mumbly by Donald J. Bingle
People talk about the flavor of bacon in reverential tones, singing its praises, whispering its name, and seeking it out for daily comfort, particularly in time of stress. They salivate over the smoky, salty flavor. They wax eloquent about the nuanced notes differentiating applewood-smoked versus hickory-cured. They moan about the spices and sugars of candied strips of hog-fat heaven. They drool at the thought of honey or maple syrup dripping off the marbled meld of legendary lean and fat. They drone on about the smell of frying bacon wafting into their bedrooms from the kitchen, providing the most pleasurable and effective alarm clock for happy wakefulness in the morning. Bacon drives men mad, sends women into orgasmic delight, and in at least one documented instance, caused a tumult in the mellow district of Haight-Ashbury, San Francisco, when the aroma emanating from a bacon-only establishment saturated the neighborhood in a gentle, smoky haze not known since the Summer of Love.
But bacon is not just the perfect mix of salt and sweet. Even a fast-food outlet, convention hotel buffet, or dorm room microwave can serve up a strip of porkified protein with passable bacon flavor. But one cannot mass produce the quintessential crispy, crumbly, greasy ecstasy of perfectly cooked bacon. Perfect bacon texture shares characteristics with classic Krispy Kreme cravings, the object of affection firm, but not hard, on the outside, yielding with minimal pressure to gooey, melt-in-your-mouth creaminess within—best warm and greasy and provided in endless supply.
True bacon, pure bacon, bacon extraordinaire must have its own signature al dente quality, just like traditional Italian pasta must be cooked to al dente perfection. Of course, the al dente soft firmness of bacon crumbles apart, melting into a buttery smoothness that conveys salty, sweet, savory succulence to every corner of your mouth, engaging your teeth and tongue and throat and mind in a conspiracy of delight, while al dente pasta gives you something to pour sauce over that doesn't disintegrate when you try to twirl it around your fork. Creating perfectly textured bacon is a noble art form much to be cherished, while perfectly textured pasta can be tested by throwing it against a wall to see if it sticks.
No one would waste bacon by throwing it against a wall.
And if they did, their dogs … and probably family members with poor impulse control … would need to be taken to the ER for concussions.
And the wall would need to be repaired.
Face it, we've all witnessed the horrors of bacon texture gone wrong. We've blithely walked up to the sterno-fueled stainless steel warmers at the buffet line, removed the bulky, heavy lid, looked about forlornly for a place to put it down, then turned toward the tray and been traumatized by the travesty on toast points therein. Limp, raw pieces of pinkish fat cavorting in a jumbled pile with blackened, burnt offerings too hard, too Viagra-rigid and unyielding, to be anyone's morning ecstasy. We turn away as if from a late-night animal rights commercial, unwilling to see the cruel abuse inflicted upon something of such nobility and potential.
Then we pile our plates high, partly because bacon-flavored jello and jerky still beats dry scrambled eggs and watery oatmeal. But also partly because we hope that if the stainless steel tray empties, the kitchen staff may replace it with the crispy, crumbly bacon of our dreams.
After all, anticipation of breakfast bacon is the real reason we all drool in our sleep.
(If you enjoyed this tale about the power of bacon, you might enjoy my fictional piece, "Buzz on the Street," which also appears on Vocal.)
fact or fiction
About the author
Donald J. Bingle is the author of eight books and more than sixty shorter works in the thriller, science fiction, fantasy, horror, mystery, steampunk, comedy, and memoir genres. More on Don can be found at www.donaldjbingle.com.