Brighten your day with a colourful plate
a quick and easy snack to nourish your body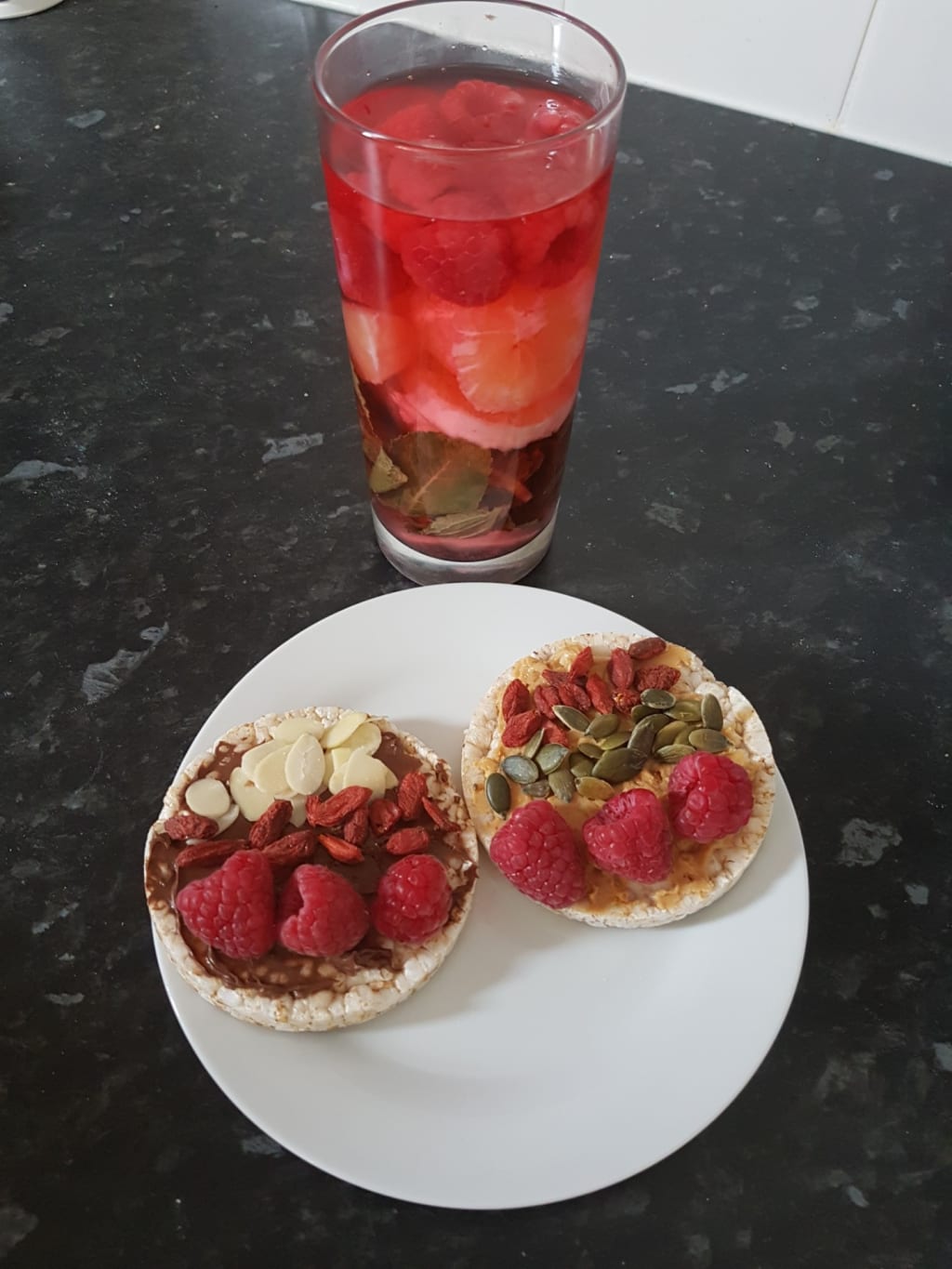 Nutty Fruity Super food snack
Cooking is something I more than enjoy. It's part of my self care, great way to relax and has played an immense part in healing from the narcissistic abuse I have experienced. It's something me and my two children enjoy.
As someone who struggled with body image for as long as I can remember and used to be bullied in school for the way I looked I have always used food to comfort myself and often hide the emotions
It wasn't until 1st of March 2017, a week after I have taken part in s SELF LOVE challenge organised by one of the coaches I found on Instagram and reading the book "The Goddess Revolution", when I finally realised that my struggle with diets was never about food.
So i began the journey of discovering intuitive eating and started choosing colours over macros and calories.
I started experimenting in the kitchen and made my plates as colourful as possible - so that i had no time to count calories and could just enjoy my food more
Now 3 yrs on I am the happiest person I have been, having no scales at home and looking forward to meal times
During lockdown my nutrition has been even more important especially that I am lucky enough to work from home
So I decided to share a recipe for a nutritious snack, which is super easy, VEGAN friendly and the ingredients can be easily substituted too
INGREDIENTS ARE:
FOR THE WATER: a quarter of a lemon, a few mint leaves, 3-4 fresh cucumber slices, a few raspberies, and a few chunks of mandarins
(You can use strawberries, and small pieces of orange or satsumas too)
FOR THE RICE CAKES
2 rice cakes per person
a handful of raspberries
a handful of pumpkin seeds
a handful of almond flakes
a handful of goji berries
1 tbsp of nut butter of your choice (I used peanut butter)
1tbsp of chocolate spread of your choice (I used VEGO chocolate spread)
METHOD:
WATER INFUSION: place the mint leaves at the bottom of the tall glass, add cucumber slices, sliced lemon, chunks of mandarin and raspberries and place the glass in the fridge until chilled (I leave it overnight)
RICE CAKES:
Spread the spreads on a separate rice cakes
Arrange raspberries, goji berries, pumpkin seeds, and almond flakes as in the picture
You do not need to use the chocolate spread - you can make both with one spread
the almond flakes can be easily changed to coconut flakes etc
This snack is packed with protein meaning you are less likely to feel hungry and can certainly brighten your day, being at the same part of your 5 a day
You can encourage children to create their own combinations and add use this snack as an idea for tasting sessions especially if you are working with children.
Using home made infused water - will hopefully encourage you to drink more, and you can make as seasonal as you like too.
Using frozen fruit works too especially with blueberries
I understand that you might be allergic to certain citrus fruit - you could use limes or grapefruit too
Lockdown of course means that some ingredient are limited so it is ok to use nutella and even use oatcakes if you are not a big fan of rice cakes
I hope you find some inspiration trough this recipe and that I was able to show you that healthy eating doesn't have to boring
We all need a little bit of colour in our life and we often forget how amazing whole foods can be
Enjoy