Bones Coffee Review
Bones Coffee Co. has expanded what I expect from packaged coffee.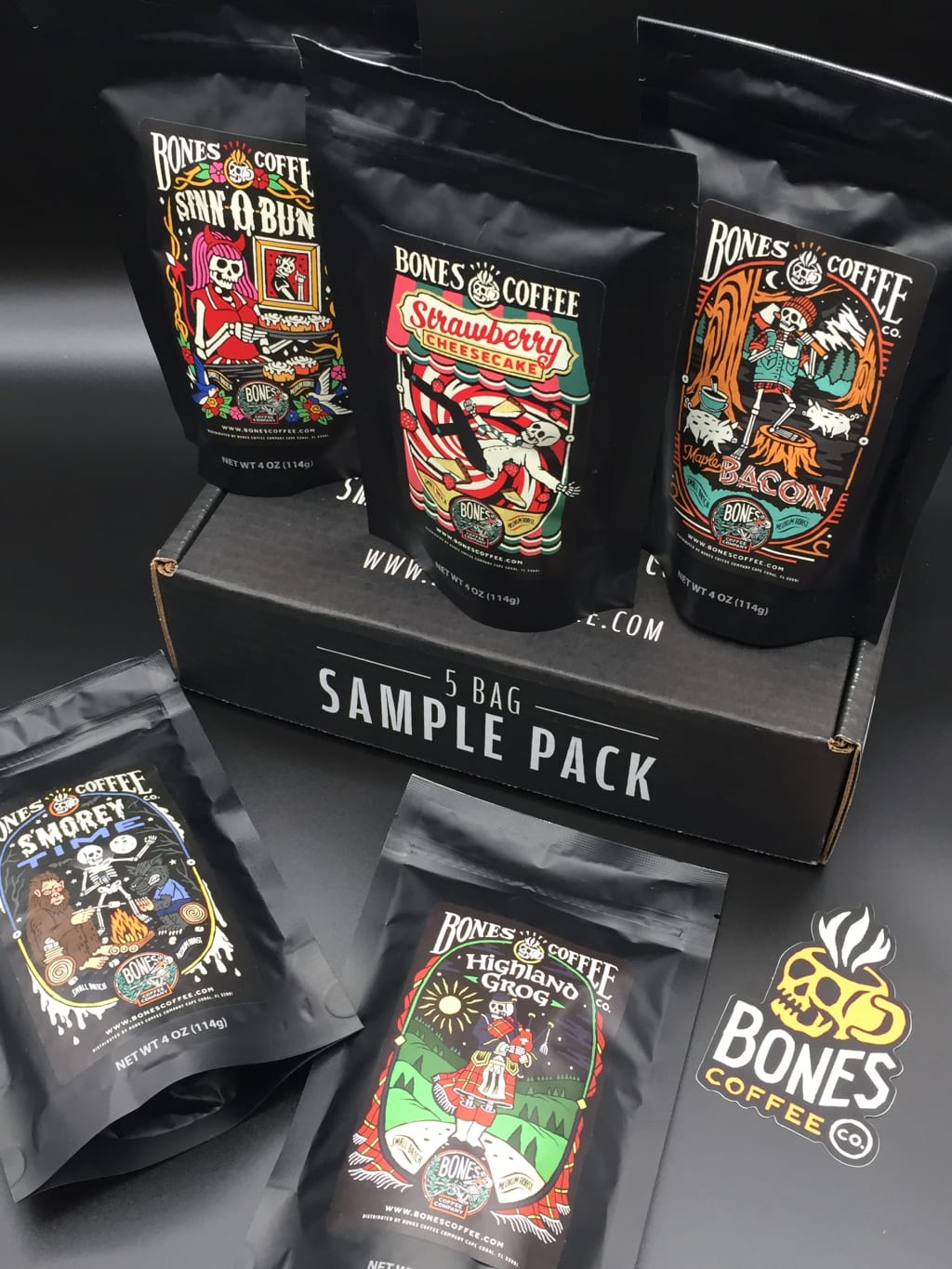 Bones Coffee Co. has expanded what I expect from packaged coffee. This was my first time having to actually grind beans myself to brew coffee, but I have really only been drinking coffee for the last year. Prior to that, I was pretty repulsed by it. I became interested in coffee when 7/11 had their coffee slurpee. It's still the best coffee drink I would ever spend money on outside of the house. I'm not here to argue..only to give facts that can easily be checked by reputable sources around the world.
I've never bought coffee beans with the intention of grinding them at home. The whole process seems cumbersome and annoying. But recently, I was like "what's the rush?". It's not like there's a ton of shit I could be doing in the time it takes to grind some damn beans and brew the coffee. I just started drinking coffee a year ago and now I can't be bothered to grind my own beans?? Wow, how embarrassing. It was humbling to have that thought. So, I sucked it up and decided to get the coffee and grind the beans.
I came across Bones Coffee a few months ago when I was shopping online for rare beans. Yes, I carve time out of my schedule to look up rare drinks online. That should be clear by now. They have a HUGE variety to choose from. It was a little stressful at first. Not only do they have selected variety packs, but they give you the ability to create your own. I wasn't ready for that much power, so I chose what was already put together. Review spoiler: I WILL be putting together my own variety pack in the future and buying it. My curiosity has been fueled.
Their website is a veritable smorgasbord of coffee products. Flavors I never dreamed could exist, a store full of apparel, coffee brewing equipment and accessories (including a Chemex that I'm eyeing). They also have a blog that tells you how to make your own cold brew or iced coffee, how to properly store your beans, etc. It's a nice reference tool. At this time, they also have a special: for every order made, they will give you 10% off and donate a bag of coffee to healthcare workers. The checkout code is COFFEE4HEROES. This post is NOT sponsored and they did not send me this product to review, I'm just passing along the information. Now let's get into the flavor reviews.
Strawberry Cheesecake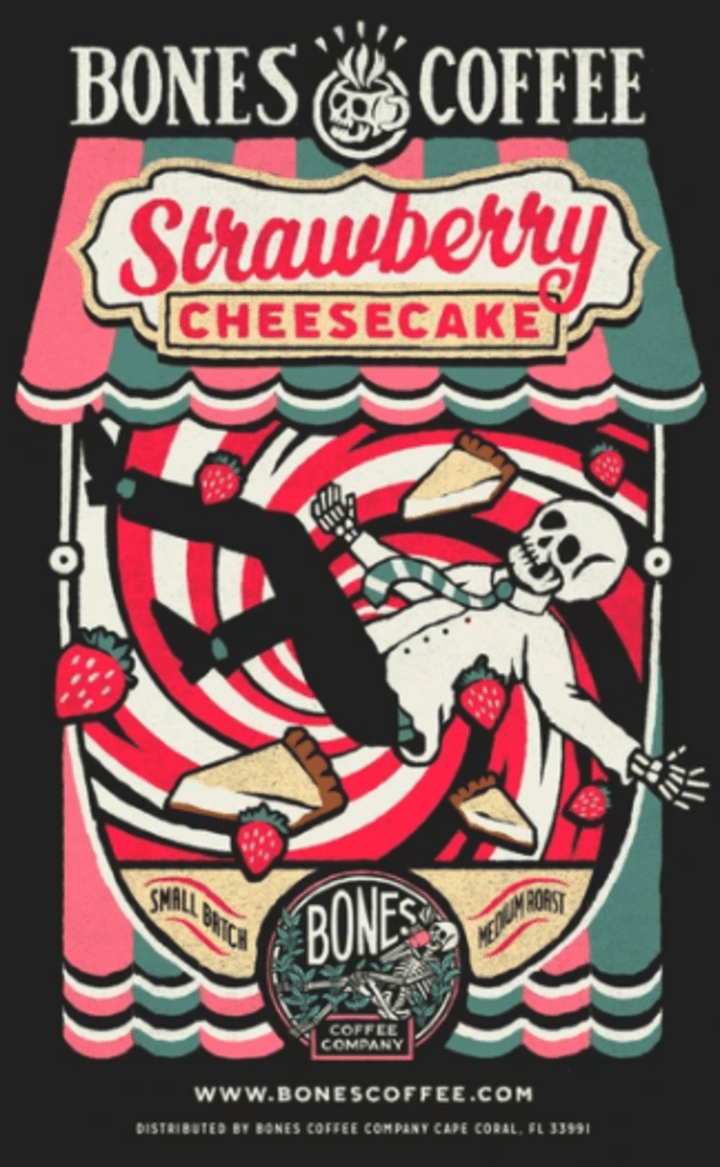 I liked this one the most as far as ingenuity goes. It has a creamy, fruity taste to it, but not a citrusy or bright fruity taste. The strawberry flavor isn't artificial, but tastes more like dried strawberries than fresh ones. They're not pungent or sour; they're a softer flavor, and there's a creaminess to the coffee. It tastes like if you were eating strawberry cheesecake and drinking a cup of coffee with it. How your mouth would taste after that. It's good. I love it and would get this again. 10/10
S'morey Time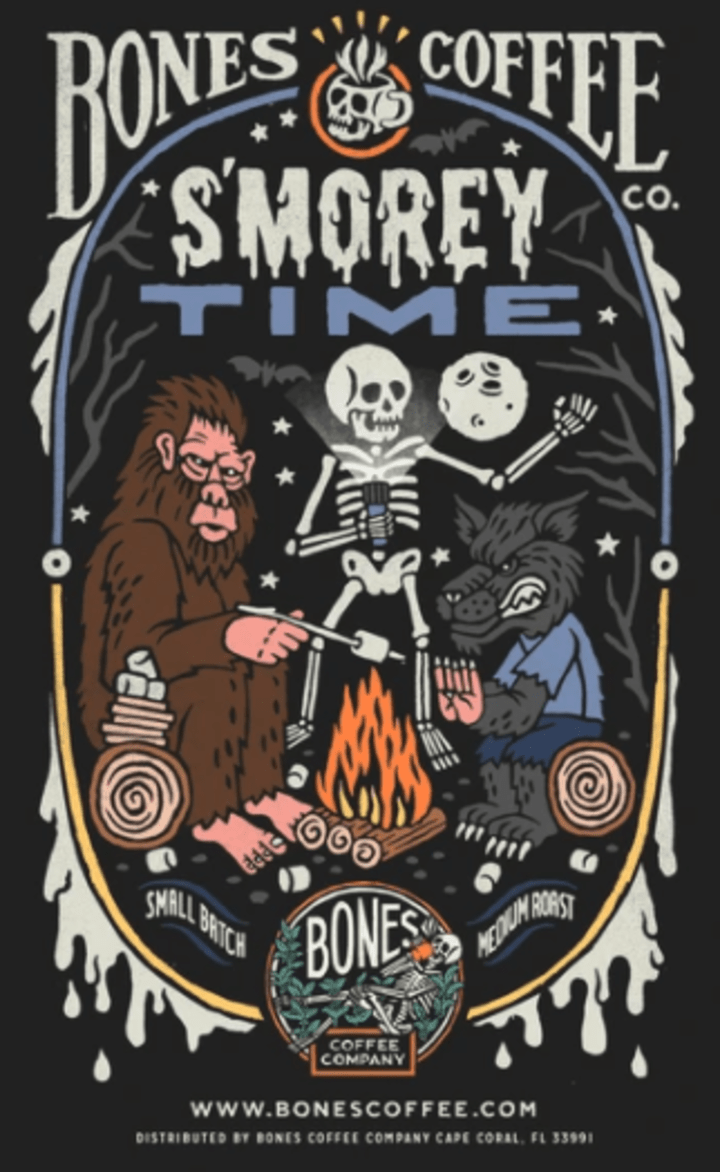 This one is on the milder side. Chocolate is hard to parse when it's blended with coffee. The two are bitter flavors, so when they're together they're just so similar they don't individually stand out. It definitely SMELLS like chocolate, but the flavor doesn't kick with graham cracker or marshmallow, which are other key components to a s'more. This was an ambitious flavor to undertake and it didn't quite do it for me. 5/10
Highland Grog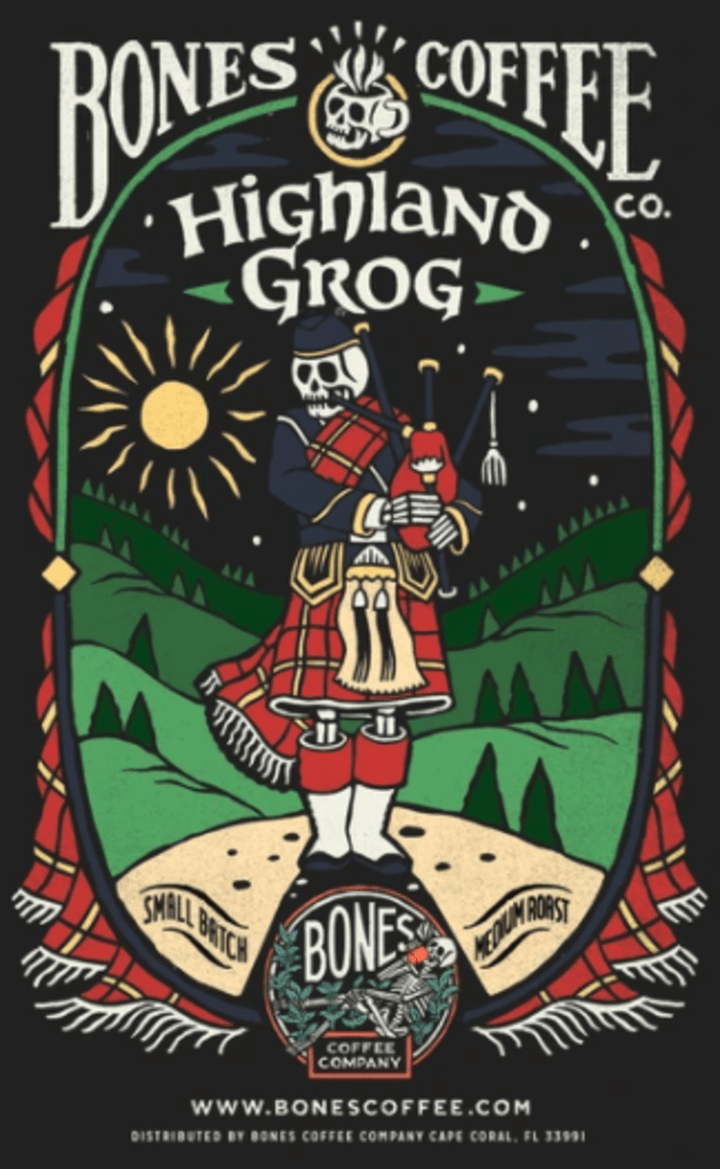 I wasn't sure what this was supposed to taste like based on the picture on the bag and the name, but when I tried it I immediately thought "butterscotch and something else". I later read the coffee description on the website which said "butterscotch and caramel", so I feel they got it. I've never had a butterscotch coffee before, but this was really good and I genuinely enjoyed the flavor. I'm going to make this one into cold brew and go fucking wild with it. 10/10
Sinn-O-Bun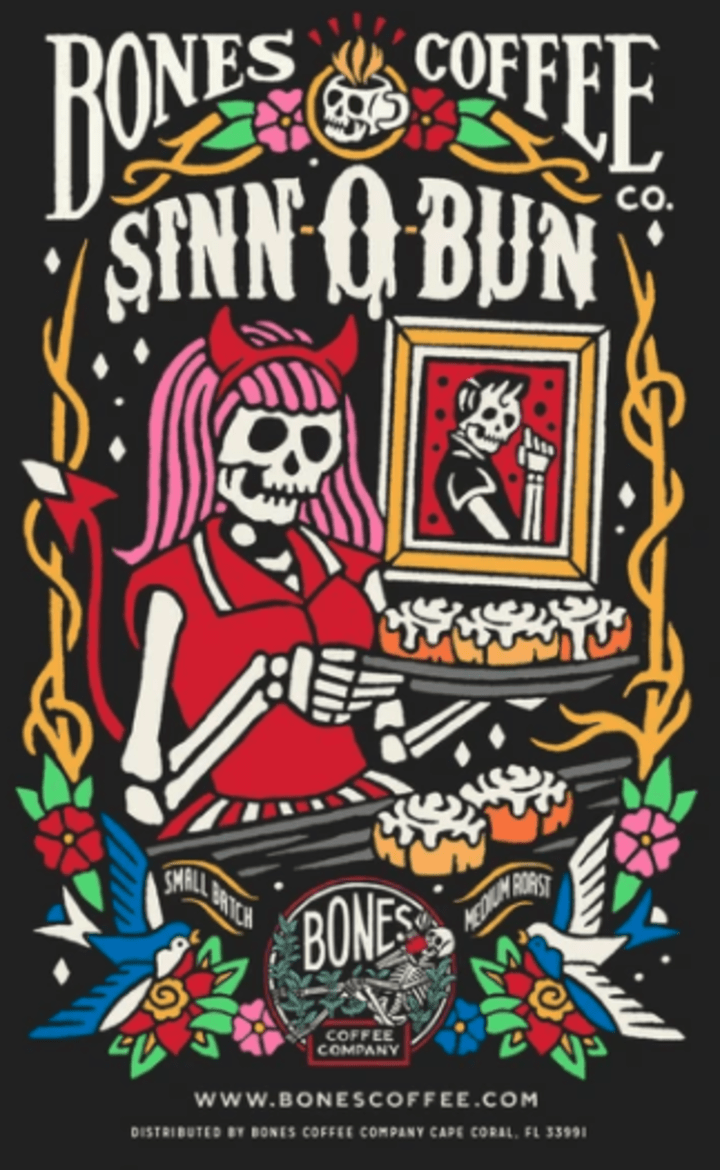 I mean yeah. It tastes like a cinnamon bun. This one is another one I think would be great hot or iced. I'm not super into hot coffee as a whole, but I think the idea of a warm cinnamon flavored cup of bean juice is appealing to people who like hot drinks. I tried this black, and I also tried it with a little condensed milk added in. Chef's fucking KISS, brother. 10/10
Maple Bacon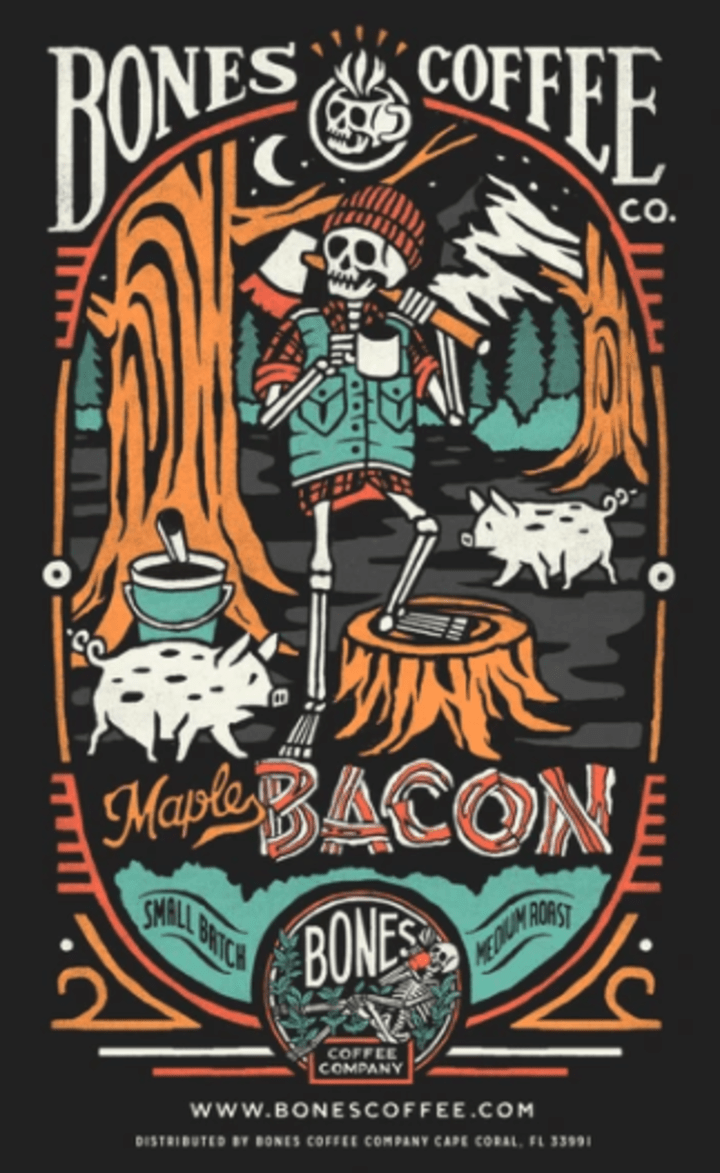 Oh this is my baby. Don't let the word "bacon" deter you. It's more like a maple smokiness that hits as an aftertaste. These flavors are a great combination for coffee. I mean..have you ever used maple syrup as a coffee or tea sweetener?? That's God level. This is no different. I love this one, appreciate this one. It's one of the flavors I think people would be more hesitant to try, but shouldn't be. It's definitely worth the risk. Excellent flavor, and I would get it again. 10/10