Bon Appétit: An Artistic Banquet
A feminist feast with five contemporary artists.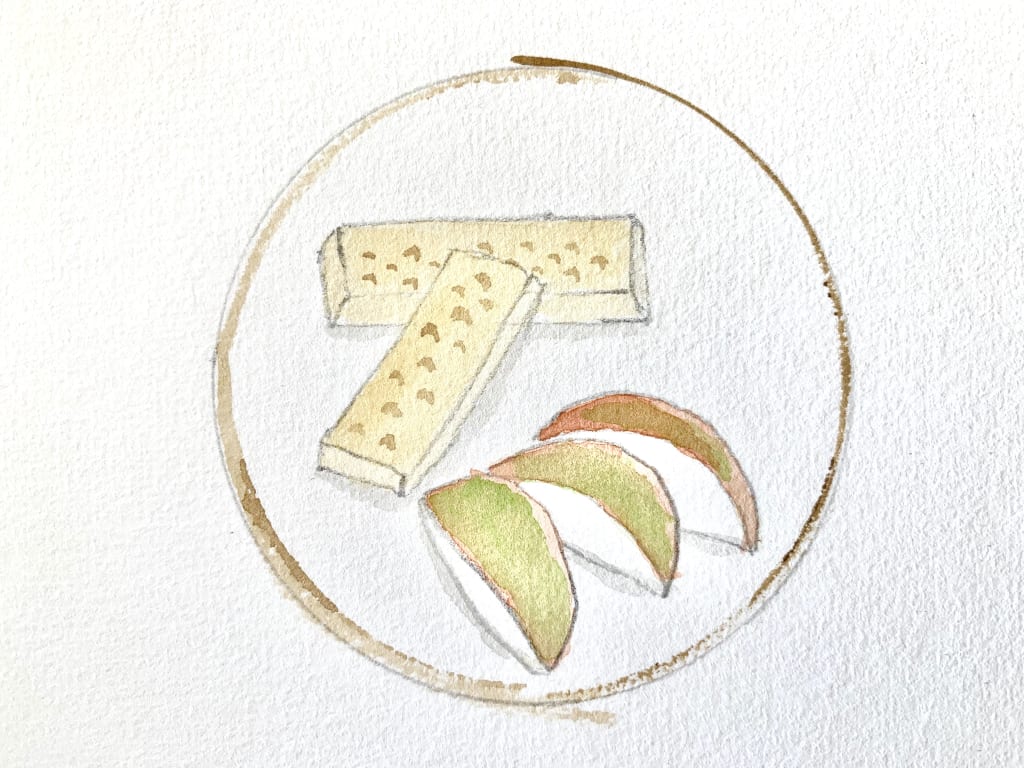 Guess who's coming to dinner? Five of the world's most intriguing artists.
Be My Guest: Meet & Greet the Artists
Would you like an introduction? It's time to get acquainted with our dinner guests.
Judy Chicago – Often called the godmother of feminist art, Judy Chicago is a modern icon and active member of the New York City art scene. Chicago's most famous work, aptly called The Dinner Party, was a direct inspiration for this story. The epic installation can be viewed at the Brooklyn Museum.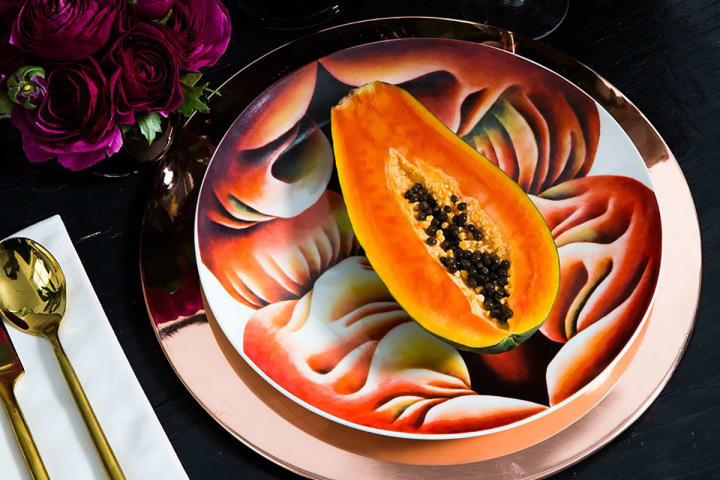 Yayoi Kusama – Renowned for her psychedelic sculptures and immersive installations, Yayoi Kusama is one of the world's best known artists. Despite the artist's joyful nickname, the "princess of polka dots", Kusama has spent the last four decades of her life creating art from a psychiatric hospital in Japan.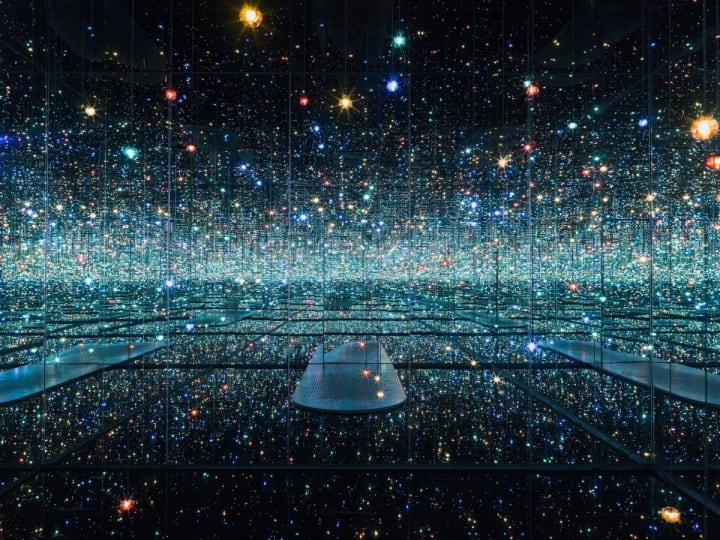 Frida Kahlo – Frida Kahlo's paintings are recognized around the world for their powerful color and bold imagery. Using a folk art style packed with symbolism and natural elements, Kahlo used her medium to portray the pain, passion and politics of life as a contemporary Mexican woman.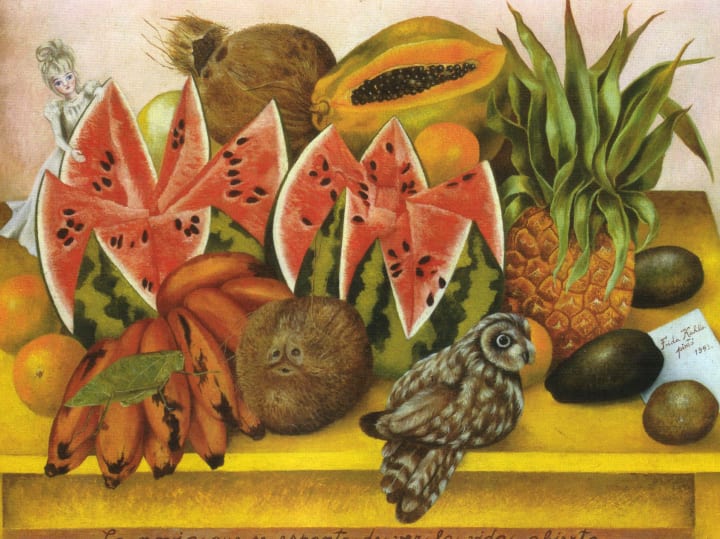 Laura Wheeler Waring – A celebrated artist and educator, Laura Wheeler Waring is best known for her energetic portraits of African American figures. The N.Y.C. artist was greatly influenced by the vibrance of the Harlem Renaissance during the 1920's and 30's.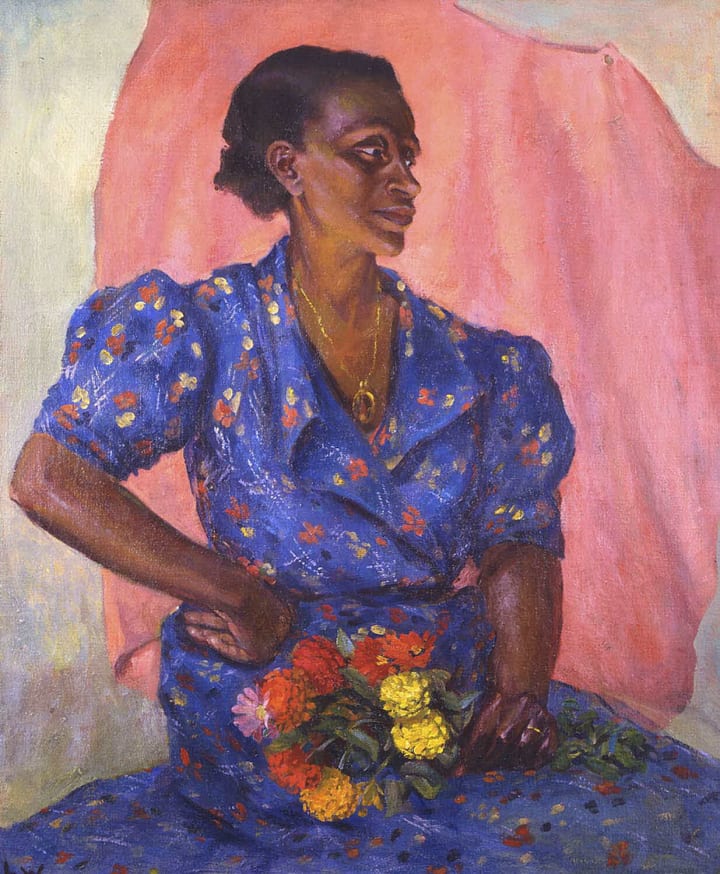 Georgia O'Keeffe – A pioneer of modern art, Georgia O'Keeffe revolutionized the art world with her unique blend of realism and abstraction. O'Keeffe was deeply inspired by New Mexico, and spent many years painting the desert's watercolor landscapes and native plant life.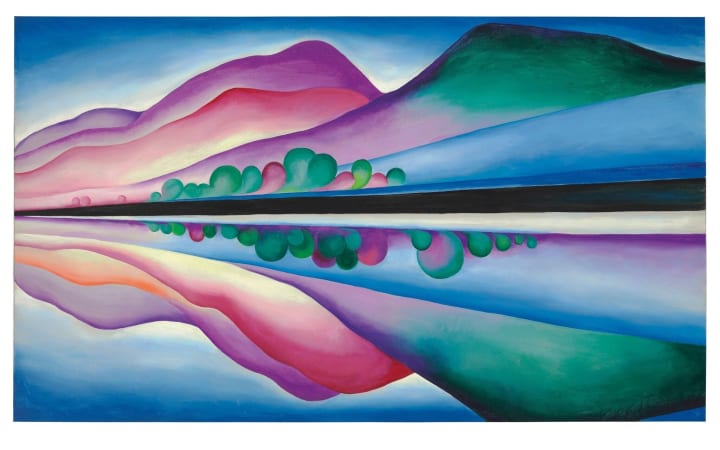 The Menu: An Artistic Journey
At my dinner parties, the food always takes pride of place. This menu was created to stimulate the guests' minds & palates. In fact, each course is inspired by one artist and their impressive body of work.
Canapés inspired by Judy Chicago /
smoked salmon, crème fraîche, caviar.
~
Appetizer inspired by Yayoi Kusama //
bluefin tuna, kabocha squash, soy glaze.
~
Entrée inspired by Frida Kahlo /
poblano peppers, pomegranate seeds, walnut sauce.
~
Dessert inspired by Laura Wheeler Waring /
banana pudding, cookie crumb, peanut brittle.
~
After dinner snack inspired by Georgia O'Keeffe /
shortbread cookies, fresh fruit, cayenne dust.
Like any food-obsessed host, I'd love to tell you more about the menu! This artistic banquet was designed to honor each of our esteemed guests. There is no overarching cuisine or culinary theme; the ingredients, flavors, and cooking techniques are as varied as the guests themselves! The result of this eatable collage is a multi-layered celebration of flavor. Without further ado….let's begin the dinner.
We will start the meal with a savory amuse bouche influenced by N.Y.C. artist Judy Chicago. Inspired by the high-flying Manhattan soirees of the 1970's and 80's, this luxurious canapé is a true classic. It's layered with luscious salmon, sweet crème fraîche and salty beads of caviar.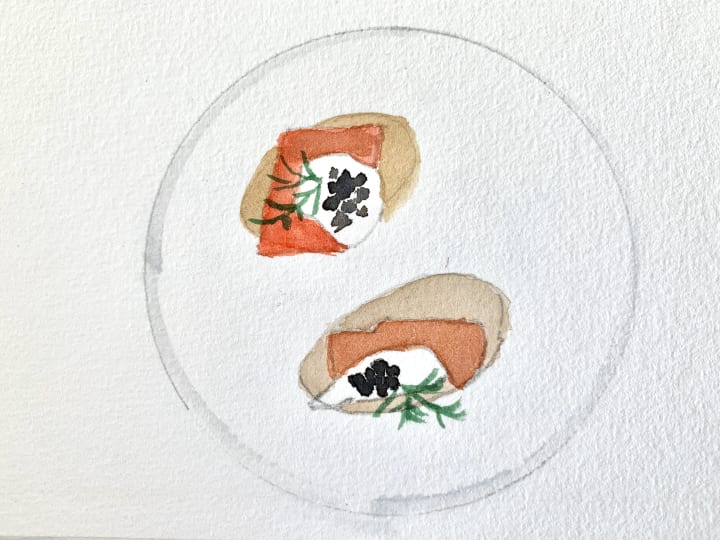 Inspired by Japanese cuisine and Yayoi Kusama's color-centric installation art, our next course is a true feast for the eyes. This plate is decorated with thin slices of seared bluefin tuna, soy glaze, and steamed kabocha squash––a popular element in Kusama's larger-than-life sculptures.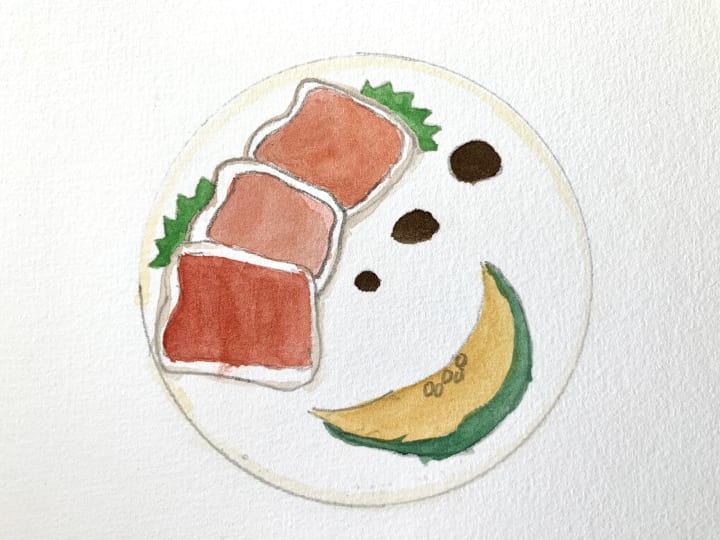 At last, our entree has arrived. Once served at Casa Azul, Frida Kahlo's home in Mexico City, this festive dish is called chiles en nogadas. It's prepared by stuffing poblano peppers with picadillo, a mixture of ground meat, fruit and nuts. The dish is garnished with a walnut-cream sauce and pomegranate seeds.
Craving something sweet? I certainly hope Laura Wheeler Waring will enjoy our dessert, a homemade banana pudding served in crystal trifle glasses. This sweet treat was a soul food mainstay during the Harlem Renaissance, of which Wheeler Waring was an active member. This dessert is decadent yet delicate and accented with a salty-sweet sliver of peanut brittle.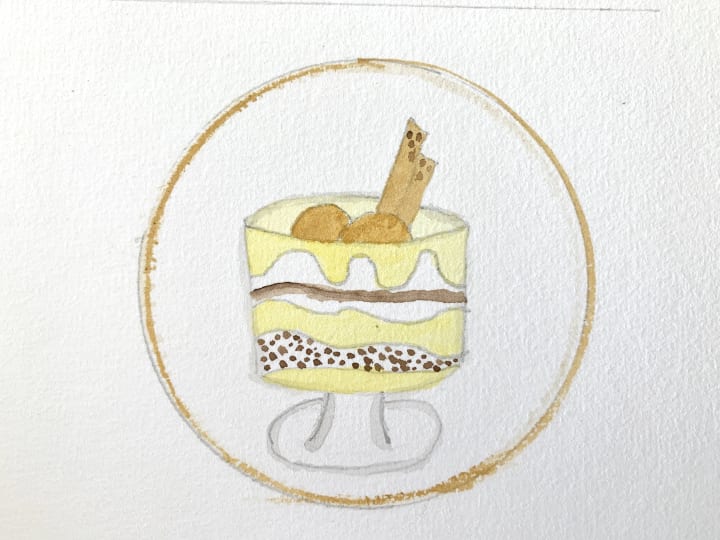 And finally, something to nibble on as we finish our conversations and bid our fellow dinner guests farewell. A small plate of sandy shortbread cookies arrive on the table. In a subtle nod to the American Southwest, the biscuits are flavored with a dash of molasses and cayenne pepper. A few slices of fresh fruit should also satisfy health-conscious Georgia O'Keeffe.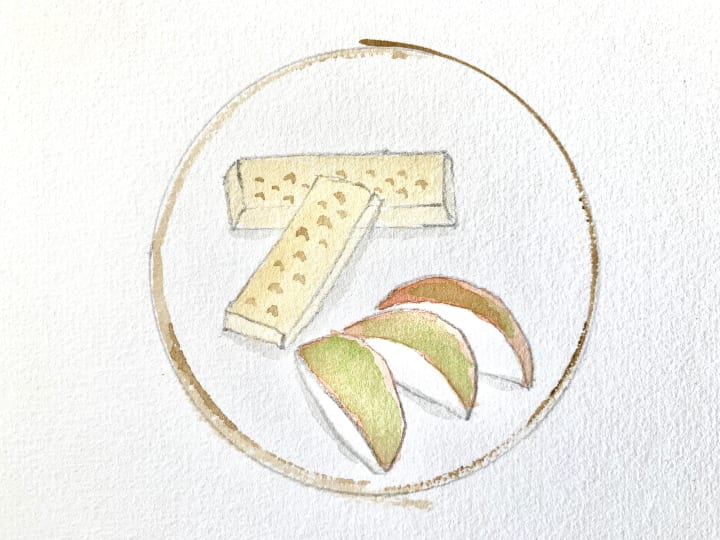 Artistic Note: All original watercolor paintings were created by the author. If you would like to support Rebecca's future creative projects, please consider leaving a small donation or sharing this article with your community. Thank you for reading!

Rebecca Leigh
Rebecca writes about furniture design and luxury interiors. A veteran digital nomad, she currently resides between Portugal and New Zealand. Find her on Instagram at @rebecca_dangler.
See all posts by Rebecca Leigh →