Banana Pudding,The Classic Dessert
The Banana Pudding Story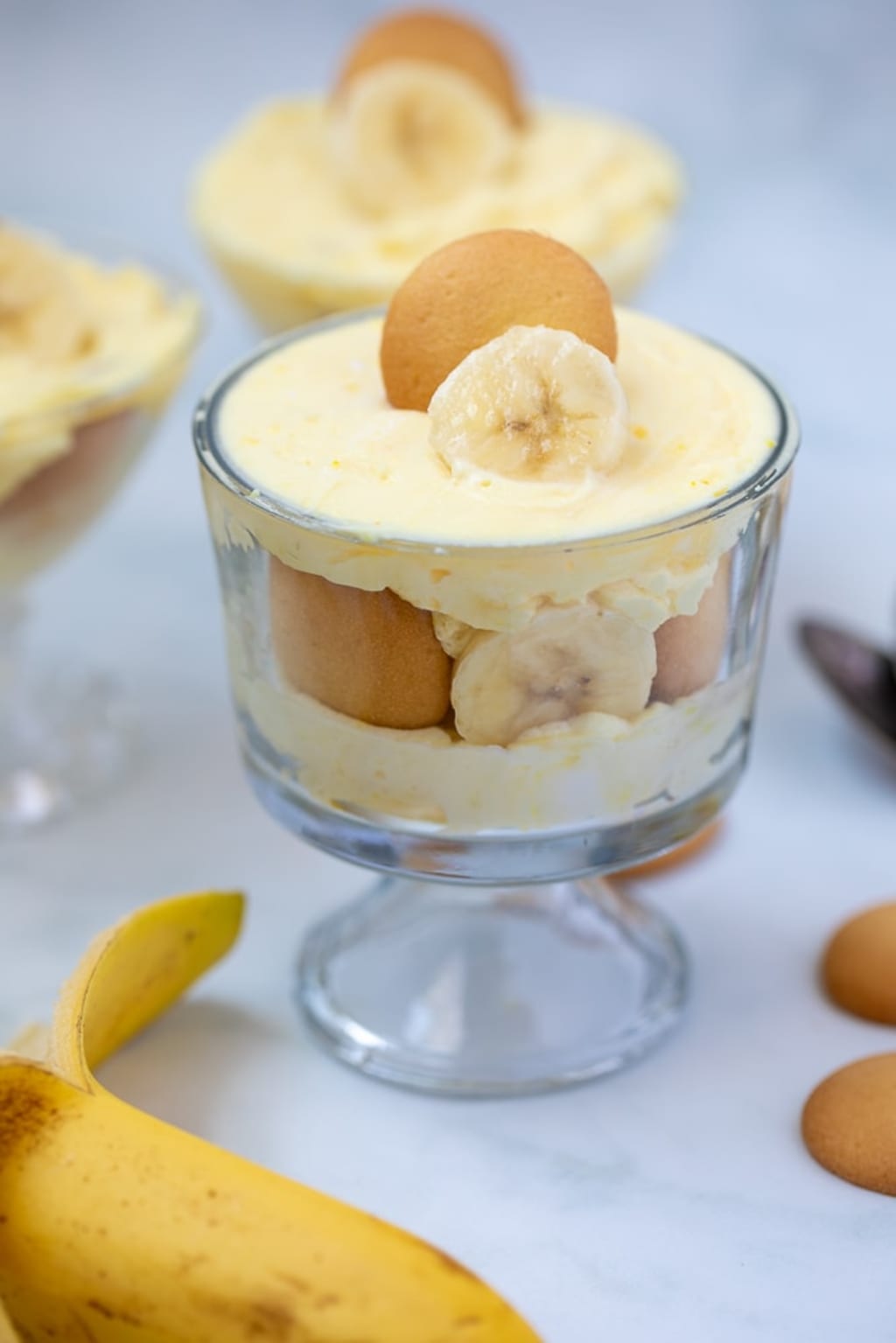 Banana Pudding
It all started a Southern tradition to this dessert Classic called Banana Pudding. This dessert is worth so many that Banana Pudding is the best Comfort food ever to experience the Sweet Tooth and who love bananas.
       The Very first Idea of Banana Pudding happened in 1878 in a New York Times column called "Information Wanted." As Robert Moss wrote in his article for Serious Eats, the first recipe appears to be from Good Housekeeping in 1888. That's a very long time ago.132 y About ears later, Banana Pudding recipes are everywhere in Bookstores, Online, Facebook, YouTube, Instagram, Twitter, and Everywhere else you can find Banana Pudding recipes.
         Picture yourself eating Banana Pudding for as long as you like. Bringing together families and friends to enjoy This Banana dessert whenever there are gatherings and Spreading joy to everyone on how delicious Banana Pudding is.
      When it comes to this dessert. Banana Pudding is where the heart is for everyone. Wherever and whenever Dessert fans will enjoy this Legendary Dessert with happiness and Kindness from their hearts. All it takes is the taste of Bananas and Whipcream to Indulge in this very delicious Banana Pudding that everyone will love.
       Does anybody know how to make Banana Pudding from scratch? It's plain and simple to make. Almost everyone in this entire world can make Banana Pudding, even a child can make it too. From start to finish, Banana Pudding is the best dessert sensation ever to create. Everything is possible that Banana Pudding is Everywhere and Everyone's favorite dessert of all time.
         You can make Banana Pudding every meal or any day. You want Bananas, Try Banana Pudding. Breakfast, Lunch, and Dinner or even you guess it, Dessert. Banana Pudding is making airwaves. This Legendary Dessert is everywhere you go and anywhere you're at. Everyone is nonstop talking about Banana Pudding and how it's made out of it. Don't be fooled by Banana Pudding, Because this dessert is Classic and delicious to everyone's souls.
      Banana Pudding is made out of Vanilla Pudding or Banana Pudding with Vanilla Wafers, Whip Cream,& Bananas go together to make a Genuine taste of Banana Pudding. Anybody can make Banana Pudding because it's very easy to make it and sometimes some people can put their spin on it. One person can put Maple Syrup on it or even you can put Cinnamon and nutmeg to give the Banana Pudding a kick to it.
     Banana Pudding is great to make any occasion, like Barbecues, Picnics, Birthday Parties, Weddings, Festivals, Fairs, Carnivals, Anniversary parties, and so much more.
     This sweet sensation is what America is talking about and how to make Banana Pudding. Wherever you go, there's Banana Pudding everywhere from Supermarkets to Restaurants and even at home.
        Banana fans Rejoice Because Banana Pudding can be anything like Ice Cream, Truffles, Cakes, Cheesecakes, and even cookies. You can make a unique combination of Banana Pudding and Whatever dessert can go together as it will taste and be Creative of recipes.
       Banana Pudding is The best dessert ever. Imagine you can eat Banana Pudding every day. Eating Bananas have great benefits. Bananas are not only rich in vitamins and fiber but are also fat-free and cholesterol-free. Ever wondered what goodness is in a banana? Other than being rich in vitamin B6, bananas are a good source of vitamin C, dietary fiber, and manganese. Bananas are also virtually sodium-free.
       Share the delight of Banana Pudding with everyone. Tell everybody that Banana Pudding is very good for you and your happiness. So gather up your peeps of all ages and come get some Banana Pudding, so everyone will enjoy the Banana Pudding Spirit

Nicholas Rivera
Hi,My name is Nicholas Rivera and I'm 35 years old from Jacksonville,Florida.My hometown is Miami,Florida.My birthday is February 5th,1985.I Graduated from High School on June 11,2003.I Love Rainbows and I'm very Creative with Great ideas.
See all posts by Nicholas Rivera →