Baking Artisan Sicilian Bread
Whether Sicilian or Italian, it's my grandmother's recipe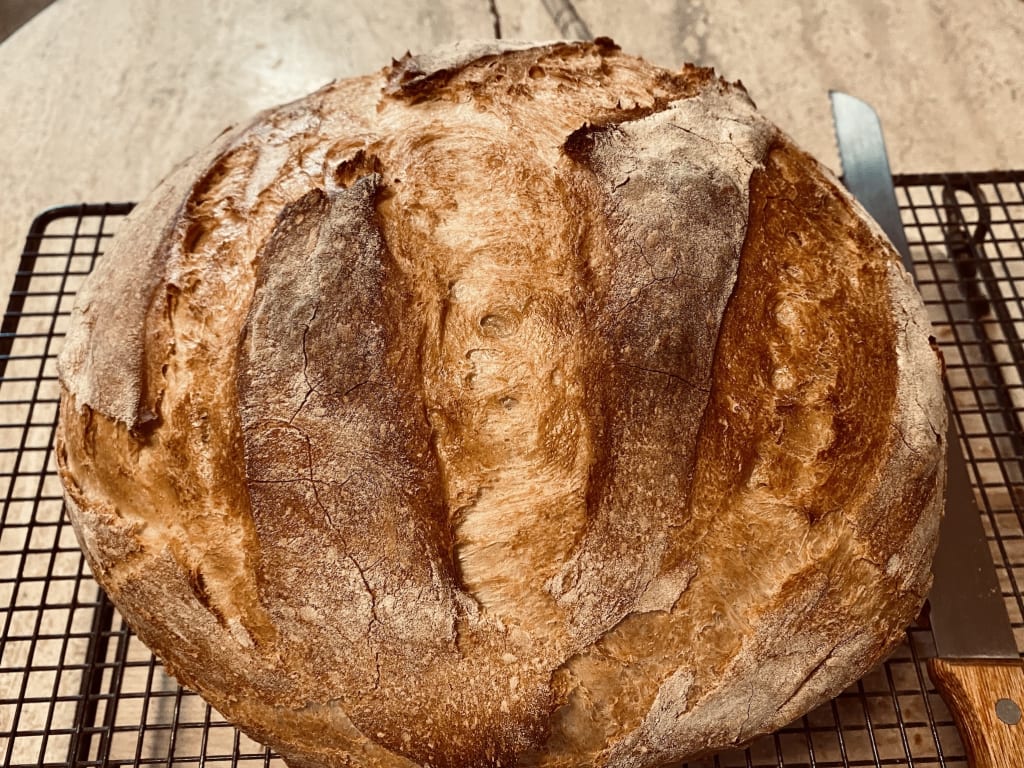 Taken by the author Sunday 10/17/2021 Just Out of Oven
The argument has always been what's the difference between Sicilian and Italian bread? I've heard so many different stories that I'm still confused at 67, but I know one factual tale.
Let me clear that statement up. I consider it a fact because my grandmother and grandfather told me the same story long ago when they taught me how to bake bread.
When I was growing up in Sicily, the bread was always round and covered with sesame seeds. The bread from southern and northern Italy seemed to be oblong most of the time or long and thin, almost like a French baguette.
When I asked about this one day, my grandmother responded by saying in Sicily, especially in our little town on Catania, the bread was always round and covered with sesame seeds. If not, it wasn't considered Sicilian.
Is that the truth behind Sicilian bread? Over the years, I asked many bakers in towns and cities in Sicily, and most of them all agreed that Sicilian bread was round and with sesame seeds. There were a few standouts who said what made Sicilian bread Sicilian was the air around the Island.
When I asked both my grandmother and grandfather about the air, they said, of course, that's the main reason it's Sicilian. I don't know why they waited until I asked them about this. Maybe it was a test to see if I would figure it all out at some point in my baking lessons.
Growing up as a kid in Catania, my fondest memory is my grandmother each afternoon preparing the Biga (pre-fermented dough) for the next day's bread. That's correct; she made fresh bread daily. How lucky were we as a family?
Every afternoon around 1-1:30, she would scoop out about one to two cups of flour, add a little fresh yeast, then some warm water,,, cover that mixture with a towel, and put it in the oven.
By morning time, the Biga, which would be added to the flour, needed to bake the bread with more fresh yeast, salt, and warm water. Then she would start to knead. What seemed like hours to a kid wasn't that long for her. I remember her being extremely strong, and when I asked her how she got to be so strong, she would always tell me it had to do with kneading the dough. I knew then I wanted to knead the dough.
When I told my grandmother I wanted to knead the dough from now on, she didn't hesitate a second to start my instructions in baking bread from scratch. I was a quick learner and loved kneading the dough each morning before going to school.
I lived for baking bread. As I became better at kneading, my bread became better. As I became better at measuring, my bread tasted better, and it was close to how my grandmother made hers.
Measuring was a hard thing to learn. My grandmother and grandfather never measured in baking or cooking. They believe in using your senses which include taste, smell, and sight. She would always say that the only way to create a recipe is by tasting, seeing, and smelling. Measuring doesn't create; it holds you back from being creative.
I remember when we moved to the states, and I was trying to make a recipe from a cook bok one night, and I measured the spices. My grandmother walked in and started laughing and swearing in Sicilian. Basically, she was yelling that using measurements was no way for an authentic Sicilian to cook, especially her grandson, who knew better. That was the last time I ever measured anything.
The thing about baking is everyone tells you that you need to measure to be accurate with weights. Well, I'm here to say my grandmother or grandfather never measured, and their bread and all of their homemade recipes always came out perfect.
When someone would ask how she made her bread, she had no problem telling them her recipe since there was no way they would be able to replicate her exact recipe since there were no measurements. She was a sly one.
I could go on and on with stories about baking in Catania with my grandparents versus baking and cooking in the state, but let's get down to the recipe.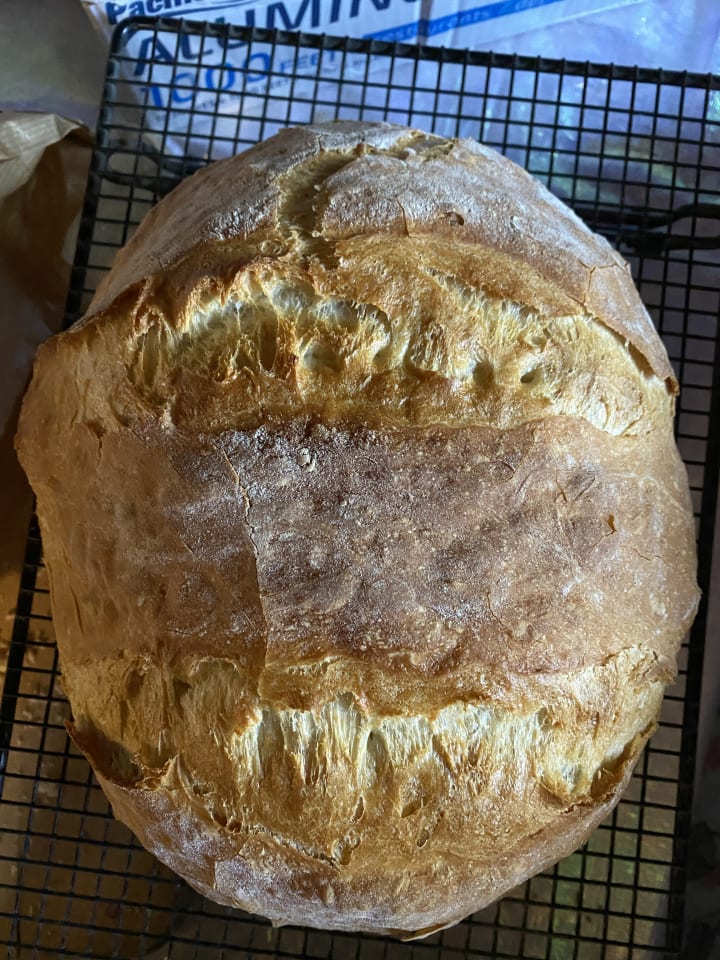 The "Biga"
1 t0 1 1/2 cups of flour
1/4 teaspoon yeast
Warm Water (90-105 degrees)
Mix the Biga and then cover it with plastic wrap and a towel and place it in a warm place. The oven or even in a dutch oven with the cover on.
Let it sit for 12-18 hours.
The Dough
Depending on the size of loaf you want: 3 - 3 1/2 cups of flour
1 tablespoon of yeast bloomed in a bowl with a teaspoon of sugar and warm water 90-110 degrees.
Before adding the liquids, the Biga, and water, make sure to add a hefty pinch or two (or three) to the flour and mix it up a little.
If you want all those wonderful holes, you see in ciabatta bread or Sicilian bread; you want a highly hydrated dough. Anywhere from 70-75%. Of course, we're not measuring here, but if you do weigh your flour, use those ratios for the hydration.
Without measuring, it's all in the eye. Try it a few times. It's all trial and error. You'll get it sooner or later and if not, ask me to lend a hand.
Either use a bowl and mix by hand, or you can use a stand mixer as I do now adays. It's easier let's be honest.
Once the dough takes shape, it should be pretty sticky at this point, flour your hands and take it either out of the bowl or stand mixer and knead it for a little bit just until it takes shape as a round, smooth ball.
Now oil a bowl big enough for the dough to double as it rises and place it in a warm spot.
Preheat the oven to 500 degrees. If using a dutch oven which I highly recommend, let the dutch oven come to temperature as the oven heats up. You want it hot and steamy.
If you have never baked bread in a dutch oven, it's time to try it. You will never go back to anything else. The dutch oven works as a steamer as well as the perfect baking compion.
Once in the oven, set your time for 25-30 minutes. While it's baking, turn your dutch oven every so often.
After about 25-30 minutes, check the bread and if it is nicely tanning, take the lid off and let it bake at 450 degrees for another 15 minutes turning the dutch oven every 5 minutes or so. You want the bread to deepen in color before taking it out.
After you're happy with the color, if you want to make sure your bread is done, tap the bottom and the top, and if it sounds hollow, it's done.
Let the bread sit until it cools. It's hard to do trust me, but if you slice it too early it lets the moisture out. You want it to stay in there and continue to bake the bread with that moisture.
Now you have some great tasing and looking bread.
Buon Apetito!
recipe
Family comes first. I love to cook or bake, mainly bread, and sometimes think I'm good at both. I was born in Catania, Sicily, then lived on the east coast for most of my life, till I moved to California.
Receive stories by Mark-John Clifford in

your feed