ALIVE
An option near the kombucha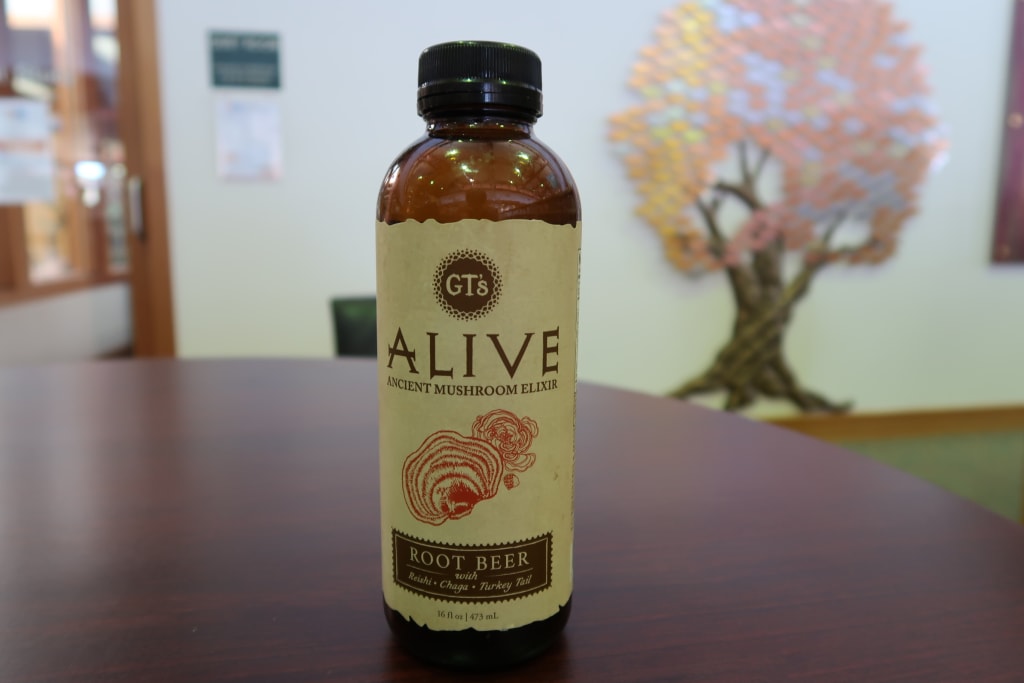 ALIVE
The Find
We're always seeking to find that next thing. That next product that gives us great energy, yet doesn't break the bank and it's always a plus if it's environmentally friendly. For the better part of the last six months life has found me in Arizona or I have found it, or a mix of both. To be more specific, I've been making the rounds darting in and around Sedona. It's summer now and the desert has been hot. I heat up my store bought vegan pizza at a temperature of 125 degrees Fahrenheit and it's getting up past 100 degrees on a daily basis. To this I often ponder "If you eat a lot of vegan pizza are you a vegan pizza"? We'll leave the answer to the desert wind.
ALIVE
The "ALIVE Root Beer flavored Ancient Mushroom Elixir" has been my go to when navigating the hot summer. This has been substituted with juicy watermelon when the calling calls and of course vegan pizza too! You could say I'm a junk food vegan, but sometimes I fast for a day or so and so I'd like to say intuition is a better way to chalk up my foraging practice.
Mushroom Stranger
I'm not a stranger to mushrooms. I wrote an article a while back on this platform about foraging for these comestibles. Yet, at the same time I'm sometimes not an avid fan of the whole Reishi, Chaga movement. I've definitely had these "life enhancing" mushrooms before and walked away with a weird feeling and a negative enhancement. It's good to be aware of fillers for example. I have found there's a variety of additives stuffed into supplements to bring down price point or cut some kind of corner in production. If you want to skip the additives, I highly recommend Purium for their variety of pure and conscious products. Many have been using this company as a side gig opportunity as well!
Yet, I digress. The ALIVE elixir gives a pleasant effect powered by these mycological gems. I walk away consistently with a feeling of new found energy, grounding, and overall wellbeing. ALIVE's taste is light and refreshing.
New Digs
Food tastes change for me often. Just a few years back I remember first stumbling upon Coconut Aminos, namely Coconut Secret and now it's become a product on a variety of supermarket shelving. When I first bought that product I distinctly recall the check out person exclaiming that " I was the only one buying that product every week" or saying something along those lines. Let's see what ALIVE does. Let's see what other products will come in and serve as competition. The product is made of glass and so is easily recyclable.
A Take Away On Health
When it really comes down to it, health is a personal game I've found. There's no simple one "silver bullet" that is the way into feeling good and living your full potential. Furthermore, this path and way changes. What is true today could be vastly different tomorrow. Perfect health is more about following the feeling, or your own intentional, and intuitive guidance system. Intention because setting one will plop you down in the cloud of the idea you intended, and intuitive because intuition is that muscle which can be continually strengthened so that best choices can be made. It's okay to be plant based one day and then change the next day. That being said, it's good to get guidance for this path by being "good" to Earth. There's an Ayurvedic principal that maintains that digestion is improved when offering and sharing food with others. I received this gem of new knowledge when taking a course on Ayurvedic principals taught by my friend Jennifer. Don't take my word for it though. Go and be your own scientist and critic. Healthy criticism is a great way to test the ego and grow spiritually. Until next time Bottoms Up!
About the Creator
Hello and welcome. Creativity shows itself in a myriad of different ways for me. I intend to get out of my comfort zone on this page, be vulnerable and create. Follow me @soundandthemessenger
Reader insights
Be the first to share your insights about this piece.
Add your insights