A Two-Block Gastronomic Delight
It's not a long walk so you'll need to find another way to burn off the calories
I live in downtown Honolulu and can walk to some of the best restaurants on Oahu in less than fifteen minutes. I know how lucky I am because I used to live in an area that the locals lovingly call the "West Side." If you live on the West Side, you have to drive to seek out tasty food. In downtown Honolulu, awesome local restaurants are a short stroll away.
To prove it, let's get breakfast, lunch, and dinner from local restaurants, shall we? Also, let's restrict the geography to two blocks. Spoiler: This isn't going to be hard at all.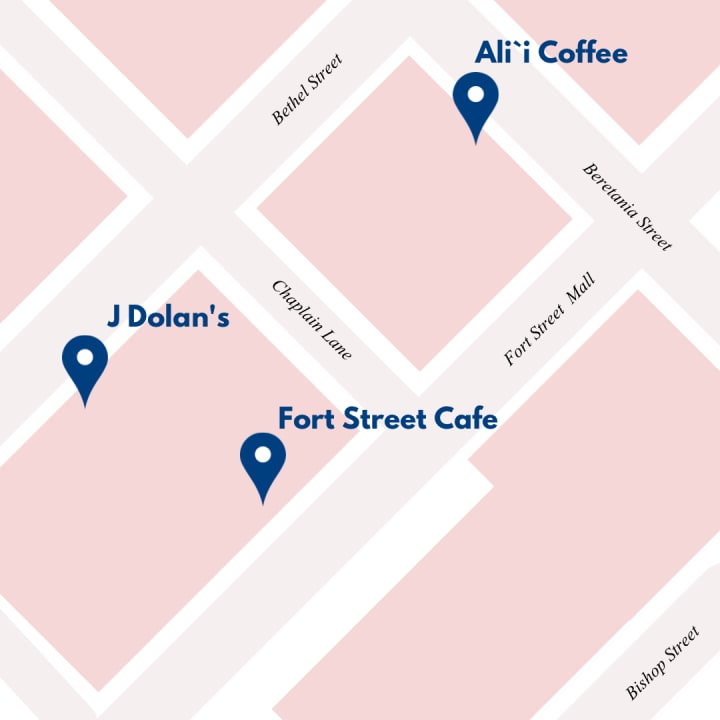 Breakfast: Ali`i Coffee
I don't know about you but my morning is just better after a double espresso. Ali`i Coffee, which sits on the edge of Downtown-Chinatown, consistently delivers the morning pick-me-up for those of us that start the day early or are hung over after a late night.
I'm a purist so my beverage of choice is a double espresso. You know that a coffeehouse's coffee and espresso are outstanding when they don't need adornments like sugar, dairy, or flavoring. Don't get me wrong, I like those fancy drinks but straight shots of caffeine are necessary on most mornings. If I'm having a leisurely day, I like to indulge in an espresso-based drink or a nitro coffee. Sometimes, I'll get a Purple Haze, a blend of green tea, jasmine tea, lemon, honey, and butterfly pea flower.
Most mornings, I'm usually satisfied with my espresso but, occasionally, I'll want a breakfast. The sandwiches are so delicious that I always want two even though I'm full. I recommend the avocado toast (of course) or the pastrami sandwich (don't judge me). There's also a veggie sandwich for the vegans.
The staff is what makes Ali`i Coffee such a fun neighborhood coffeehouse. For a long time, the daily baristas were the two owners. Now, they have a roster of cool and engaging baristas who will remember your order and will take the time to chat about what you have planned for your day or weekend.
You won't always get to see the owners now because they're building their local coffee empire. During a time when a lot of local restaurants were closing, Ali`i Coffee opened two — yes, two! — new locations, one in Waikiki and another in the heart of Kakaako. Loyal patrons are excited for their success.
In addition to the baristas, there are two more considerations that bump up Ali`i Coffee's cool factor. First, it's pet friendly. I love when I walk in and am greeted by some neighborhood pups. Second, Ali`i Coffee roasts their coffee beans on site. You can't get fresher than that.
Lunch: Fort Street Cafe
Just around the corner from Ali`i Coffee is my default lunch spot, Fort Street Cafe, which serves Thai and Vietnamese food. I go there at least three times a week. Sometimes I'll even pick up dinner on the way home. I didn't realize how often I ate there until I changed my order one day:
"Can I get a pad thai with garlic chicken, please?" I looked at the menu again. "And a green papaya salad."

"You're not getting pho today?"

"No, not today." I laughed, a little embarrassed. "I decided to get something different."
I admit that I'm a creature of habit. I like to eat the same thing day after day because I know that I'll never be disappointed. Not that I'll be disappointed with anything from Fort Street Cafe. I've gone through phases and it's safe to say that I've eaten everything on the Fort Street Cafe menu. They serve pho, curry, cold noodles, hot noodles, fried rice, fried chicken, spring rolls, and summer rolls. You really can't go wrong with anything on the menu.
If you're like me, you go through cycles on your "healthy lifestyle." There are times when I like to eat light and fresh (like the summer rolls). Other times, I crave carbs and sauce (like panang curry and rice). Fort Street Cafe has something for every craving. It's probably the reason why I go back over and over.
For a long time, the only thing that they didn't have on the menu was banh mi (French- and Vietnamese-style sandwiches). To my delight, these sandwiches were added to the menu a couple of months ago.
Everyone who works and lives in downtown Honolulu knows Fort Street Cafe. At the height of the lunch hour, there's a line out the door and people milling around the entrance, waiting for their order to be called. I haven't met anyone who isn't happy to find out that Fort Street Cafe is catering their business lunch. I have to admit, though, that I'm not very productive after those lunches because the portions are generous. (Shhhh, don't tell my employer.)
Fort Street Cafe a family-owned business. You often find the children of the owners and employees sitting at a table and doing their homework or eating a snack. There were a couple of years that I didn't visit Fort Street Cafe because my office was too far so I didn't see the children for a while. However, recently, I saw some of the kids doing their homework. It wasn't basic math anymore. Those kids were doing pre-algebra. It's nice to see that you're supporting not just a business, but also a family.
Dinner: J. Dolan's
"I don't like pizza," said no one.
Admittedly, Hawaii is not known for its pizza. It's probably why I'm not a pizza snob. I like the pizza from those nationwide franchises as well as fancy, artisan pizza. I'll take either of them with no fuss. However, if there is a pizza snob in your group, J. Dolan's is the place to take them.
The pizzeria specializes in New York-style pizza. The pizzas have a crispy, crunchy edge and a thin crust that is just begging you to fold it in half. (I won't judge if you don't.)
My favorite is the Spinach and Garlic Pie. It's so simple yet delicious. There are other options if you don't want your breath to smell like garlic when you walk out of the establishment. You could get a Giacomo (sausage, pepperoni, salami, and black olives) if you're a meat lover or the Molto Formaggio (Havarti, brie, gouda, fontina, mozzarella, and parmesan) if you're all about the cheese. You can also customize a pizza but almost everyone I know returns to the Garlic and Spinach Pie.
The staff is really friendly, but they don't usually have time to chat because the place is very popular choice for the after-work crowd. Because of its relaxed atmosphere, J. Dolan's is a popular place to eat and hang out with friends and colleagues (or with friends to talk about your colleagues).
In addition, if there is an event at Hawaii Theatre, I wish you good luck trying to get into J. Dolan's. Most people who are lucky enough to score a table before a Hawaii Theatre event usually occupy the tables until about half an hour prior to show time.
Luckily, I live in the neighborhood so I just pick up a pizza for my Netflix binge-watching sessions.
Is there anything to eat beyond those two blocks?
There are other good restaurants in those two blocks. I can think of four places just off the top of my head. I rarely venture beyond those two blocks because I'm lazy.
However, if you wanted some exercise and kept walking, you could end up in two different Oahu neighborhoods: Chinatown or Kakaako. If you end up in either of those neighborhoods, I hope you're wearing elastic-waist pants because those are two of the three neighborhoods on the island that are known for having good restaurants.
Bon appetit!
__________
Thank you for reading. If you enjoyed this story, please consider leaving a heart.