A trip to Seoul Garden is always a balm for my soul
Yeah, it's been a struggle.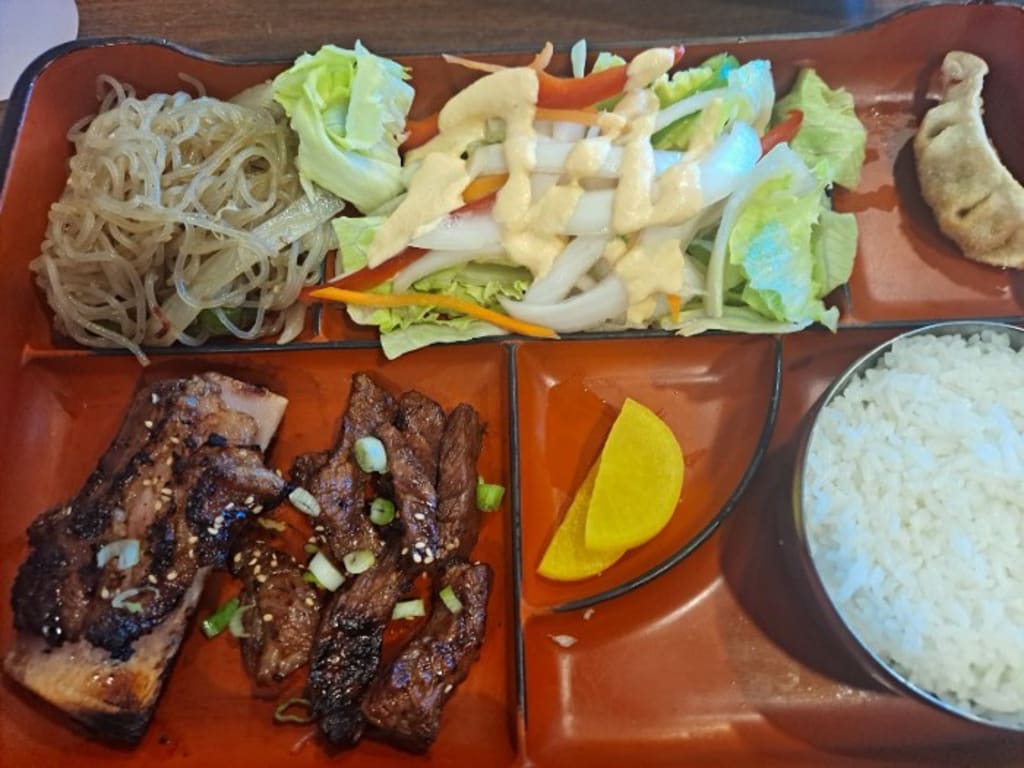 Photo by the author
If I had to use a shitty metaphor to describe my writing career for the last few months, I would say that it has felt like throwing many, many darts at the board and HAVING NONE OF THEM FUCKING LAND.
Yeah, it's been a struggle.
Sometimes, I feel like the various algorithms are conspiring against me (Et tu, Brute? I say to Medium on a daily basis). But I know making a full-time living from writing is a marathon, not a sprint; it takes a lot of time and effort and hard fucking work and a dash of dumb luck; and yada, yada, yada, et cetera, et cetera, et cetera. BUT I'M A MILLENNIAL WHO IS LIVING IN THE AGE OF SOCIAL MEDIA AND INSTANT GRATIFICATION; AND I WANT INSTANT GRATIFICATION NOW, DAMN IT.
Anyway, I'm doing fabulously. 😘 How about you?
Despite my struggles and dwindling bank account, I still absolutely fucking believe leaving my toxic office job was the right thing to do. My latest blood pressure reading would agree. Every year at my terrible, awful, no-good office job, my blood pressure reading would go up. But I got one two weeks ago and guess what? It went down, baby!
I also got a blood sugar reading. Guess who's got perfectly normal blood sugar levels? This gal!
My BMI is an entirely different story, but baby steps, right? 😏
In spite of hostile algorithms and lackluster book sales, I'm still determined to make this writing thing work. Or I'm just plain delusional. Potato, potahto. Climate change/COVID-19 might kill us all soon, and I'm not going to spend the rest of my life trapped in a cubicle and doing meaningless work that kills my soul.
Anyway, the other week, to make myself feel better about my writing woes/precarious financial situation/ the worsening COVID-19 situation/our impending doom, I went to Seoul Garden, one of my favorite restaurants in the Cleveland area.
It's a small place with unremarkable decor. However, their food is delicious.
Like any decent Korean restaurant, Seoul Garden gives you an assortment of free banchan: the classic spicy kimchi, seaweed, fish cakes, some kind of delicious sweet potato, et cetera.
They also give you a steaming hot bowl of fresh gyeran-jjim, a delicious savory egg custard dish.
Really, the banchan and gyeran-jjim could be a meal in themselves (especially since they offer free refills of the banchan!).
But the real star of my meal was the kalbi lunchbox.
The lunchbox contained some japchae, a house salad, gyoza, pickled radish, a bowl of steamed white rice, and of course, the absolutely divine kalbi, beef short ribs marinated in a delicious sauce.
Everything in my lunchbox was good. But the kalbi gave me a total mouthgasm. The beef was tender and moist and flavorful. It was so good that I sucked on the bone for a few minutes to get more of the flavor of the marinade.
When I got my check, my server also gave me a complimentary bottle of yakult, a carbonated yogurt drink, the perfect way to end a delicious Korean meal.
Hopefully, by the end of the year, I'll have achieved some success with my writing career. If I'm still struggling, I guess I'll finally have to try to find a traditional job, which honestly fills me with anxiety. I've always sucked at job interviews, and after over a year of not really dealing with people, any job interview I have will undoubtedly be a torturous experience for both me and the interviewer. And I really dread the inevitable question: "So why is there a one-year gap on your resume?"
Me: "Because I was delusional enough to think that I could become a full-time writer of smut. Yes, I said the word smut, and I'm not ashamed of it, you narrow-minded corporate drone! But I am ashamed of my failure. Maybe I wasn't good enough. Maybe I didn't work hard enough. Or maybe dreams like that are always doomed to die in this soulless capitalistic society. Anyway, did I get the job? Will I get the illustrious opportunity to do way too much work and deal with too much bullshit for barely livable wages?"
(The answer will probably be no 😏)
Anyway, as long as I got money in the bank, I'll continue trying to do the writer thing and nursing my soul at restaurants like Seoul Garden.
Was that punny? It probably was too punny. Jeez, Isla, with writing skills like that, it's a wonder why you're not making much money, you might be thinking sarcastically. Whatever, I'm a fool.
And I'll continue being a fool.
If you're ever in the Cleveland area and looking for some great Korean food, here is Seoul Garden's Yelp page.
If you like my writing, check out my ebooks, maybe?