3 Delicious and Easy Coffee Drinks to Make on a Tight Budget
For all the coffee addicts out there who like to have some easy culinary fun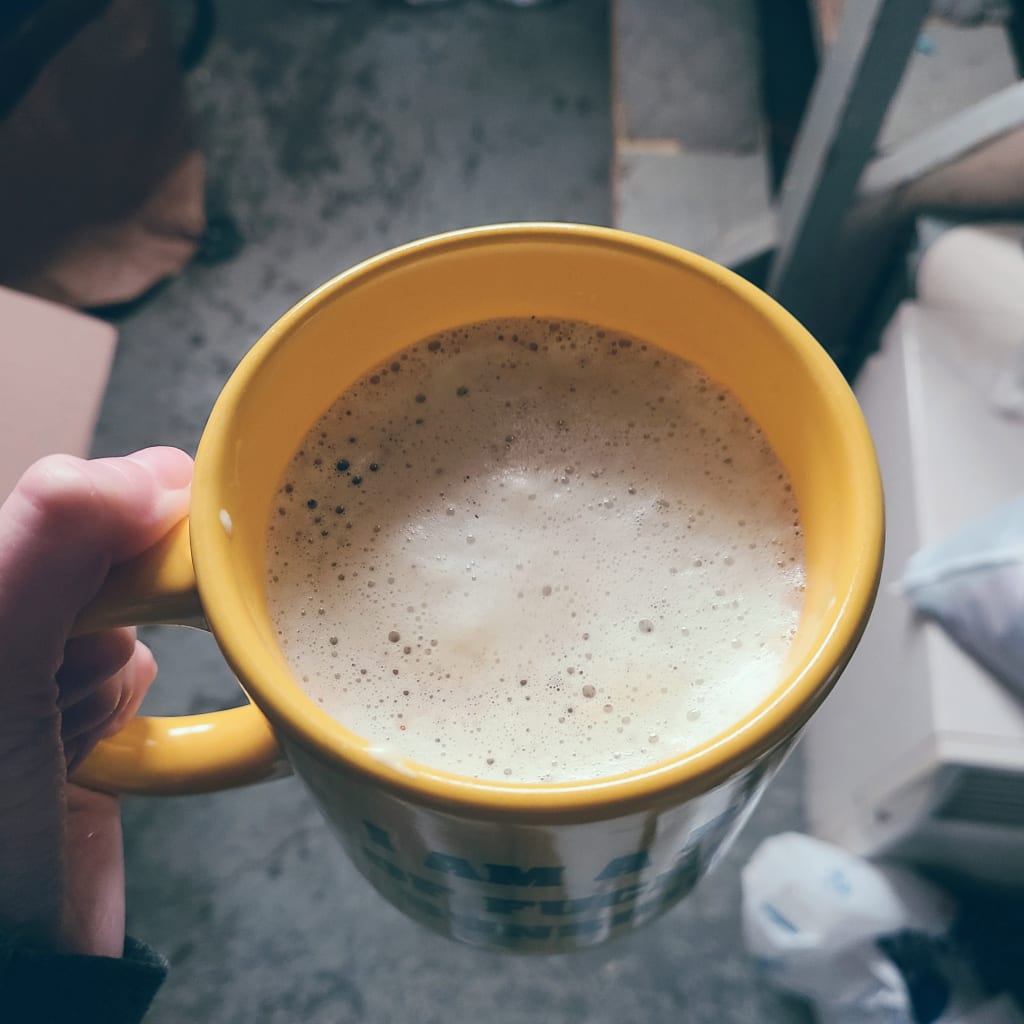 The latte I made ;)
There aren't very many things that contend with a rich and steamy caffeinated drink in the morning. That scent gets in you and seems to make the world expand, perked with possibilities. The warmth breaks the chill the night left in your chest. The caffeine buzz prepares you for obstacle busting, especially when that obstacle is your own motivational lack.
You could fork over a handful of bills at that familiar cafe down the road. They make it the way you like it. You can rely on them, and keep walking or driving on, zapping with happy caffeine high.
Or you can have yourself a satisfying cup on your bedside, or at your kitchen table with young sunlight finding your face through the windowpane. Then you're on your way, the day unfolding brightly, you putting your best foot forward.
And this may come as a bit of a surprise (I have to admit I was slightly surprised to find out, myself), but your kitchen need not be stocked with fancy cafe equipment.
You require only a few simple ingredients and tools in order to concoct some delectable coffee variety. No french press, espresso maker, or milk frother needed. As long as you have a standard coffee maker, a microwave safe container, coffee, honey, milk, and a few basic spices, you're good to go.
1: Honeyed Black Coffee
Personally, I'm pretty simple when it comes to my coffee tastes, especially when it's my first cup of the day. So I've learned that you can't go wrong with straight black medium roast-- or dark roast for the daredevils out there.
But sometimes it feels like there might be a little pinch of magic missing. The faintest sweetness. But how to achieve this without grainy sugar? I don't know about you, but sugar chokes me when it's in my coffee. And I despise the crunch of it at the bottom of my cup. It's just a bit much.
So, give this a try:
Use your favorite coffee brand. I've found that you can't go wrong with Folgers or Maxwell House. My dad recently opened my eyes to Peet's coffee, too. No matter your choice, this is sure to be a treat.
Next, select a honey that you like best. I really love to use raw honey that comes in a jar for this. But a bottle of clover honey also works pretty great.
Once you have your cup of steaming coffee, grab a spoon and get a small dollop of honey on there. You don't want it to cover the whole spoon. It should take up the middle of it, nickel sized.
Stir the honey in with upward scooping motions. This ensures that the honey is dispersed fairly evenly, and the spoon should come out clean. You add the honey this way so that the whole drink is sweetened and the honey doesn't just rest at the bottom, turning the dregs sickly sweet.
This is how you can drink your coffee black and strong, with an added hint of natural sweetness.
2: Clove Latte
Sometimes, I get bored with black coffee, or I decide that I might like to give my guts a hard time.
No, but seriously, who doesn't like to get fancy once in a while? Lattes are what used to drive me to make trips to the cafe. Now, I make them myself from the comfort of home.
There's something hard and soft about this drink. Something that reminds me of floating on clouds and running a race. It's an indulgent drink, for sure.
To make it at home, start by brewing a really strong pot of coffee (unless you opt to take the espresso route). But for the purpose of this post, no espresso machines are necessary. Strong brew will do.
To get it strong enough my advice is to pick a dark roast and use a bit more coffee grounds than you normally do. It may take some fiddling to get the ratio just right, but I'm confident you'll find the sweet spot.
While the coffee's brewing, grab a microwave safe container and pour in as much milk as you want in your coffee. Lid it shut and shake. Shake it really well. This adds air to the milk, froths it.
Pop this in the microwave, lid removed, for 30 seconds. When you take it out, there should be a nice layer of foam floating on top of warm milk.
Get your coffee and grab a spoon. Carefully pour the warm milk into the coffee, all the while holding back the foam with the spoon. Add the foam on top afterwards.
For extra flavor, sprinkle a little ground clove over the foam and there you have it; a homemade latte to be proud of.
3: Cinnamon Café au Lait
This is very easy to make and very yummy. It's a casual drink and I imagine sharing a couple of mugs over a friendly chat. I imagine curling up in bed with a cozy autumnal feeling, sipping and turning the pages of a good book.
Step one: Brew up a pot of richly flavored coffee.
From there, gather your microwave safe container and milk. Pour in the amount you want and shake it really well to froth it. Stick it in the microwave uncovered for 30 seconds.
Using a spoon to hold back the milk foam that's formed, pour the milk into your coffee. Take a pinch of cinnamon and spread it sparingly over the coffee.
And that's it. Pretty simple, huh?
With how things have been for the past year, we've had to pick up new skills and habits. Our coffee habit still calls to us. It's good to keep in mind that there are ways to improvise, to work with what we have available, that we don't have to give up our simple pleasures. We can enjoy variety with ease and at low expense.