10 Delicious Fondue Recipes You Should Try
Kick it retro-style with these mouthwatering fondue recipes.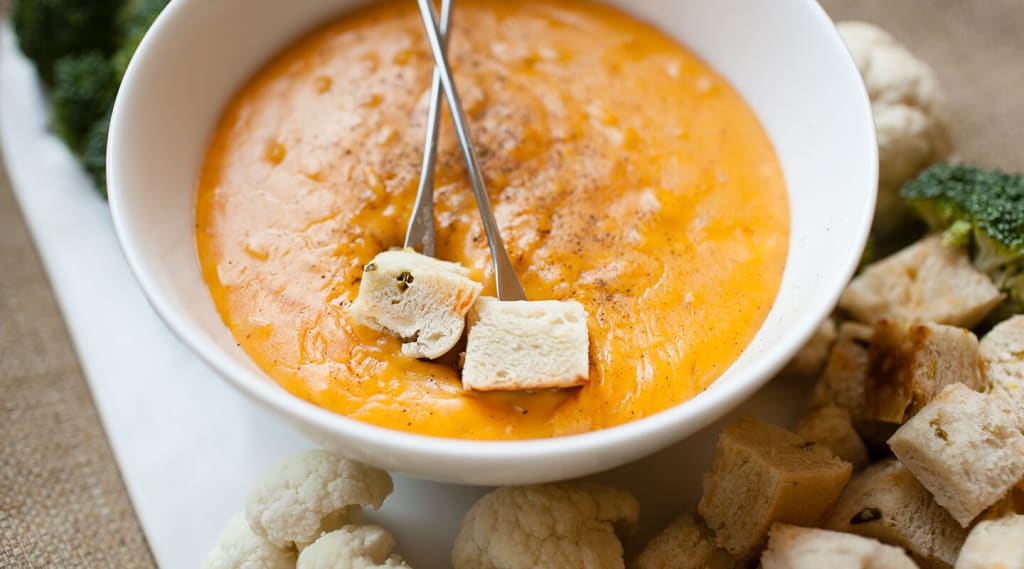 Fondue is a favorite dish of mine, and for good reason.
It's an amazing party food that gives you complete control over how you cook your dishes. It limits the amount of dirty dishes you have to worry about, and despite its ease of use, also stays pretty impressive as far as presentation goes.
Fondue's ability to spark a conversation about food goes unmatched. It's a great date night dish that always gets compliments. It's even capable of adding a little bit of bonding and intimacy to dinner. I swear, there's nothing that fondue can't do.
My love of fondue has made me a major collector of delicious fondue recipes. Whether you're a mom looking to add cool flair to your kids' dinners, or just a person trying to impress a hottie on date night, these kickass options are definitely worth a try.
Warning: I'm not a fan of cheese.
But, it wouldn't really be a good list of fondue recipes without at least one recipe for cheese fondue on here, right? Cheese is literally the thing most people think of when they think of fondue, so we might as well entertain the notion, right?
If you're going to opt for a cheese fondue trial, you really can't go wrong with a Swiss Cheese Fondue recipe like the one that's featured in this video from Williams-Sonoma. A little Gruyere cheese goes a long way when it comes to flavor, and trust me when I say, choosing the right cheese for this dish is a must.
This is one of the few fondue recipes that will put a smile on my face while also using cheese as a main ingredient. Spinoffs of this classic recipe have been featured on plenty of seafood restaurants, including the classic crab chain Red Lobster.
Most Lobster Fondue recipes will have cream cheese as the base, and honestly, it's not a bad choice. This Red Lobster dupe has been a smash hit at my parties. Try it, and you'll see why.
Though fondue is known for being a Scandinavian dish, it's actually a concept that's fairly common throughout Europe. Bagna Cauda, for example, is an Italian holiday treat that translates into "hot bath."
This involves a garlicky anchovy-based oil sauce that's used to dip vegetables into. The sauce can also be dripped onto slices of bread, and then quickly eaten. It's incredibly tasty, and works well as an appetizer before a pasta dinner.
This is another must-have fondue on any list of popular recipes, simply because it's so popular during football season. It pairs well with just about everything—bread cubes, Granny Smith apples, vegetables, and yes, even wings.
Epicurious has a really awesome recipe for Beer Cheese Fondue. If you're looking for an amazing way to kick off Superbowl Sunday, this is a great recipe to try out.
Remember when I said I'm not a fan of cheese fondue? It's true, and that's why most of my go-to fondue recipes are broth-based. Most of the better items to cook in broth are meats, so it's a great "carnivore recipe."
When you cook your food in a fondue broth, the meat gets tenderized and the flavor imparts itself. This Roasted Garlic Broth Fondue is an amazingly smoky, spicy cooking tool. Your tastebuds will thank you.
No lie, I got this recipe from The Melting Pot—a fondue restaurant that has amazingly good food. After I first tasted this served with seasoned meats, I fell in love with fondue. Yes, this was the recipe that made me a fondue fanatic.
This recipe works amazingly well with a dry red wine like merlot, and honestly, cheap bouillon cubes are the best option as far as the stock goes. I personally love it with curry shrimp, curry chicken, and steak topped with pepper.
Most people assume that seafood just doesn't mix with most fondue recipes, and they'd be right. There's only so far that salmon and shrimp can go in a chicken broth, you know.
Kraft Foods actually came out with a really delicious recipe for fondue that's completely geared towards maximizing your seafood enjoyment though. The tart, salty, and spicy combination of ingredients brings out the taste of both fish and crustaceans in the best possible way.
Thai cuisine is super hot these days, so why not add a little Thai flavor to your fondue recipes? If you're a fan of pho or are looking for pho for beginner-friendly recipes, you might want to check out this unique recipe I found.
Rather than use cheese, this recipe will teach you how to turn coconut milk and spicy chili into an amazing dip. It's absolutely a wild twist on classic fondue.
If nothing else, fondue is a truly exotic treat. It's a way to travel the world through your living room, really. If you have ever wanted to try something a little more Asian when you're dipping your fondue forks into a pot, give this recipe a try.
Though the author suggests using beef and turkey as the meats of choice, I find that this recipe also works very well with shrimp and chicken. Really, though, just about any meat will work well here.
I know that dessert fondue recipes are a thing, and honestly, they're totally worth it. The mess that they make is tough to deal with, but even so, you can't ever get enough of that craving from your sweet tooth sometimes.
Making a good chocolate fondue is easy. This recipe will give you a quick, simple, and delightful way to get your dessert on with your favorite fondue pot. Perfect for any dinner party or date night, guaranteed.
About the Creator
Ossiana Tepfenhart is a writer based out of New Jersey. This is her work account. She loves gifts and tips, so if you like something, tip her!
Reader insights
Be the first to share your insights about this piece.
Add your insights