You Left, But I Have Questions
They said you loved me, but...

Photos of my mother
A Letter to My Birth Mom,
If you listen to everyone talk about my arrival, I was unexpected but definitely wanted to the point where I was apparently celebrated and spoiled during the course of my formative years. But when I was four, you left my father for a new life that somehow couldn't include me.
As an adult who has experienced divorce, I get that part. You were taken away from the only life you knew, taken to a country that didn't speak your language and viewed you as a foreigner, married to a man whose job kept him away from home more often than not. So, you walked away.
But you also walked away from me. And I suffered for it at the hands of an abusive stepmother who resented the burden of someone else's kids. I was not safe. I was not protected. I was abandoned.
When I was 8, we lived in Germany with my father's third wife. You and your new husband also lived there, and you apparently sent a gift I did not receive, because it was baby toys. How did you not know how old I was? Why did you not insist on seeing me?
When I was ten, we lived in Texas again. And so did you. You made one attempt -- one -- to reconcile, and when it failed spectacularly because I was angry, because I told you through all the heated emotion that I hated you and never wanted to see you again, you took me at my word.
Not one word in the 37 years that have passed since that fateful day in the park. The anger is gone. The hurt is a dull ache, like a deep, unhealable bruise, in the center of my being. An echo that gets louder around my birthday and Mother's Day.
Ten years, I started searching for you. Then, I just wanted medical information, as my health had begun to decline in ways that were most likely due to genetics, but not from my father's side. I didn't want to know you. I didn't want the excuses. I didn't want anything beyond that.
And you deserved nothing in exchange.
But in 2016, my father had tucked an envelope in our Christmas box that contained... well, let me just share it from another article I wrote:
Tucked into the box full of presents from my parents was a standard white envelope with my name scrawled across the front in my father's hand. I slipped it from inside and the weight, the thickness piqued my curiosity… what had he sent? I wondered as my fingertips slid over the six letters of my name.

I flipped the envelope over to find it unsealed and filled with photos… of her. My heart stopped, trapped behind the breath I'd inhaled and held as the heat of fat tears gathered and fell from my eyes.

Pictures of her.

In my hand were memories, parts of my history that I didn't recognize, with faces I knew — my father, my granny — and her.

"I look just like her," I whispered in the silence surrounding my family at the sight of the steady stream of tears and small noises. I turned the picture of her at the table I'd grown up at, in my granny's house, to my husband. "I look just like her," I repeated.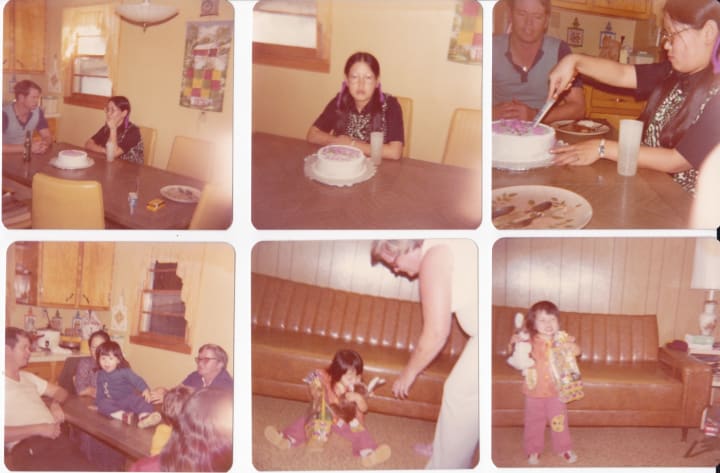 I'd sat in that chair against that wall. That expression has peeked back at me from many a mirror and selfie. All these years I'd thought I wasn't Korean enough, different than my siblings who are undeniably Asian. All these years, I was wrong.

I look just like her.

There aren't any dates on these pictures, but I must've been maybe two? That would've made this her 19th birthday. I hadn't known she had celebrated any birthdays in Tennessee. I vaguely remember Christmases out there, but Easter? No, no Easter. Was she pregnant again in those table pictures with either of my brothers? I didn't remember Granny's house without a porch (granted I was around 1 year old in that family picture).

I had pictures. Granny had made sure of that after I became an adult. So I'd seen the wedding dress and my father's pink shirt. So seventies. But the rest? These pictures were a stranger's recollection, not mine, though clearly, I had been present in their creation.

We looked happy, the three of us. Sure, we were young, all of us, and maybe they still loved each other then. Maybe she'd been happier then. This must've been the brief period of time when everyone agreed that I was so wholly loved. Before everything fell apart.

The last picture floored me. Not so much because of our continued shared appearance, despite her lack of glasses and smaller frame. She was older there, somewhere I didn't recognize. Korea? America? No clue.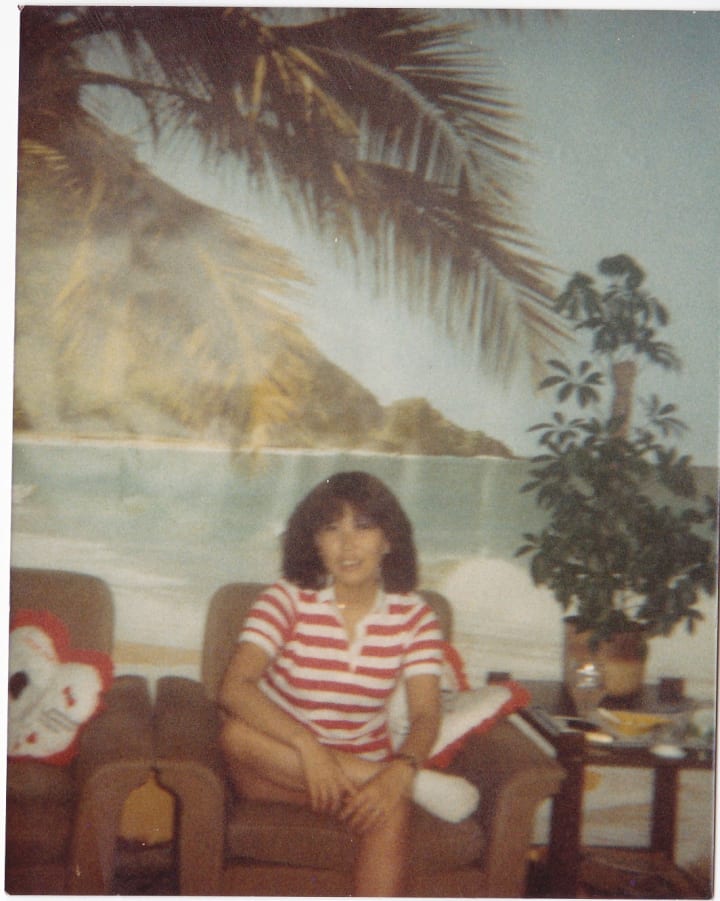 I'd stare at her blurry features for what felt like forever, and when I flipped the photo over, I stopped breathing.

"I don't understand," I'd whispered. I looked up at my husband again, that face that wasn't sure how to help me as I fell apart. I handed it to him, because then the words would be real, then he could explain.
I had no interest in meeting with her again after that disaster at the park in El Paso, Texas, until I got sick in my mid-30s. But even then, it was strictly for medical information. She wasn't my mother. She sure as hell wasn't going to be a grandmother to my children. She left me, dammit, and I wasn't about to reward her, when she clearly didn't care about me.

Except now, holding that picture in my trembling hands, the whole story was starting to unravel. You don't ask for pictures or updates on children you don't care about. You don't sign 'Love, Mommy'.

The whole story I'd been fed my whole life, had it all been a lie?
After that, my want of you changed to a need, and I poured money into DNA tests, family tree services, and searches to find you to no avail. Like you had disappeared off the face of the earth.
Like your abandonment had no option but permanence.
But I'm still trying, despite the fact that you seem to have given up.
You deserve a chance to tell your story. And I want to let you know I turned out all right.
Your daughter,
CL
parents
divorced
children
About the author
Writer | Mom | Wife | Nerd | Mental Health Advocate | Democratic Socialist | Atheist
Alphabet Mafia: Bi/Demi She/Her
Published award-winning paranormal author of the Zoe Delante Series (www.readzoe.com).
Reader insights
Nice work
Very well written. Keep up the good work!
Top insights
Compelling and original writing

Creative use of language & vocab

Heartfelt and relatable

The story invoked strong personal emotions
Add your insights