Why I Love Having a Little Sister
As an Adult...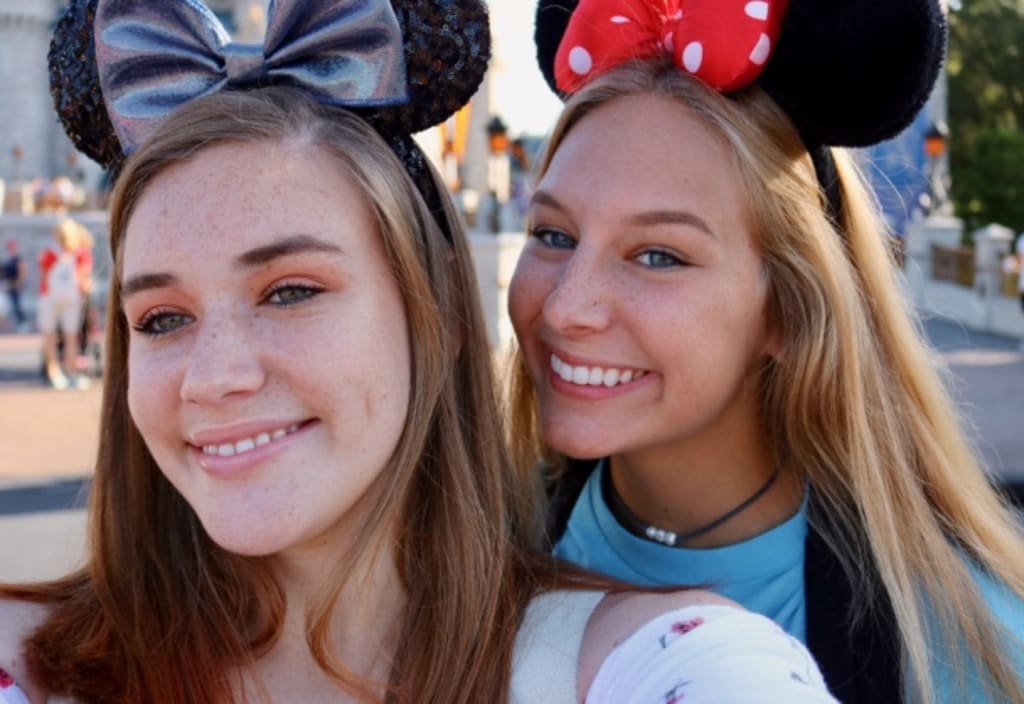 Having siblings as a kid is the worst thing to ever happen to you. You have to learn to share your toys, food, and most importantly, your parents. This is a hard lesson for children to learn. It can be hard to share your parent's attention, especially if you and your siblings are very involved in school.
My sister is three and a half years younger than me. Growing up, we never got along. We would constantly fight or argue and were never in the same room for longer than a couple minutes. We honestly couldn't stand each other. Everyone knew it. We got along only when we had to; in front of other people's parents, and mom and dad's adult friends.
She also had all of my mother's attention growing up. They were best buddies and I was a daddy's girl, even after he left. For some reason, they just got along better and I was always sort of "third wheeling" in my own family. I think it is because I had my father to myself for the first 6 years of my life, my sister never really saw him at all. They don't have any sort of relationship or anything. Even less of a relationship than I have with my mother.
I am much quieter than my sister. My favorite activities include reading and writing, while her's include singing, dancing, and acting. If you can't already tell, those are very opposite activities. She was always very loud, very funny, and was always at the center of attention. On the other hand, I absolutely hated having any attention focused on me at all. Back in the day, this is probably why we didn't get along.
Today, it is the reason we do get along.
My sister is now a senior in high school and I am a senior in college. What we once thought made us hate each other, now makes us love each other. We are exact opposites and that is what makes us such good friends. She is my best friend in the whole world and I really don't know what I would do without her.
She is most certainly the ying to my yang, the white to my black, and absolutely everything I've ever wanted to be in life. She is incredibly gorgeous, popular, funny, and she can sing and dance like nobody's business. She is not afraid to be on stage and loves to be right in the center of it. This is everything I have ever wished to be in life. Unfortunately, I cannot sing, or act, and have stage fright so bad I can't even raise my hand in class to participate.
This makes our personalities mesh and I learn things from her every day. If you have siblings and you don't quite get along yet, don't fret. Give it time, and once you get older you will realize that having a sibling is the best thing in the entire world. You instantly have a best friend who you have grown up with and knows everything about you and your life.
We were probably 17 and 13 when we finally began to get along. This is when she began coming to me for advice on things that she couldn't necessarily go to our mom about. We would have mini sleepovers every night, but the best part was, we both got to sleep in our own beds!!
It is the best friend that you are stuck with for life, which is better than any friend you could ever meet. Be grateful for your family and the blessings they have given you, which are your siblings, of course.
The day I began writing this article we were having a sleepover at my apartment, and she had fallen asleep next to me while watching Season Two of Stranger Things. I happened to look over at her and notice her sleeping and began to cry thinking about how much our relationship has blossomed over the past two years.
If you aren't best friends with your siblings yet, give it time. I promise things will turn around as soon are you are old enough to be at a point where you can bond over things you like without getting angry at each other. It will happen and you will be so grateful for it.
siblings
23.
Just trying to, like, realize things.
Receive stories by Kennedy Kovalick in

your feed