Three Days Late
Family Friendly Behaviour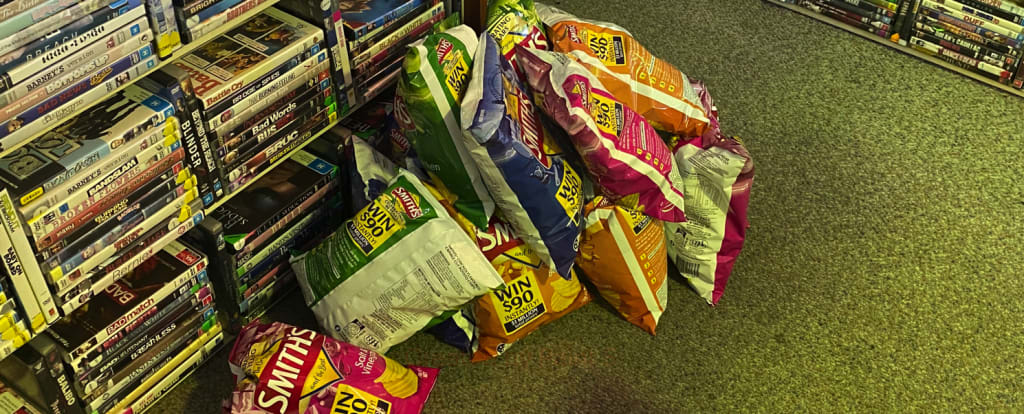 Carl insisted, for some unforeseen reason, now was the time to help his little sister, who had come to visit for the week upon deliberate circumstances of having nowhere else to stay between moving states and having just sold her only mode of transport (which could have doubled as a place to live). Now was the time he'd offer, in a manner as if it were his own desire, to return the DVD's she'd hired from a nearby, but not near enough in walking distance, rental store, which also sold used DVD's. Frayer had waited for his interest to surface in desiring perhaps a new DVD to purchase, so she didn't have to ask directly for his service of taking her there, despite the 40c per day late fee slowly compounding against her will. After a swift and possibly exciting interest in the small venture took them to the car, doors locked behind – the drive which followed was silent. Frayer's close to comfortable feeling of being part of the family at once, was only at once, and now gone. The two DVD's en route for return, Elephant and Shutter Island, steady in grip for the next twenty minutes as Frayer sat silently and attempted to move only with the motion of the car and not against it, in response to Carls faintly erratic driving. Poker faced in embarrassment partly for thinking for a split second she had a moment to gain a situational heart-warming connection and partly for not having watched one of the movies in grip of her hand for a painstakingly long amount of time now. Gus Van Sant's direction of an arthouse classic, now contributing to the mixed emotions of a young girl sat on the real leather of a car seat, as opposed to the faux leather that finds itself in a sea of rows in theatre.
As somewhat expected, but not entirely anticipated on a metaphysical level, Carl didn't follow Frayer into the tall, shellac-light-like covered building. A place she felt most welcome, always jerking a smile from the nameless man who occupied the place for likely only just 12 hours every day for as long as he could remember. After so many years, the man who fails to introduce himself to new guests, is so comfortable not only that no one can replace his position, but also that if he were to open the door 7 minutes late, 7 days a week – no one would know, nor care even so. Frayer perched the two returns silently upon entry, no one yet at the desk. She crouched down for what had to be the 42nd time, on the familiarly unkept carpet down by the letter B section of the 'Ex-Rentals' available for purchase; in search for something she knew wasn't there. A voice popped up in greetings behind the shelf, a note of pleasant surprise of her appearance, then moving over behind the desk.
"Only three days late", the man spoke, in a harmless tone of hoping such news would make her feel better not worse.
Without mention of the salted glass of the popcorn machine which held no contents, the two held a painstakingly shallow conversation of her intended travel's interstate, which begged much more talk of the importance of family than it served. The man does his job well, he says enough to make people feel welcome, perhaps making every regular feel the most regular, the same way a good teacher makes every student feel like their favourite - and so, never saying a word too much or too little. One may beg to differ with the nearing-pungent stench, but no one could possibly break a nervous sweat in his presence.
Frayer made an abysmal attempt of searching for a few films she had in mind to add to her collection. Anxiety fuelled an all too familiar feeling of the time when Carl waited in the car after taking her to antique book store near her old apartment; the same kind of feeling when you're reading a book and you're eyes are moving across and down the lines but you're actually thinking about something else and not a single phrase of the author is welcome to comprehension. Five minutes spent only being able to read the spine of the DVD's which appeared in bundle of multiple copies, was five minutes too many. The truth of the situation is, Carls stubbornness would mean that whether Frayer spent 4 minutes, 5, 35 or 90 minutes in the store, his reaction would be the same, a false reaction of being unbothered and of Frayer's actions being of no inconvenience.
As she paid for the anticlimactic late fee which totalled to significantly less than the cost of the Triple Butter Explosion Microwave Popcorn which Frayer insisted on purchasing for herself purely out of habit – she saw, as if somewhat surprised, the open box of Twinkies which live next to the always empty Popcorn machine on the front counter. A picture-perfect prop for the setting, they sat uncomfortably close to each other, glistening, sweating in their plastic packaging and proving less appetising than intended by whoever made such a purchasing decision for the store. Frayer knew her brother once had an obsession with the luminary status of the American treat, and yet her fear that he would justify his loss of interest, or disgust with its lack of freshness overtook her desire to make the possibly thoughtful gesture. The possibility in thought drove her home in much the same manner her ride there, instead this time, her grip held her blue and yellow package of popcorn which in her mind only, screamed selfishness.
Upon entry of the distant family home, her step father sat at the second dining table with an open diary and multiple business phones. On the far side of the room, the other dining table, where sit her notebooks, headphones, a glass of water, laptop, pencil case and a Little Black Classic Penguin book 'The Death of Ivan Ilyich'– far too much to carefully carry past her father in one trip without him making a pitiful offer of his hand. And so, one trip down, done so with many clenched jaws and intricate mental planning of her next, second and final trip from the dining area to the bedroom, she swiftly collected her clear pencil case, laptop and now very slippery looking airpod case. Her movements were as if when one attempts to draw a perfect straight line as opposed to the safer, more rehearsed option which forces the pencil back and forward along a ruler.
Frayer failed at executing the habits of meditative behaviour which allow one to relax in such a simple situation. Her once medically diagnosed case of Obsessive-Compulsive Disorder now in its finest form, unnecessarily interfering with her posture and pushing her eyebrows slightly together with tension of concern. She were moving her tongue around her mouth as if she were, after consuming a slightly too large spoonful of one of those cheap chocolate mud cakes from the supermarket, attempting to remove it with her tongue from the roof and sides of her mouth as it stuck to both upon every adjustment of her jaw. From the outside, her lips taunt, glued together as the muscles surrounding force her lips around which are now in a position to kiss, moving in anticlockwise, then clockwise directions, never separated. She unknowingly glances away as if to stare at the details of the linen cupboard skirtings as she walks past and slips into the room she stays. Though she should be thankful, as the state of her expression would have brought upon the conversation she initially intended to avoid.
After avoiding the simple effort of rearranging her belongings which buried the desk in her (the) room, the overly expensive desk gave a sense of potential to harbour productivity and a wealth of ideas, only once bare and tidy. And yet, once uncovered, the habit of picking up her mobile device she claims isn't a necessity, was all too easy. It wasn't the desk that sparked the works of her mind, instead the phones careful ear and genius, bottomless capacity to regurgitate variations of her own recent interests – Death by Chocolate, a challenge advertised among other programs of the arts in between countless meaningless posts made by those she knew and didn't care enough about. Perhaps the start of something, although...simply an addition to her expertise of completing tasks she assigns to herself as opposed to those which demand her urgency.