The Ughhhh is real...
One day at a time.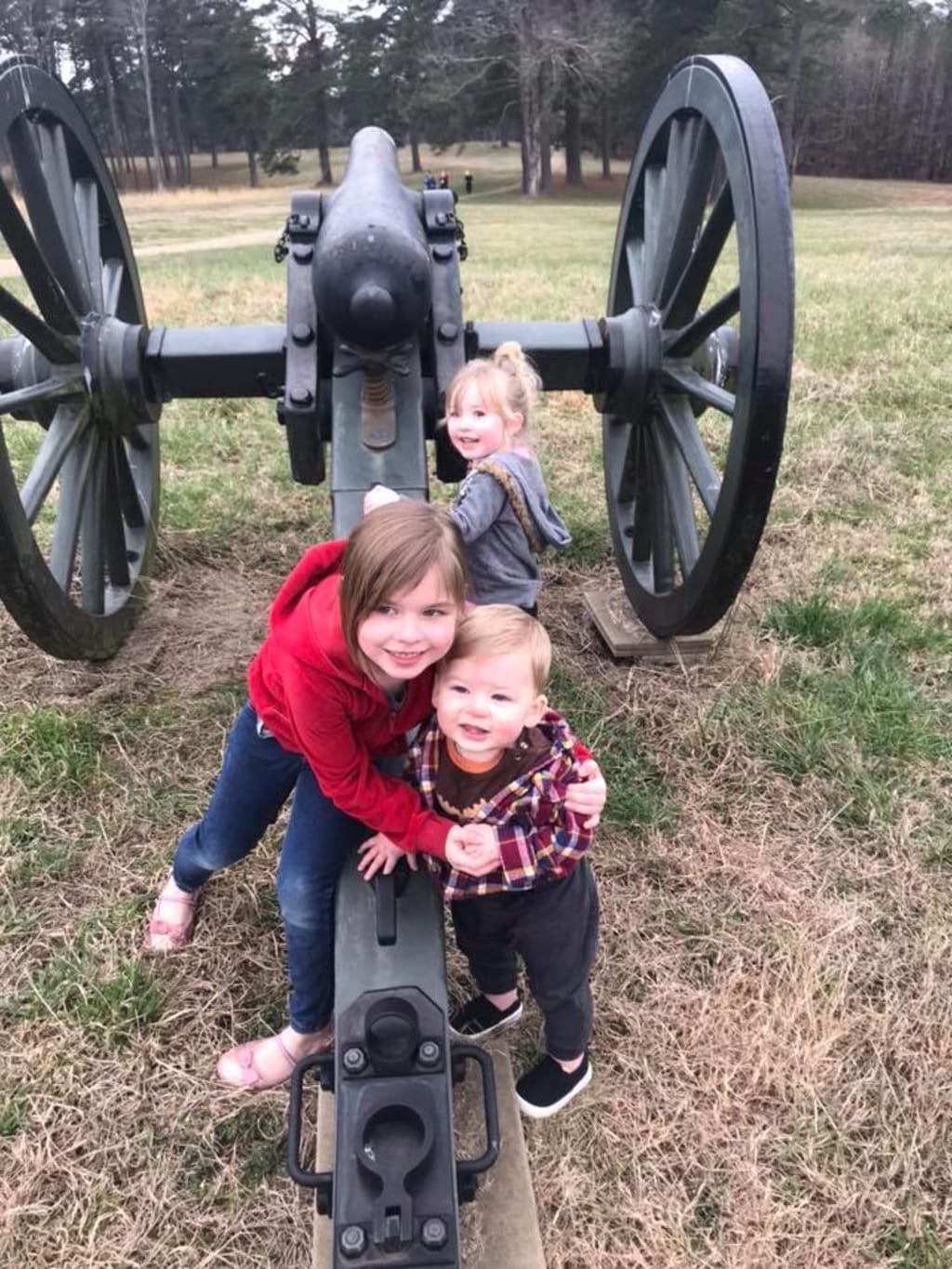 Biggie, Mini Me (in back) and Junior (Petersburg VA battlefield)
First off I want to set the record straight before I go any farther in making said record... I love my husband and I would do anything for him and he has given us a pretty great life, especially from where we started out at ten years ago... But other than that I hope he gets hit by a dump truck some days. He is a great father and husband and we have a very weird relationship where we are always smack talking each other but it works for us and it keeps us on our toes around each other too. I wont lie I am one of those people that you should not put on speaker phone if that helps in gauging where we stand on the kind of people we are. So now that the holidays are now in full swing because I guess Thanksgiving didn't count... My husband has become Grinchier than he normally is which I should be use to after ten years but I'm not. I love the holidays and a big family get togethers and Christmas very much, he hates it with the intensity of a thousand burning suns (in his words) and I did everything on Thanksgiving with cooking and planning to go to a neighbors house and taking care of the kids while I rushed around the kitchen. Only did it come to me tripping over children did I lose my shit while the hubby sat on his Call of Duty game fighting with internet people instead of helping inside the real world. Fine we managed to get through the holiday and survived to the next weekend where he yet again sat in front of his game and ignored me and the kids again. (yes I get his job sucks let me whine, I didn't say anything that weekend either) then last weekend he had staff duty (army thing) and had to work Saturday night and sleep as much as he could on Sunday. Which is fine; but he got up and went right to his games and ignored us again. (and the butthole says I need to spend more time with the kids... I thought that was what I was doing as a stay at home mother...)I get it life isn't as exciting as we hoped it to be with three kids and me going to school and him working terrible hours but we have managed to get through it all. Just sometimes I want to drop kick him into a weekend where I acted like him for one afternoon and maybe he would change his attitude. Even just lighten up for Christmas for the kids, hell I have done all the Christmas shopping for his parents my parents our kids and teachers and now I must bake like 10393848 cookies for Thursday … I am lying. more like 40 but still. I want to be dramatic once in a while. Through out all of this I may have some issues with depression and anxiety and stress I eventually get out of bed each day and night over and over and over... and over its like a never ending torture wheel. I have been working on my comic for about 15 years now and that really is my first baby it has been published and I was proud of it when it was published a few years ago but now I have panicked again because it is not perfect like everyone else in the world and I tired my best to make it perfect and bought one of those Gaomon tablets (it is amazing if anyone is interested) (my opinion for someone who is just getting into the drawing scene for digital work.) I lothed how my first two books came out my original publisher didn't help or give feed back they were just happy to take my money and I wanted my book to be great and now looking back after writing the 5th book for the 4th time I went back to the original way of doing things because that is the way the story needs to be told and I am so much happier with writing it... The reason I bring it up is its a good stress reliver. It even got me to connect with my kids on a level that I knew would help us become closer and even enjoy being around each other without fighting (a miracle in its own). We draw together and paint (even though painting is a nightmare when we try to do something fun.) So now that I am done venting about being married to the Grinch I will go and talk about my day (yay). Junior and I went all around the Petersburg Battlefield here in Virginia today its beautiful and we go often, it was freezing today and the wind did not help set the excitement of walking all over the Battlefield but I did get some great pictures. Even though we don't have Biggie and Mini me with us its still a great time spending time with the last child in the house. We were having issues on figuring out what Mini Me wanted for Christmas, she doesn't ask for much due to being the middle child I don't ever want her to feel left out so she wanted a kitten, Grinch said no. (we have two dogs) and Biggie wants everything (of course) we finally got Mini Me to tell me what she wanted for Christmas.... and it did not come out like I expected it to. She asked for Five Whores. for Christmas... Grinch said that would be a little hard to find... Very funny.... after much confusion we figured out she wanted five HORSES.......... After the fun at the Battlefield we decided to go to Sam's club and get some groceries and pizza (yes I will confess they have the best pizza) I ended up carrying him out of the store like a football when I had to break his heart over not getting the 20,000 toys he picked out. (It's all Santa's fault.) I was telling Grinch about our adventure today while he was on break and he had a good laugh at me over Junior, being three must be so hard. We had to return stuff to a few different stores today and I tried my best to get some cash in my pocket but all the stores now want to put it back on the card... no fun and no extra snack stops this time.... foiled by capitalism. So I guess after all the stress and arguing over everything I am right no matter what and Grinch will always be a Grinch and I will have to carry my screaming 3 year old out of a few more stores and watch my girls grow up and keep up with my shoddy book and finish college without losing my mind completely... One day at a time I guess.