The Skies Are Burgundy.
by Arlen Fuentes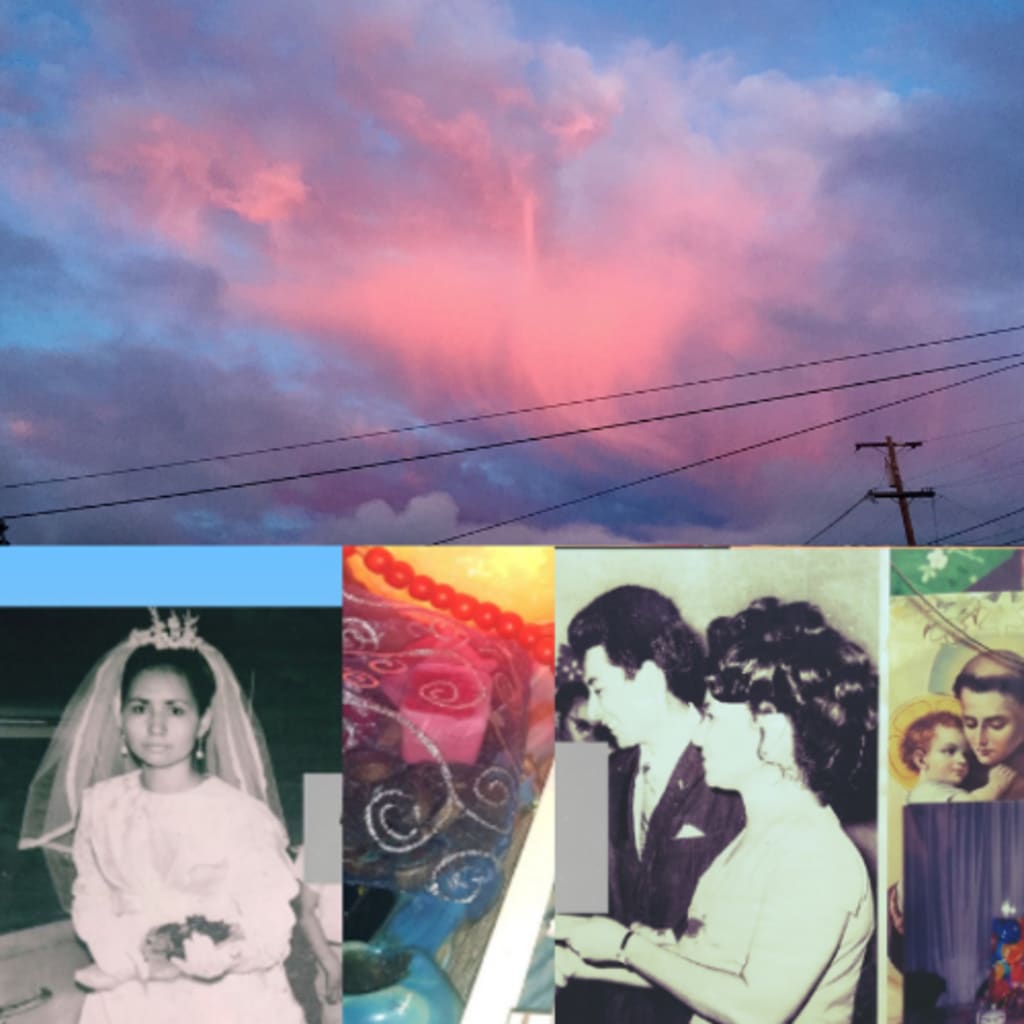 Collage created by Arlen Fuentes
An invigorating summer breeze is sauntering its way through the canals of the great Tatra Mountains, near the town of Zakopane. I'm Ten. I'm roaming up a grassy green hill that is illuminated like a psychedelic moonscape.
Aunt Vita has sent me out into the woods to gather mushrooms for a soup, it's 1945 and food is scarce, we often go to bed with empty stomachs, I don't mind it as much as the emptiness I feel when missing my mother, who is my world, but sadly the World is at war and no one seems to care about the gut-wrenching loneliness and disparity of a Jewish girl.
I'm supposed to be fetching mushrooms, when I take a detour, up the hill to the open terrain where there is not but one single Oaktree, standing majestically against the backdrop of the Ice Cake Summits. You sit under the helms of the Tree, staring out towards the remarkable view, our thoughts bedeviled with all the atrocious and unfair events that have accumulated over the course of the last two years. I've escaped death, but is Mother still alive? She told me the last time that I saw her, knowing that I'll be safe and away from harm were the tools she needed to survive.
I'm deep in thought, everything around me is still, the skies are in burgundy, an afternoon chill is caressing the surface of the summer dress, Aunt Zophia made for me, from burlap and wool. It's July. My blue eyes are glued to the dirt that my fingers are caressing, my fingernails caked in the earth, my blonde hair is greasy and messy. I'm in the confinements of my own private world when a noise that resembles a swarm of Bees,
Zzzz Zzzz Zzzz
, orchestrates in the sound-drum of my ears. At first, we relate this noise to the insects that inhabit the woods, when suddenly the noise heightens, the earth begins to quake. You look up, looming over the mountains, comes a symphony of wings, hundreds of American planes, heading east, materialize into our visional frame. You smile with profound admiration, clinging unto the hope of liberation.
This delightful unfeigned moment is interrupted by another noise, one that has become synonymous with your childhood: Gunshots. The German artillery is launching a full-force attack on the Americans, we are watching the battle rage on, some of the heroes planes blow up in flames, the men in parachutes, fall from the skies, we pray for them.
I must have sat in the woods for hours, completely hypnotized by the air battle,
when in the corner of our eyes we see a figure approaching. You turn around, it's a German Officer, who is pointing a revolver at your face.
You don't move, you accept your fate, hear one last violent explosion from a bombed plane, a noise that coincides with the soldier pulling the trigger, my scream is caught in my windpipe, I surrender.
I'm dead, lights out
Boom.
I wake up gasping, in excess sweat, I feel the surface of my bedsheets which are completely drenched. I'm still alive, it has just been another night of obtrusive dreaming. How does one go on living? I ponder this thought, as I sit quietly with my morning thoughts, and gather enough strength to get out of bed, it's a quarter till seven. The year is 1997 and I am Sixty-Seven years old, it's time to get up and face the world. Time for me to fix breakfast and take a shower, put on my makeup, fix my hair, get dressed and attend to the business of the fabric store, I had opened with my mother, twenty years ago. She lived to be 94.
I start my day and go about my morning routine, which includes petting the siamese cat, Zelda, who waits patiently for my affection, in the kitchen. This cat has outlived my husband, who rescued her, from the wild streets of San Francisco, the summer we moved here, from Rochester, in 1963. Ethan Becker, was a tough businessman, yet a kind and giving soul, who amassed our family's fortune by buying and renovating old apartment buildings throughout the city.
This building, where I live was the last in his collection of properties, he acquired it in August of 1987, three months before Abraham took him to the gates of heaven. A piece of me died when the lung cancer ripped him from me. I still set his place at the table for dinner, and no one and I mean no one, has ever occupied the mahogany armrest chair, he bought during our cruise of the Mexican Coast. We didn't have children, he couldn't and I didn't want any. A devastating childhood will make you rethink about bringing life into this world, when life hurts you beyond reasonable measures, the scar lasts a lifetime. I never want children to suffer.
The kids of the apartment building, became like my offspring, of all different backgrounds and ethnicities. During the course of the last ten years, I have seen many children come and go, grow up, and become older. Each one held a special place in my heart, but none like Toyo.
Toyo's Take, Interlude 1-
I meet Zophia Becker in the winter of 1989 when Mama and I moved into the apartment building on Valencia and 27th Street. We arrived in the states in 1987, when the war in San Salvador was getting ugly and heavy, and eventually claimed the lives of my father, a farmworker, and three older brothers. One morning, in early April, mama woke me up before sunrise and told me to hurry and get dressed, we were going to disappear, leave before they came back for me. I had just turned ten and the militia was actively recruiting boys to become child soldiers.
"Hurry Victor! The truck leaves in half an hour" I cringe, not at the request, but at the sound of my name, I prefer my nickname: Toyo, which is what we call Victors in El Salvador. Before we boarded the truck that would take us to Guatemala and then unto Mexico, Mama gathered soil from under the pink tufted Maquilishuat tree, that had stood there for many of my family's generations, putting the dirt in a small compact case.
"This will be the last time you see it." Words from Mama, who made the sign of the cross as she boarded the pickup truck, as we drove off my eyes began to tear, Mama grabbed my hand, as I overlooked the countryside fields, the land that saw my birth. Would I ever return home?
For two years, we stayed in a shelter for women and children provided by the same church that came to do missionary work in my hometown of Soyapango, a year before the war erupted into unspeakable violence. Papa had left buried a bar of gold, he had inherited from the wealthy Spanish family, whose fields he tended to for many years. This was our ticket out of the country, we were smuggled through two countries, before reaching the United States Of America. For two years, we stayed in the shelter, before the social workers, found us a place, by this time I was fluent in English and mama was working at a factory, where she assembled Levi Jeans.
I remember the day we moved in, Zophia was wearing a black taffeta dress, with long sleeves and a black shawl, covering her long white hair. She had just returned from the Synagogue. Our first meeting was formal and courteous. Her blue eyes had a dauntless undertone of sadness and mystery, she told me if there was anything she could do for us, all we had to do was ask.
Never in my wildest dreams, thought of the impact this woman would have on my life.
I arrive at the shop, where Keza, my store manager, greets me with the same silky tone of voice she has, for the last two years. She's this beautiful statuesque young woman, that escaped the Rwandan genocide of 1994, with her family. She was hired, after my former manager of eighteen years, Benjamin, kicked into gear and stole close to 15,0000.00 dollars from the business. He was never caught and I was left behind with a feeling of distrust and paranoia. It was Keza, who dismantled my narrative of the wariness of hiring new staff. This young lady was in college, drove her own car, and owned her own checkbook. She was modern and I was the past and it was the past that had been playing heavily in my mind lately, making me sicker.
"Did you go to your Doctor's appointment?" She knew the answer was a No. For more than a month now, I had been experiencing pain under my left chest cavity, twice now Keza has had to reschedule my appointment. Anxiety was always lingering in my system, which flared up my pains, yet I refused to go to my Doctor, for I already knew by then, the outcome was not going to be pretty.
"I'll schedule you a new appointment, but please try to make it, otherwise I'll carry you over there myself" She stood at 6'1, an older lady like me didn't have a chance.
I go into my office, closing the door behind me. As part of my daily ritual, I journal in my little black book, which I keep tucked away in the confinements of my desk. In this little black book, I write my dreams of the night before, my thoughts and woes, the memory of how I met my husband, the spring of 1954. In the auditorium of the Dryden Theater, back in Rochester, I can still see him in his cream-colored suit, smoking cigarettes. I sat next to him on purpose, while we enjoyed a screening of Scarlet Street starring Edward G. Robinson and Joan Bennet. Halfway through the film, he begins to hold my hand, we married a week later. How I wish so badly, that I entered the other realm to be with my husband.
I'm reminiscing about my life assiduously when Keza knocks at the door.
I open it, she informs me not to forget to call the mold removal company. For about a week now, in the bathroom, mold has begun to grow, contaminating the ceiling. Above the bathroom, is the attic where we store most of the inventory, this issue needs to be resolved fast.
"I'll get on the phone right now," I tell her, she looks at me with sincere compassion. "Are you okay?"
I smile at her, reassuring "I'll always be okay".
Toyo's Take, Interlude 2-
Zophia passed away, two weeks shy of her 69th birthday in the fall of 1999 after her breast cancer returned and eventually claimed her life. I was twenty-one at the time, but wise beyond my years. In the months leading up to her passing, I installed myself in her apartment, where I took care of her day and night. Mama had re-married, to a religious homophobic man, whom I never approved of and barely speak to till this day. She moved out while I was studying fashion design at the Academy Of Arts and trying to keep up with paying the monthly rent. It was then, that Zophia became ill again, and this time she asked me to move in with her. I was by her side till the very end when two weeks after her death, a lawyer knocks on my door with a check for 20,000.00 dollars. In her will, she had left her newlywed store manager , Keza, the business, and her apartment, while she passed on the ownership of the building to me. I think of her often and the final words she spoke to me: "You are strong, you are free."
The End.
literature
About the author
I'm a dirt person. I trust the dirt. I don't trust diamonds and gold.
-Eartha Kitt
Bay Area Raised 🌉.
Writer/Poet/Designer,
Son of God & California.
♍ 🇺🇸🇸🇻🇭🇳🏳️‍🌈
Reader insights
Be the first to share your insights about this piece.
Add your insights