The Sisterhood of the Traveling Book
"Reading should not be presented to children as a chore, a duty. It should be offered as a gift." – Kate DiCamillo
Once upon a time, there was this book. With blue stretched from corner to corner, its thin pages fluttered in the hands of my mother who refused to toss it after her sixth and last child was born. It sits on a bookshelf, wrinkled and worn like a second-hand book you'd find at a local thrift shop. But it wasn't second-hand; it was an heirloom, so to speak.
After a family friend gifted it to my mother when her first child, my brother, was born, she couldn't stop reading it. She always said it made her cry, and that's no surprise, as she is terribly sentimental. She read it to her next child, my eldest sister, and hugged and kissed her tightly, swaying while her index finger held the back of the blue-covered book, and her thumb grasped at the crease to stop the turning pages and to keep her eyes focused on each line. I had always thought, even as a mere child, it couldn't be that great. In retrospect, I had dismissed reading her books because I liked my self-written bedtime stories more. But then it was my turn for my mother to hold me, read to me, and cry on each page. Upon that moment, I changed my mind.
At 7 P.M. every night, my mother crept into our room, sat on a rocking chair, and pulled the book into her lap. She read aloud the words that hurt her but made her rejoice for ever having decided to have children. After continuing the tradition of reading this little blue book to each one of her six children, it remained on a shelf collecting dust. We graduated from reading short bedtime stories to reading great but thicker novels. But it never left my mind as I grew older; it was always looming at the edges of my subconscious. It wasn't until I was searching for new books around my house to read that I found our little, blue, and torn book. Sitting on that same rocking chair that my mother decided should remain in our house even after years of abuse, I began reading it again, rocking back and forth. That phenomenon happened in the same way it struck my mother like lightening: I began crying. Maybe it was the thought of my mother and the memory of the warmth of her voice colliding with the power of stories. Or maybe I became sentimental too. But I collected the book in my hands, my index finger grasping at the spine and my thumb, keeping the pages from turning.
Looking to my mother I said, "Do you remember reading this to us?"
She smiled. "Oh yeah, that book always made me cry."
"It's really sweet," I replied.
She went on to tell me that she lost her first child before my older brother was born, and the book became an heirloom of sorts because it remained a symbol for how much she loved her children, including the one that didn't make it. Hearing this news for the first time, I recoiled, collected my thoughts, and searched for information on the author and his inspiration behind such a sweet tale. To my surprise, his story resembled my own mother's. The author, Robert Munsch, lost two babies in his youth and dedicated each page to them. His thoughts, unfurling like a ball of yarn, colored each page with the memory of his children who passed. With my mother, she consumed each page with the thought of hers that did too.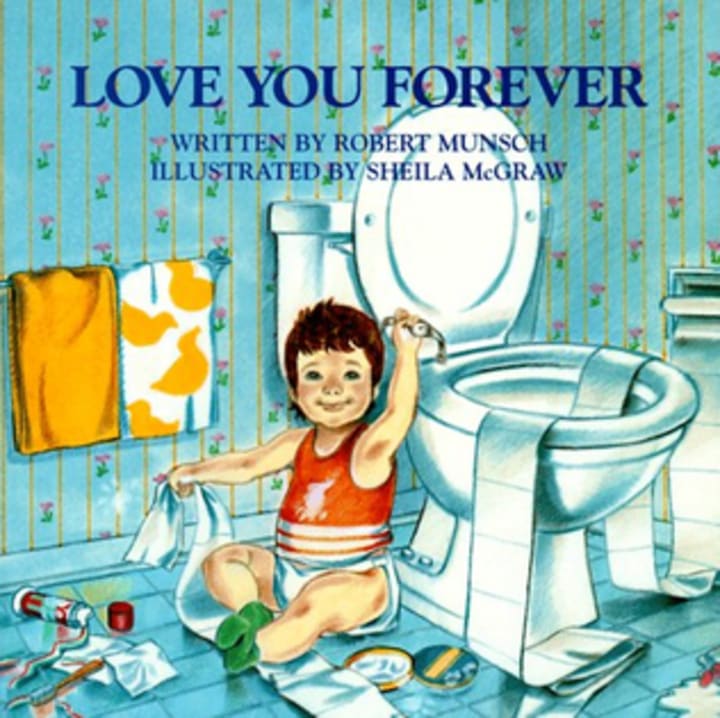 It wasn't until a few years later when my sisters and I decided to grab this book from our shelf and bring it our friend's houses to read to their kids. My eldest sister brought it to her friend's house first. Upon the birth of my good friend's first child, I took the book next and read it to the little tyke. Then, my three younger sisters repeated the tradition. It wasn't as though we couldn't buy the copy for them. We enjoyed the idea of sharing the beloved book with our friends because it was an heirloom afterall and therefore irreplaceable. My siblings and I didn't have kids, but we wanted to share the joy of the little blue book with others who had not heard of it. Reading it to our friend's babies, we began subconsciously reincarnating our mother: swaying, crying, and reading.
The first page reads: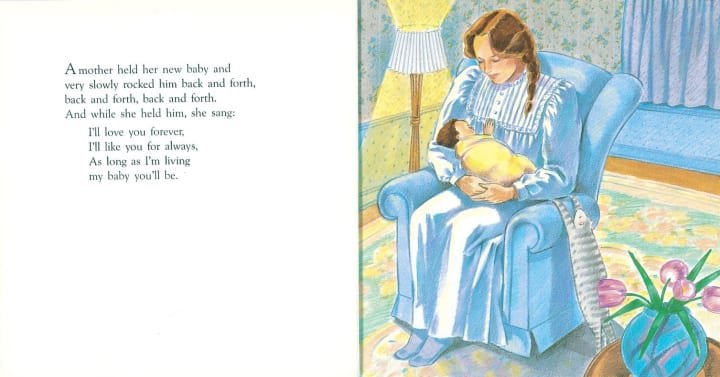 A mother held her new baby and very slowly rocked him back and forth, back and forth, back and forth. And while she held him, she sang:

I'll love you forever,

I'll like you for always,

As long as I'm living

my baby you'll be.
When I was seven, my mother sang the words to this little song. She made her own tune for it. I still can't get the tune and lyrics out of my mind. But the tradition of passing the book across sister friend groups continued for years. That is, until my brother had his first child. With the torn pages, we carried the book to his house, cradled the baby, and read the book and sang the song.
My mother adored this book for two reasons. First, she loved her children, and the story strung a theme regarding a bond that cannot be severed between a parent and their child. Second, the story follows the life of a young boy, growing up from page to page with a mother who couldn't stop telling him that she'll always carry him, love him, and sing to him. Sentiment? Maybe. But profound love is more like it; and that's why I can't seem to forget about it.
Love You Forever by Robert Munsch has been carried from one house to another for the past 30 years. Its tattered condition has not been mended, but no one seems to mind. The heirloom doesn't collect dust anymore but travels through each sister's hands and read aloud to babies that need to know they'll always be loved.
Once upon a time, there was this mother who loved her children so very deeply.
The last page reads: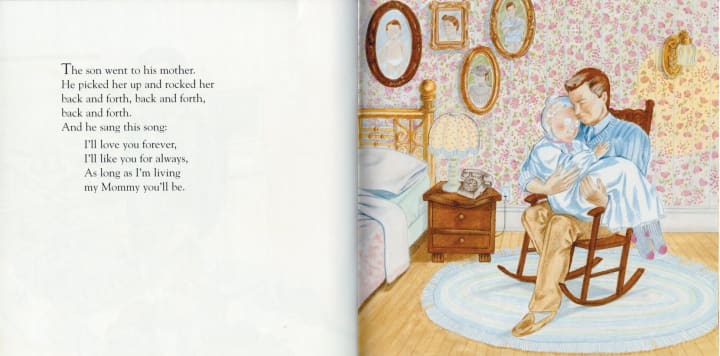 The son went to his mother. He picked her up and rocked her back and forth, back and forth, back and forth. And he sang this song:

I'll love you forever,

I'll like you for always,

As long as I'm living

my Mommy you'll be.
It's my mom's favorite part.
__
Thank you for reading! Any and all tips are deeply appreciated :)
humanity
About the author
I have a vast but useless knowledge of cinema, and I just really like writing.
Follow my film curating instagram page @thinkingnimages
she/her
Reader insights
Be the first to share your insights about this piece.
Add your insights