The Last Father's Day.
Thank you for being such a wonderful father to me. Daddy, please accept my apology for my selfishness.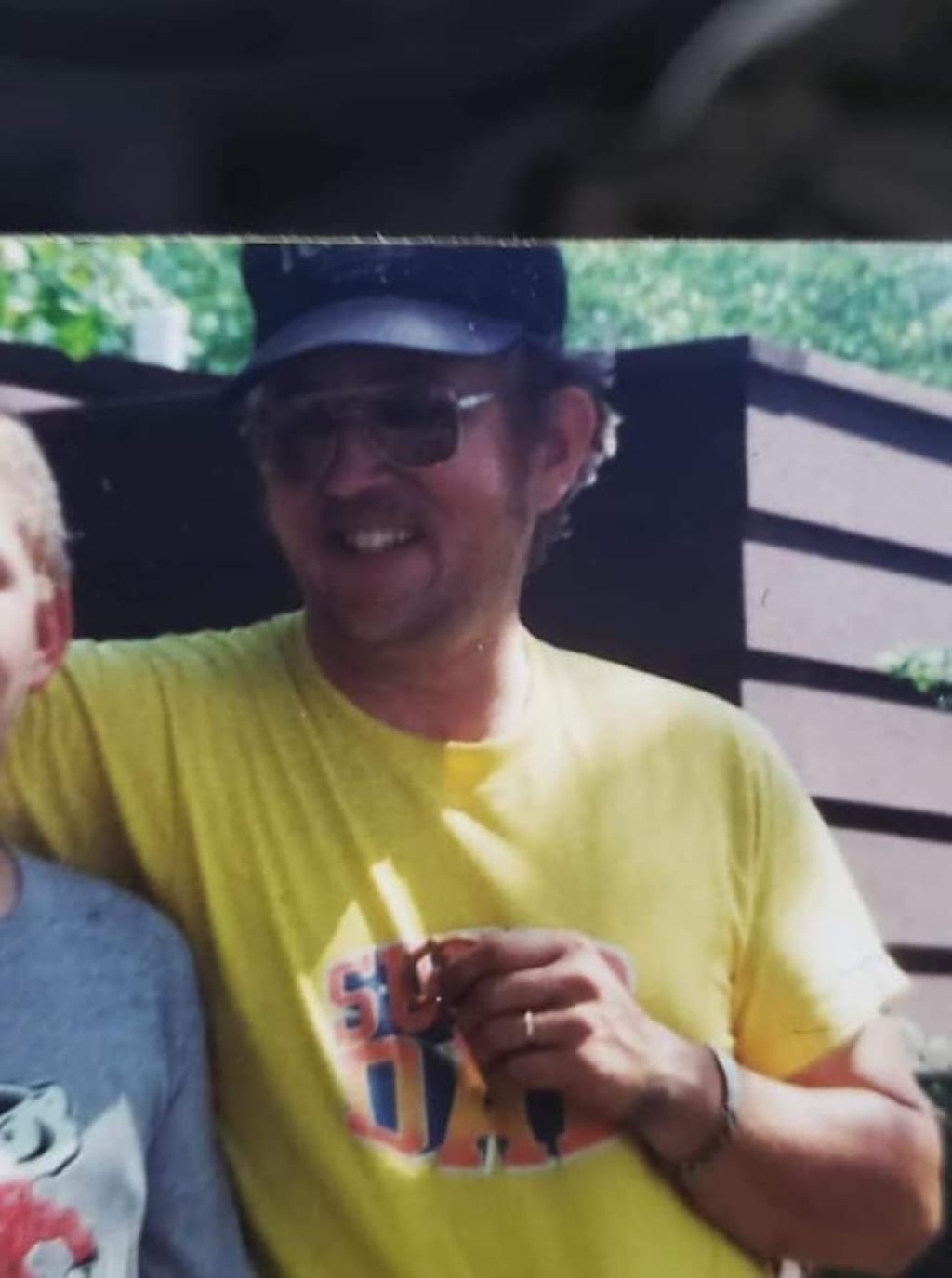 As the sun radiated against the cement sidewalk in the summer of 2002, a gentle breeze made its presence evident. The aroma of charcoal and the blooming flowers announce the arrival of summer. Taking a few moments to allow my lungs to expand in the warm Wisconsin air, I stepped out the backdoor of the home, which I shared with my parents, two brothers, and three sisters. Today is Father's Day, the day we celebrate the men who have devoted their entire lives to caring for us. My dad was the greatest person I had ever known. He's my hero, my daddy, my friend and yet, little did I know that this would be the last Father's Day we would spend together.
I used to cherish Father's Day so much, but now I only cry over it. I wish God would have spared you if only a few more years. My thoughts are with you today, daddy. I know that isn't anything new. You are always in my thoughts, you were there yesterday, the day before, nothing ever changes. The memories I will cherish until the day we can be together again. Until the day I can hug you once more, until the day that they can no longer take you away. I lost part of myself the day you left. I long to see your smiling face, hear your voice, smell your aftershave, and hear your laughter as I did when you were here on Earth, but alas, I cannot.
It has been twenty years since we last celebrated Father's Day together. It has been twenty years since we have been together as a family. We have not shared a meal together as a family in twenty years. Twenty years have came and went since we've seen the smile on your face as you unwrapped your Father's Day present and found a bright yellow Super Dad t-shirt and a World's Greatest Dad award.
Twenty years ago, we gathered around the kitchen table, enjoying a thoughtful feast of our favorite foods. It was a truly memorable menu and one I will never forget. An elegant honey ham atop lightly buttered dinner rolls warmed ever so slightly so that the butter could melt. It just hits differently, doesn't it, daddy? Creamy, buttery mashed potatoes spiced with chives, cracked pepper, and baby rays BBQ sauce. I will never forget the taste of sweet corn, rubbed with canola oil to bring out the natural flavor of being slow roasted. As you cleaned the corn cob in about five minutes, you dripped butter from your teeth. You used to sing a silly song whenever we had Bushes baked beans, didn't you? Do you still laugh when you hear it? Wasn't it so obvious what the meaning behind that song was? Nonetheless, we thought it was the funniest thing we had ever heard. Daddy, you know what? It's still funny.
It's time daddy, for me to enjoy Father's Day with my family, free of the emptiness in my heart and mind that has consumed me since the day you left. As I prepare to assist my children in celebrating Father's Day with their father, I also prepare myself to celebrate you, for the first time in twenty years. For twenty years, I have been selfish. I'm to blame for being so upset, not you. I'm to blame for crying so much, for blaming you for leaving, and for blaming God for taking you away from me.
I'm sorry for always thinking it wasn't fair that you left, and I had to stay. I want to thank you, Daddy. I want to thank you for being such a wonderful father to me. Daddy, please accept my apology for my selfishness. It is because of you that I am where I am. It is because of you that I have made it this far in life. It is because of you that I know how to love my children. Most of all, it is because of you that I know that heaven does exist, because no one as great as you would ever go anywhere but to heaven. Happy Father's Day in Heaven, Daddy.
About the Creator
Amanda Seaton is a 38 year old Content Creator from Wisconsin. She obtained her BS in Criminal Justice and Homeland Security from Herzing University in 2013 and her MS in Criminal Justice and Forensics from Capella University in 2014.
Reader insights
Be the first to share your insights about this piece.
Add your insights