The Girl who had No Voice
A short story about the affect my dads parenting had on me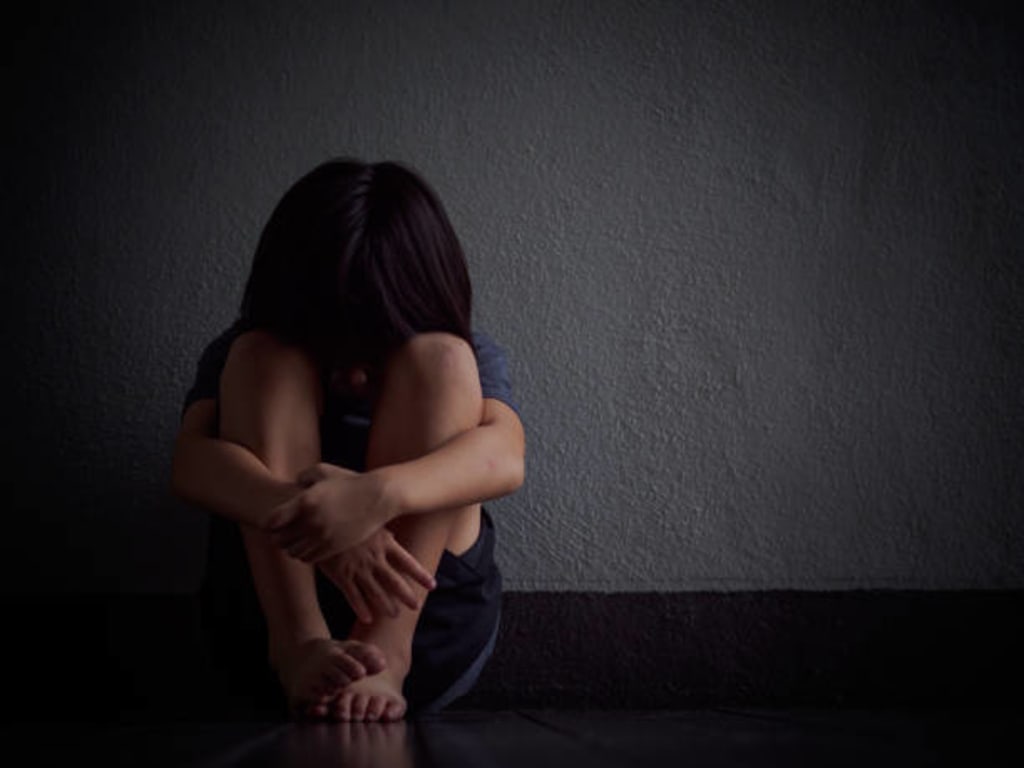 Dear dad,
Picture a little girl. It's night time so everyone in the house is asleep. But one bed is empty. That's her bed. She's down in the basement. It's unfinished, but one of the concrete floors has an old carpet on it. She lies on it, trying to fall asleep somehow. She's too afraid to sleep in her own bed. She's afraid of her dad.
That little girl was me. You were an alcoholic, but also abused drugs. I didn't know this when I was a child. All I knew was that you were constantly glassy eyed.
You were extremely unpredictable. One second you would be laughing at your own crude joke. Then you would suddenly be screaming. You were physically, and verbally abusive. And because you would change your mood so quickly, I was constantly afraid of you.
The best way to not have you come after me was to never speak, and never be seen by you. So I would often spend hours hiding during the day so that you wouldn't find me.
You were also selfish. All of the money you earned you spent on yourself. I remember one winter, when my feet were constantly frozen by the Canadian winter, because you wouldn't buy me winter boots. But I had to walk to school, and was sent outside for recess.
Because of your behavior I didn't had any friends. I guess that other parents didn't want their kids around you- and by extension me. I was very lonely.
Mom tried so many times to build a close relationship with all three of your children, but you constantly demanded all of her attention. You were jealous of any time she spent with us.
Once when I was lying on my bed in the middle of the day, feeling extra sensitive and in a lot of pain because it was my time of the month, you stood at my open doorway. You said that your life would be so much better if I wasn't in it, and walked away. I cried.
The affect that your parenting had on me was serious. By the time I was 11 years old I was depressed. I often thought about suicide. Those were thoughts and feelings that I lived with every day for the next 22 years. I stopped talking to people. I didn't know how to.
Even as an adult, you still had a detrimental effect on my life. Whenever I tried to go out with other people, to maybe make some friends finally, you would force me to stand in one spot. If I moved from that spot you would scream at me.
An hour or two would pass, and I would miss my chance to spend time with those people. I was always too embarrassed to explain what had happened. So eventually I stopped getting invited out.
When I was in my early 20's I opened up to you about the sexual abuse that I had experienced as a child. You started making jokes about rape every day whenever you knew that I could hear you.
My life suddenly changed when I was 26 and met the love of my life. We knew each other from when we were in high school. After becoming reacquainted, we were engaged to be married. But I didn't tell him everything about you. I was afraid that he wouldn't believe me if I did.
It should have been a happy time in my life, but things at your house became worse than they had ever been. You didn't want to dance with me on my wedding day. My fiancé and I planned to elope. But his parents made sure that I had my dream wedding, we just moved up the date- really moved it up! Imagine how surprised our guests were to receive an invitation to a wedding just three months later! But it happened. In the end mom made you dance with me. You did it begrudgingly; you wouldn't look at me and didn't even smile for the camera. People asked me later if you were okay. I just said that you had a headache that day.
At first after I was married, I would spend time going to visit mom and you. But you never wanted to see me, so whenever I came you would leave, and I would visit only mom. But a few months later you yelled at me badly. When I got home, I was so affected by this that my husband begged me to tell him everything that had happened. After I did my husband spent half an hour on the phone with you. You yelled at him and were erratic. He never yelled, but he firmly and pointedly put you in your place. Unfortunately this didn't change anything. In fact you accused my husband of being cruel and said that what I had told him was untrue. Unfortunately mom took your side. I believe that she was afraid that you would come after her if she stood up to you.
So on another day, with my husband holding my hand in support, I phoned up both you and mom. I had a conversation with you where I brought up things that you had said and done, and asked you how you felt about all of it. I wanted to see if there was any chance that my you would change. But there wasn't going to be any change. In fact both you and mom claimed that nothing I said had ever happened. I explained to you that I didn't feel safe around you anymore. I asked you to not contact me, and hung up the phone.
With the abuse removed from my life I found myself in a positive and supportive environment. Not only was I married to a man who proved to be a true friend, but his parents and brother welcomed me into their family as if I was always a part of it.
With each passing week, and then month, I became stronger. I found my voice.
What I hadn't realized until you were not a part of my life, was that I had been afraid for so long that I didn't even realize it. It had been my 'normal'.
Seven months went by. Then I received a phone call from my brother. He asked me to please phone our mom, apparently something was wrong. I did phone her, and that's when I learned that your health was failing. You only had about a year to live. I started to see you several times a week. I also phoned you on the days that I didn't go to see you. When I phoned you would hand the phone over to mom after a few minutes. When I saw you in person you still weren't interested in talking, but you couldn't go far in your wheelchair, and you didn't have the energy to yell at me, so I sat and talked to you about whatever came to my mind. I don't know if you listened to what I said or not. But it made mom happy, so I did it.
It was only about a month before you went into hospice. You were surrounded by family from the time you went into the hospice, until you passed away. Mom and my brothers, my husband and I, grandma, your brothers and sisters, and even some of your nieces and nephews.
On the first day you slept a lot, but would talk a little. On the second day you seemed to sleep all day. But before I left to go home, I went into the room and told my you that I loved you. I couldn't believe it, but you heard me, and said that you loved me too! I was overcome with so many mixed emotions. I left the room quickly so that you wouldn't know that I was crying.
Later that same day at about 10:00 at night, I was fast asleep in bed. The phone rang, my husband answered it. Then he woke me up. We went to you as quickly as possible. But we were too late. You had just passed away. I remember crying, and my husband holding me tightly.
That was four years ago. It took time, but mom has come to realise just how bad things were when you were in control of our lives. She and I are finally building the mother-daughter relationship that we never had.
I'm feeling confident and emotionally healthy. After over six years of marriage, my husband and I are still the best of friends.
Your older son is married with a step daughter. He's proving to be the loving father that you could never be.
Your youngest son is becoming more outspoken, happy and confident with each passing year.
Signed,
The Woman who Found Her Voice
parents
About the author
Reader insights
Nice work
Very well written. Keep up the good work!
Top insights
Easy to read and follow

Well-structured & engaging content

Expert insights and opinions

Arguments were carefully researched and presented

Heartfelt and relatable

The story invoked strong personal emotions
On-point and relevant

Writing reflected the title & theme
Add your insights