Tapestry of Connections
The joy of memories and scented fabric pumpkins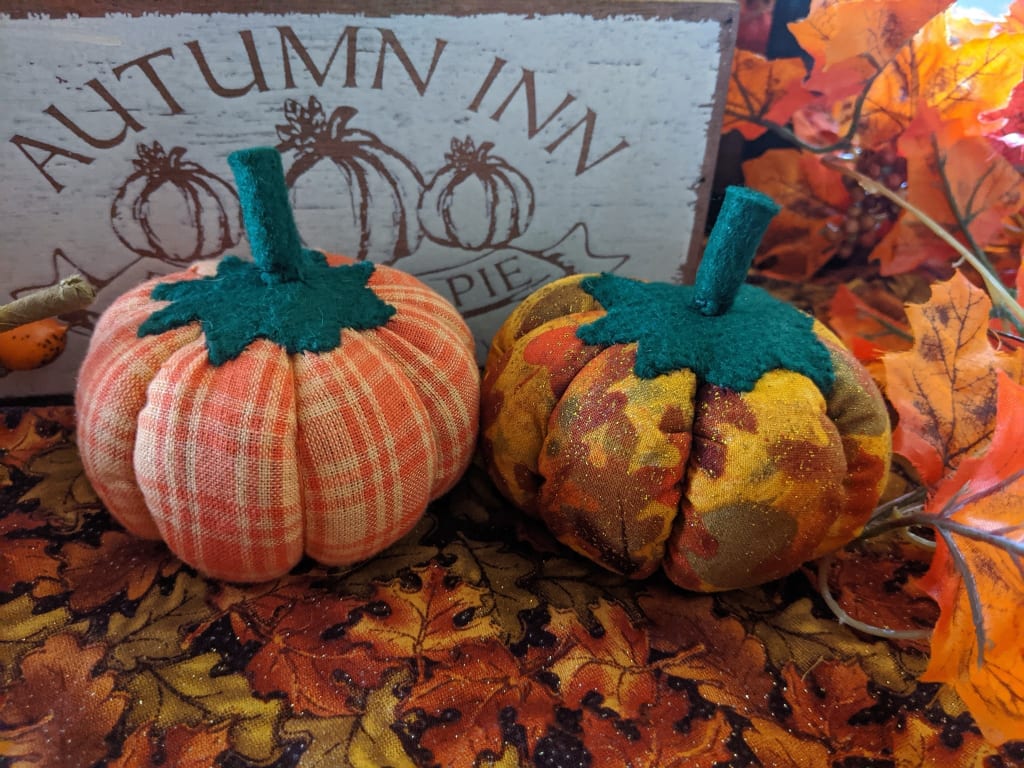 Crafting, making, creating is in my blood. From my earliest memories, my family was always making something. Perhaps, then, it's no surprise that I am a handmade entrepreneur, using the very tools and skills handed down to me. And, even less surprising, any type of making is my happy place.
Outside the craft room and my notebooks, I live with anxiety. Much like trying to cut fabric with a pair of dull scissors, it tends to leave me a frayed mess. There's not much that give me respite from my cyclical, descending thoughts. When I work on my handmade business, though, there is a peace that tends to elude me in most other aspects of my life.
Throughout every part of my business, I am connected to those childhood memories and the safety of those I love most. It is unparalleled, unadulterated joy, like when I talk to my mom or when I hugged my Pop-Pop. It's tapping into that ancient tapestry, feeling the reverberations of that spider-web, like when I would be wrapped in my great-grandmother's quilt when I was sick. It's the same type of magic as when you're little and a kiss can erase the sting of a scraped knee. 'Roots and wings' is how my mother always describes it.
The connections are all the stronger when working with aromatherapy, as scent is tied to memory. The wood dust from Pop-Pop's workshop in his basement. Vinegar from dying eggs with Grandmom on Easter. Fresh soil and mulch when gardening with Mom. The scents I work with tend to be more conventional, such as lavender or lemon or pumpkin spice, but you get the idea.
The pumpkin spice scent is used in a number of my creations but is most popular in my scented fabric pumpkins. The pattern was originally designed by my mother, and, since then, I have adopted it into my own work. Every time I trace and cut fabric, I feel my mother guiding my hands the way she did when I was younger on a potter's wheel.
It's my grandmother's hands I feel, too.
She passed away when I was six years old but, even outside the craft room, she has remained a constant and prominent figure in my life and a huge inspiration. She did the sewing in my grandparent's handmade miniature business, the thimble half of Pipe & Thimble. My brother, mother, and I went together to each get a unique thimble tattoo, another connection and thread. It's a picture she left to me that I use as my business logo and even inspired my business with my first creations, fairy doors. Sitting down at the sewing machine is like sitting in her kitchen with her and Pop-Pop sharing cookies and a glass of milk.
Her favorite book character, Anne Shirley, said "I am so glad to live in a world where there are Octobers." My grandmother always felt the same way. Autumn was her favorite season. Naturally, then, the pumpkins are made with that added nostalgic love and the magic that comes with it. They are an ode to her. My customers always smile fondly, memories of their own dancing in their eyes, and more than once they've told me, "my grandmother, too."
In that moment, two strangers are connected by similar threads. There's an indescribable beauty in that, a reminder that there is more that connects us than divides us. And, no matter who we are or where we're from or what we look like, despite the state of the world we live in, we're both suddenly five years old again, feeling the love and comfort of our grandmother's arms around us.
Even the fabrics play such a crucial part to this joy. When people leave us, we hold onto parts of them and it can be funny the things that stick. After all these years, I still find myself thinking Grandmom would love this. It's no different when it comes to picking out the fabric for the pumpkins, and last year in particular, when finishing the pumpkins, adding their felt stems, I realized that I placed two specific pumpkins next to each other without ever meaning to. One was sparkly and covered in autumn leaves, one that would've been her favorite from the bunch, and a plaid one, like the flannel shirts my Pop-Pop wore.
I paused for a moment and took it in. I let myself feel both their loss, the grief that still overwhelms me from time to time, but also the joy in the memories, the joy in still feeling their presence so close. A reminder that they're still here with me, even if I can't wrap my arms around them anymore.
Keeping this tapestry strong is what brings me peace, allows me a joy so rarely found in my everyday, and there is no connection stronger in what I make than those scented pumpkins. Just as scissors can cut, they also have a hand in creating these memories, this joy, this tapestry of connections.
art
About the author
A New Jersey transplant, Ellie Lieberman lives now in sunny Southern California. She works with the fairies on her handmade business, Acorn Tops, when not writing or illustrating.
Reader insights
Be the first to share your insights about this piece.
Add your insights