Sweetheart Rock
Fontana California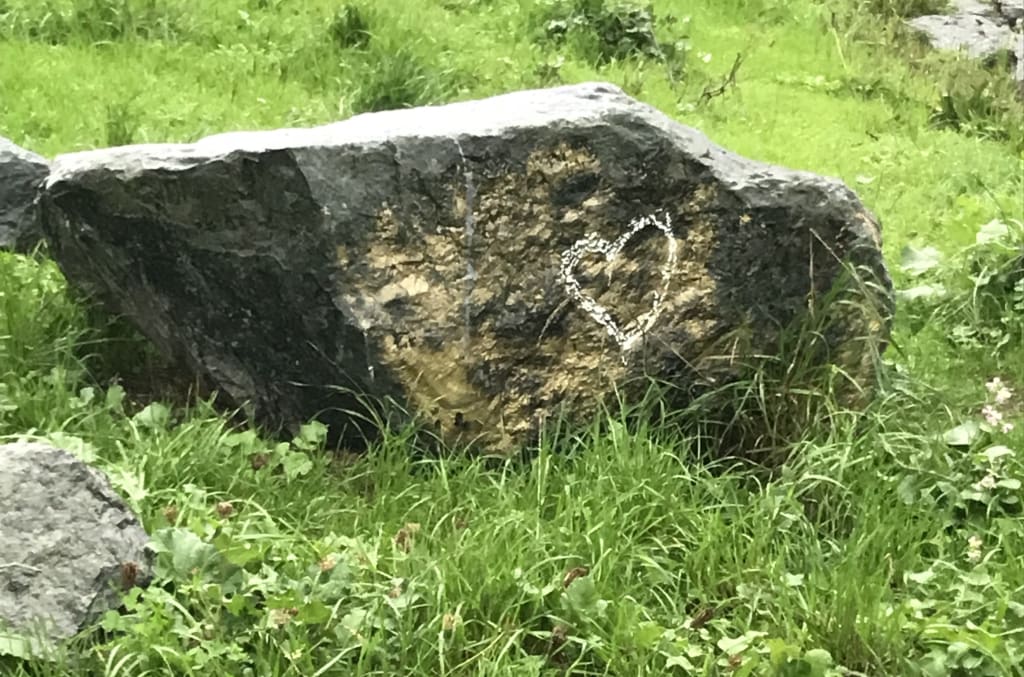 You can't tell, by looking at the photo, but let's just say, I am glad my iPhone was waterproof. This rock is a symbol of my first Thanksgiving, with my daughter and parents. While trying to figure out what to do first on our visit. We chose going crabbing. My daughter said, "yes, I love crab!"My dad was telling us, he knew a great spot off a peir in Fontana, California.
The day was warm, we all left our sweaters, and waterproof ponchos in the trunk of the car. Filling the nets with bait, my daughter looked at me saying, "mom, that looks like something you would cook for dinner." We all chuckled at her observation. I heard the metal basket "plop" into the water. As we wait, the excitement began to build. The clouds that had looked so pastel, against the clear sky, turned black, and then started to sprinkle. My family rushed to the trunk, double layering with hoodies and ponchos. My daughter asked, "what just happened!"We sat in the car, a moment before walking back to the pier warming up with the heater.
An hour passed, and the rain brought a unexpected visitor to play amongst the crab pots. A seal, bobbed and weaved, my daughter couldn't believe her eyes! My dad exclaimed, "what a trip."
As my mom and I pulled in the crab nets. Bringing our harvest to the shore. We had caught a few, "decent" size crabs. Measuring them against the crab ruler. My daughter pointed out, "my rulers at school, don't look like that..."
Officially soaked through our clothes, like we had been swimming or tossed in the lake. The squish, siqush noise echoed on the slats of the pier.
I fastened my daughter in her carseat, when I spotted, the chalk heart painted rock amongst four others. To my surprise, the paint was not dripping down the face of the rock, like I expected. I ran over there in the rain, wishing I had a pair of rain boots. Snapped the photo, and rushed back into the car. I did not feel the need to add any filters to my image as it's simplicity is what captivated me to take the photo.
My parents asked why, did you take photo of a rock?"
"It had a heart on it, and it gave me an idea for a story."
My mom and daughter were curious to hear my idea. So I said, this rock is called sweetheart rock. The person drew the heart for his girlfriend. So she knew where to meet him, to elope. He knew she was not good with directions, and he thought it might rain. So he made a waterproof heart. To symbolize, that their love can withstand any kinds of weather.
We got back to my parents place, and instead of our traditional holiday outfits. We all got dressed in our pajamas, bundled from the rain aggressively taping on the roof. As always, I helped my parents prepare the food for Thanksgiving. Unfortunately, the Turkey did not reach temperature. So instead, of my dad carving the bird into light and dark meat.
He pulled out a plate of Kumamoto oysters, and began shucking them. While mom and I boiled our catches in a stock pot, warming up our grass fed butter in the microwave. Stirring butter into stuffing, mashed potatoes, and saucers to dip our crab in.
Our dinner may have been unconventional. The site of crab amongst traditional sides was a peculiar. We did not have time to ask what are we thankful for, instead we went around the table talking about the best part of our day. My daughter said, "when the baby crab pinched my finger." My mom commented that it's when the old man on the pier was catching so many fish on his box, he needed to throw some back." My dad said hands down it was seeing the seal so close to us, once and a lifetime deal." I Said, "discovering that amazing rock, by just being out in nature, even though we got soaked.
We all harmoniously agreed by nodding.
That dinner, hands down, was the most memorable of any Thankgiving gathering, I had growing up.
travel
About the author
I want to empower others with my writing. I have always dreamed of seeing my name, on something.
Reader insights
Be the first to share your insights about this piece.
Add your insights