Selfless Woman
I miss you even when you are here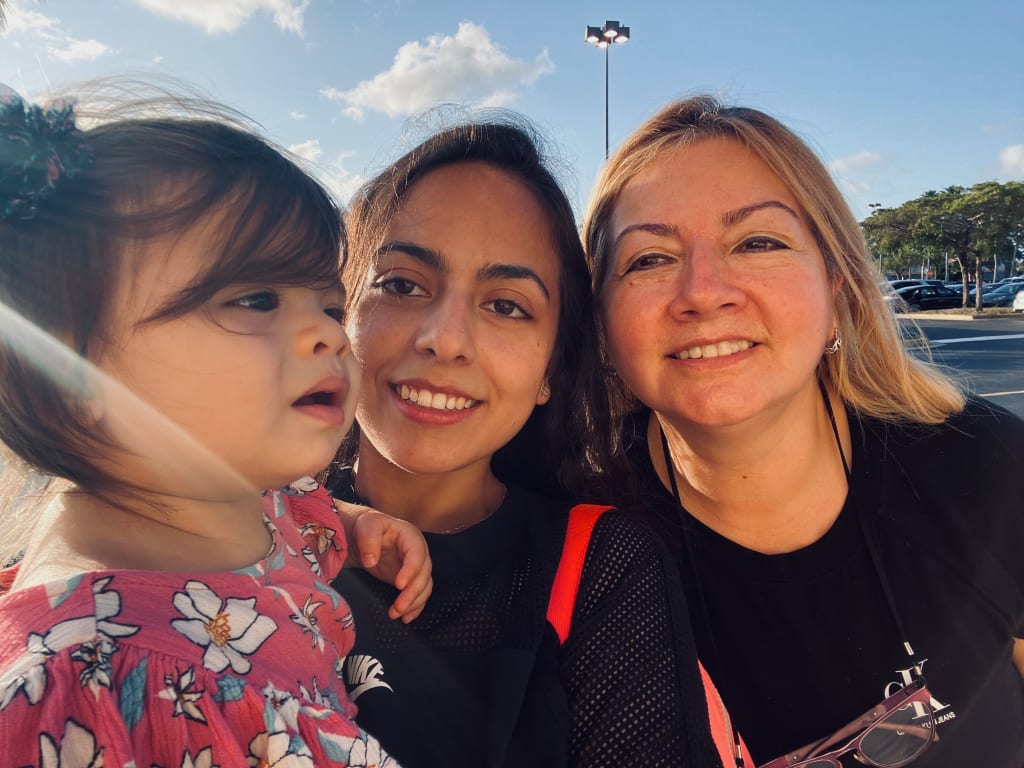 Dear Outstanding Lady,
Do you remember when you would ask me to clean your ears, give you a massage, and scratch your back. I remember being young and not minding it but as I got older I didn't think it was cool anymore. Now I look back and miss those times, and wish I would have kept doing those things. I'm sorry for not being the best me I could have been. I could have been more sweet and caring. I used to get mad when you twirled my hair in your index finger, now I do it to myself to feel that you are near.
I know you are still here but I miss the old days sometimes, when you would make me feel better by rubbing my tummy and making me hot tea. How about the time I puked in your hair from eating bad pizza and instead of getting angry for interrupting your sleep, your loving nature just wanted to make sure I was okay. Well, I was more than okay, I had you.
Hey mom, how about you coming to the United States, can't imagine what it must have been for you. A widowed mother of 4, her two oldest in Colombia, and her not so easy young boy and girl fighting almost every other day. How do you even try to explain to your two youngest that their father had been killed, and they no longer had a father. Thank you mom, because that night you cried with us, and its one of the few times I've seen you cry. Thank you for crying with us and sharing in our pain regardless of your differences, you always made sure we saw the good in our dad.
You got a job in the United States with no english, always kept a roof over our heads, and food on the table. We shared a room for a long time while my brother slept on the sofa. I know you wanted to give us the best because every Christmas you made sure we got what we asked or something close to it. I always knew how hard it must have been to get those gifts, pay rent, buy food, and still have just a little bit left for you. You're selfless and it's okay to be selfish now.
Talking about your selfless ways, I admire your job and how you do it. You aren't just kind to your kids but to the elderly who you would tell me stories about how they would curse you out. Working at a nursing home and caring for elderly who were left by their families, shows how great of a woman you are. I appreciate you taking me to your job to see them, I got to meet our buddy Frank, who's no longer with us. I saw how you treated them with compassion, kindness, and what I always see unconditional love. Even the ones who's minds weren't all there and would curse you just for changing them, you made sure they were taken care of and taken care of well.
I moved out and am living with my fiance now, I know it's part of life and growing older but I miss you. I know you live like 15 minutes away but I miss you, and I miss our times together. I miss being young and being your little girl, because looking back being your little girl was pretty much the coolest thing. I know you didn't let me out much and I would get so angry but you just kept me from a lot of heart breaks I didn't need. Friends came and left, but you always remained.
I'm getting married pretty soon and it would be nice if you walked me down the isle. I know its not tradition but I find it fitting for you to be the one to give me away.
Love,
your youngest daughter.
humanity
About the author
Reader insights
Nice work
Very well written. Keep up the good work!
Top insight
Heartfelt and relatable

The story invoked strong personal emotions
Add your insights