My Sister-Mother
How my oldest sister filled the role my mother left absent.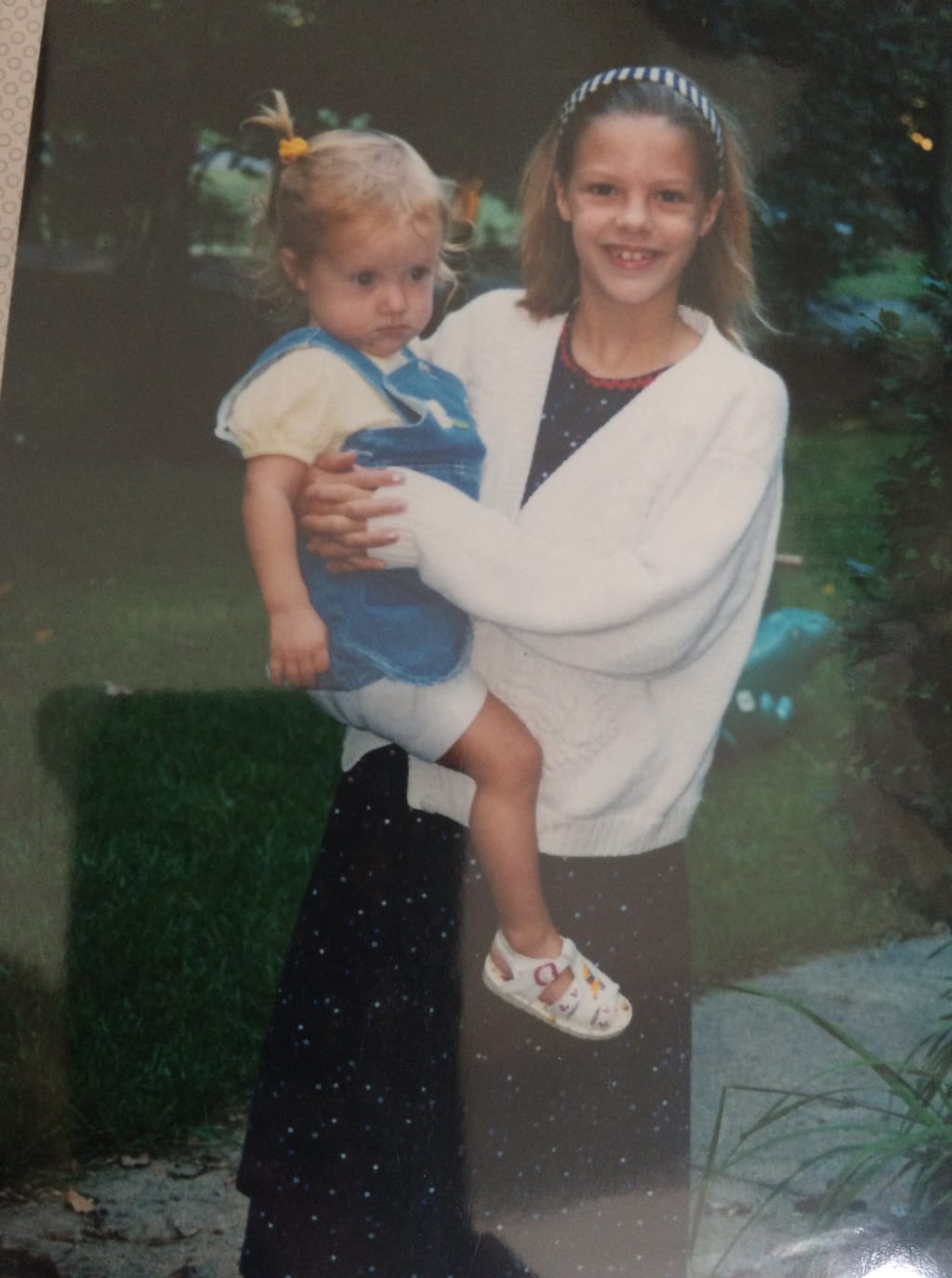 My sister Alayna age 9, me age 1.
My mother had a lot on her plate. She had a perfectionist disposition, and with eight children, she was overburdened and emotionally distant. My mother loved us, but her affection was limited. She would often remark wistfully about the red headed daughter she never got. What she did have was three sons, and five daughters. None would have red hair, none would attend her Alma mater, The University of Cornell. I believe she thinks herself a failure because we weren't what she had supposed; we weren't enough like her.
My sister Alayna taught me about puberty and periods. She helped me pick out my first bra and showed me how to dress fashionably. I had three other big sisters, but Alayna, the oldest daughter, was the practical one. She, gentle and nurturing, looked out for all us. She called me out when I was acting childish and told me I was made for more. Her standards of conduct were high, but not unreachable, and she consistently offered advice and encouragement in the process of achievement.
Many children grow up having a similar worldview as their parents, but my sister's ideas didn't align with our mother's. My mother was conservative and a traditionalist. She believed that a woman's destiny was fulfilled in marriage and motherhood. It was Alayna who taught me about feminism. From her, I learned the extent of what women had sacrificed for very basic rights, like voting and holding property. Alayna told me it didn't end there, and encouraged me to carefully observe our social climate. My sister's gentle prodding for m to pay attention, and trust my intuition shaped my mind to be ready to analyze and to question.
Not only did Alayna teach me to reason, but of equal importance, she taught me how to laugh. My family experienced stress daily form my parents. They were moody and difficult to please. Alayna helped me to live with a light heart and to find humor in a trying situation. To this day, we will exchange inside jokes that date back fifteen years. I am guaranteed a happy day when I get to spend it with her.
Alayna would settle disputes between me and my other sisters quickly and calmly. She ensured both of us had our side of the story presented and listened attentively to each. From there, she would isolate the root issue and allow us to better understand ourselves and one another.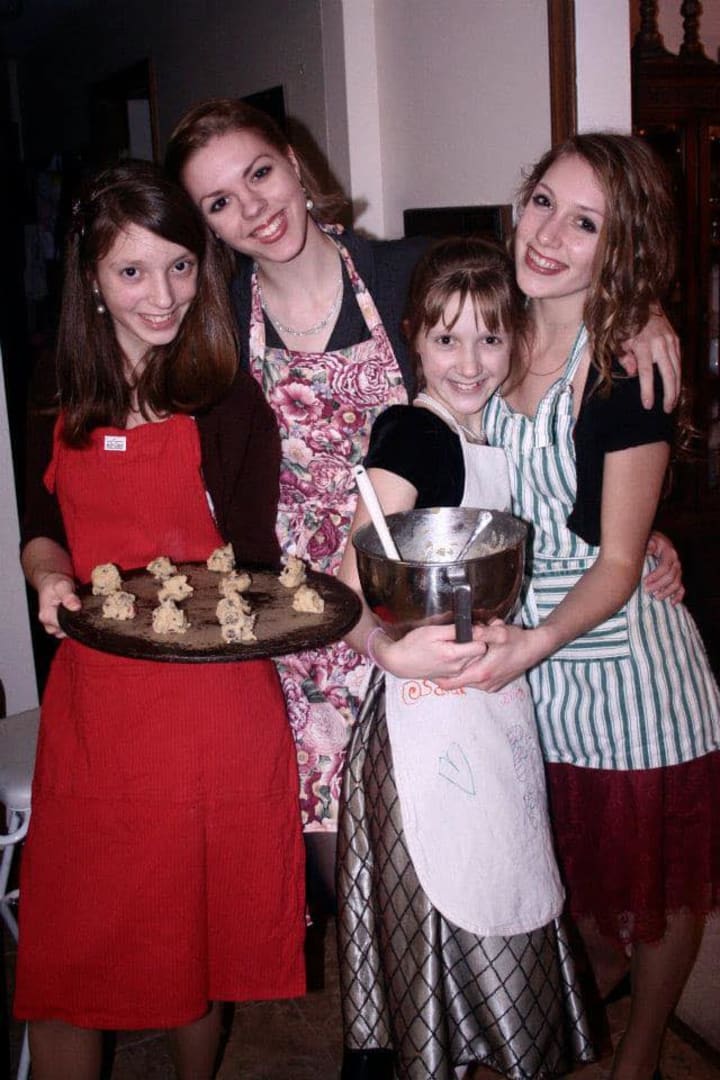 Although Alayna is seven and a half years my senior, she has become my closest friend and confidant. She drove me to ballet classes and helped me choreograph dance recitals. We would spend hours dressing up and filming music videos together. Cozy winter evenings were dedicated baking nights. These would be followed by snuggle sessions while listening to our favorite audiobooks. As a senior in high school, she would still come into my room at night to listen to a story, not because it was entertaining, but because of the joy it brought me. I think Alayna felt hurt by our mother's lack of involvement, and noting her own pain, she wanted to give my sisters and I the maternal support we lacked.
I have a vivid memory form ninth grade, where Alayna offered me security. I had been having a hard time emotionally, and one day after a particularly hard time at school, I came home and retreated straight to my room. My mother tried calling me up for dinner and I refused to come up. She grew angry that I wasn't listening to her and started banging on my door. I grew terrified as my mother yelled and berated me through my bedroom doorway. She was so blinded by her frustration that she made a hole in the door.
Alayna came soon after the yelling began and tried calming my mother. Eventually, she stormed off in a huff, leaving a jagged hole on the door, and my heart, behind her. My sister knocked lightly and gently asked me to let her in. I quickly unlocked the door and then raced back to the safety of my bed. She could tell I didn't want to talk, so she just sat there with me and calmly stroked my hair. Then asked if I wanted to go for a drive.
We drove out into the country and kept our eyes on the windows, looking longingly at the lush landscapes. There was a light rain that beautifully saturated the green hills and black trees. The colors contrasting another like the harm of my mother and the healing of my sister. When I'm upset, its very difficult for me to find my voice, but once I did, the words tumbled from me like the wind through the fields around me as I disclosed my heartache.
She told me my pain was valid, offered me affirmation and affection.
"You don't get to decide who hurts you, Felicia. I am so sorry to see you in pain, but I am so proud of the way you've worn it." She told me quietly.
We didn't talk on the way home, but those few words of kindness were all I needed. Alayna knew how to say just what I needed to hear. She chose her words carefully, never speaking too little or too much. Offering protection in emotional intimacy, my sister gave me a gift.
Alayna is my sister, but she stepped into the role as mother from a time before I could even walk. Through the challenges and triumphs of life she has validated and inspired me. She held me after my heart was broken, and supported me in pursuit of my passions. My own mother bore me, but my sister brought me up. I thank Alayna for demonstrating maternal love, and aiding me in my path to womanhood.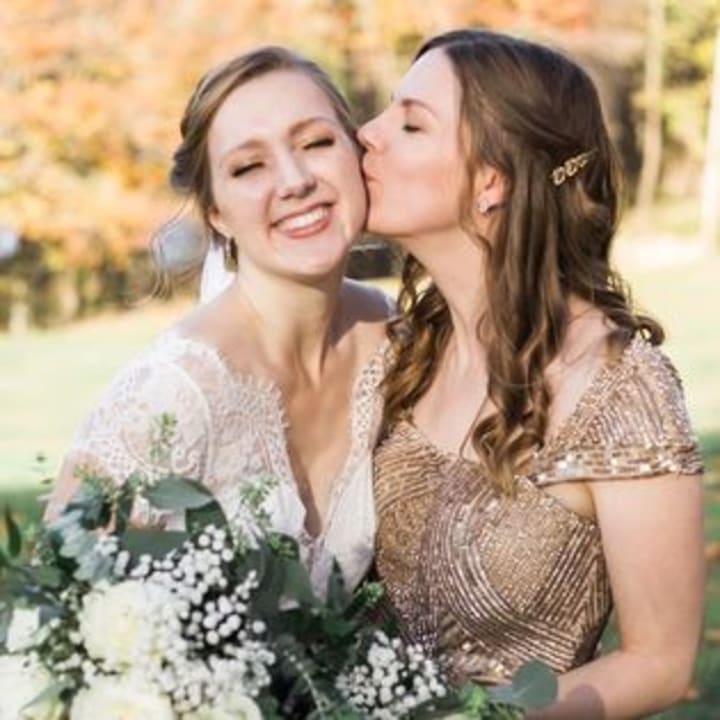 Alayna has a daughter now. I am confident that she will grow up loving herself and her relationship with her mother. With Alayna for a mother, my niece Fara, will grow up proud of her femininity and sure of her capability.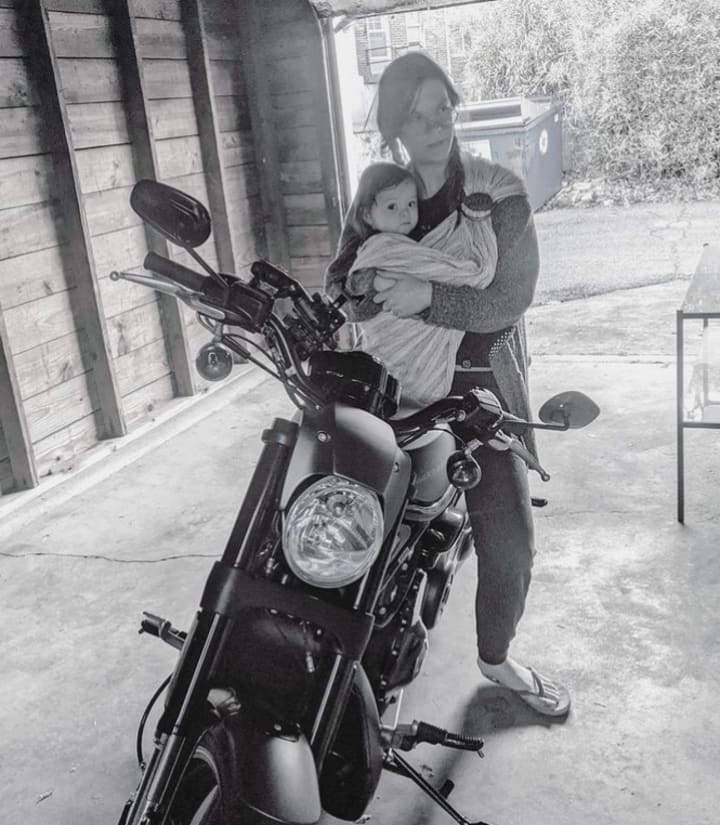 immediate family
I am a young mother and student pursuing a BA degree in English. Although I am first and foremost an avid reader, I take delight in writing. Both the process and the product give me joy and confidence.
instagram: felicianne_
Receive stories by Felicia Kotas in

your feed