My Father, My Hero
I will always be a Daddy's Girl and this story will tell you why.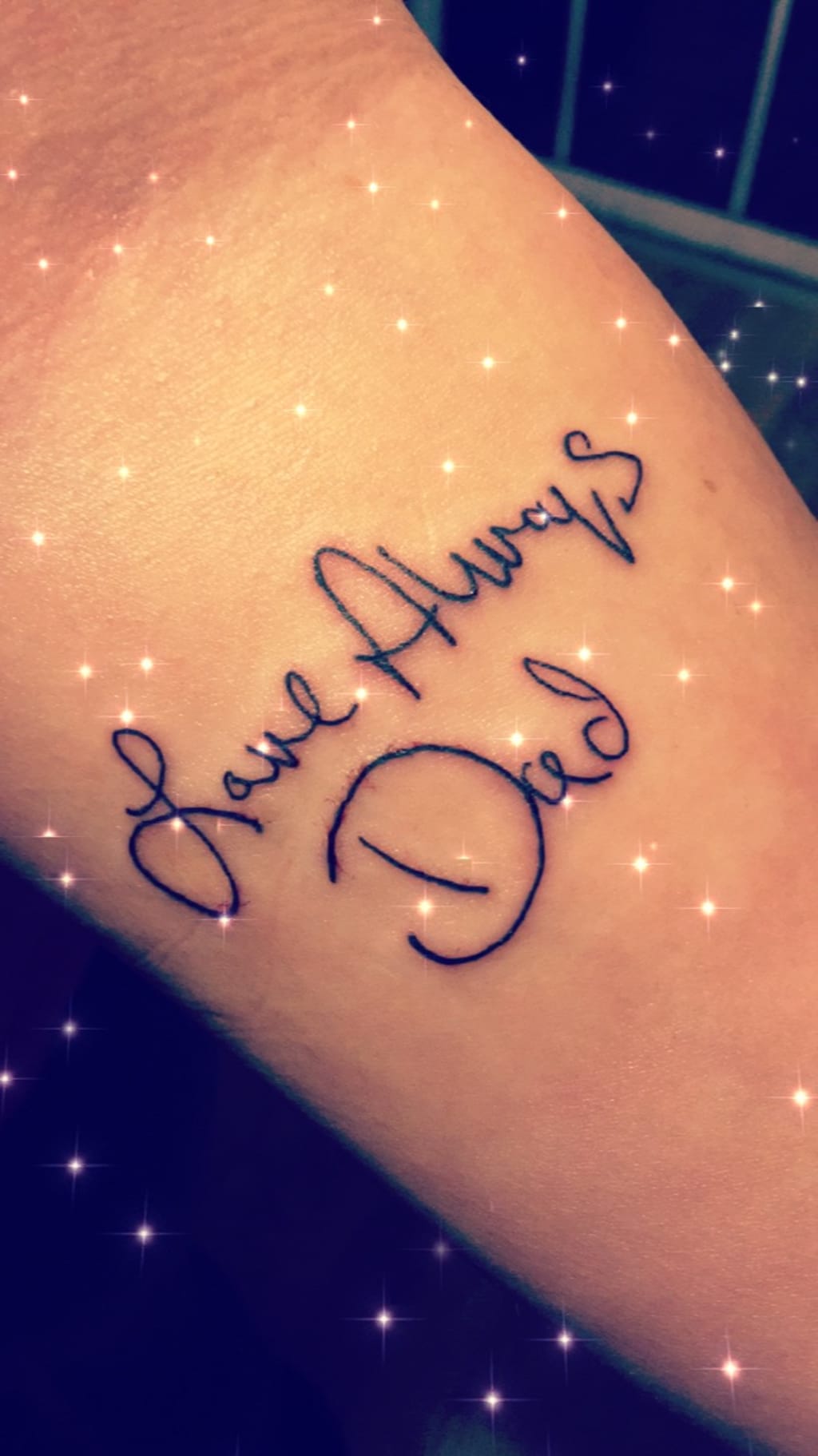 I've had a pretty rough childhood—from my mom completely abandoning me, to never seeing her again, to growing up without a mother. But what I always did have was a supportive and caring father. Through everything, he never once gave up on me and always fought for me so I could have the best life possible.
No relationship is perfect, and my dad and I are no exception. We have had our fair share of arguments and disagreements, but I wouldn't trade that for the world. I couldn't imagine a world without my dad, and thinking about it is painful. But one day, my worst nightmare came true.
I was a sophomore in college (I'm a junior now, so this was just last year) and my dad was working construction on my college campus. We had lunch together sometimes and I usually stopped to say hello while I was walking to my classes. One day I was leaving my last class of the day to finally head home, and I got a call from my grandmother. I wasn't worried yet. She usually called me if I didn't let her know I was on my way home. I answered and the conversation went like this:
Me: "Hey Gram, what's up?"
Gram: "Are you out of class yet?"
Me: "Yes, I'm walking to my car now. Is everything ok?"
Gram: "We are heading to the hospital right now."
Me (shocked): "Oh my God, is it MamMam?" (My great-grandmother)
Gram: "No it's your dad. They took him by ambulance from the college."
My whole world stopped turning then and there. I don't remember the rest of the phone call but I remember going 80 down the highway trying to get there, ugly crying the whole way. I finally got to the hospital, making a 45 minute drive in 20 minutes. I ran into the emergency room and found my grandparents. I was frantic and full of questions. My dad was all I had and I was petrified. I thought of everything that could have happened at work—did he fall off a ladder, did he get hurt on some equipment, what was going on with my dad?
Finally, someone came out to escort us to the second floor. For those of you who don't know, the second floor of the Altoona Hospital is dedicated to patients with heart issues. So I was confused entirely. We sat in the waiting room until a doctor came out and told us the news: my dad had suffered a major heart attack with 100 percent blockage in the main artery. I fell to the floor in tears. My dad—only 45-years-old—had a heart attack and could have died.
We got to go to his room on the eighth floor ICU (intensive care unit). He didn't look himself at all. He still looked like he was in pain, which went on for a few more hours, until the night shift nurse came in. She took another EKG only to find my dad's artery had rejected the stint and he was having yet another heart attack. When the on-call doctor came in and put a second stint in, everything was fine. My dad was released from the hospital two days later and sent home to recover for a few months until his heart healed. My nightmare was over. He was going to be okay... so I thought.
Fast-forward to Friday when I was woken up at 7:11 AM by my dad screaming for help. I shot up in bed, scared to death. Did he fall? I ran into the living room. He wasn't on the couch, I look out in the kitchen, and he is sitting at the kitchen table, clutching his chest. "Call 9-1-1!" he yelled. "I'm having another heart attack."
That was the longest phone call I've ever had to make while I waited for the ambulance to come get my dad. I called my grandparents and we took trip number two to the hospital. While we were waiting in the second floor waiting room yet again, a priest came in to pray with us, and usually they only send priests if someone is in dire situation. I started bawling. I thought I was going to be planning my father's funeral.
The doctor came out to confirm the worst. 100 percent blockage again, but this time, his heart function had dropped to 10 percent. My dad's heart was only working at 10 percent of the normal rate. The stints were not working, and there were only two options, open heart surgery or putting a heart pump on him. We went with option number two. The doctor put the heart pump on my dad, which was basically doing the work for his heart. When I gave him a hug, I could hear the machine working his heart. For now, things would be okay. His heart just needed to rest.
In his room, things were not looking any better. Even with the heart pump, something was off. The doctor came in to check everything; low and behold, another heart attack. There were no options left. They had to perform open heart surgery or my dad was going to die. I was devastated. His heart was so weak, there was no way he would make it through surgery.
I remember sitting in the sixth floor waiting room during the operation. But I don't remember much else. I had cried so much, I didn't have anything left in me. My family was sitting around praying that God would heal him. The surgery took about six hours. The surgeon came in, they bypassed the bad artery, and my dad was going to be okay. He would make a full recovery.
He was released from the hospital a few weeks later, just in time for Thanksgiving. He had to wear a life vest because his heart was so weak, but he survived.
Now, almost a year later, my dad is back to working, driving a race car, and living life to the fullest. A few weeks ago, he won his feature race and his first ever point championship.
I'm so proud with how far he has come, and so thankful that I still have my dad here with me.