My Doll Story: How I (Finally) Grew Up
Would you rather have your favorite thing or a surprise? How about both?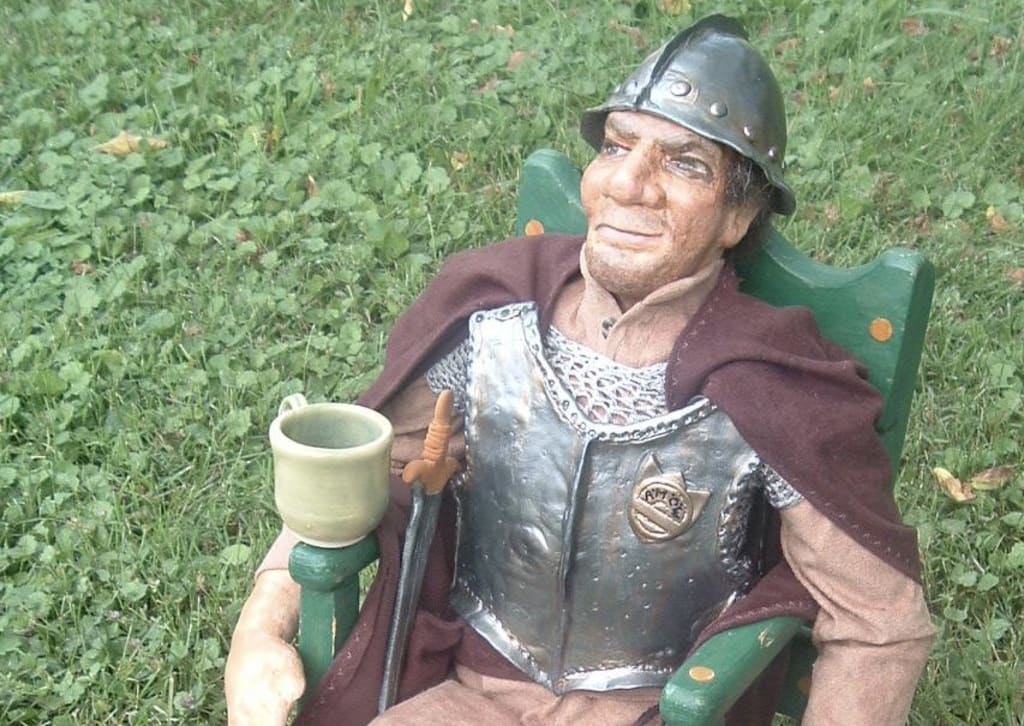 Captain Sam Vimes of the Discworld, 22" tall in papier mache, fabric and other materials.
I opened my daughter's gift that Christmas morning already knowing what it was. Actually, it had been a surprise the previous summer, when she first told me about it. Once I got over the shock, though, I had suggested she save it and give it to me for Christmas, by which time it would have faded from my memory and seem virtually new again. All I had asked was that she have it framed first.
I have always enjoyed a nice surprise, but if there was one thing I liked better than a surprise when I was a child, it was a doll. Back then, the only occasion on which I was likely to get a new doll was Christmas or my birthday. At such times, my brothers and I were each allowed to request one special gift.
Mom saved S&H Green Stamps - loyalty rewards you could collect by making purchases at selected grocery stores, pharmacies and gas stations. You would stick the stamps on the pages of the little book provided, and when the book was full, you could redeem it for merchandise from the S&H reward catalog. We had some idea of how much our parents were likely to spend (one child, one book), and we adjusted our desires accordingly. In later years, we graduated to the Sears Christmas catalog, the "Wish Book." Again, we managed to figure out how high the price ceiling was likely to be. My choice was almost always a doll.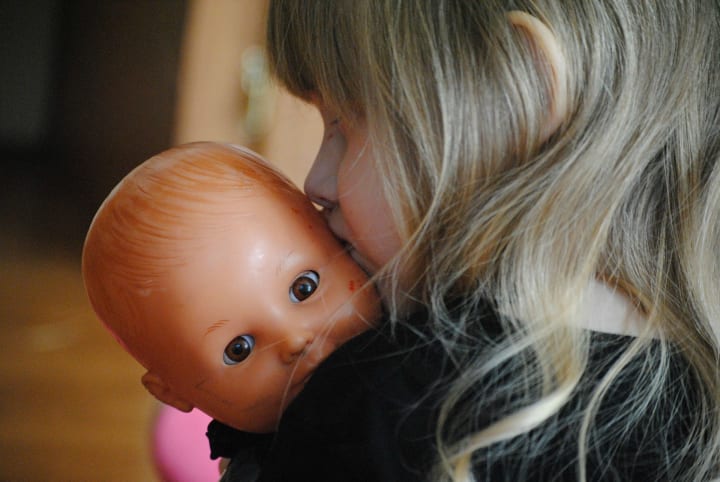 I dreamed - sometimes literally - of entire wardrobes for my dolls, not just the single outfits in which they arrived under the Christmas tree or next to the birthday cake. So I was always begging Mom to make doll clothes.
Mom was a busy stay-at-home mother keeping up with four small children. A former school-district supervisor of music, she also helped my dad with his home business and taught piano lessons. She knew her way around a sewing machine and had all the tools and materials, but she just didn't enjoy sewing much. Music was her thing. And here was her only daughter, pulling at her sleeve and begging for doll clothes. In desperation and with an eye to the future, she sat me down one day at the dining room table, showed me how to thread a large, age-appropriate darning needle, and patiently demonstrated the running stitch. Her big shears were out of the question for a child my age, but there was a smaller pair I could use. After giving instructions and watching for a few minutes to make reasonably sure I understood the concept, she went back to the kitchen to finish cooking supper. I settled in, planning to start with something small. How about a pair of panties? For the doll I had in mind, you couldn't get much smaller than that.
I learned a lot with that pilot sewing project. First, as my mom had made a point of explaining, you have to cut the garment big enough for seam allowances. Don't think you can just make the seam allowances narrower (or nonexistent) to compensate for a lack of planning in this regard. The second thing I learned was that a "big enough" seam allowance is bigger than you might think. Hence, the garment is going to look bigger to start with than you think it should. Third, the moment of truth is when you try to dress the doll with the new garment you just made. That seam allowance may look ample to you and your stitches may seem incredibly tiny compared with the enormous loops you were creating back when you were a rank newbie 20 minutes ago, but the laws that govern working with fabric apply even to beginning sewists. It took me some moments of trial and frustration before I was willing to acknowledge that my mom had been right about all these things. (Some of us just have to learn the hard way.) Soon, however, I had a wardrobe for my little doll, made up of…panties! A pair in every color of which my mom had a scrap of fabric. That doll may have had only one dress, but she had panties for every day of the week.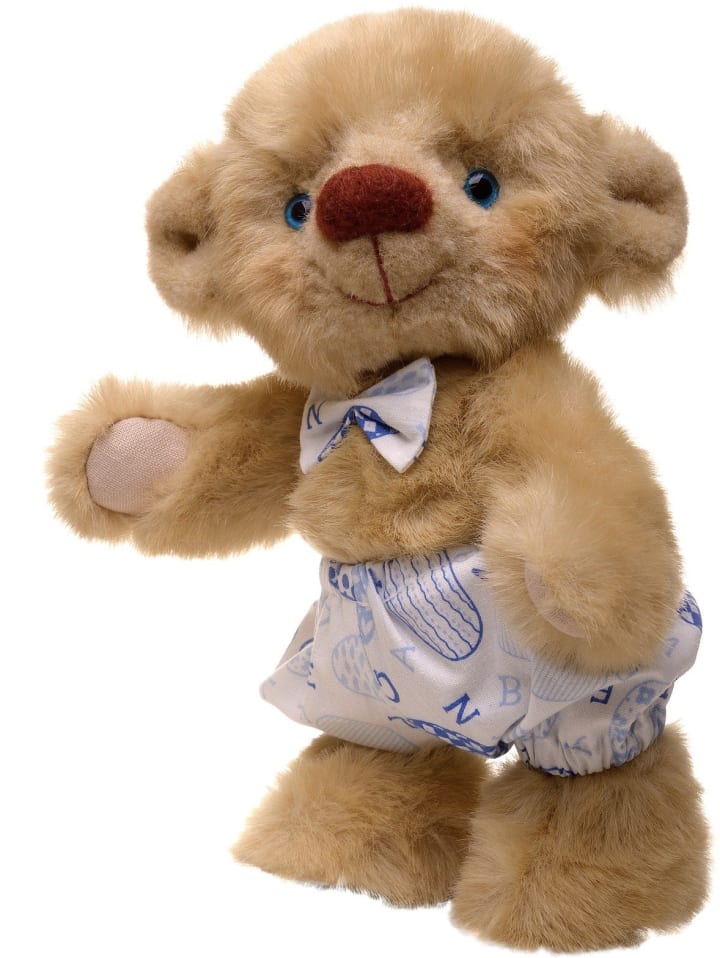 My next sewing teacher was Grandma - Mom's mother. Unlike Mom, she loved sewing. I was the only granddaughter, and when I was seven, she decided I was old enough for a few more advanced lessons. First, she showed me her fabric stash, in a row of boxes neatly hidden behind a flowered curtain under a shelf in her "powder room." The last box at the end of the row, she told me, was my box; I could use any of that fabric any time I wanted.
I decided that what I really wanted to make was (surprise!) a doll. It was an ambitious project, scaled down for my skill level. The doll had a plain muslin body and a blue Hawaiian print dress in the classic child's-first-sewing-project style: a rectangle with a hole cut out for the head, folded over and sewed up the sides. No sleeves, no hem. Not only did my newly-made doll not have an entire wardrobe, she didn't even have panties…all that early sewing experience, simply gone to waste. Her hand-embroidered features were…well, irregular. But being the first doll my grandma and I ever made together, she would always be special.
My education in sewing continued. At eight or nine, I joined a local 4-H club as an "associate" member, which meant that my friend Sally's mom, the club Leader, let the two of us attend meetings and work on projects, as long as we behaved ourselves. Now I had my own sewing box and my own sewing shears - brand-new, orange-handled Fiskars, advertised as light, easy and comfortable to hold. Mom had trained me well. She might not have been interested in sewing, but she knew the rules of the game and had warned my brothers and me from our earliest days never, ever to use her sewing scissors for anything but fabric. She kept a pair of kitchen shears for paper and cardboard. In possession of my very own sewing supplies at last, I too knew enough to save my precious Fiskars for fabric only.
Dolls, sewing, and reading books were my favorite activities these days. When they all came together, how special was that? I spent hours at the library (especially during summer vacation) where I soon discovered books on dollmaking that I could read and understand. One in particular, The Doll Book by Estelle Ansley Worrell, was filled with historical information about period costumes, with a section of patterns in the back of the book to trace off for an entire family of cloth dolls and their clothes. I borrowed this book again and again, even taking it with me to Grandma's house the next time my brothers and I spent the week with her. I hoped she would help me make one of the dolls, and that's when I discovered that Grandma had a secret skill.
We chose a doll and a dress from the book, but no matter how we hunted through the pattern pages, we couldn't find the sleeve pattern. Disappointed and annoyed, I was sure I would have to pick another design. Grandma remained calm.
"We'll just have to make one ourselves," she told me. From the bodice pattern, she took a few measurements; she drew a few deft lines; suddenly - as if by magic - there was a sleeve pattern. When we cut out the little dress and sewed it up, the sleeve fit. How did Grandma know how to do that? Was this really some kind of mysterious seamstress talent or….could any person improvise with a published pattern? It would be years before I dared to try such a thing myself.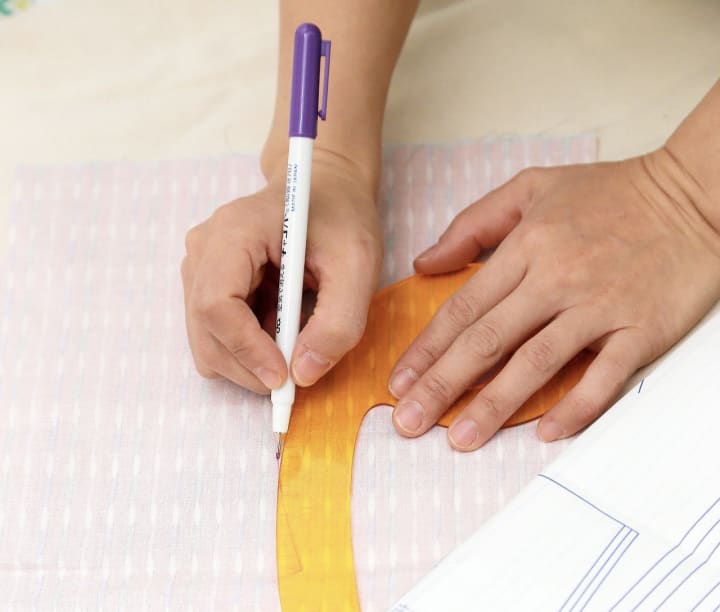 I must have been ten or twelve when I noticed some of my friends were becoming more interested in Avon scented bath-oil beads, boy bands and light romantic fiction than in playing with dolls. They were "growing up" in a way that sometimes made me feel left out. I was a late bloomer, not yet ready to move on from dolls as the defining interest of my life. Nevertheless, in spite of myself I too was growing up. This must have been why, when I was about eleven years old, I noticed that Eric, my older brother, always got cooler gifts than the rest of us (so it seemed to me). That Christmas one of his gifts had been a brass wind-up alarm clock. It was something I would never have thought of asking for, myself, yet now I wanted one, or perhaps I wanted what it represented. It wasn't a toy; it was more like a grown-up gift.
Going to my parents privately on Christmas afternoon, I asked them, point-blank, "Why does Eric always get cooler gifts than the rest of us?" It must have seemed a strange question from a girl who up till now had never asked for anything but a doll.
"That's easy. He lets us choose for him," was the answer.
I spent the next year chewing over the new thoughts my parents' response inspired. When the Sears "Wish Book" arrived at our house in the fall, I pored over it as usual but made a point of not registering any requests. This was an experiment, I decided. I would wait and see what my parents would choose for me if I said nothing.
Then it was Christmas again. This year, we found our gifts via a treasure hunt. When I finally tracked down the package with my name on it behind my dad's desk in his office, it was thin and flat - a book. My parents had bought me my own copy of The Doll Book. It might have been the perfect, gentle transition between childhood and adulthood for a girl like me who was caught between the two, not wanting to go back, not sure if she was ready to go forward.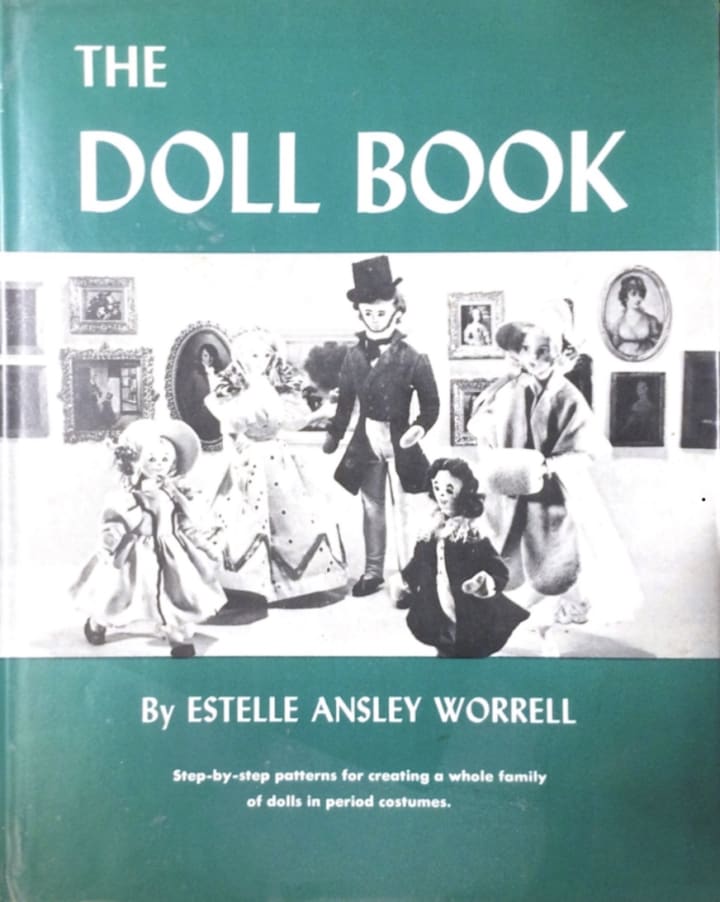 This book would also be the foundation of some of my earliest sales as a doll artist, such as the time when at the age of 15 I came home from a week-long visit with friends to find that my parents had sold one of my costume dolls while I was gone, to one of my dad's business associates who had turned out to be a doll collector as well. He had seen it displayed on the mantel, asked about it and made an offer. I was so amazed that an adult would pay what seemed like a breathtaking sum for something I had made, that I didn't even care that my parents had made such a transaction involving one of my possessions without asking me first. (Besides, I got to keep the money.) I knew that if I wanted to, I could make another one.
I finished school, married, started a family, made dolls for my own children, for other family members, for friends; occasionally, selling one. It was only after our youngest son started school that I began treating dollmaking as a business rather than as merely a hobby that sometimes helped finance my arts and crafts habit. I started working with papier-mâché as well as fabric, and in line with skills I had developed as a portrait artist, I began experimenting with dolls designed to look like real people.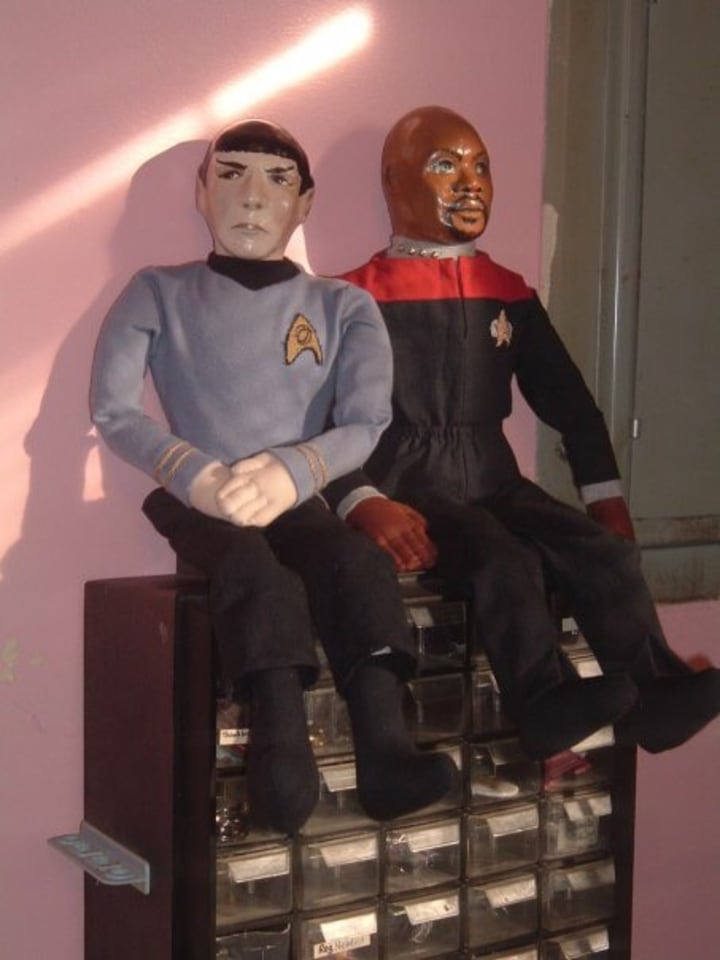 When my daughter told me she would be going to the 2011 North American Discworld convention in Madison, Wisconsin, where she was going to personally meet British author Sir Terry Pratchett, I decided to make a doll based on Captain Sam Vimes, a favorite character from the Discworld book series, and send it to him as a gift. Sir Terry had said once that he envisioned this character as resembling actor Pete Postlethwaite. I found pictures of Postlethwaite online, sculpted a papier-mâché head in his image, added a stuffed fabric body and then dressed him according to the descriptions in the book series. I didn't know if Sir Terry would even accept a gift from a fan. If not, I would have a Sam Vimes doll for myself, or to give away or sell.
My daughter returned from the convention to report that Sir Terry had not only received the doll with surprise and pleasure, but immediately (and correctly) identified the character it represented. "It's Sam Vimes, isn't it?" he asked as my daughter placed the doll in his arms. "What? It's for me to keep? Thank you!"
And now it was Christmas again. I unwrapped my gift and gazed at the intricately intertwined, ornamental metal frame my daughter had chosen to frame the little card with Terry Pratchett's autograph scribbled across it. Sir Terry, by that time already suffering from a rare form of early-onset Alzheimer's, had signed his name on hundreds of these cards in the weeks before the convention, leaving him more time and energy at the event for his fans. The autographs were for registered convention-goers, but he had taken an extra one off the pile and given it to my daughter for me, to thank me for the Sam Vimes doll. What a gift - something I never would have thought to ask for. Because as much as I like dolls, if there's anything I enjoy more than a doll nowadays it's a nice surprise.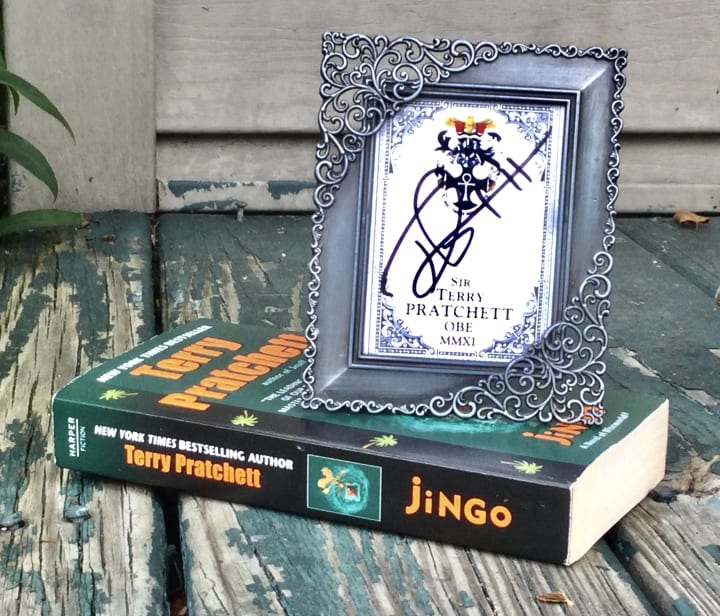 art
Telling stories is something I do naturally, but I am always working at getting better at it.