Mentally Preparing For My Parent-Teacher Interview on Zoom
Video calls are the worst.
My dad used to be the kind of parent that would have to have a stiff rum and coke before attending any school function. I think that it was an undiagnosed social anxiety thing. You know, back before anyone cared about mental health and how it affects our lives on a profound level.
Back in the early 90s, instead of confronting childhood trauma and the myriad of other potential reasons for feeling anxious instead, there was a little thing called a cocktail.
Nowadays, I would never dare show up to a school function with alcohol on my breath. What would people think? Especially since I usually schedule parent-teacher interviews for first thing in the morning, so yeah, a drunk Lindsay would be doubly wrong.
This past year, however, all parent-teacher interviews have been moved online due to the public health crisis. One might think this would be better for those anxious Annies out there. However, one would be wrong. Throwing complicated technology into the mix only ups the stress level involved in chatting with your kid's teacher about all of the ways you should be better supporting your kids.
Now not only do I have to worry about the fact that he's had his latest report card posted on his online school portal site for over a week. I still haven't figured out how to log on to view it, but I must also go through the painful and humiliating experience of having my tween teach me how to use Zoom.
The stress of moving everything online regarding my children's schooling is actually eating me alive a little bit. I wonder if things will ever get any better? One day, when he is nearing graduation, might I finally figure this shit out? Virtual stacks of long-lost report cards from grades 6 to 12 will be piled among the internet brick-a-brack because of my inability to locate the damn portal site so many years before.
Perhaps. But for now, I must prepare for the task at hand, which is equipping myself for this online video chat for parent-teacher interviews.
Step One: Find my son's tablet that already has his school's video messaging software installed on it. Installing new software on any of the household devices always ends up with me crying in the fetal position on the floor while I suck down the last remnants of wine droplets in my glass and still no software has been installed anywhere in sight.
Step Two: Spend three hours cleaning son's bedroom to find the previously mentioned tablet. Upon entering the room, gasp in horror and realize that it was wise of the 12-year-old not to let me in his room for the past three weeks because he knows that he is living in absolute squalor.
Step Three: Find the best lighting in the house and set up a tablet there. Remove the messy bun that has been holding my unwashed hair up for the past three days. Dig through the bathroom cabinet for that dry shampoo I bought that one time and have never used. Reapply messy bun after realizing I don't know how to use dry shampoo. Apply mascara and eyeliner and understand that this is all in vain because I will never look as nice as I do in the bathroom's lighting. Maybe I can do the video call in the bathroom?
Step four: I Immediately regret choosing the kitchen for this conference call because this is a lot of natural light, and as soon as I turn on the video, I realize that my pale skin and way-too-darkly-coloured eyebrows make me resemble a cadaver.
Step Five: As the tablet begins ringing, I realize that I do not know how to answer the call on this device. I Start manically yelling for my kid to come to assist me because I don't want to be that parent who is late (or worse) doesn't answer the call at all! The stress might kill me at this point.
Step Six: When the 12-year-old inevitably leaves me hanging, I pull up my big kid pants and figure it out. I put on my best "Hello!" cheery greeting, only for the teacher to look at me with a blank look. I continue speaking until the teacher interrupts me saying, "I don't think your microphone is on Lindsay. I can't hear you." Trying to be as polite and professional as they possibly can. Except I realize halfway through the call, our "Ye Olde Naked Man Cafe" painting is in the background of the call, and I wonder if this comes off as weird. For a while, this is the only thing I can focus on.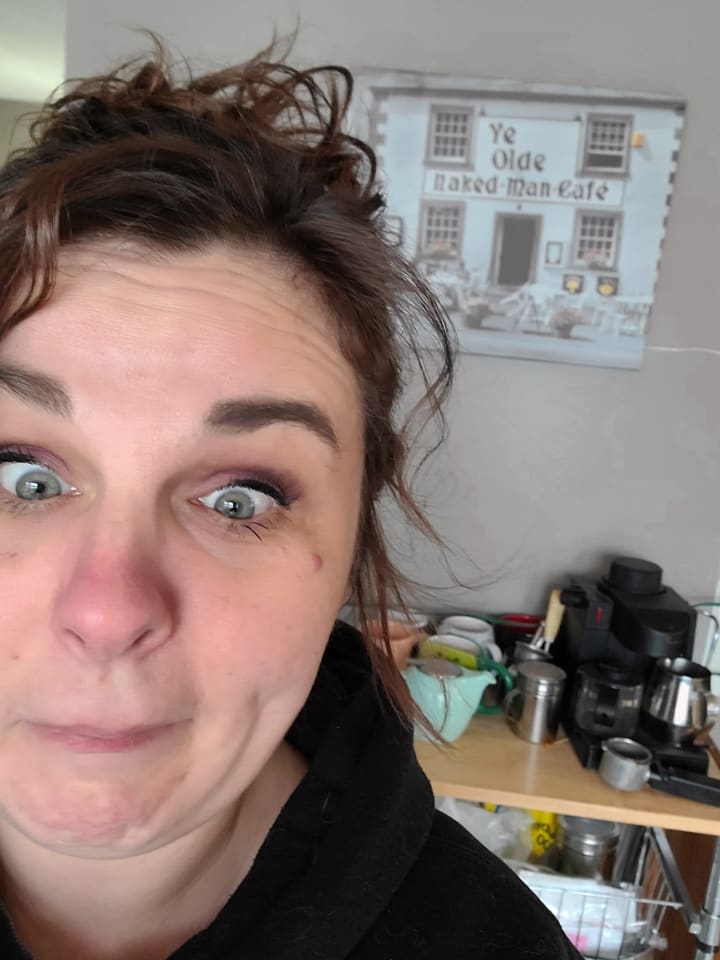 Finally, once I've uncovered the deep secrets of the video conference's technicalities, I can get down to business. My palms are sweaty, and I wonder if the nervousness shows. The camera is in a weird place on the tablet, so just the side of my head shows, and I keep trying to move around in order to show my full face of hastily applied hair and make-up, but nothing is making this visual any better.
That's when the teacher tells me that my child is an absolute joy in school and has top marks in social studies and math. Although he could use a little practice in reading and writing, they are so happy with his progress school-wise and, in general, how much of a joy he is to have in class.
I let out an audible sigh. My shoulders relax, and I realize that I had been fretting for nothing. Because the truth is, I know how great my child is. I help him with his homework and listen to all of the crazy stories he brings home from school. He cleans up without asking (aside from his sty of a room) and is always there to give a hug or supportive high five to anyone who needs it.
So, why so anxious in the first place?
Well, I think there's only one answer to that. It must have been the video chat.

Staying at home each & every day to be there with your children as they learn and grow sounds absolutely amazing in hindsight, right? Absolutely! Who wouldn't think that it's just living the dream?! But what the world fails to disclose is the truth behind being a stay at home mom..

11/18/2020 So, grandma (81 this year) has been up my ass about keeping a journal of everything that is going on right now so here goes. Amelia is 9 and in 4th grade, Raynen is 5 and is in kindergarten and Rj is 3 and is home with me. We live in fort lee right now and my husband, Bobby (30 this year) has just had his 3rd spine surgery and now awaiting the promotion board (he is in the army) and finding out when we will be moving. I am 26 credits away from my BA in history. The coronavirus pandemic has been a pain in the ass and the 2020 presidential election was a complete dumpster fire. Yay 2020 and the best part was carol baskin and the memes from that world.

It was early October, and it was finally time for my long-awaited moose hunt. I had waited ever since I was a little girl for this opportunity, and it was finally here. So, my father, the one that looks after me, and I packed up our stuff and left our city in Alaska. We were heading to a place called Bethel, AK. After a six-hour long drive, we made it to our hunting unit. It did not feel like home to us but it was warm and cozy, like my bed at home.

As your parents age, you're probably spending more and more time caring for them. Even if they're still in good health, you may need to help them live a healthy lifestyle. Your parents may need help with everything from their health insurance to their diet. To avoid caregiver stress, taking care of yourself is also essential.

Staying home, reducing stress, and taking care of ourselves, both mind and body are more important than ever. That's why from beauty and personal care to everyday essentials and home cleaning – we've got you covered. "Avon"

Growing up, I loved the Wizard of Oz. There was something magical and timeless about the Yellow Brick Road and the passion of Dorothy to find her way home, Scarecrow to find his brain, Tin Man to find his heart, and the Lion to find his courage. All to find out that the man behind the curtain was just a man, whose hope and wisdom fulfilled all desires by encouraging everyone by exploring their own virtues.