Memories of Baltimore
McCormick Spice Company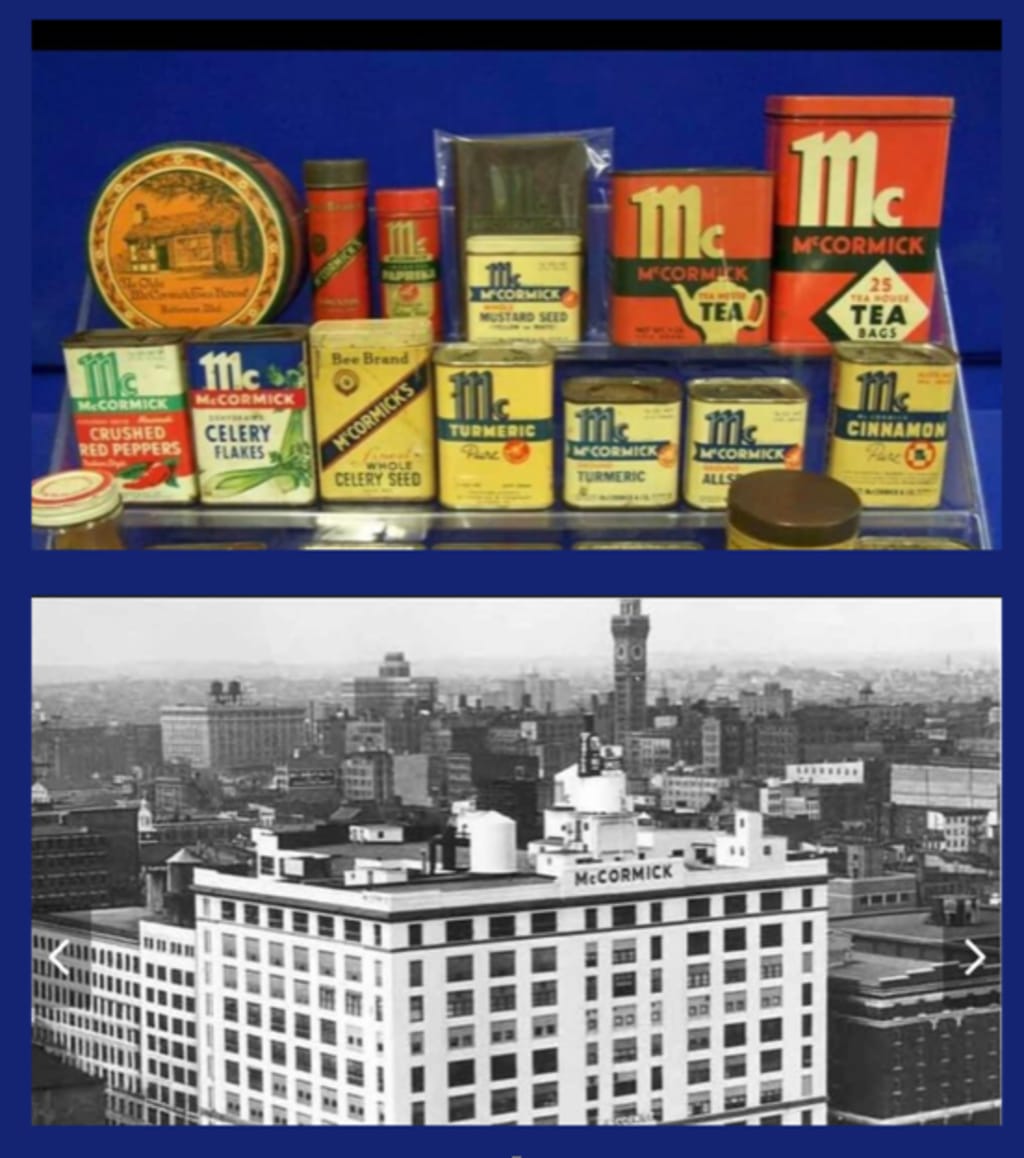 Top image courtesy of Ebay Bottom Image McCormick Spice Building - Baltimore 1951 courtesy of Baltimore Museum of Industry
Back in the 1970's the city of Baltimore was going through an image change. A revamp of the waterfront area to encourage arts, tourism and showcase the growth of what was then, the 7th largest city in America. Then, Baltimore was known as a Steel Town because of the Bethlehem Steel and Sparrows Point Shipyards. It was also known for, and still has one of the most active import/export shipping ports in the Mid-Atlantic. From my understanding, the steel shipyards were known in the early years of the 20th century for building war destroyers and supplying steel to other growing American cities. The anchor of this port industry and the most recognized port in the Inner Harbor still today is the Domino's Sugar factory. Baltimore was and is a true industrial, Blue-Collar town and is just a stone's throw away from our Nation's Capital, Washington, DC.
Driven by then Mayor William Donald Schaefer, the mayor saw that not only was Baltimore a huge import/export asset but he saw the value in creating an arts and tourism area in the heart of the city for both tourists and the city's residents. The Baltimore Inner Harbor became the jewel of the city and although struggling with financial issues, COVID19 and Baltimore's plaguing crime, it still is a jewel today.
As a child growing up in Baltimore, one of my fondest memories was walking along the Inner Harbor with my mother. It was always a beautiful sunny trek from Pratt and Light streets to Rash Field headed towards the Maryland Science Center. As we'd walk my mother would point in the direction of Bethlehem Steel. She'd tell me, "That's where your Grandad used to work." Grandad was my best friend so that always put a smile on my face. She'd point to one of the US Navy's first ships, built in 1854, the USS Constellation. Still afloat and you can tour the inside of the ship right with the Civil War bunks beds and cannons, right on Baltimore's Inner Harbor.
As my mother and I walked and talked I'd ask so many questions, I know I got on her nerves but I couldn't help but ponder at the heavenly smell of cinnamon in the air. I looked around and there was nothing nearby. No bakery, no food truck, no mobile food stand, just the scent of cinnamon wafting through the air along the promenade. As she pointed to the right of where we were walking I saw this huge white wall of a building facing the Inner Harbor. It was then I was told that building was the McCormick Spice building where all the good baking spices, including cinnamon was made. I remember asking if they were making cinnamon rolls and Mom would laugh and shake her head no. As a little girl I couldn't understand how or why but I was fascinated and wondered how could cinnamon be made in that building without making bread of some kind?
After that first walk where I was able to smell those spices I went home and ransacked Nana's pantry looking for manufacturing information on every spice can I could find. Yep, there it was. A tin can of ground cinnamon with the words "Manufactured at McCormick & Co. Baltimore, MD." In my young bright-eyed voice "I know where that is." I was a little girl so it was exciting for me.
In July of 1976 Baltimore's Inner Harbor hosted a festival of tall ships from all over the world called Operation Sail. This festival of tall ships was part of a planned celebration of America's Bicentennial and would take its tour to several of America's water ports throughout that summer. Thousands of people took over the Inner Harbor for the Tall Ships display. You could feel the entire city smiling with excitement as the harbor was crowded with ships from as far away as Spain. While walking and learning all that I could, I was always distracted by the smell cinnamon being made at the McCormick building just across the way.
As I entered my adolescence I always looked forward to going to the Inner Harbor with friends for walks, festivals and fairs, and to see how the Mayor's vision of a tourist area was coming along. Sometimes I'd forget McCormick Spice was there until my nose was hit by that familiar smell of cinnamon. I'd hear other people around me commenting on that great smell and just like me they'd enjoy visions of cinnamon delights dancing in my head.
Unfortunately, in the mid 1980's the McCormick Spice factory moved from their Inner Harbor location to the suburbs of Baltimore County. A few times my mother and me would have lunch and watch the demolition of that McCormick Spice Inner Harbor location. The sad façade being demolished brick by brick with the sunset in the background. I asked my Mom why there was a water hose adjacent to the crane destroying this building. She said it was to diminish the dust residue bring spread from the destruction.
It's funny. My mother wound up bowling in the McCormick Spice league. It was fun hearing stories from spice-makers about that factory on the Harbor and what a great place that was to work.
I was so sad. No more sweet scents along the promenade. The Mayor's new declaration to "improve" the Inner Harbor made McCormick sell their factory to make room for Inner Harbor hotels, condominiums and shops along with sailing ships exhibitions and festivals. I was torn because I wanted to see the Inner Harbor thrive but in watching something so iconic and historic be destroyed was unfamiliar to me. I hadn't learned the significance of the corporate and profit-making side of the business of Inner Harbor.
The Inner Harbor has gone through so many changes since those days. It's still a jewel but it's a jewel that doesn't shine as bright as it used to. It's also still a great place to hang and take walks but the scent of cinnamon is missed. To be honest, I'd rather smell the scent of freshly made cinnamon instead of what currently lurks under the shadows of a city that's lost its luster.
Just sayin
vintage
About the author
Just a woman who likes to write. I particularly like to write about my personal experience with Baltimore history. Hopefully I've piqued your interest and you enjoy what I have to offer. Stay positive. Thanks for checking me out.
Reader insights
Be the first to share your insights about this piece.
Add your insights