Lullaby of a Future Writer
Treasure of Ravenwood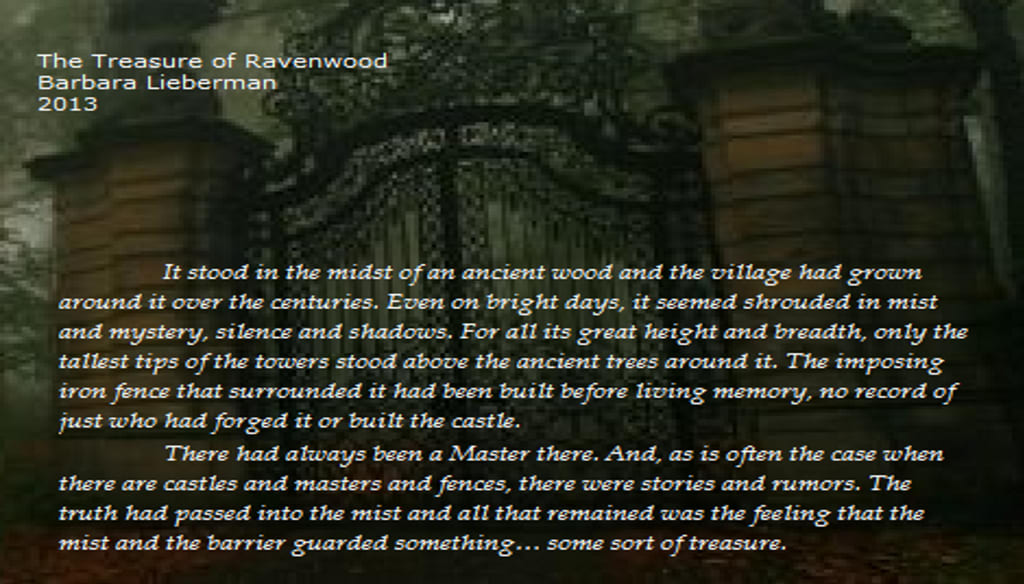 Preview of Treasure of Ravenwood by Barbara Lieberman (used with permission)
Growing up, I'd fall asleep to the sounds of my mother's fingers dancing across the computer keys, a lullaby for a future writer. My final thoughts were full of wonder, excitedly anticipating what she was writing, the next part of the story she shared with me just minutes before. I became a writer at my mother's keyboard. I learned the magic of storytelling, of transforming a blank page into a whole world.
My first introduction to this was one of her very first stories, The Treasure of Ravenwood. I asked her to come up with a story that combined two of my favorite fairy tales, Beauty and the Beast and Cinderella. So, she set to work and did just that. She'd write a bit, read everything she wrote since the night before (even letting me stay up past my bedtime), and send me to bed when we reached the next blank page. Eagerly, I waited through school and dinner until I could hear more.
Books were always a huge part of my childhood. They were always part of our bedtime rituals and routines. There was something more personal about it, though, when I had the opportunity to see the story unravel as it was being created and it was my mom who was creating it just for me. I felt closer to it. These characters were mine. They were my friends and playmates. Their story was mine. And, I was an integral part of their becoming.
The story itself begins with a castle in an ancient wood, shrouded in mist and mystery. The main character, Mouse, meets a friendly hooded figure, Shadow, through the fence that surrounds the estate, and they begin a friendship. Who is Shadow? Will Mouse be free of her awful stepfamily? What is the treasure? It's everything I love about the fairy tales I requested. Kindness in the face of cruelty. Remaining true to yourself. Quiet courage.
Years later, this story became my mother's first published book. Just as I lived through her process of writing it, I was given the same opportunity to watch her go through the process of self-publishing. The cover design, the editing, the formatting. This bedtime story suddenly became a bound book, where it could have a place on my shelf the way it's always had a place in my heart. And it could have more readers, more people to love it, to become friends with Mouse and Shadow.
Many people have fallen in love with the story, just as I have. Many people have returned to Ravenwood time and time again since the eight years it's been published, especially when they find themselves in need of someone as friendly as Shadow and someone as kind as Mouse; when they need the reminder to be brave in the face of adversity and to be their own fairy godmother. And, many times readers have come back to my mom to share how much it has helped them, how much they have fallen in love with Ravenwood and its characters, how many times they come back because they know someone else who needs Mouse and Shadow and their story.
I became hooked. Just as when she was writing the story, I found myself thinking: I want to do that.
This gift she gave me was not just a story and book that quickly became my favorite. It was also the gift of inspiring me to both write and publish my own stories. I now have nine books of my own published, with a novel on the way that turned the tables for my mom and I. Now, she's been listening to me share the story as I write them, been with me through the process of editing and formatting and cover design, helping me every step of the way.
Just as years before I listened to my mother's fingers dance along the keys of her keyboards, creating worlds from a blank page, capturing my heart and countless others, I take Mouse's quiet courage with me and make the dance my own.
literature
About the author
A New Jersey transplant, Ellie Lieberman lives now in sunny Southern California. She works with the fairies on her handmade business, Acorn Tops, when not writing or illustrating.