Lifetime Review: 'Birthmother's Betrayal'
An excellent twist saves this adoption drama from becoming a dull disaster.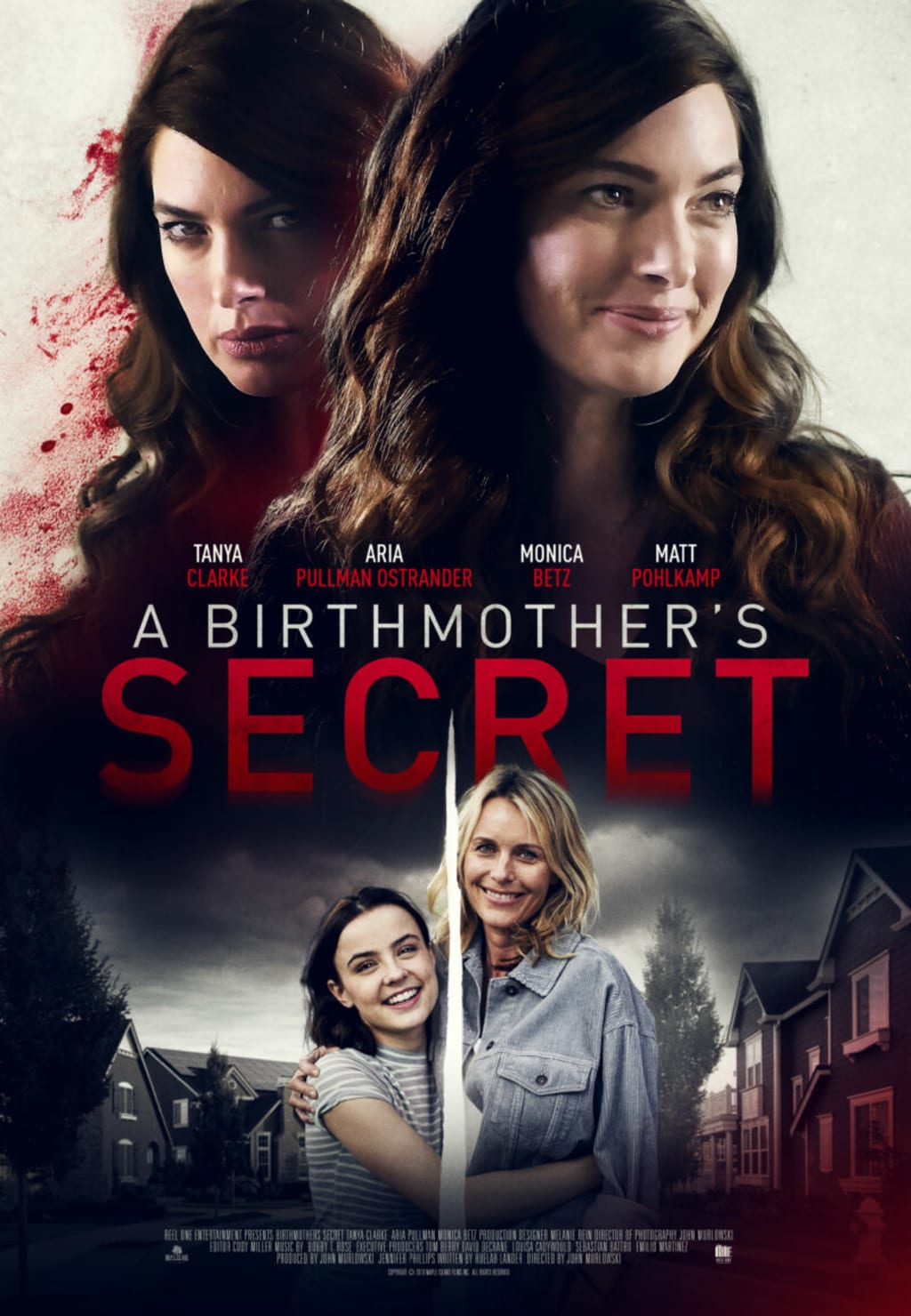 Ever since she adopted her, Amy Bennett's (Tanya Clarke) life has centered around her daughter Tara (Monica Rose Betz). But for Tara, Amy's protectiveness has begun to grow annoying--particularly her refusal to let Tara seek out her birthmother. It's after a frightening incident at her 16th birthday party that Tara decides to find her biological mother via an ancestry DNA website. Upon finally meeting Grace Culver (Aria Pullman), Tara is overjoyed to finally connect with her birthmother.
It's after she introduces Grace to Amy that trouble begins to arise, as Amy begins suspecting that not all is right with her. Are Amy's worries just the fears of an overprotective mother? Or is Tara's biological mother harboring a secret agenda that could spell danger for Amy?
As this film progressed, I was fully preparing myself for a movie I wouldn't feel too strongly about. Birthmother's Betrayal (originally titled A Birthmother's Secret) tells a familiar Lifetime-ian tale centering around the arrival of a long-lost relative with malicious intent. Initially, Birthmother's Betrayal appeared to be committing a grievous error by sticking too firmly to formula. The film's opening scenes quickly reveal the skeletons in Grace's closet and that she's a danger to Amy, and as a result, the first act felt like an overly drawn-out waiting game for the inevitable moment when her true colors would come out. As the generic plot unfolded at a snail's pace, I found my interest waning and my hopes for an entertaining Lifetime thriller sinking.
But then, salvation appeared in the form of the movie's second act twist; a twist that not only comes as an epic surprise, but one that makes sense when you think back and realize the moments of foreshadowing that lead up to it and how it makes previously bizarre occurrences make perfect sense. This twist breathes much-needed life into what was shaping up to be a mind-numbingly bland feature, and Birthmother's Betrayal significantly picks up the pace once this revelation takes effect. While the film preceding this twist may be a challenge to get through, the twist proves strong enough to make the effort worth it--especially once the film reaches its fiery climax.
WARNING: MAJOR Spoilers Below
Aria Pullman also deserves much of the credit for Birthmother's Betrayal pulling its turnabout, as her performance is easily the highlight of the movie once it hits its twist-triggered stride. After the stunning reveal of Grace's evil twin Karina, Pullman throws herself into her character and excels when the film allows her to truly embrace Karina's insane desire to take her revenge on Grace and reclaim Tara as her own. On the opposite end of things, Pullman does equally well at bringing warmth to Grace as she begins bonding with Tara and Amy after the Karina reveal and proves herself willing to risk her life to protect them from her deranged sister. Pullman's sole notable flaw, however, would be when she overplays Karina's nuttiness during moments when she shouldn't, making some of her efforts to manipulate Tara and make Amy look bad ridiculously transparent.
Spoilers Over
Tanya Clarke gives a similarly strong performance marred by a few missteps. While Clarke has a few stiff moments and Amy Bennett is something of a bland character (who is not helped by being so out-of-focus in comparison to Grace and Tara), Clarke delivers in the scenes that allow her to bring depth to Amy--particularly when it comes to her relationship with Tara and her worries about how her meeting Grace might change it. The relationship between Amy and Tara isn't as well-developed as it could've been, with Amy's overprotectiveness and habit of withholding important information from Tara only making matters worse, but Clarke's performance allows you to see the love Amy has for Tara when it counts most.
Lifetime newcomer Monica Rose Betz does well in her first feature-length film, bringing an endearing awkwardness to Tara. This helps to soften the potentially character-derailing damage of her naivety regarding her birthmother, as do the moments when Tara calls Grace out on her more blatant attempts to turn her against Amy. Sari Arambulo uses her sparse screentime to make Tara's best friend Jenny a charmingly likable side character, and Lifetime regular Matthew Pohlkamp also makes a supporting appearance as Amy's boyfriend David. Unfortunately, unlike his appearances in Deadly Daughter Switch and The Doctor Will Kill You Now as similar characters, David is given next to nothing to do other than be a brief shoulder of support to Amy, being absent for much of the film's second act. SPOILER ALERT And in the third act, David pops in just long enough to get attacked by Karina, rendering him unconscious for the remainder of the climax. Spoilers Over As a result, David is left as an incredibly superfluous Satellite Love Interest character, with Pohlkamp having little room to develop David or form any chemistry with Clarke.
The biggest problem with Birthmother's Betrayal would have to be the slow and overly routine first act leading into its second half, as it carries the risk of boring the viewer into turning the movie off before it has a chance to whip out its surprise twist. But if you can make it to that twist, you'll be in for a story that takes that surprise revelation and runs with it, crafting a unique story that adds a generous helping of originality to a well-worn Lifetime plotline. And if you're one of the people who signed this needless petition calling for the film's cancellation, I definitely recommend giving it a chance to change your mind.
Score: 7.5 out of 10 baby aloe veras.
movie review
Aspiring writer and film blogger: Lifetime, Hallmark, indie, and anything else that strikes my interest. He/him.
Twitter: @TrevorWells98
Instagram: @trevorwells_16
Email: [email protected]